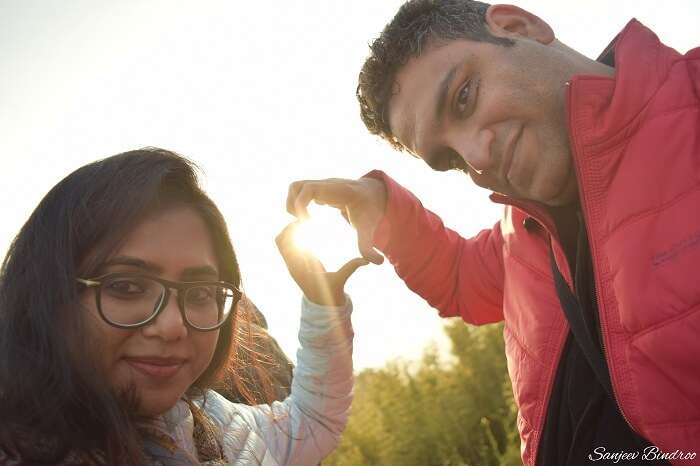 "Darjeeling was a mesmerizing experience for us, a paradise, that we would to visit again and again ".

Our trip to Darjeeling was a spur of the moment one. We had to visit Kolkata for some work and later when we realized that Darjeeling was close by, we decided to go for it. From our plans to our tickets and hotel arrangements, everything was done in a very short time but everything was managed perfectly – all thanks to TravelTriangle.
3 Day Trip to Darjeeling
Day 1- Arrival at Darjeeling
Day 2: Exploring the beauty of Mother Nature
Day 3: Departure with a smile
TravelTriangle is an online travel agency that specializes in customizable packages and true to their name, they did make a brand new itinerary as per our needs.
Our Darjeeling Package Details
Duration: 2 Nights 3 Days
Cost: INR 20,500
Inclusions: Transfers, hotel, sightseeing, & breakfast
Exclusions: Flights, other Meals, & activities not included in the itinerary
Day 1: Hello Darjeeling!

We had our flights booked from Kolkata to Bagdogra. Due to some reasons the flight got delayed and that meant a waste of few hours. So finally after a long wait, we boarded the flight and arrived at Bagdogra where we were welcomed by our travel guide cum driver. And so the journey began.

13 Honeymoon Places In Gangtok And Darjeeling For Your Romantic Trip In 2022
The ride through the villages was a treat, and we knew this was just the beginning for soon the uphill ride began and boy, it was a breathtaking experience for us. The air was so fresh that we were tempted to carry some along with us. Haha! The temperature difference was also remarkable. Our first halt was at the "Heritage station of the Himalayas, Ghoom". This was by far the cutest station ever. The engines had come to halt by then as it was already dark. But its beauty was beyond words.

From there we quickly made to our resort, Hotel Sian & Spa Resort which was situated at one of the highest hills in the area. The view from our room was scintillating and the misty wind refreshed our senses.

The next morning at 4am we were to leave for the much talked about tiger hills sunrise. As the records have it, Rabindranath Tagore, says in one of his life accounts that he could witness the beauty of the glowing snow capped hills only ones out of his numerous attempts. Such rare is the scene. And with so much fog in the air we were a little skeptical as to, if we would even see the sun, leave alone the snow capped mountain. But we could not let go of this chance.
Day 2: Exploring the beauty of Mother Nature


The next morning, as promised, we left for Tiger hills. Our ride to the hills was thrilling and upon reaching the location, we were surprised to find so many people already there. There were many people who had arrived before us and even booked a place for themselves. There were even ladies selling coffee and seeing them work in such wee hours of the morning truly made us respect them more! Very hardworking indeed!

Later, we somehow managed to squeeze ourselves through the crowd and secure a place. It was pitch dark and we could not see anything but as soon as the first ray of sun appeared, the crowd went crazy with joy and hope and began whistling in happiness. The sunrise was so divine that I stopped taking pictures, and stood admiring the nature. Sadly the golden view of the snow capped peak was not possible, nevertheless, the entire experience was worth it.


On our way back, we visited the Ghoom monastery and it was 6:30 am by the time we reached there. The prayers had begun and soon we too were lost in trance by all the chanting. It was amazing to see the dedication of all the lamas in the prayer room and witnessing their undivided love towards God was an experience in itself.


Later, after a quick breakfast at the resort, we left for the city tour. First we went to see the war memorial. This place is just like any other commercialized tourist spots, with hawkers all around, but whichever direction you turn to, the nature takes your heart away. Next we went to a small a tea garden; this was a more private garden and here we had a cup of Darjeeling tea in the fresh air of the morning. It was divine! We did not have the ropeway in our itinerary, but I insisted that we go. But once we reached there, we were welcomed by a long queue which we decided to join anyway.

A Honeymoon Trip To Sikkim & Darjeeling That Shows How To Make The Best Of What You've Got!
Finally, when we boarded the rope way and were in the sky over the mesmerizing tea gardens, we felt all of our wait has paid off big time! One particular view caught that caught my eye consisted of a huge statue of Buddha sitting in its meditating pose.
It was enchanting and I was completely in awe of the craftsmanship which made the features of the statue so prominent even from the sky and so much distance. Post the wonderful experience we headed to our last spot which was the zoo – which was once again a nice experience. Later, for the first time, we visited a mountaineering institute and museum and frankly, the whole setup tickled our adventure bones.


Finally towards the end we had some time left and we went to the main city market. We were exhausted and wanted some rest so went to a coffee shop called the 'The Java Coffee House'. Apparently they get their coffee from Nepal, though there was no way I could cross check on that but nonetheless, the coffee was sumptuous.
Post this we headed back to our resort as the next day we were to return and a long journey was pending.
Day 3: Going back with a smile!


Today, we decided to leave a little early in the morning so that we could cover a few more places on our way back (Mirik Lake and Pashupati market)

The ride downhill from Darjeeling to Mirik was the most beautiful ride of our lives and with huge coniferous forests on both sides and the twisting roads cutting through them, it looked nothing less than heaven to me. At this point, we instantly felt an urge to park our car soak in the beauty of nature and we did. The trees stood tall reaching the sky and there was so much peace and serenity all around. Our next and final stop was Pashupati market and we were told that this market is actually in Nepal. Later as we were driving towards it, our guide informed us that one side of the road that we were on actually belongs to Nepal. We were truly amazed by this news and the feeling of entering a new land excited us. Later, after a few formalities on the border, we were made to board another van which took us to the market. The market was small and not very exciting, but that did not bother us.


Next our guide took us to another tea garden and this one was huge with its shrubs spread across acres of land. Seeing so much green all around us refreshed our moods and we soon left for the Mirik Lake, which was nearby. This lake was a small one but it was beautifully nestled amidst nature and the hills of Darjeeling. Since there were many tourists here, we did not want to waste our time in the queue and thus decided to leave getting an overall glimpse of the place.

From here, we straight away made our way back to Bagdogra where we had a flight to catch. On our way back, we chose to be silent, and cherish each and every memory that we had weaved in this short time. Our last two days, were indeed phenomenal experiences!



Darjeeling was an extremely rejuvenating experience for us. We witnessed the best of nature and northeast India here and to be honest, we loved every bit of it. From the fresh air to the mist to the tea gardens to the sunrise to basically everything, there was hilly magic all around.
Never in our dreams had we imagined that our short trip to Kolkata for work would end so beautifully, but thanks to TravelTriangle and of course Darjeeling, it did.
High Points:
Sunrise at Tiger Hills
Drive from Darjeeling town to Mirik.
To witness the pious chants at the Ghoom.
Low Points:
Though the resort we were put in was beautiful, the room we got was on a floor which was under construction and did not appeal to us.
Tip for travelers:
Darjeeling is more of an early to bed early to rise town. The sun comes up as early as 5:30 am and set as early as 5:30 pm, so plan your day accordingly.
They witnessed nature at its best in Darjeeling! And you too can do the same. Simply choose a Sikkim Gangtok Darjeeling Package and let us do the planning for you!
---
Looking To Book Your Honeymoon Package?
Book memorable honeymoon on TravelTriangle with 650+ verified travel agents for 65+ domestic and international destinations.
---