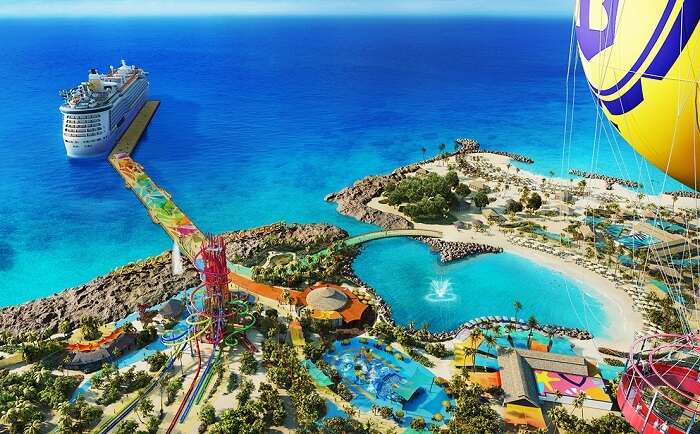 Nothing beats the fun and excitement of a cruise vacation, and nobody understands this better than the cruise line of Royal Caribbean. In a bid to offer a flawless vacation to the travelers, the leading cruise line has mapped an extraordinary plan which will sweep the passengers on its ship, off their feet in no time!
With a focus on crafting a one-of-a-kind experience on ship as well as on land, a private island cruise by Royal Caribbean will soon be taking the travelers to a fantasy land in the heart of CocoCay, a private island in the Bahamas.

Suggested Read: The Best Of Cruise Travel Around The World, Inclusive Of All Luxuries!
About Private Island Cruise By Royal Caribbean
While new additions like private islands in Australia, Asia, Haiti, and Labadee will soon follow, the newly transformed waterpark at CocoCay has grand features and offerings that will cast a magical spell on its guests:
A massive 135-foot water slide
Helium balloon rides
Swim-up bars
Freshwater pools
Zip lines
Lounges

Image Courtesy: Royal Caribbean
Expected to begin its operations in the spring of 2019, CocoCay will be the firm's first-ever private island that will offer personalized holidays to the cruisers of Royal Caribbean's as a part of their "Perfect Day Island Collection."
In addition to the above, the President and CEO of Royal Caribbean International – Michael Bayley stated that, "at Royal Caribbean, it's not just about the hardware…Our destinations are an equally important part of the cruise vacation. We are introducing Perfect Day Island Collection to ensure that we deliver the most memorable vacation for adventure seekers on land, as well as on board our ships."

Image Courtesy: Royal Caribbean
Suggested Read: An Absolute Guide For A Memorable And Romantic Bahamas Honeymoon!
While most of the tours on private island cruise by Royal Caribbean will initially depart from three main ports of Florida, Maryland, and New York, the cruise will be functional in phases, w.e.f. September 2018.
Enticing much? While we hope for the best, make sure you start planning today for a dreamy cruise vacation soon. Bon Voyage!