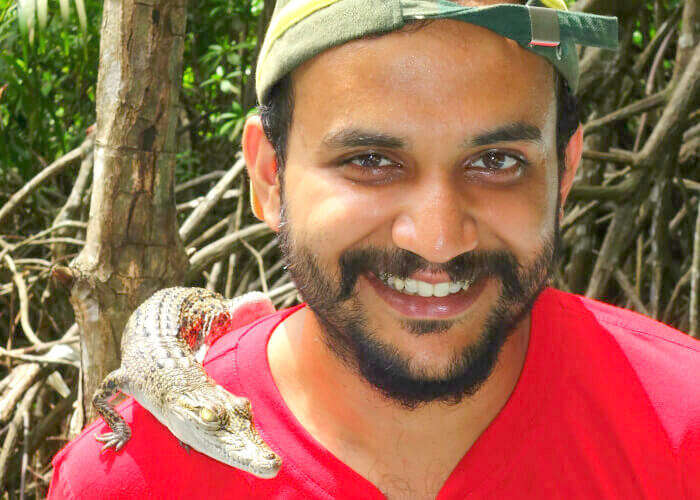 Read on, as we have a look at Sri Lanka through the eyes of Priyanka who shares the wonderful experience she had with her husband on a 7 Night/8 Day package they booked with Travel Triangle. This vacation cost them 58000 INR including accommodation, transfers, breakfast and sightseeing.
My husband and I needed a vacation and with his birthday nearing, I thought of surprising him by planning a vacation. I wanted to go international and with the budget in mind Sri Lanka sounded like a great idea. One of my friends had traveled to Sri Lanka with Travel Triangle earlier and upon her referral and hearing how much she enjoyed there, I wanted to experience the same.
I contacted Travel Triangle for the same and their travel representative helped me figure out the quotations and linked me with multiple travel agents. I got the desired package with modifications and we were ready to go on an adventure.
Day 1: Arriving in Sri Lanka
We boarded our early morning flight from Chennai and landed at 6am in Colombo. The travel agency representative was present at the airport to receive us and we were transferred to our hotel in Sigiriya.
After checking-in and having breakfast, we were ready for what Sri Lanka had in store for us. Our first visit led us to the Pinnawala Elephant Orphanage nearby our hotel. It was so heart-warming to see these majestic animals being taken care of with such affection by the locals. We met with the elephants up-close and later taken for a ride.
Later on, we visited a Buddha temple which was quite similar to the Ajanta Caves in terms of the carvings and architectural style. As it grew dark, we went back to hotel in Sigiriya and retired for the night.
---
Sri Lanka Honeymoon Packages On TravelTriangle
Book your Sri Lanka Honeymoon trip from TravelTriangle: Inclusive of Hotels, Sightseeing, Transfers, & Meals. Best Prices Guaranteed. Get Customizable Package & Free Guidance From Destination Experts. Book Now!
---
Day 2: Visiting Lion Rock Fort
Our next day started with a visit to the Lion Rock Fort which is a very ancient fortress near Dambulla. It is the ruling fort of the ruler King Kashyap in prehistoric times. I was impressed by the structure of the fortress because it was very well preserved despite being more than a 1000 years old.
After visiting the Rock Fortress, we headed over to Kandy to the Hotel where we were supposed to spend our night in. Enroute to Kandy, we also visited the Cave Rock and Golden Temple in Dambulla which were very calm and enchanting.
Day 3: Exploring Kandy
We began our day with a quick breakfast, disappointed at the lack of choices for vegetarian food again. In Sri Lanka, it is very hard for vegetarians to find good food as the major dishes cooked are all non-vegetarian dishes.
The day in Kandy began with a trip to the humbling Tooth Temple. This is a temple where one tooth of Lord Buddha is preserved till date. Sri Lanka being a predominantly Buddhist country, holds a special importance for Buddhist Temples and Monasteries.
Afterwards, on our way to Nuwara Eliya we stopped for a while at the Ramboda Waterfall which was indeed refreshing to see. As we reached Nuwara Eliya, the hotel was very close to the Tea Plantations, where the world's finest tea is produced, and visible from our room itself.
Day 4: Horton Plains – At World's End
We woke up early at 5am to head out to the Horton Plains National Park. This was by far the best day of our vacation. My husband and I planned to go on a 7 kilometer trek into the national park which ended at World's End, a cliff point with a drop of 4000 feet.
18 Amazing And Most-Visited Sri Lanka Tourist Places For Your 2022 Trip
Being completely immersed in nature is the best form of relaxation for me and Sri Lanka could have offered me nothing better than this. Horton Plains is also source to one the 3 major rivers of Sri Lanka. Blessed with a varied Flora and Fauna within the National Park, the Horton Plains is located on a Plateau.
Surprisingly, there were not many people on the trek and sometimes we went on for 2-3kms without seeing any person. The hike till World's End was littered with scenic landscapes and refreshing allures that made the journey worthwhile.
Upon reaching World's End, one can see the Indian Ocean, which is 81kms away from that point. The view had a healing effect on my body which motivated me to visit this heavenly place once again. As the day ended, we headed back to the hotel in Nuwara Eliya and retired for the night.
15 Things To Do In Ella In 2022 To Take Your Sri Lanka Trip To The Next Level
Day 5: Safari at Yala National Park
Another day, another date with mother nature. Although this time we hoped to see some other interesting creatures who grace this green paradise. We quickly got ready in the morning for a Jungle Safari in Yala National Park.
Yala National Park is considered one of the foremost tourist destinations in Sri Lanka. We were taken inside the National Park on a 3-hour long Jeep Safari. We were lucky to spot many animals including Elephants, Crocodiles and even Leopards. My husband was a bit unlucky as he was unable to spot the Leopard due to too many people being present when the Leopard was visible.
Once the safari ended, we were taken back to the Hotel in Yala where we enjoyed a very relaxing and comfortable stay.
Day 6: Traveling to Bentota
The next day, we had breakfast in Yala and then proceeded to Bentota. On our way to Bentota we were scheduled to make a stop in Galle and visit the famous Dutch Fort. Initially, the Fort was constructed by the Portuguese and repaired by Dutch a few centuries later. Ever since it has been known as Dutch Fort.
The Fort being in the Southern coastal city of Galle, overlooks the Indian Ocean and was built with the intention of protecting the country from invasions from the south. Later on in the evening, reached the Hotel in Bentota and called it a day.
(Part-1) Honeymoon In Sri Lanka: An Experience We Would Hardly Ever Forget
Day7: Turtle Hatchery in Bentota
Day 7 was a very special day for us on the vacation for multiple reasons. Most importantly, it was my husband's Birthday- the reason we came on this trip on the first place. So I tried my best to make this day a special one for my husband.
Perfect Family Bonding On A 9 Day Trip To Sri Lanka
We started the day with a visit to a Turtle Hatchery in Bentota. This was a NGO made for the protection and saving of the rare Turtle species found in Sri Lanka. They aim to increase the under threat Turtle population and protect them from all possible man made hunting or natural calamities.
In the afternoon, we went for a 1-hour boat ride into the dense jungle where we would see and touch crocodiles. My husband mustered up the courage to hold a 5-month-old crocodile but I was too scared to do the same. In the evening, I had arranged for a cake and a little celebration to mark the day. Late in evening, we celebrated his Birthday on the beach in our resort in Bentota and ended the day with some special memories we will remember for a long time.
Day 8: Return to Colombo and Departure
Finally, it was our final day on this Magical Island. We departed for Colombo in the morning after our breakfast and arrived there in approximately 2 hours. There was a City Tour lined up for is Colombo which included visits to Old Parliament, Old Clock Tower and National Museum.
19 Reasons Why I Would Rather Be From Sri Lanka Than Anywhere Else
Our time in Sri Lanka came to an end as we boarded our flight in the late hours of the night back to Chennai. Looking back on our time, this vacation to Sri Lanka left an everlasting mark on our lives as something we will hold special and dear to us.
High Points:
Visit to Horton Plains was awesome and more than what I could ever have asked for.
My husband's birthday went by really well and my plan for his special day worked out perfectly.
Low Points:
Food in Sri Lanka for vegetarians is a big challenge.
Tips for Travelers:
Don't forget to visit the Turtle Hatchery and Horton Plains National Park.
Carry ready-made food if you are a vegetarian.
Planning A Family Trip To Sri Lanka? Here's A Perfect Itinerary For You
Admire Sri Lanka, the Emerald of the South and enjoy the charming tranquillity and humble ambiance of the country. Enjoy the serene views and tranquil peace and spend a wonderful time by planning a trip to Sri Lanka!
---
Looking To Book An International Honeymoon?
Book memorable honeymoon on TravelTriangle with 650+ verified travel agents for 65+ domestic and international destinations.
---