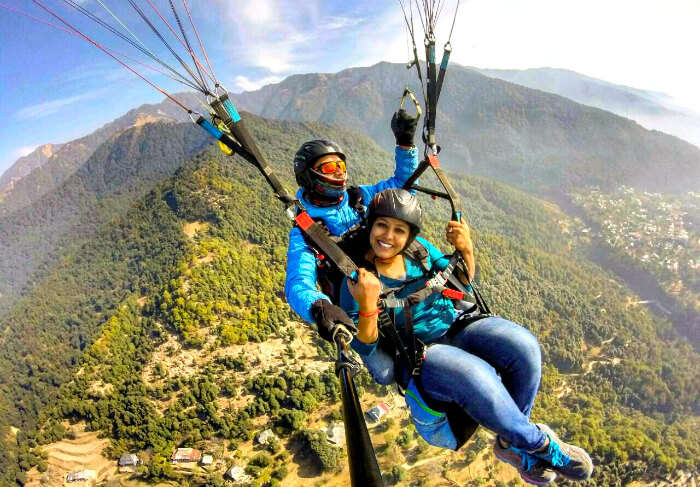 Eager to finally turn her fantasy of flying into reality the approaching weekend, Radhika booked herself and her friends an adventure-packed 1 night 2 days Bir Billing tour package from TravelTriangle that included her accommodation, meals, sightseeing, and adventure activities like paragliding!
Trip type: Friends on a group adventure
Duration: 1 night 2 days
Budget: INR 3,500/- (per person on twin sharing basis)
Destination: Bir Billing
Inclusions: Accommodation, meals, sightseeing, adventure activities
I had always wanted to try paragliding and what better a place to do that than Bir Billing! I asked few of my friends to join me on the trip and they all readily agreed. I got in touch with Mr. Rohit from TravelTriangle with whom I had traveled on TravelTriangle's weekend getaway to Dhanaulti in the past.
He, in turn, connected me to Mr. Ankur who helped me plan my entire trip. Out of all the package options offered by different agencies, I chose Billing Adventure of Himachal travel agency whose representative Mr. Sonu put all the arrangements in place for me while catering to every bit of customization I demanded even at the last moment. Having traveled through TT before, I did not have a single shred of doubt about this trip, and boy was I right! I'm thankful to the considerate and skilled team of TravelTriangle for making yet another of my trips a total success.
Gallivanting away to the hills of Bir & being welcomed by its friendly locals

We boarded our Volvo bus from ISBT at 6.48 pm and the journey started. Chattering away the whole way and stopping by for dinner and morning tea, we found the entire journey to be quite comfortable. We reached Bir at 7 am the next morning.

When we had reached, we were escorted by a representative of Billing Adventure of Himachal whom Mr. Sonu had sent. He took us to our homestay in Bir where we freshened up and had some rest before starting the trek uphill. Later, we wandered about exploring the local areas of Bir and gorged on some yummy breakfast at a dhaba.
Trekking 7 km to the campsite through lush greens, boulders, and tough mountain trails

The three guides who were assigned to us explained how we going to go ahead with the trek and paragliding. Then at around 12 noon we started the 7 km long trek, walking to a height of almost 3,000 ft above sea level. We trotted about through thickets and open spaces, over mountain trails and below a clear blue sky, with beautiful species of plants and shrubs around us and the sounds of a variety of birds filling our ears.

Go Paragliding In Khajjiar For A Thrilling Weekend Retreat In 2022
The nature's bounty was in abundance. Our knowledgeable guides took extreme care of our safety during the trek and let us in on information about various spots we passed. We climbed rocks, passed wondrous sights and attractions, and were entertained with enriching stories of the history of Bir and Billing.
Songs, dance, games & storytelling: Huddled around a bonfire in the night

After reaching our campsite we were served with hot, finger licking food. The camp staff was very welcoming and hospitable. After our tummies were full, we enjoyed our verdant environment and clicked many pictures at our campsite amidst its beautiful surroundings.

Soon it was dark and we all lit a bonfire. Once the fire started cackling, we all gathered around it and started sharing ghost stories while the fresh air of Bir and the pleasant warmth of the fire mingled to give us the best possible 'health treatment' we could have imagined.
After some time, another group joined us at the campsite and we spent the night playing games and dancing around the campfire. After a fresh, delicious dinner, we went off to our tents to sleep.
Waking to a star-strewn canvas overhead & gorging on delicious aloo parathas!

Full of energy, we got up at 5 am, and were treated to a breathtaking view of the Milky Way Galaxy in the early morning sky. In fact, our group was even lucky enough to witness shooting stars in this beautiful canvas overhead followed by a majestic sunrise. We indulged in some exercises and yoga at the campsite before being served a yummy breakfast of aloo ke parathe.
Finally experiencing the joy of paragliding in Bir Billing!

Yash Writes About His High-On-Adrenaline And Acrobats-Filled Paragliding Adventure In Bir Billing!
At 9 am we left our packed bags at the campsite and proceeded uphill to the paragliding site. Our excitement was at its zenith watching gliders take off in the distance one by one. While we walked ahead we felt a mix of sadness and joy- sadness at leaving behind all those lovely people we met at the campsite, and joy for the promising adventure that lay ahead.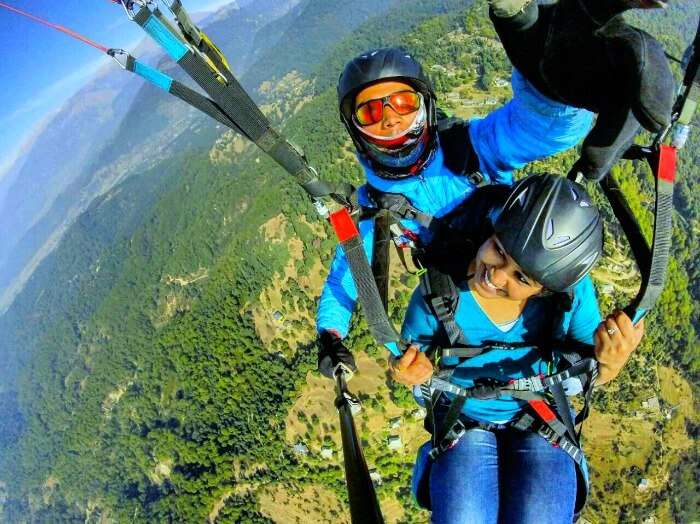 One by one I watched my friends take off into the vast sky, screaming with delight. And finally, it was my turn to begin the most exciting, most awaited part of my trip! My heart was in my mouth as my wingman ran towards the edge and threw us off the cliff. And once we took off, all my senses left me and nothing else in life mattered at that moment!

I was soaring away as the landscapes below me changed from lush mountains to meadows in no time. Gliding at a height of 10,000 ft in the sky for 30 minutes, we covered a distance of 15 km between Bir and Billing in the air itself.
Prayer flags, monasteries, and bumpy bus rides…

Once I had landed, me and my friends were taken to the Bir Monastery. We spent some time admiring the beautiful architecture of this holy sanctum and paying our respect before proceeding to the adjoining Mandi (market) to buy some handicrafts and colourful prayer flags. Post some hearty shopping, we boarded our bus bound for Delhi and rode away.

10 Terribly Overrated Destinations In Himachal And Where To Travel Instead In 2022
Full of enthusiasm & fun, this was among the most memorable journeys of my life where I experienced the joy of flying high over mountains. It was the perfect utilisation of my weekend.
What I loved about the trip: How about I say, everything?!
Tips for future travelers:
Carry warm clothes, as it can get quite chilly at the top.
Trek light.
Book your weekend trip to Bir Billing only from TravelTriangle.
Do you too wish to explore new places and new opportunities every weekend? Check out TravelTriangle's wide range of weekend getaways and set off. Hurry!
---
Long Weekend Trips Starting @ Rs 3499/-
Take a trip to spend the upcoming long weekend with your buddies.
✓ Stay at 4 star rating hotels with local sightseeing, meals and transfers.
✓ Travel in AC coach round trip (from Delhi).
✓ All Inclusive Deal– Camping, Jeep Safari & Trekking as per itinerary
✓ Sign up NOW to celebrate the long weekend out of town!
---