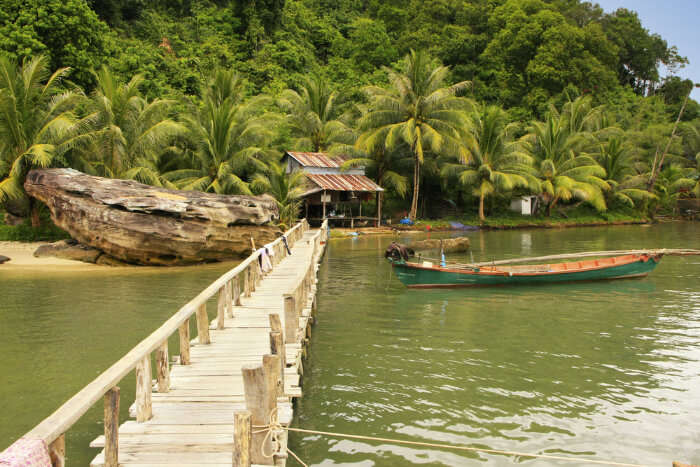 Ream National Park in Cambodia which is also known as Preah Sihanouk Ream National park is located in the Prey Nob district of the Sihanoukville province just 18 km away from the Sihanoukville city and borders on the Gulf of Thailand, the park is a tropical paradise which houses numerous types of flora and fauna which makes the park biologically very valuable. Make sure to stop by here.
About Ream National Park

The Ream National Park wildlife is also very diverse which include animals and aquatic life such as turtles, Sarus crane, mouse-deer, dolphins, dugongs, rhesus monkeys and many more including some endangered and rare species which are all protected and preserved, the park also has numerous species of coral reefs along with flora species. There are 30,000 people who live in and around the park.
Must Read: 6 Places To Visit In Asia In November: An Escape From The Snow Into The Tropics
Best Time To Visit Ream National Park In Cambodia

The park's landscape ranges from mountains, mangrove forests, evergreen beaches, coral reefs, rivers, freshwater wetlands, seagrass beds, and islands. Ream National Park experiences high temperature and heavy rainfall during the months from May to October and during the months from November to April it is cooler and experiences less rainfall and is the best time to visit the national park.
Things To Do At Ream National Park
There are many ways to get around the park. You can hire a bicycle which you can use to get around the island or you can just walk the trails:
1. Ream National Park: Take a tour

There are various tours you can take which lasts for around a few hours. You can also take a full day tour which includes transport, lunch, trekking with a guide and even a boat tour, there are also boat tours you can take or even rent out a boat. From the months of November to March dolphin tours are really popular in this area in Asia
Suggested Read: The Great Niah National Park Guide: The Birthplace Of Civilization In Southeast Asia
.
2. Ream National Park: Trek

The park is a tourist destination and is loved by backpackers and people looking for a bit of adventure. Ream National Park trekking is quite exciting. This activity is very popular as you can book one with any of the numerous agencies offering them and you can trek through the wilderness with a ranger and experience the wildlife and vegetations along, the price varies depending on the tour and the package that you choose.
Suggested Read: Solo Travel In Singapore: A Guide To Relish The Best Of The Gateway Of Asia
3. Ream National Park: Visit the beach

There are numerous beaches that you can visit in the park and also take a boat to one of the islands where you can enjoy the beach, enjoy the local cuisine and go for a swim and transportations to and from the islands are available from 7 AM to 4 PM. Monkey Maya also has an amazing beach where you can go for a swim, play volleyball, enjoy the sun and even go fishing or snorkeling
Suggested Read: 20 Best Places To Visit In Asia In October That Are Perfect For The Wanderlusting Souls!
4. Ream National Park: Go on an adventures

People who want a bit of activity can visit the Ream Yacht Club for some kayaking, snorkeling and just relaxing in the river or visit Koh Thmei Resort located in Koh Thmei which is a guesthouse that offers similar activities along with bird watching, beachcombing, trekking and more, you can also visit some of the islands where you can also indulge in these activities.
Suggested Read: Virachey National Park: Every Wildlife Enthusiast's Dream Park Guide
How To Reach Ream National Park

The national park is just 18 km away from the Sihanoukville and if you are in Phnom Penh then you can take a bus or cab to Sihanoukville which takes around 4 hours and then take another bus from Sihanoukville to Ream National park entrance of the park where you can also find the ranger station, you can also fly to the Sihanoukville airport and then a bus to the entrance.
Suggested Read: Royal Palace In Phnom Penh Guide: The Palace Of The Pearl Of Asia!
Where To Stay At Ream National Park

If you are wondering about Ream National Park accommodation, then Monkey Maya is one of the more popular places to stay which is just 45 minutes outside of Sihanoukville and offers budget accommodation, beach view bungalows, 16 mixed bed dorms and 2 rustic bungalows. Hidden Valley Resort is located on the banks of the Ream river just 20 km away from Sihanoukville and it offers comfortable rooms with views of the river and mountains.
Further Read: 36 Beautiful Places To Visit In Southeast Asia  That Won't Let You Put Your Camera Down
Ream National Park is an amazing place that you can either visit with you family, friends or even alone, the park offers numerous things to do and adventures to have along with good accommodation and cuisine all for a very reasonable price and is recommended especially for backpackers and nature lovers. We highly suggest you to explore this park on your trip to Asia.
---
People Also Read:
National Parks In Cambodia Virachey National Park National Parks In Thailand