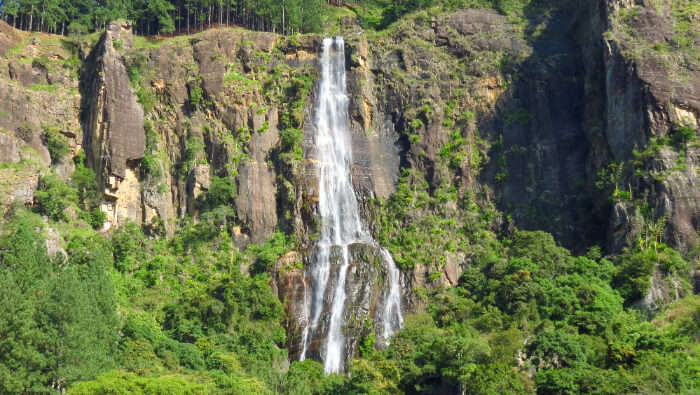 Sri Lanka has abundance of natural beauty and spiritual places to visit. There are forests, waterfalls, beaches, lakes and more, that attract nature lovers. And there are temples, churches, mosques, Buddhist monasteries and other religious sites that attract worshipers and travelers alike. For instance, the tallest waterfall in the country, Bambarakanda Falls is visited by tourists from around the world. A lot of them combine their trip to the falls by also exploring religious places to visit near Bambarakanda Falls. 
You can also add these popular and highly revered pilgrim places to your itinerary. Located in Badulla District, Bambarakanda Falls is the tallest waterfall in Sri Lanka. It is 263 meters high and has a viewing platform that you can reach via hiking a short distance. Bambarakanda Falls also holds the position of being the 299th highest waterfall in the world.
Best Time To Visit Bambarakanda Falls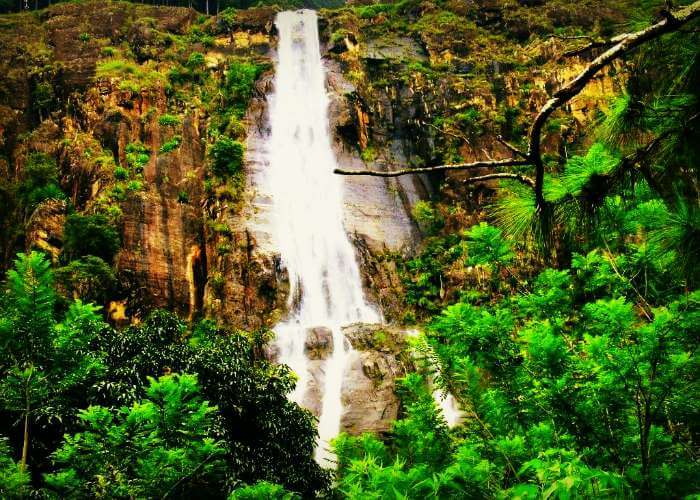 The best time to visit  Bambarakanda Falls is from March to May. The rains are low and the weather is simply amazing. Rain washes away all the dust so the surroundings of the waterfall look greener. 
The monsoon season, from October to February may gift you absolutely splendid sights, but its not considered to be safe. The hiking trails are slippery and rocks on the path become loose in rain. So, even if you are visiting during this time, make sure you adhere to the safety instructions.
The summer season is not a great time to visit and the waterfall is becomes a narrow stream and there wouldn't be much to see.
Religious Places To Visit Near Bambarakanda Falls
There are several famous temples, Buddhist shrines, Churches and mosques near this mesmerising waterfall in Sri Lanka. A visit to all these places of worship give you a chance to witness the culture and tradition of the country. It will also prove to be a visual treat, as you would get to see the beautiful traditional architecture they feature. Here are some of the most famous religious places to visit near Bambarakanda Falls in Sri Lanka:
1. Muthiyangana Temple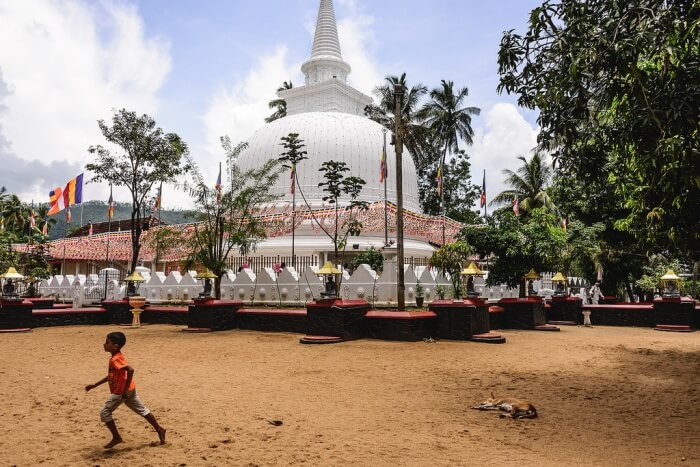 Ancient Buddhist temple, Muthiyangana Temple is a most visited site in the midst of Badulla in Sri Lanka. Being a popular Buddhist shrine due to its unique identity of one out of the 16 sacred Buddhist Solosmasthanas, this temple welcomes visitors willing to learn Buddhism religion in the Sri Lankan context. According to Buddhists belief, it was here that Gautama Buddha had visited. Travelers make it mandatory to visit this temple to re-impose their faith in the Buddhism religion. This temple has become a national landmark today. Existing since the 4th century, its 65 feet high Muthiyangana Stupa is visited by the believers of the Buddhism religion.
2. Badulla

Dedicating the Sinhalese deity Kataragama Deviyo, popular Sri Lankan ancient temple of Kataragama Devalaya remains a must visit the site in Badulla nowadays. It is historically important location that also reminds the golden past of this area. The temple site is enlisted into the Archeologically Protected Monuments list. History lovers find much to explore here and know more about this region's past. Although the exact construction date is still unknown, some historians claim that it exists since the 17th century while the regional King Vimaladharmasuriya I (1592–1604) ruled the Kingdom of Kandy to build this Devalaya. The Pilimageya or worshippers' spot as shrine room is a most visited place inside this monument. Rich architecture of this monument through the carved timber columns the presence of Kandyan era paintings make it worth exploring place during a Sri Lankan tour.
10 Places To Visit In Badulla For A Fulfilling Vacation In Sri Lanka In 2022
3. St. Mark's Church

Old St Mark's Church of Badulla in Sri Lanka is visited by the tourists irrespective of their religious beliefs. Built in the memory of Major Thomas William Rogers, this church distinguishes itself as the first one getting sanctified by the 1st Bishop of Colombo Rev. James Chapman on April 25, 1857. This Anglican Church has been welcoming visitors every day. Ever since it was declared Archaeologically Protected Site alongside its bell tower in 2008, it gained popularity as country's notable heritage monument. The number of visitors too increased in volumes thereafter. It is a famous tourist destination nowadays.
4. Ranawana Purana Rajamaha Vihara

This too is an ancient temple in Kandy known for its glorious historical significance. This temple has been established amidst lush-green natural setting. This temple is considered to be one of largest and beautiful temples of Sri Lanka. Theres a trail running through the temple that takes you to the forest. This temple has been established on the theme of Buddhas life and there are various significant scenarios of his life that have been presented in the forest.
25 Best Places To Visit In Kandy In 2022 – Sri Lanka's Spiritual Capital
5. Warleigh Church

This historical structure was built in 1878. The church was constructed in the typical British style of architecture which is full of old world charm. It is one of the popular places to visit in Hatton Sri Lanka. Inside the building, you will find peace and quietness which will soothe your heart. Also look out for the original Bible which was gifted to the church and also the first one to be brought in the country. The beautiful monument, the tranquillity of its interiors and hundreds of years of history inscribed in the tombstones which are surrounded by sloping green hills and the flowing river at the base give this place a surreal feel.
Location: Maskeliya to Dalhousie Road, Hatton
15 Places To Visit In Hatton To Witness The Tranquil Side Of Sri Lanka In 2022
6. Sri Bhakta Hanuman Temple

On the belief that Hanuman Ji put his feet on the land of Rambodha in the search of Sitaji, this temple was made here. It incorporates a 1-foot tall idol of Hanuman Ji which will leave you amazed. Seek your blessings here and witness the beauty of the surroundings. This is one of the best places to visit near Hatton with family.
Location: Ramboda, Sri Lanka
15 Places To Visit In Hatton To Witness The Tranquil Side Of Sri Lanka In 2022
7. Holy Trinity Church

This church stands as the symbol of wellness of the british royals that lived here a long time ago. You will be impressed by the structure of the church. Seek your blessings here and admire the beauty and holiness of this place.
Location: Church Rd, Nuwara Eliya 22200, Sri Lanka
15 Places To Visit In Hatton To Witness The Tranquil Side Of Sri Lanka In 2022
8. Seetha Amman Kovil

Seetha Amman Kovil is a Temple near the Hakgala Botanical Garden is a must visit among the places to visit in Nuwara Eliya. It is must visit as it has a lot of Mythological importance. It is believed that after Ravana captured Sita, she used to come here to pray to Rama regularly. Rama was her husband and also supposed to be one of the avatars of Lord Vishnu. Anyone who loves mythology will love this place.
Entry Fees: Free
Highlights: The Seetha Amman Kovil temple-is the only place of worship dedicated to Lady Sita, the virtuous wife of Lord Rama!
Location: Seetha Eliya, Sri Lanka
22 Places To Visit In Nuwara Eliya In 2022: The Mini London Of Sri Lanka!
How To Reach Bambarakanda Falls In Sri Lanka

Bambarakanda Falls is a very popular tourist attraction in Sri Lanka. So, it can be easily reached from the capital city, Colombo. Just get into any bus that runs between Colombo and Badulla. The bus route numbers are 98 and 99. These buses pass from Kalupahana Junction, where you must deboard. This is the closest town to Bambarakanda Falls and is located 7km away. You would easily find tuk tuks to the waterfall. And if you are too adventurous, then hiking is also an option.
Are you anxiously waiting to visit and explore the religious places to visit near Bambarakanda Falls? Plan a trip to Sri Lanka today and get ready to witness the beautiful culture and religious history of Sri Lanka. These places of worship are real architectural wonders.
---
Looking To Book An International Holiday?
Book memorable holidays on TravelTriangle with 650+ verified travel agents for 65+ domestic and international destinations.
---
Comments
comments