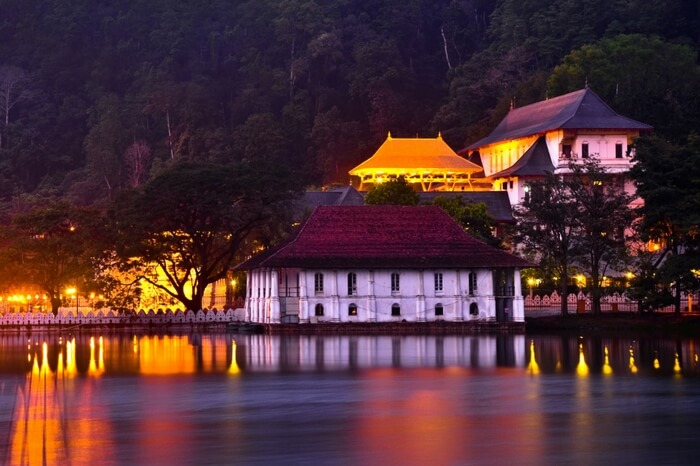 Sri Lanka – the island nation in South Asia – is indeed a pearl of joy shining brightly in the heart of Indian Ocean. The lazy charm clinging on to the hills and floating by the gushing waves makes Sri Lanka a perfect destination to venture, explore, and contemplate. Snuggled between the imposing mountains and verdant peaks are some of the best places to visit in Kandy that are defined by calmness and serenity.
Known for spirituality and laid-back charm, Kandy has everything peaceful and balmy about it. The beautiful Sri Lankan city is also a popular attraction for the Buddhists. There are quite a few temples, meditation centers with dense nature around, and exciting trails. Go around and discover eternal comfort as you plan a much-awaited trip to Sri Lanka.
Suggested Read: 10 Reasons Why Sri Lanka Should be Your Next Holiday Destination
How to reach Kandy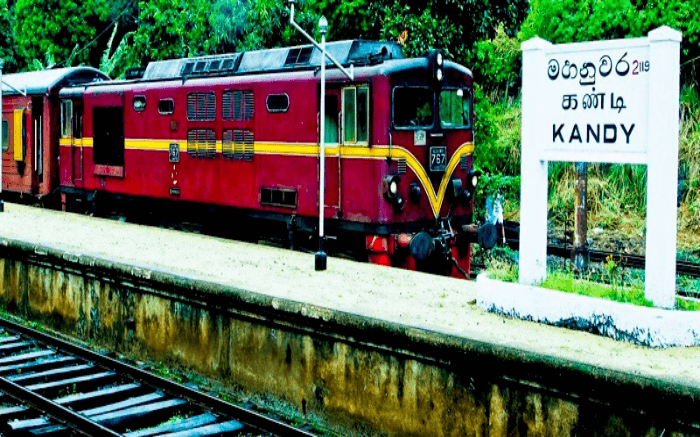 By air: Bandaranaike International Airport is the nearest airport to Kandy, located 104 km far. Cabs and buses make the easiest means of transport from the airport to Kandy.
By rail: Colombo Railway Station is the nearest railhead to reach Kandy Railway Station. Colombo to Kandy train ride, offering great nature views, is one of the most scenic rides in the world.
Best time to visit Kandy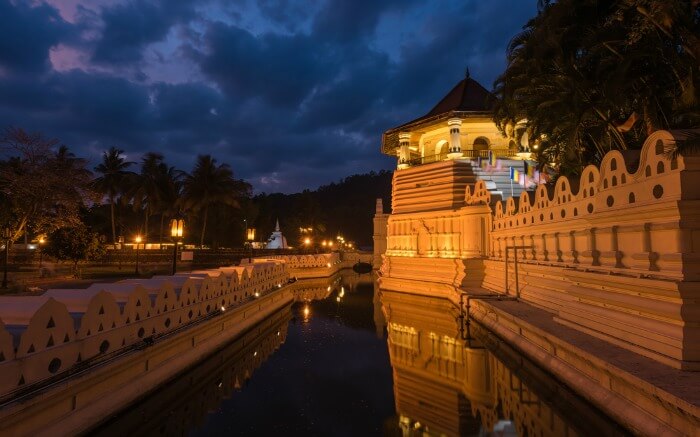 March – May is the ideal time to visit Kandy when the temperature remains around 26 – 28 degree celsius and conditions are ideal to plan activities and other excursions in and around the city.
9 most exciting places to visit in Kandy
With plenty of attractions and exciting places to visit, here are the top 9 beautiful places in Kandy. Take a look!
1. Pinnawala Elephant Orphanage – A day out with the tuskers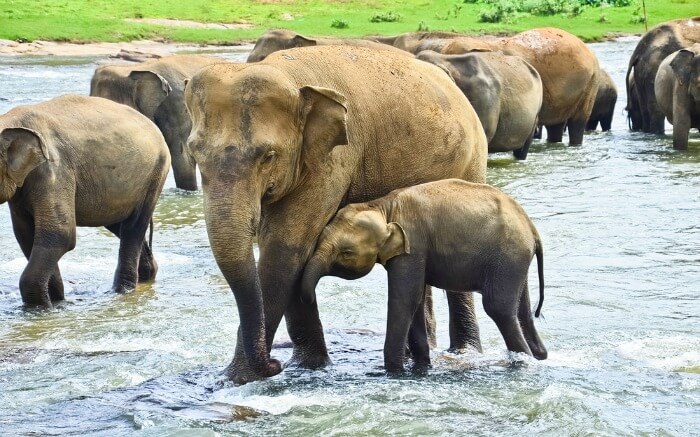 f
Plan a day out with wild Asian elephants at Pinnawala Elephant Orphanage. This is a  popular breeding ground of 90 plus elephants who stay in their natural habitat. Watch these adorable elephants bathe, play around, and feed them fruits.
Pinnawala is the place where abandoned elephants are raised. Not only orphans, but also elephants who are seriously injured or those who get aloof from their group are given proper shelter & care at the orphanage.
Prime attraction of Pinnawala Elephant Orphanage: Activities like milk feeding, fruit feeding, and elephant bathing
For more information click here
---
Sri Lanka Holiday Packages On TravelTriangle
Book your Sri Lanka trip from TravelTriangle: Inclusive of Hotels, Sightseeing, Transfers, & Meals. Best Prices Guaranteed. Get Customizable Package & Free Guidance From Destination Experts. Book Now!
---
2. Temple of Tooth Relic – A prime Buddhists attraction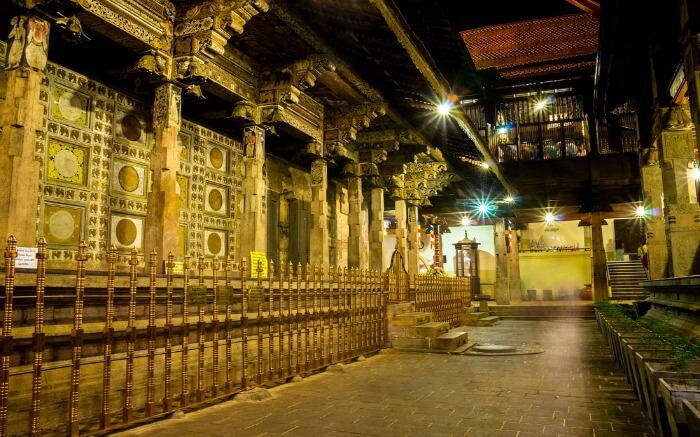 Suggested Read: 10 Reasons Why Sri Lanka Should be Your Next Holiday Destination
Considered as one of the most important temples of Buddhists in Sri Lanka, the Temple of Tooth Relic is located to the north of Kandy Lake and is one of the most remarkable places to visit in Kandy Sri Lanka. The sacred tooth of Lord Buddha enshrined in the temple makes it one of the popular Kandy tourist places. The room housing the tooth is open to devotees to offer their prayers. However, nobody gets to see the tooth because it is kept in a golden casket inside a stupa-like structure.
Prime attractions of Temple of Tooth Relic: World Buddhist Museum, Audience Hall, Alut Maligawa – a newer shrine to the rear of the temple with statues of Buddha donated by Thai devotees
3. Kandy Lake – Beauty lies in the heart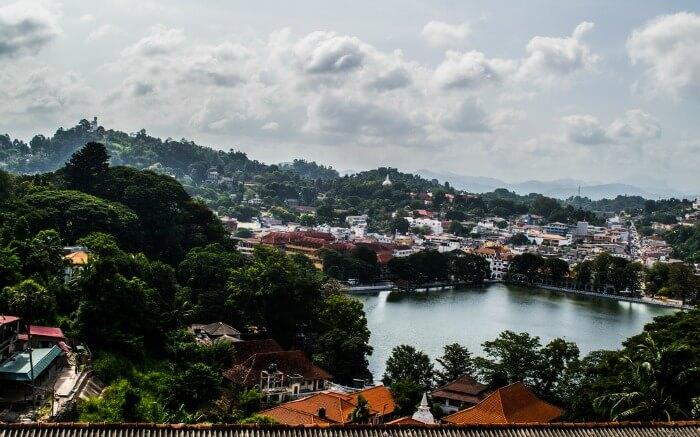 Adjoining most of the popular tourist places in Kandy and eateries with lake view, the Kandy Lake is certainly among the best places to visit in Kandy. An ideal place to spend hours during your lazy vacation, the lake offers stunning nature views around it and is a perfect romantic sojourn for a romantic couple visiting the place. The lake, existing since 1807, has a flurry of idyllic places and historical structures around.
Prime attractions of Kandy lake: Temple of Tooth Relic, boat rides in the lake, bird sightings, lizard monitoring, and tortoise spotting
Must Read: The Ultimate Sri Lanka Honeymoon Guide
4. Hulu River & Waterfall – Nature and hush environs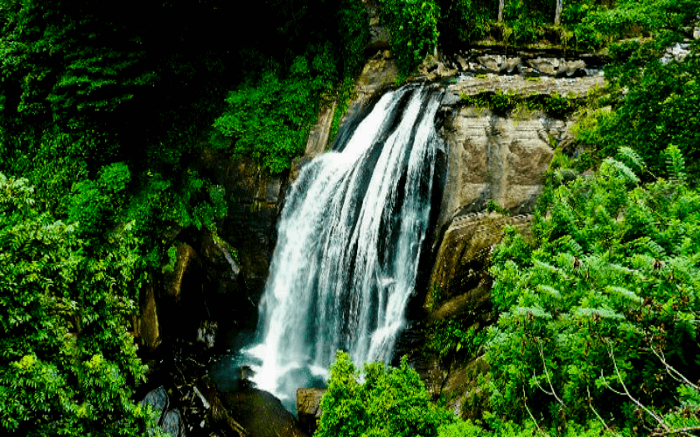 30 km from Kandy into the quiet town of Dumbara lies Huluganga Falls on the Hulu River. The river originating from the scenic Knuckles Mountain Range is the perfect escape to leave the onlookers awed. The 75-meter high waterfall, located in the Dumbara town, is a true beauty enclosed by nature's allure. And it's no wonder that Hulu is considered as one of the popular Kandy places to visit!
Caution: The place experiences sudden and rapid increase in water level. Be wary!
Suggested Read: 10 Waterfalls in Sri Lanka That Unveil Country's Bewitching Landscapes
5. Knuckles Mountain Range – The stunning mountain beauty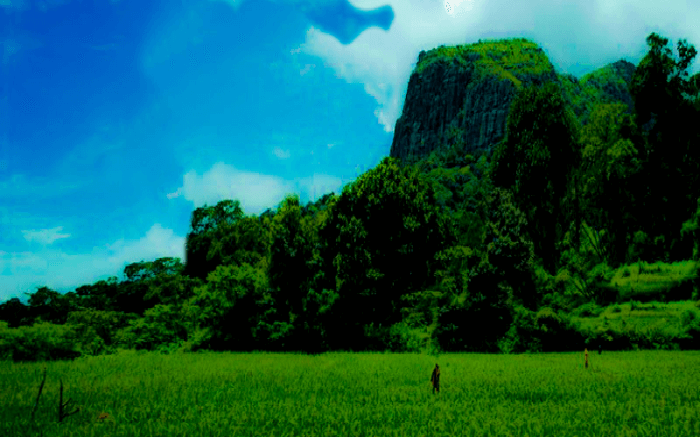 Resembling the shape of a knuckle of a clenched fist from the top, Knuckles Mountain Range is probably one of the most scenic visiting places in Kandy. The mountain Range in the region towards the northern end of Sri Lankan highlands (39 km from Kandy) is the place to be. Perfect place to try your hands on adventure traveling and camping, the Knuckles Mountain Range spans from Matale to Kandy and is a treat for the nature lovers. Look around and embrace the wilderness brought to you by sprawling grasslands, jagged peaks, torrents of streams, and gushing waterfalls. Enjoy the series of painted canvas around.
The great biodiversity of the Knuckles brings you wild boar, spotted deer, giant squirrel, barking deer, purple-faced leaf monkey, and mongoose.
Prime attractions of Knuckles Range: Mini World's End (1192 m) towards the southern end of the mountains, hiking, and wild trekking
Must Read: 10 Drop Dead Beautiful Places in Sri Lanka You Have To Check Out Now
6. Bahirawakanda Temple – Statue with a view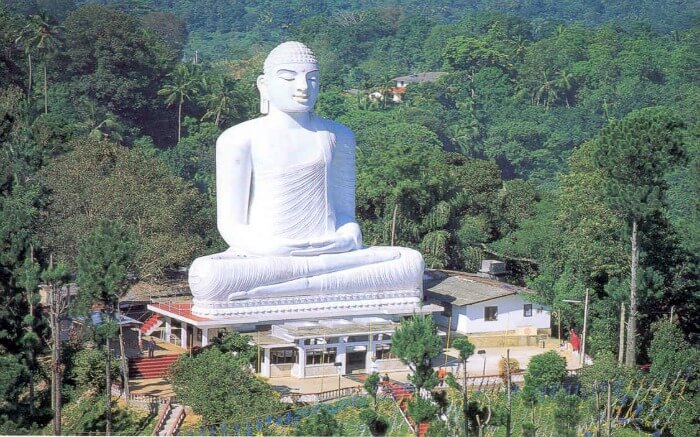 Just 1 km away from the Kandy city, the Bahirawakanda Temple is a major attraction and a distinct structure. The place is a popular attraction for Buddhists and there are quite a few international Buddhists relations meetings that are carried out here. This makes it one of the popular things to see in Kandy. The magnificent structure is huge and can be spotted from anywhere in the city. A tuk-tuk ride is all it takes to get to the temple premises. Don't miss this architectural wonder when you are in the city.
Prime attractions of Bahirawakanda Temple: Exciting city view from the statue
7. Ranweli Spice Garden – Rare spices and herbs!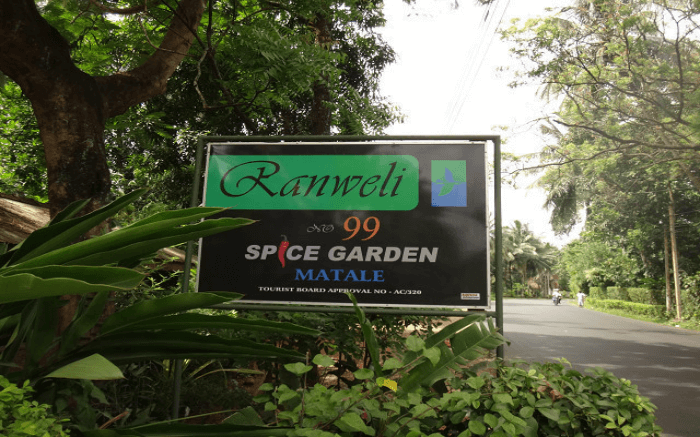 Enough of talks about spotting wildlife in their natural habitat! Time to spot greenery and exquisite plant varieties in their natural habitat. This Kandy tourist attraction is located in the close proximity of Peradeniya Royal Botanical Garden. Turmeric, Peppercorns, Cloves, Cardamom, Vanilla, Cinnamon, Cocoa, and Aloe Vera are the main plantations that are the highlights of this place.
Learn about plantations, spices, natural products, and various techniques involved while cultivating it. Ranweli Spice Garden is the perfect escape from the hustle of the city life. Vibrant history and lots of surprises await you at the Spice Garden.
Prime attractions of Ranweli Spice Garden: Suspension bridge of Peradeniya Botanical Garden,
8. Royal Botanical Garden – The classical collection of orchids!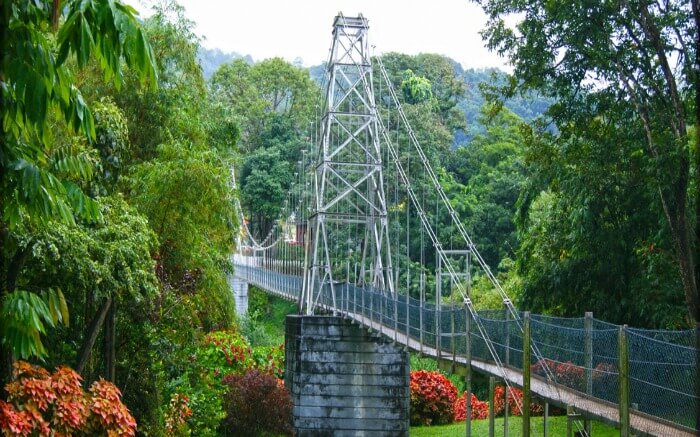 Spanning over 60 hectares, the Royal Botanical Garden is largest and one of the best places to visit in Kandy with a hidden charm to explore.
The garden is also an ideal place to plan a picnic with family and friends. However, romantic couples can be mostly seen hanging around the garden area. The cab drivers in Kandy mostly offer to cover Botanical Garden along with Pinnawala Elephant Orphanage or the Kandy temple to make it a Kandy sightseeing tour.
Prime attractions of Royal Botanical Garden: Collection of orchids, royal palms, and Javan fig tree covering 2500 square meters
Suggested Read: Kandy Shopping: 8 Best Places In The City That'll Compel You To Stop And Shop!
9. Udawattekele Sanctuary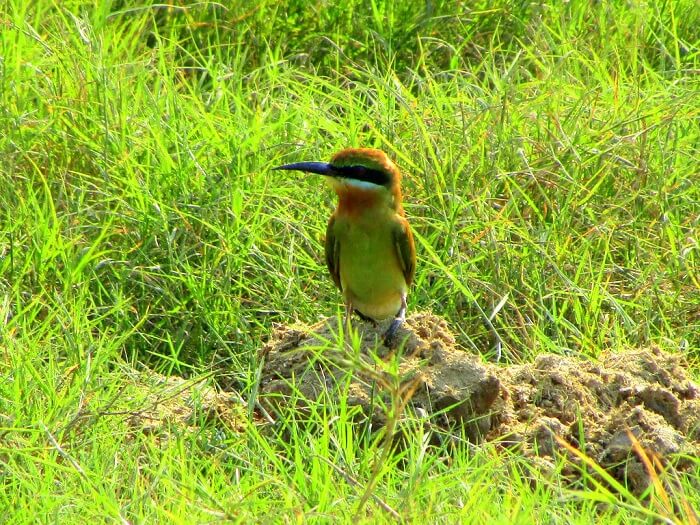 Located at the hilly terrains of the temple of the tooth relic, this sanctuary served as the retreat for the Kandyan kings in the older times. Later, converted into a sanctuary, it is an important bio reserve of Kandy. Offering as many as 80 species of birds and animals like mammals and insects, it is one of the visiting places in Kandy. If you are an animal lover and visiting Kandy, you must go here!
Prime Attractions Of Udawattekele Sanctuary: Water pond, Kodimale Peak, Senkanda Cave
Frequently Asked Questions About Kandy
Q. What Are Places To Visit In Kandy In One Day?
A. Some of the places to visit in Kandy in one day are temple of the tooth relic, royal botanical garden, kandy lake and more.
Q. What Are The Uncommon Places To Visit In Kandy?
A. Some of the uncommon places to visit in Kandy are commonwealth war cemetry, Udawattekele sanctuary, international buddhist museum and more.
Kandy, being an important spiritual city and a major tourist attraction in Sri Lanka, has a lot to offer; only if you are good enough to grab it! So, is Sri Lanka trip on the cards already?
Further Read: 19 Photos That Will Make You Wish You Were In Sri Lanka Right Now!
---
Looking To Book An International Holiday?
Book memorable holidays on TravelTriangle with 650+ verified travel agents for 65+ domestic and international destinations.
---
Comments
comments