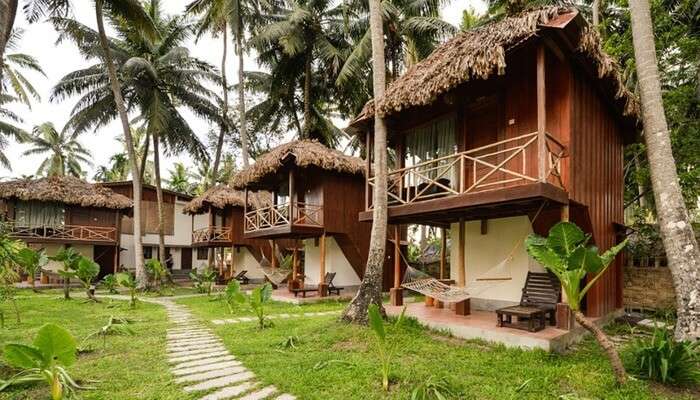 Surrounded by rumbling waves of the Bay of Bengal and with a heavy presence of water activities, Havelock Island is one of the most sought after destinations in India. The mixture of serenity and adrenaline thrust has ensured a considerable influx of tourists to the Island in recent times.
To stay at hotels is good, but to stay at a place where hotel falls flat is something you should go for. Therefore, you must try to stay at resorts in Havelock as they are budget-friendly, clean and offer a unique set of luxury. Havelock Island has a range of resorts that cater to your needs better than a traditional hotel.
Top Resorts In Havelock
You will find a range of resorts in the Island depending on their price and facilities. Here is a list of the best resorts in Havelock, which will ensure that you get personalized and serene stay you deserve during your trip:
1. Barefoot At Havelock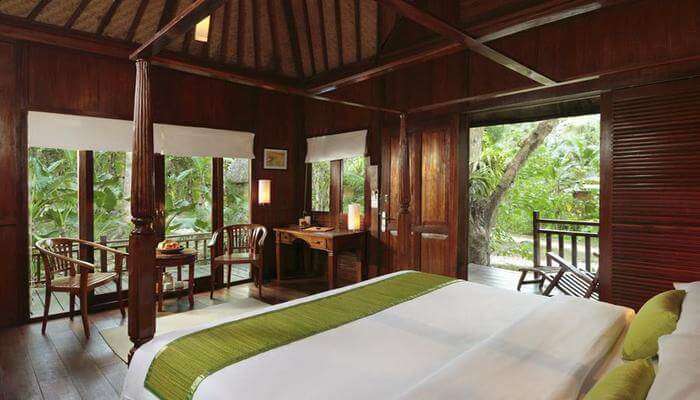 As the name "Barefoot" suggests, this resort in Havelock Island will truly connect you to the land of natural wonders. The rustic charm of the resort tries to reflect the magical aspects of this unique location with utmost sincerity. You can take a leisurely walk into the rain forest that engulfs the resort and spot the exotic plants and the birds.
If you are here in search of some adventure, then go for snorkeling or scuba diving and re-discover the unseen world under the blue water. The spa and the open-air restaurant of the resort will add the laid back vibe that you may have been seeking from your daily routine.
Location: Beach N0. 7, Radhanagar Village, Havelock Island, Andaman and Nicobar Islands- 744211
Price: INR 11,500 per night
Honeymoon In Andaman: A Handy Guide With 3 Legit Tips & First-Hand Experiences
2. Silversand Beach Resort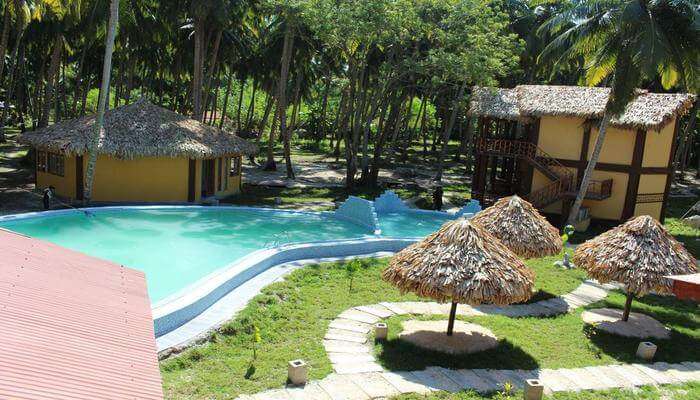 Located in the heart of the Island, this resort is guarded by a stretch of white sand beach. The bright blue sky, rumbling waves of the sea and palm trees will make you feel at home in no time. The wooden interiors of the resort will bring a warm feeling while the modern facilities will take care of the luxury that you deem. The central location means you will be able to enjoy the most sought after activities within walking distance. The Indian and continental cuisines of the in-house restaurant will keep your appetite satisfied during the stay.
Location: No. 5, Vijay Nagar Beach, Havelock Island, Andaman and Nicobar Islands 744101
Price: INR 13,100 per night
3. Coral Reef Resort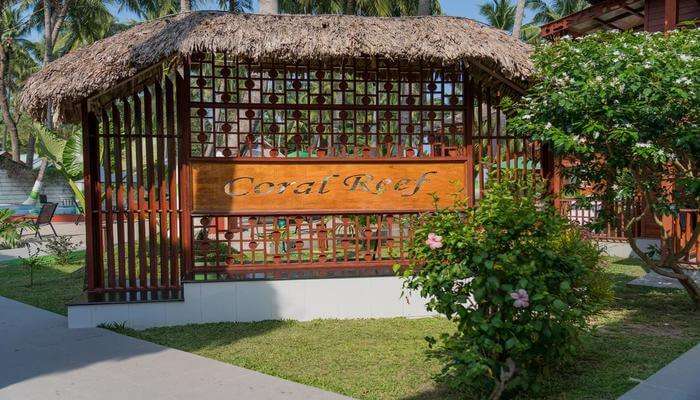 This 5 Star resort in Havelock Island has been known over the years for its luxurious facilities offering a great view. There are three types of rooms – suites, deluxe, and premium, each of which is designed to fill all the needs of the guests. The resort is not only made for leisure travelers. It is also an excellent destination for business trip holders. Whether it is a meeting or a party that you want to arrange, the resort has all the facilities that you and your guests will need.
Location: No-5, Vijayanagar, Havelock Island, Andaman and Nicobar Islands 744211
Price: INR 12,900 per night
53 Best Places To Visit In Andaman For A Mesmerizing Holiday Experience
4. Sandy Waves Beach Resort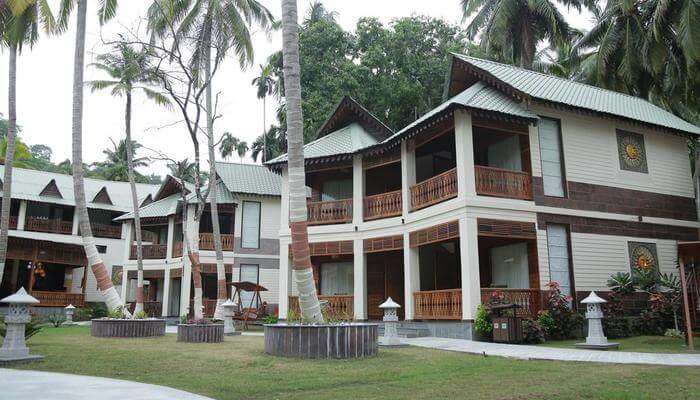 It is the ultimate luxurious sanctuary that every family or couple seek during their trip to Havelock. The villas reflect the charm of Chola architecture and host all the amenities for a hustle free stay. There are three types of rooms available – premium, superior, and a family suite. TV, WiFi, mini bar, AC are some of the facilities that you can expect in every room. The in-house restaurant is also something to look forward to. If you are traveling with your special one, then give a try to the romantic candlelit dinner here.
Location: No 5 Vijay Nagar No 5 Havelock island, Andaman and Nicobar Islands 744211
Price: INR 15,000 per night
5. Munjoh Ocean Resort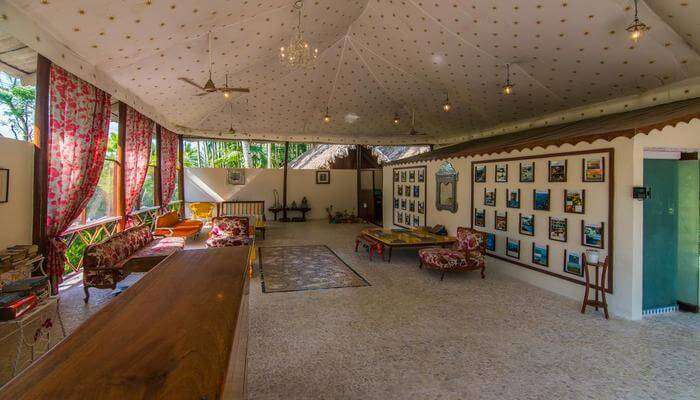 The resort is located amid the swaying coconut and betel nut trees with the perpetually accompanying fresh ocean air to clear your mood. You can think of it as your private resort with personalized facilities that you will get to avail. The resort has a private beach that you can also enjoy from your private balcony. You will also get a Kitchenette and butler service in the resort.
Location: Beach No 5, Havelock Island, Andaman, and Nicobar Islands 744211
Price: INR 14,800 per night
Jolly Buoy Island: An Untouched And Serene Gem Of Nature In Andamans
6. Haywizz Havelock Island Resort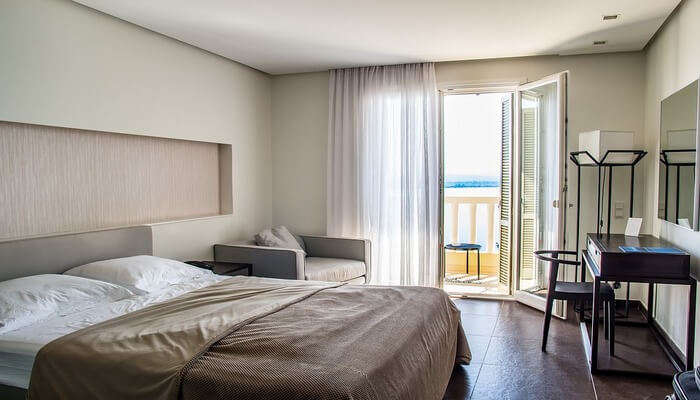 This well-equipped resort in Havelock Island is located within 500 meters from the beach. It hosts 48 fully furnished rooms that will provide every service you need for a comfortable stay. Some of the basic amenities include free internet access, coffee maker, sofa, balcony, working desk, etc. There is a spa and coffee shop on the premise. You will also find a swimming pool as if the seawater was not enough to take a bath!
Location: No.1, Govindanagar, Havelock Island, Andaman, and Nicobar Islands-744211
Price: INR 7,580 per night
---
Planning your holiday in Andaman but confused about what to do? These Andaman travel stories help you find your best trip ever!
---
7. TSG Blue Resort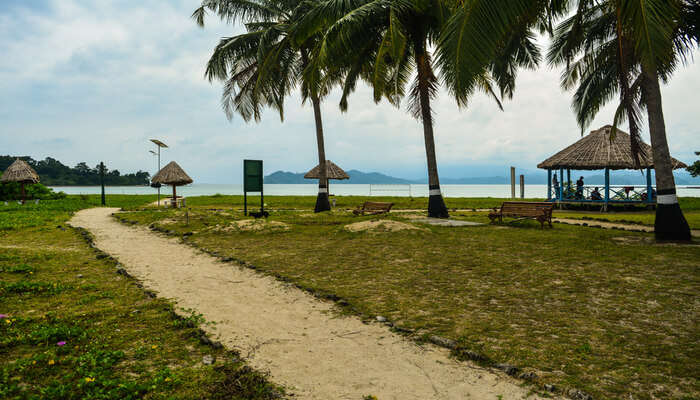 TSG Blue Resort is maintained and marketed by the TSG group, which is well known for its contribution to the hospitality sector. It puts the guaranteed label of quality service that you will be getting in the resort. You can choose between two types of rooms – cluster and cottage. The basic amenities on each suite include hot and cold running water, TV, mini bar, pool and poolside bar. The in-house restaurant is also highly regarded by the visitor for its delicacies.
Location: Radha Nagar Beach, Havelock, Andaman and Nicobar Islands 744211
Price: INR 8,000 per night
His Super Adventurous Trip To Andaman With Kids Will Give You Awesome Tips To Plan Yours
8. The Wild Orchid Resort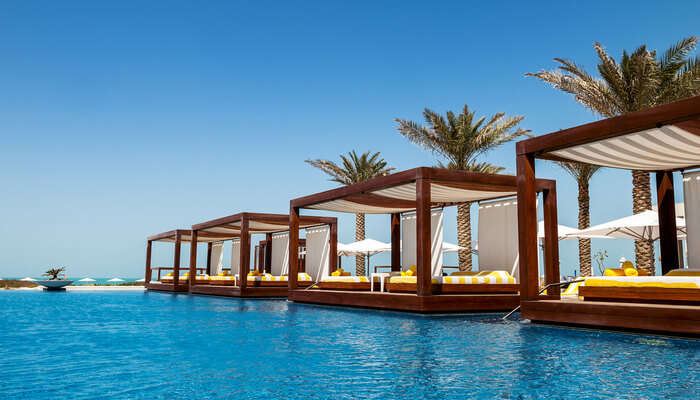 The Wild Orchid Resort in Havelock Island takes pride in their professional and friendly staff. You are going to love their in-house Red Snapper restaurant that is highly recommended by many travel guides. Their mouth-watering delicacies include Indian, continental, and seafood. You can also opt to go for excursions, snorkeling, scuba diving or fishing trips if you like. The beach dinner is tailor-made for romantic couples.
Location: Vijay Nagar, No.5 Havelock Island, Andaman and Nicobar Islands 744211
Price: INR 6,200 per night
9. Gold India Beach Resort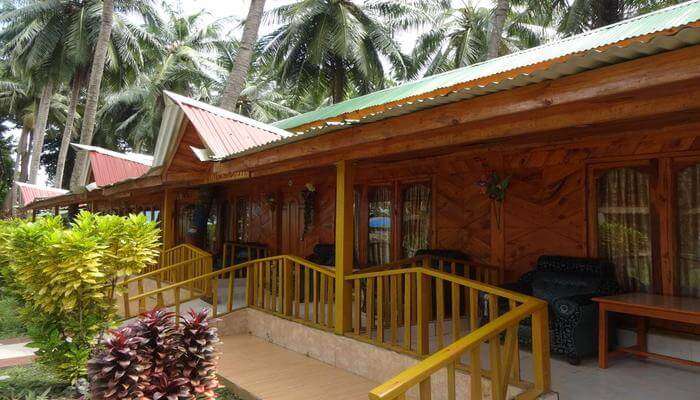 It is a private beach property. So, get ready to spend some laid back time away from the overly populated beaches in the country. The design and the friendly staff of the resort ensure that you get the homely feeling you deserve during the trip. You can choose your room among VIP, suite and royal suite category here. Some of the amenities of the resort include free WiFi, outdoor pool, AC, laundry services, etc.
Location: Beach No. 5, Vijay Nagar, Havelock Island 744211
Price: INR 6,500 per night
Nightlife In Andaman: 6 Phenomenal Ideas To Enliven Your Vacay
10. Blue Bird Resort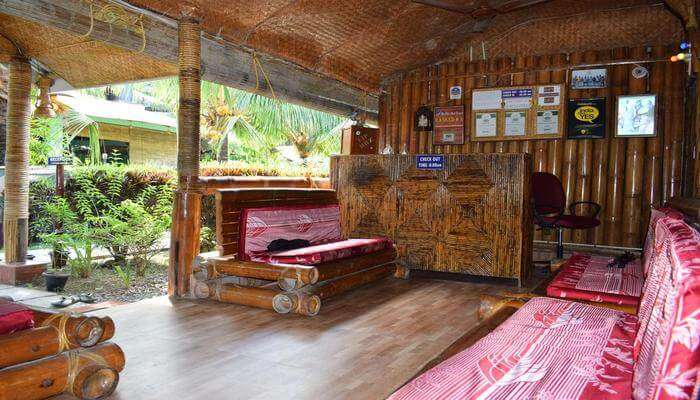 The Blue Bird Resort with thatched roof cottages is only a walk away from the famous Vijay Nagar beach. The rustic resort is surrounded by a lush forest to filter out all the humdrum of the daily chores. Inside your room, you will get facilities like TV, fridge, AC, internet, etc. You will also get complimentary breakfast, swimming pool, and laundry services here.
Location: Vijay Nagar Beach No. 5, Havelock Island
Price: INR 4,220 per night
11. Havelock Farms Resort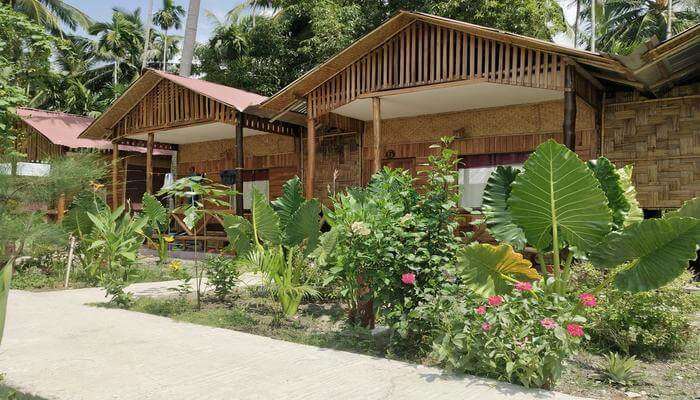 Situated in a convenient location of Havelock Island, this resort offers excellent room service and a restaurant to its inmates. The garden of the resort is the favorite of the kids that visit the resort. The rooms of the resort are cozy and include a flat-screen TV, attached bathrooms, WiFi, and a balcony for a soothing view.
Location: Govind Nagar, Havelock Island- 744211
Price: INR 4,600 per night
Markets In Andaman: 7 Markets That Are A Shopaholic's Paradise And You Can' Miss
12. Shangrilas Beach Resort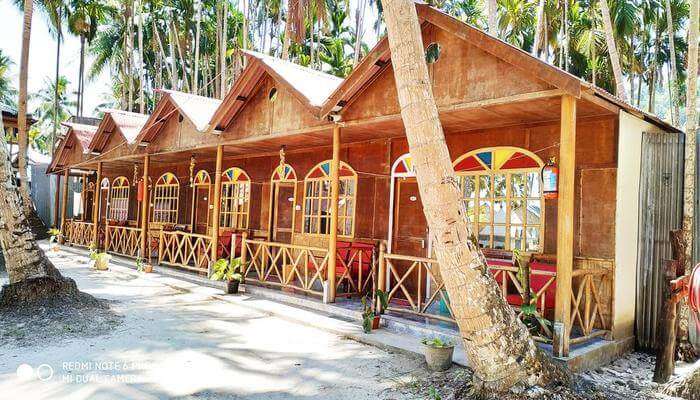 It is another budget resort on the Island that will ensure you a comfortable stay during the whole trip. The resort has standard AC and non-AC cottages under its roof. All the rooms are equipped with ergonomic working space, LED TV, and intercom for the convenience of the inmates. The hotel staff can also arrange for car rentals for visitors. The delicacies of the in-house restaurant means that you won't have to go somewhere else to taste the local cuisine.
Location: Vijay Nagar, Havelock, Andaman and Nicobar Islands 744211
Price: INR 4600 per night
The months from December to February are regarded as the peak time to visit Havelock Island. The pleasant weather at that time attracts loads of visitors to the remote Island. Owing to that, the resorts in Havelock remain booked more often than not. So, the next time you plan your trip to Havelock, pre-book your stay in one of these famous resorts.
For our editorial codes of conduct and copyright disclaimer, please click here. 
Frequently Asked Questions About Resorts In Havelock
What should I pack for my trip to Havelock?
Sunglass, light cotton clothing, bathing suit, sunscreen, and a raincoat should be included along with the usual belongings that you might need.
Is a passport required to visit Havelock?
If you are an Indian citizen, then you do not need a passport to visit Havelock.
Is alcohol available in Havelock?
There is only one liquor shop in the whole of Havelock island sand there is nothing more you can find.
How many days are sufficient for Havelock?
You should take a minimum of 2-3 days to explore Havelock.
What are the things that I can buy in Havelock?
You can buy pearls, spices, fishbone articles, shells, and other oceanic collectibles in Havelock.
---
People Also Read:
Resorts In Port Blair, Andaman Resorts In Odisha Resorts In Palakkad