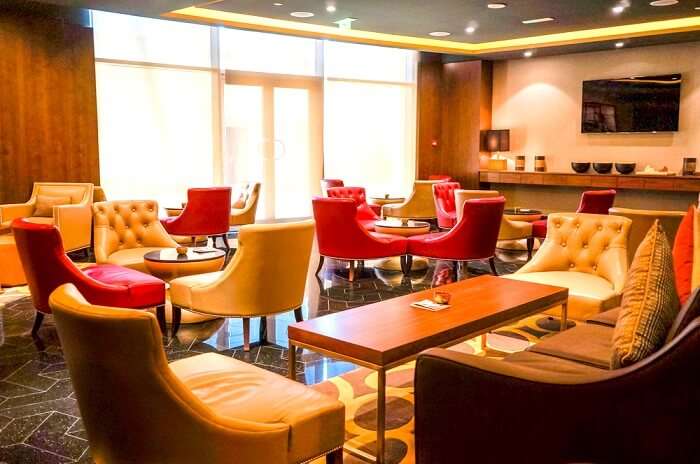 Ajman city has many tourist attractions, good hotels, a growing economy and it is becoming a popular destination for people from the Middle East, people from other parts of the country and tourists from all over the world. The population of the city is of around 200,000 people and the city has developed considerably over the last few years. The city offers a lot of good restaurants so that you can savor the best of UAE while holidaying there.
9 Best Restaurants In Ajman
Read about the best restaurants in Ajman for savouring the best of the city while holidaying there.
1. Marasea Restaurant
Ajman is a city near the coast of UAE. Marasea Restaurant is a restaurant in Ajman that primarily caters to seafood. This restaurant serves some of the best seafood in the city. The restaurant is located at the Sheraton Sharjah Beach Resort and Spa which is close to the city center in Ajman. People from Ajman can visit this restaurant and enjoy fresh seafood with Middle Eastern, Portuguese, Mediterranean, Lebanese and Asian Flavors. This is one of the best restaurants in the city that has a great ambiance. The dishes are presented in a modern fine dining way and it is a fancy place to go to when they want to enjoy quality seafood.
Must Read: 36 Places To Visit In UAE For A Lavish Vacation
2. Sultan Saray
Sultan Saray restaurant is located at the beach in Ajman and it specializes in Turkish cuisine. There are a wide range of dishes on offer and is a pretty popular restaurant in the city. The ambience and the laid-back atmosphere at the restaurant makes it a great place to enjoy Turkish cuisine with friends and family. There are many famous dishes that are popular at the restaurant including baklava, bread, spiced yogurt, gyros meat, Turkish pizza, pilav, dolma, and the famous Turkish fried bread. On some nights, this restaurant offers great Turkish music and even a belly dance show.
Suggested Read: 7 Most Recommended Things to Do In UAE For A Wholesome Experience
3. Bukhara
This is yet another great restaurant in Ajman. The people in Ajman love Indian food. Bukhara offers traditional Indian food to its patrons and is one of the best restaurants in Ajman. Various types of tandoori dishes, dals, kebabs, and other delicious North Indian food are on display at this restaurant. Bukhara, as the name suggests, has influences from the North West Frontier Region and this is seen in the dishes on the menu at the restaurant. It has a traditional décor and great relaxing vibe, making it a top choice in restaurants in Ajman.
4. Sabella's
There always has to be one great Italian restaurant in every city. Sabella's in Ajman is the top choice for people looking for good quality Italian food. This is a great place to enjoy wine, and have great Italian food. With stone-grill pizzas, authentic rich and delicious Italian dishes make Sabella's a great Italian restaurant to visit in Ajman. Sabella's has many tributes to Italy in its décor and welcomes its guests in a very relaxed and enjoyable atmosphere to enjoy Italian cuisine.
Suggested Read: 8 Best Things To Do In Ajman That Are Perfect For An Offbeat Vacation In The Heart Of UAE!
5. Zanzi Bar
Ajman is a city near the coast of the United Arab Emirates and has a truly wonderful coastline. On the beach, in this area, there is a great al-fresco beachside restaurant called Zanzi Bar. This beachfront restaurant is located at the Kempinski Hotel. This restaurant is located on the beach and there is a great private dining option on the beach at this hotel. Zanzi Bar offers delicious fresh seafood and dishes from many cuisines like Greek, Continental, Middle Eastern, and various tropical cuisines. There are good vegetarian options and a great way to enjoy a lovely day at the beach. Tourists and locals both enjoy this restaurant on the beach in Ajman. Salads, Starters, Breads, Soups, Seafood Platters, Burgers, BBQ options and Desserts are all available at this restaurant.
Suggested Read: Top 5 Palm Jumeirah Resorts That Are Redefining Luxurious Lifestyle Of UAE
6. King's Grill
King's Grill is a famous restaurant at the Ramada Beach Hotel in Ajman. This restaurant serves Arabian, Continental, Pakistani, Indian, and Middle Eastern cuisine in Ajman. This restaurant is known for its barbeques, its buffets, There are both vegetarian and non-vegetarian options available at the restaurant as it is a large restaurant in Ajman with a relaxed atmosphere and good food. From starters to desserts, this restaurant has a wide variety of dishes to choose from and has a relaxed ambiance.
7. Safi Restaurant
Safi Restaurant in Ajman is located at the fancy beachside Luxury Collection Resort in Ajman. This is a fine dining yet laid-back beachfront restaurant in Ajman. Safi Restaurant has a Pan-Asian cuisine and is renowned for its non-vegetarian food. The Menu at the restaurant includes grilled meats and seafood, burgers, Asian dishes and desserts. Dishes are often prepared according to the preferences of the guests and this is a top restaurant in Ajman
Suggested Read: 10 Top Things To Do In Sharjah That'll Help You Unravel The Mysteries Of UAE
8. Themar Al Bahar
A popular restaurant in Ajman is Themar Al Bahar. This restaurant is primarily known for seafood and has good food and is a good value for money restaurant. This restaurant located near the coast of the city offers the Mediterranean, and Middle Eastern Food. There are many vegetarian dishes also available at the restaurant and there is a diverse menu that makes it a top choice in the city.
9. Café Naseem
Ajman Hotel is a top hotel in Ajman City and is a five-star hotel in Ajman. Café Naseem is an all-day dining restaurant in this hotel and has a-la-carte menu. This hotel serves authentic Middle Eastern food, Delicious Pan Asian as well as Italian cuisine, and special desserts to their customers. It serves breakfast, lunch, and dinner and also serves alcohol to its guests. There are special brunches and buffets available at the restaurant and is another top choice of restaurants in Ajman.
Further Read: Honeymoon In Abu Dhabi: For A Romantic Rendezvous In The Charming Capital Of UAE
Ajman is very closely located to Dubai and other major UAE cities. Many restaurants that are popular in Ajman are located along the coast mostly in these top restaurants. The restaurants provide a wide variety of dishes to their customers including dishes that adhere to dietary customs and dishes that are gluten-free and other such healthy choices which are popular these days. So, plan a trip to UAE and satiate your hunger at any of these restaurants.
---
Looking To Book An International Holiday?
Book memorable holidays on TravelTriangle with 650+ verified travel agents for 65+ domestic and international destinations.
---