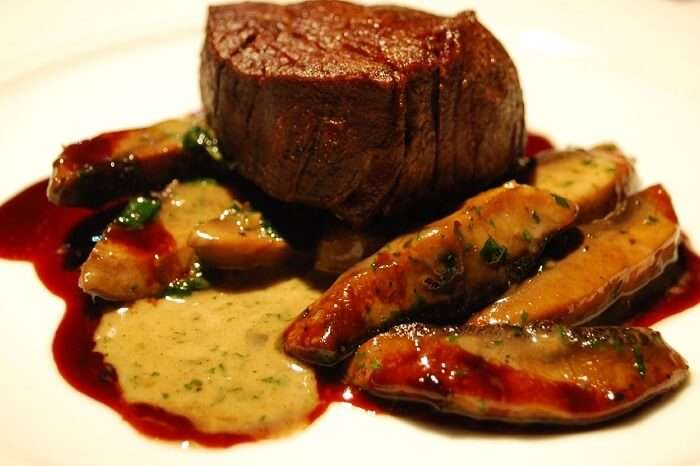 Melbourne is a city in Victoria State in Australia and has a population of over five million people. It was the most livable city in the world seven years in a row according to the rankings of a survey. Melbourne has a large diverse population that includes native Australians, English, Chinese, Indian, Greek, Irish, Scottish, Italian and South East Asian descent. We've shortlisted 10 restaurants in Melbourne that cater to all tastes.
Top 15 Restaurants In Melbourne
With so many places to explore in Melbourne, you wouldn't want to miss out on the best ones to dine at. Here's a list of restaurants that might suit your taste and preferences like no other.
1. Cutler & Co

Andrew McConnell is one of the best Chefs in Melbourne with many restaurants in the city. Cutler & Co at Fitzroy in Melbourne has a dining room and a bar and is known to create a menu that highlights local produce of the region. It has an impressive wine list and is a great place to enjoy a three-course meal with modern dishes.
Must Read: 7 Fascinating Temples In Melbourne That Are Enchanting Beyond Your Imagination
2. Vue de Monde

Chef Shannon Bennett is one of the most famous chefs in Australia. Vue de Monde is his famous Melbourne restaurant that offers classical and modern dishes. There is an extensive wine list at the restaurant and there are 10-course sampling meals offered to clients. This restaurant is located in a high rise building and also has a private "Dom Perignon" Room for exclusive private guests. It is considered to be one of the good restaurants in Melbourne by many locals!
3. MoVida

There are many diverse cultures within the populace of Melbourne and many people with Spanish origins live in this city. MoVida is a Spanish restaurant with a focus on Spanish cuisine. MoVida Bar de Tapas has traditional Spanish dishes, great wine and champagne, and truly lovely Spanish Desserts. It's a great Tapas bar in the city and a popular place for tourists to visit.
Suggested Read: Explore The Best Nightlife In Melbourne To Know Why It's The World's Most Attractive City!
4. Attica

Another great restaurant with a famous chef in Melbourne is Attica with Chef Ben Shewry. Attica is a fine dining restaurant in Melbourne with elite items on the menu like lobster, caviar and foie gras. Attica is located in Ripponlea area of Melbourne and this fine dining restaurant uses Australian ingredients with influences of various cuisines of Australia. This restaurant is amongst those places to eat in Melbourne that you cannot miss!
5. Rockpool Bar & Grill

Rockpool Bar and Grill is a dining room that has outlets in Melbourne, Perth and in Sydney. This is one of the best restaurants in the country and offers patrons a new Australian style cuisine. From champagne and caviar to burgers, this place truly has something for almost everybody. The inspiration for the bar is the steakhouse tradition of North America and it is a great place to have grilled and barbeque cuisine.
Suggested Read: 10 Mesmeric Places To Visit In Melbourne
6. Coda

Another popular restaurant in the city is Coda. This is a Modern Asian or French Vietnamese style cuisine restaurant with dishes which are influenced by French, Vietnamese, Chinese, Asian, Japanese and basically a Pan Asian style cuisine. Asian flavors are very well incorporated in the wide variety of dishes on offer at Coda. This is surely one of the most charming restaurants in Melbourne, Australia for your next visit!
7. Lume

Shaun Quade is a top chef in Australia and his restaurant, Lume, has been ranked one of the best restaurants in the country consistently for a number of years. Lume offers a tasting menu of 14-courses. It has a modern menu with great fine dining contemporary dishes on the menu. This menu also has vegan dishes, and its seven-course meal is renowned all over Australia for its food.
Suggested Read: Honeymoon in Melbourne: A Detailed Guide For Everything You Need!
8. Dinner by Heston

Heston Blumenthal is one of the best chefs in the world with many world-class restaurants and cookery shows on TV. Dinner by Heston in Australia has an a la carte menu, private dining, five-course lunches, vegetarian five course lunch, a bar with a great cocktail and a famous festive Friday lunch. The restaurant offers Australian and English cuisine. This place is amongst the top restaurants in Melbourne that you ought to include in your list.
9. Flower Drum

There is a large Chinese population in most urban cities in Australia including Melbourne. One of the best Chinese restaurants in the city is the Flower Drum. Flower Drum is a private dining restaurant in Melbourne that has a variety of Chinese dishes on the Menu. The restaurant uses the seasonal produce of the region to create authentic Chinese dishes.
Suggested Read: 15 Best Hotels In Melbourne For Every Wallet Size
10. The Press Club

George Calombaris is the famous chef who is a judge on the reality cooking show on TV called Masterchef Australia. The Press Club is George's restaurant in Melbourne that offers traditional Greek cuisine in a modern way. Melbourne has a large Greek population. This restaurant is famous with tourists from all over the world because of its famous chef.
11. Osteria Ilaria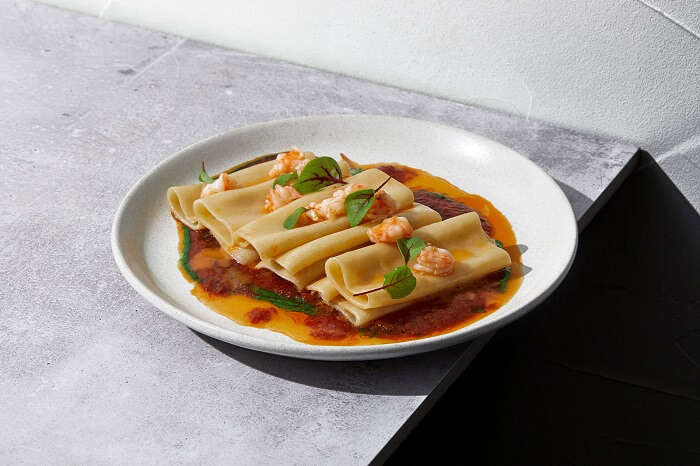 If you're out and about in Melbourne, this is one place where your Italian cravings will be satiated the best. The fact that this place has many delectable dishes on the menu that you ought to try such as, paccheri and both tourists as well as locals just love it. With a unique decor to keep you in the mood, this place is surely stop by if you're in the mood for some crazy cheese food! Want to dig in any time sooner?
12. Sunda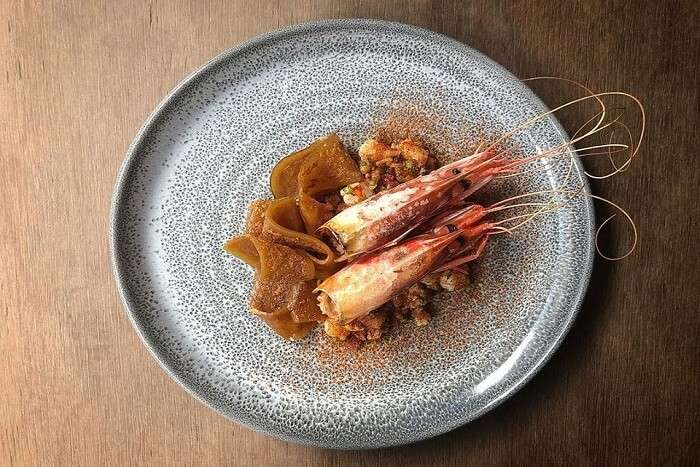 Sunda is the kind of restaurant that has its unique menu with Vegemite curry topping the list. Savoury curry sauces, deconstructed rotis and rendang bun are amongst the specialities of this place. What's more is that the meat pie version that this restaurant has is the favourite of many foodies. However, one of the best dishes at this place is surely the vegemite curry.
13. The Carlton Wine Room

Image Source
Even though there have been some changes in the recent days in the restaurant, the taste and quality of the food have only improved if nothing else! You can surely try the Rigatoni pasta with smoked cheese here and the kingfish crudo is to die for. What's more is that you can taste the various drinks on the menu that are simply the favourite of all the locals. This is surely one of the best restaurants in Melbourne!
14. Cumulus Inc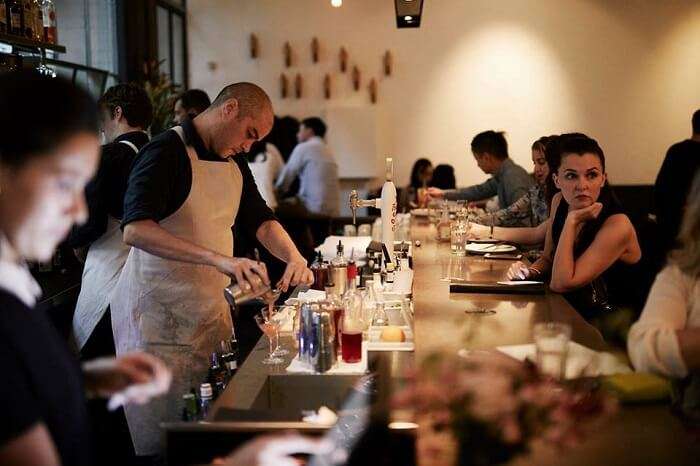 Image Source
Andrew McConnell presents this lavish restaurant called Cumulus Inc that has an exclusive menu with some of the best dishes to try. A grand bar that is surely more than inviting and an open kitchen that lets you peek into the charming kitchen that this place has, it is a unique experience for those visiting Melbourne for the first time. Try their lamb shoulder and oysters to get a taste of the authentic Australian flavours they have on board. This place tops the list of amazing best new restaurants in Melbourne!
15. Tipo 00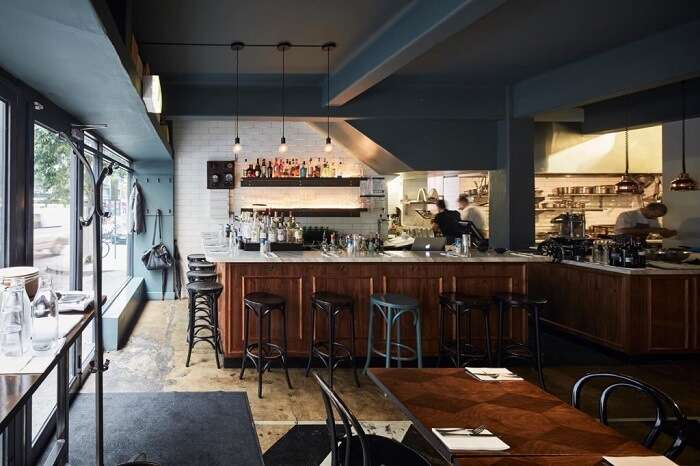 With a stunning decor that will make you feel at home, this cafe bar has everything one needs for a soothing evening time. The best dishes to try here include pasta and panna cotta along with a tasty radicchio salad that is their speciality. The overall vibrant atmosphere surely adds to the feel of this beautiful restaurant.
Further Read: 9 Fun Things To Do In Melbourne For A Hell Of A Trip
Over the last decade, Melbourne has become a destination for top rated dining. Plan a trip to Australia to have an incredible culinary experience. Make sure to take your family and friends along too. Because happiness shared is happiness doubled!
---
Looking To Book An International Honeymoon?
Book memorable honeymoon on TravelTriangle with 650+ verified travel agents for 65+ domestic and international destinations.
---