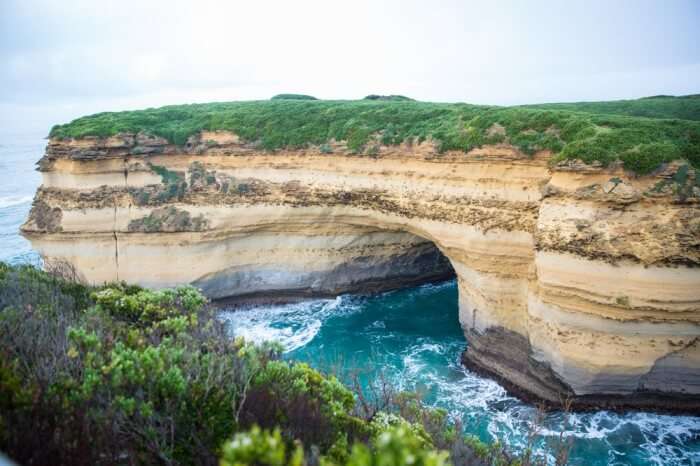 Considered to be the hub of live music and the bar capital of Australia, one can never run out of things to do during your honeymoon in Melbourne. It is a kind of place that stirs your soul with love and romance for which, we've put together a complete Melbourne honeymoon guide. When combined with enticing Australia honeymoon packages it will not only help you in making better choices but will also enable you to experience the best of Melbourne as a honeymoon destination.
About Honeymoon in Melbourne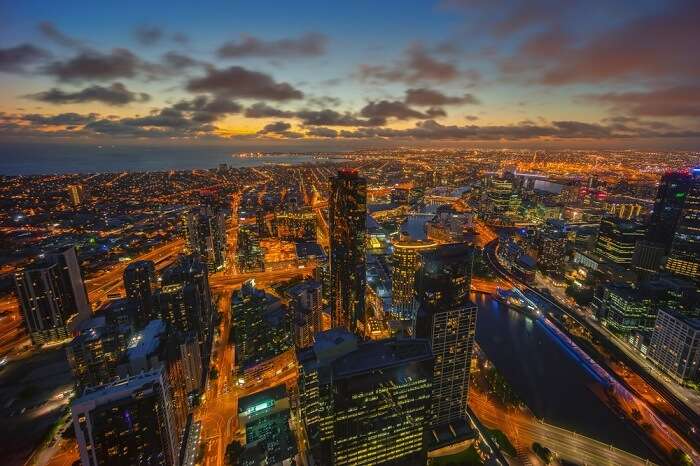 One of the best livable cities in the world, Melbourne is the charming cultural hub of Australia. Much famed for its vibrant vibes, natural attractions, colorful boutiques, buzzing bars, local eateries and never ending food and wine scenes, a honeymoon in Melbourne is synonymous with non stop excitement and thrill.
Weather In Melbourne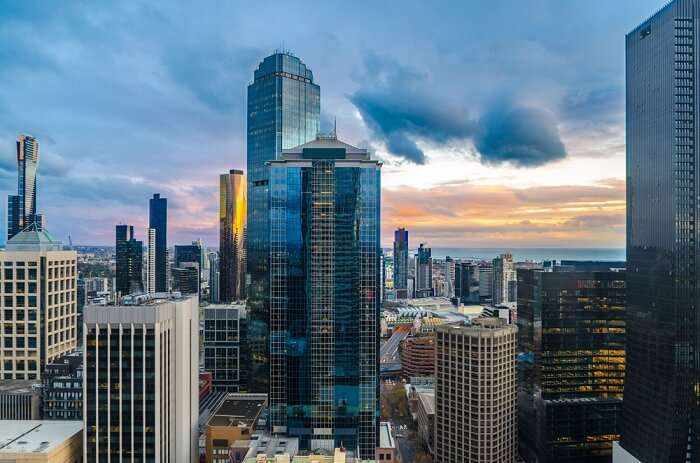 Melbourne is a year-round destination that enjoys a temperate climate throughout the year. Having said that, you can plan your honeymoon in Melbourne according to the seasons that are enjoyed in the city.
Summers: December to February – The average temperature ranges from 14°C to a maximum of 25°C.
Winters: June to August – Average temperature can fluctuate from 6°C to 14°C.
Autumn: March to May – The average temperature falls between 10°C to 20°C.
Spring: September to November – The average temperature may rise from 9°C to 19°C.
Best Time To Visit Melbourne for Honeymoon
May to August and November to March serve as the best time to enjoy honeymoon in Melbourne. Amongst these two time periods, May to August serves as the best season to enjoy a sensual Australia honeymoon tour as the winter chills fade slowly and make the weather more pleasant before the arrival of monsoon.
Ideal Duration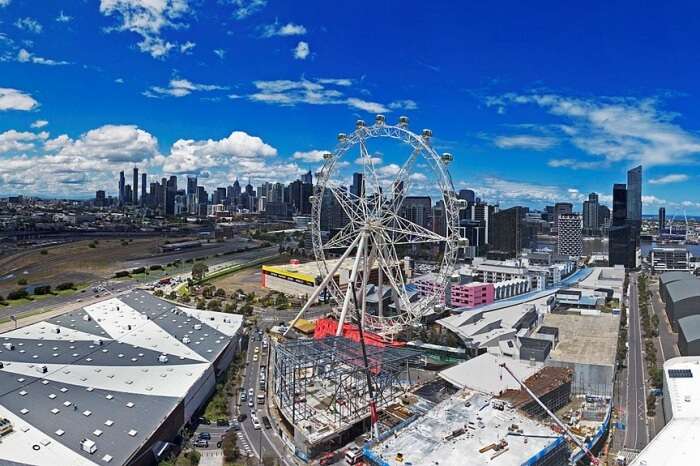 Though Melbourne alone can be best explored in a period of four days, an ideal duration of 5 days and 4 nights would be more than enough to enjoy the most romantic things to do in Melbourne during honeymoon. In addition to this, an ideal honeymoon package to Australia would be of 10 days and 9 nights.
Budget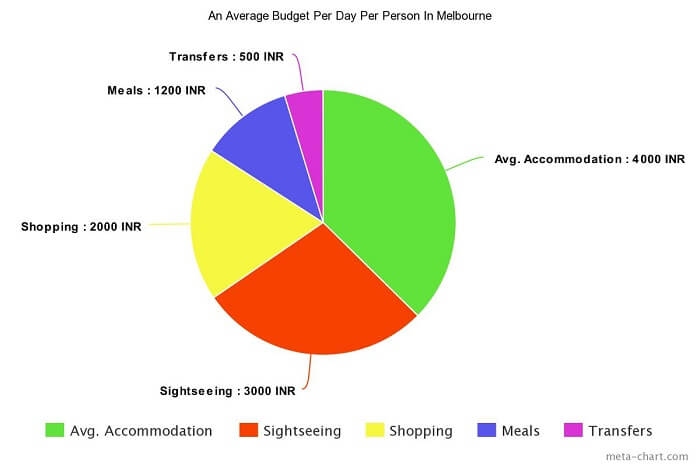 Keeping the necessities in mind which includes accommodation, meals, local transfers, sightseeing and miscellaneous expends, a breakup of an estimated expenditure has been listed below.
Flights: INR 60,000
Accommodation Including Taxes: INR 2,000 for 3 Star, INR 6,000 for 4 Star and INR 19,000 for 5 Star based on double sharing accommodation
Average Accommodation Rate: INR 4,000 per night
Local Transfers: INR 500
3 Meals: INR 1200 for breakfast, lunch and dinner
Sightseeing: INR 3,000
Miscellaneous: INR 2,000 to INR 5,000
Average Spend Per Day: INR 10,700 per person
Please Note:
Flight rates have been excluded and an average accommodation rate has been included in the average budget per day per person in Melbourne as the budget can vary for every traveler.
Also, the lower limit has been considered to calculate the average budget per person per day.
How to Reach Melbourne
The Tullamarine Airport is the main airport of Melbourne.
The airport is located just 25 minutes away from the city by car.
The city can be reached within 20 minutes through a shuttle bus.
Getting Around In Melbourne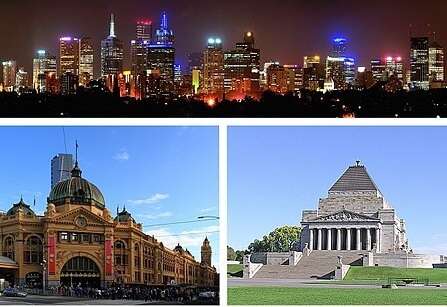 Get yourself a myki smartcard from one of the 7-Eleven stores that can be recharged for value and can be reused. This card can be used on the all modes of public transport in Melbourne which is called Metlink that includes trams, trains and buses.
You can buy a ticket for two hours or for a full day depending upon your requirement. Keep this map of inner Melbourne handy to make moving around easy.
Public Transportation
One of the best ways to travel within Melbourne is to hop on to a city tram. It is also the easiest ways to explore the major attractions and explore the suburbs of Melbourne.
One can also opt to board the Metlink Trains that function to and fro from Flinders Street Station.
Buses also connect the major points in the city and fill the gap between the services of trams and trains.
Hire
One can hire the taxis in Melbourne which are a reliable source of exploring the city.
You can also choose to hire a Melbourne Water Taxi and cruise around the Yarra River that flows throughout Melbourne.
Rentals
You can find bike docks throughout Melbourne. It is a must to wear a helmet while riding a bike.
You can also rent a car from international as well as domestic arrival spots for reasonable rates.
What To Pack For Honeymoon In Melbourne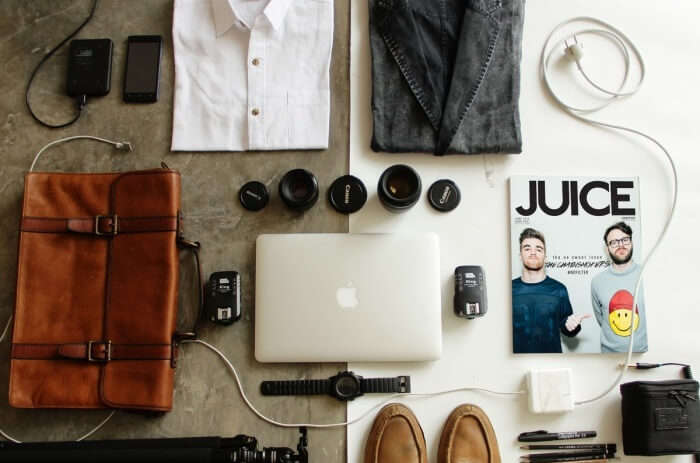 For every season, the packing list differs as to what you need to carry while traveling to Melbourne. On the contrary, Melbourne is famous for showcasing all of the four seasons in one single day.
Hence, we've compiled a list of all the necessary things to pack for your honeymoon in Melbourne.
First things first, get a small backpack for yourself and keep your airline tickets with at least two photocopies and keep your passport, visa information and international driving license in place.
Keep your hotel information on your fingertips to avoid the rush once you arrive in Melbourne.
Stay fit to travel and if not, carry necessary medicines in your first aid kit and don't forget an insect repellent.
Put all the techie stuff together – mobile charger, USB cable, camera, charging cord, headphones, portable speakers, earphones, iPad, power bank, etc.
Download the necessary travel apps and stay close to google maps while getting in and around the city.
Pack a pair of binoculars for a better experience of sightseeing and adventure tours on your honeymoon.
As far as attire is concerned, carry clothes that are suitable for all seasons. A thick jacket, shrugs, cardigans, trekking shoes, boots, flip flops, a pair of heels for your date night and a pair of sunglasses are a must while traveling to Melbourne.
If you have beaches included in your bucket list, then carry loads of sunscreen along.
In addition to your clothes, pack your gloves, earmuffs, woolen caps, scarves and warmers. Carry an extra jacket and yet another layer for back up. It's never enough in Melbourne.
Don't leave without packing an umbrella.
Must Read: 17 Dreamy Australian Honeymoon Destinations That Define Romance
Where to Stay For Honeymoon In Melbourne
Melbourne offers luxury at its best and in abundance. Offering lavish honeymoon suites to budget yet opulent accommodation for honeymooners, it almost feels like luxury and Melbourne go hand in hand.
1. The Westin Melbourne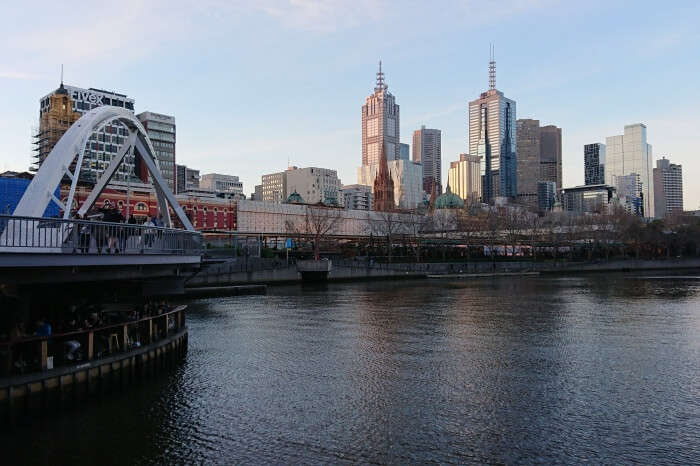 Revitalize yourself at the Westin Melbourne that redefines luxury as the hotel's interiors have been designed keeping every kind of traveler in mind. Enjoy its top notch and world-class services.
Address: 205 Collins Street, Melbourne, Victoria 3000
Price/Night: INR 21,000 to INR 91,000 (double-sharing)
Ratings: 4.4/5
How To Reach: The hotel is just 7 minutes away from the Federation Square and 11 minutes away from the National Gallery of Victoria.
Website | Reviews
2. InterContinental Melbourne The Rialto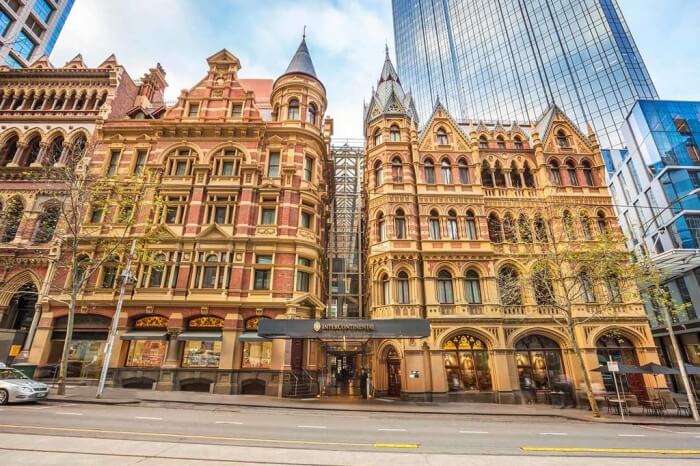 For the authentic Melbourne experience, stay in this grand 1891 vintage building that is located right in the heart of Melbourne.
Address: 495 Collins Street, Melbourne, Victoria 3000
Price/Night: INR 12,000 to INR 72,000 (double-sharing)
Ratings: 4.3/5
How To Reach:
The hotel is located just 3 blocks away from the Yarra River.
You can also reach the hotel from the SEA LIFE Melbourne Aquarium in just 8 minutes.
Suggested Read: 21 Best Resorts In Australia For The Perfect Vacation Down Under
3. Park Hyatt Melbourne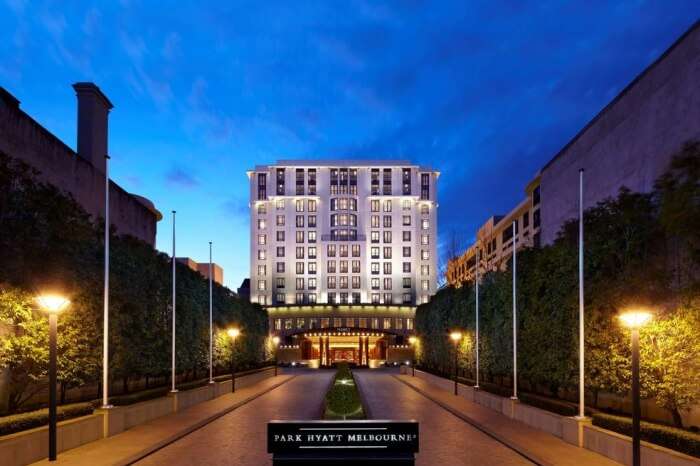 Being one of the best of 5-star properties in Melbourne, it is like indulging in sheer bliss surrounded by the Ottoman décor inside Park Hyatt. It is indeed one of the best hotels to stay.
Address: 1 Parliament Square, off Parliament Place, Melbourne, Victoria
Price/Night: INR 13,000 to INR 27,000 (double-sharing)
Ratings: 4.5/5
How To Reach:
The hotel can be reached in 30 minutes from the Melbourne airport by car.
The hotel can be easily reached from the Parliament Station located just 500 meters away.
4. The Hotel Windsor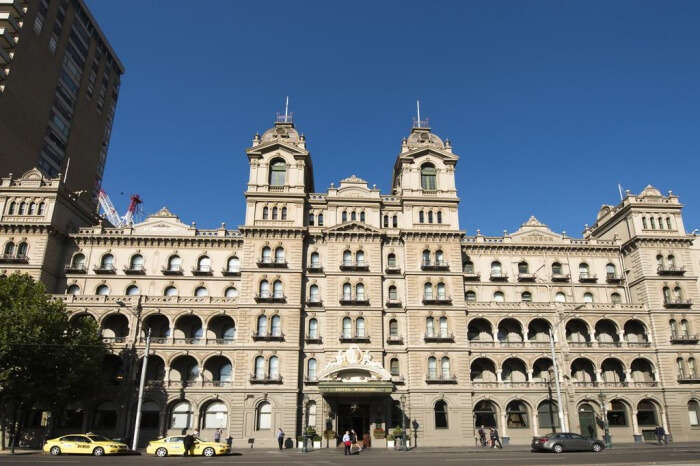 Dating back to 19th century, the Hotel Windsor is one of the luxurious and notable hotels in the whole of Australia. It is also the only grand and official hotel of the Victorian era.
Address: 111 Spring Street, Melbourne 3000, Victoria
Price/Night: INR 11,600 to INR 16,500 (double-sharing)
Ratings: 4.2/5
How To Reach: You can reach the hotel within 15 minutes from the Federation Square and the Melbourne Museum.
Website | Reviews
Suggested Read: Sightseeing in Australia: A List Of 10 Tourist Spots That No Traveler Should Ignore!
5. The Vibe Savoy Hotel Melbourne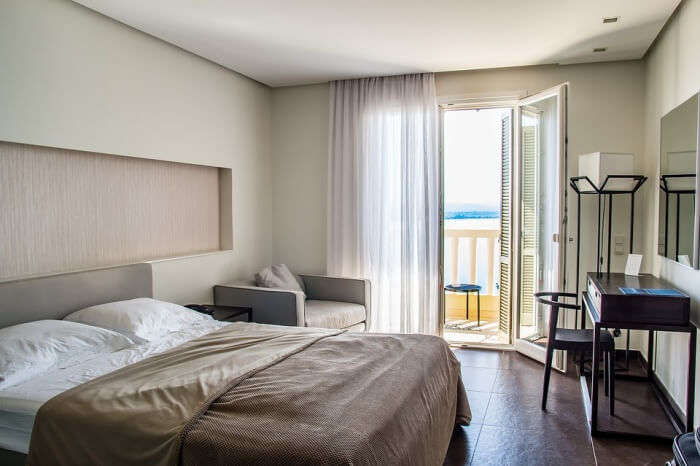 Located in the city center, the Vibe Savoy Hotel offers modern class accommodation which close to the major attractions in Melbourne.
Address: 630 Little Collins Street, Victoria 3000, Melbourne
Price/Night: INR 10,000 to INR 15,000 (double-sharing)
Ratings: 3.8/5
How To Reach: The hotel can be reached in 10 minutes from the Entertainment Complex and the Crown Casino.
Website | Reviews
6. Hotel Grand Chancellor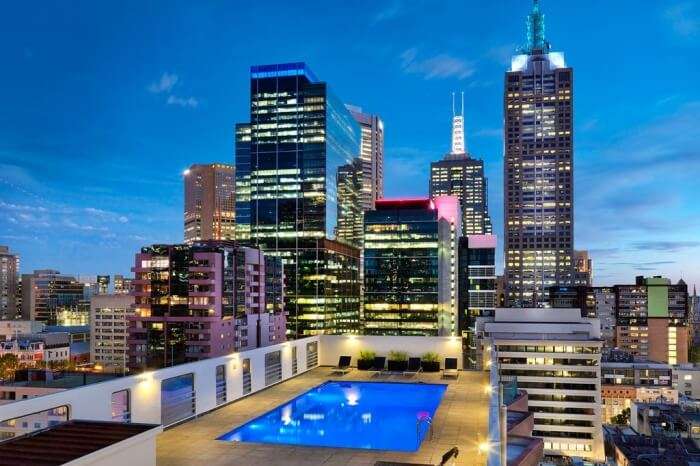 Offering stylish accommodation and warm hospitality, Hotel Grand Chancellor attracts a lot of travelers with its lofty building made of red bricks and flaunting a sleek facade.
Address: 131 Lonsdale St, Melbourne VIC 3000, Australia
Price/Night: INR 10,000 to INR 12,000 (double-sharing)
Ratings: 3.4/5
How To Reach: The hotel is located at a distance of 1.5 kilometers from the Queen Victoria Market and about 2 kilometers from the Crown Casino.
Website | Reviews
Suggested Read: 12 Cottages In Melbourne For A Hassle-Free Accommodation In This City Of Victoria
Best Places to Visit During Honeymoon In Melbourne
Being a vibrant and indeed a stylish city, Melbourne has always had its way of attracting travelers with its charm. With its beautiful architecture, graffiti-filled lanes, busy cafes, shopping markets and an overdose of entertainment with its live music scenes, you are sure to experience a deluxe honeymoon with these best places to visit in Melbourne.
1. Rock Stacks Of The 12 Apostles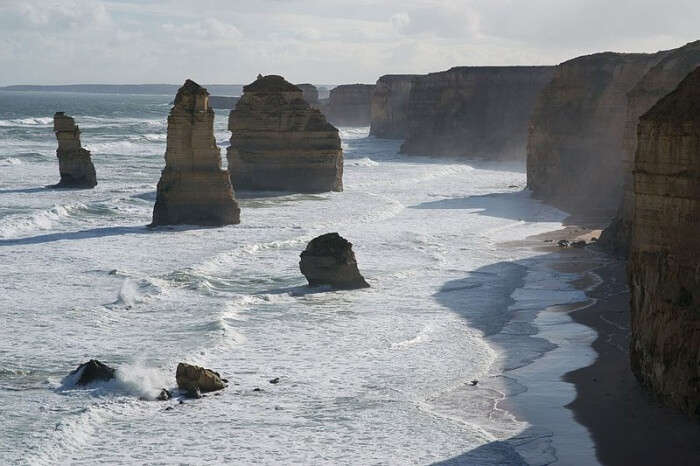 One of the best places to visit in the entire of Australia, your visit to Melbourne is pretty much incomplete without touring the stunning limestone stacks of the 12 Apostles.
Location: West of Melbourne off the Port Campbell National Park's shore.
How To Reach: You can take the Great Ocean Road & reach the 12 Apostles in around 4 hours.
Tips: Explore the Port Campbell National Park via the Port Campbell jetty and enjoy the incredible views of the Southern Ocean.
Suggested Read: For The Love Of Family And Fun: A Trip To Australia
2. The Mesmerizing Yarra Valley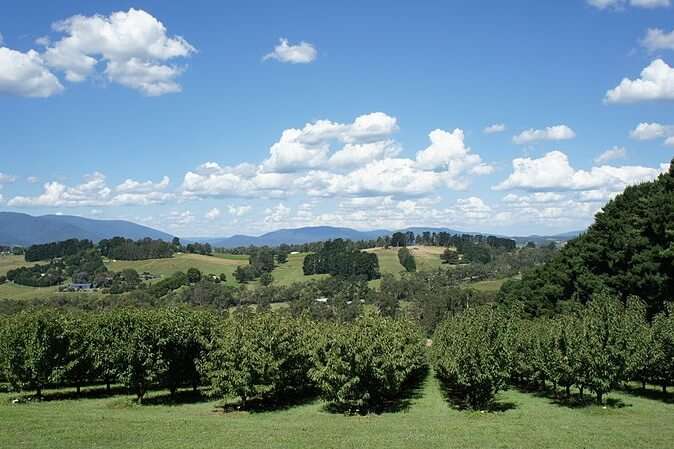 Yarra Valley is home to the world's finest pinot noir and local wine produce. The lush greens, soothing blue and everything in between will only compel you to stay a little longer in Yarra Valley.
Location: Originates about 90 kilometers from east Melbourne and flows into Port Phillip Bay.
How To Reach: The best way to reach Yarra Valley is either to join an organized tour or hire a car and drive towards the northeast Melbourne and reach within one hour.
Tips: Take a ride on Australia's oldest Puffing Billy steam railway and fly high in a hot air balloon.
Suggested Read: This Indian Woman Set Out On A Solo Journey To Australia And What She Experienced Was Beautiful!
3. Magic Of The Otways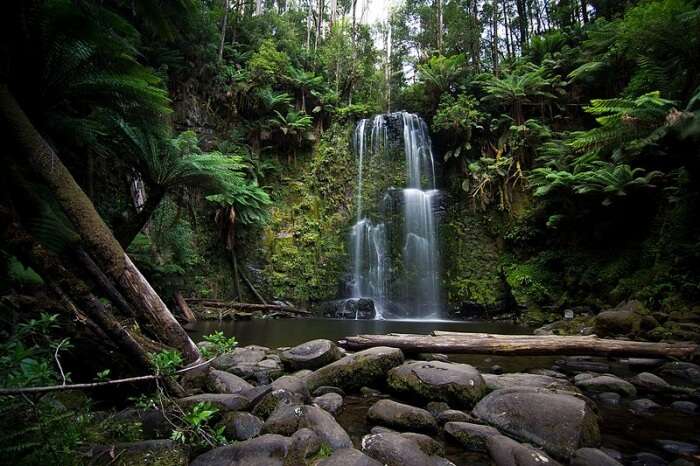 With its glorious stretch from Torquay till Princetown, the Great Otway National Park showcases arduous coastlines, dense forests, sandy beaches, mighty waterfalls and majestic rock formations along with serene lakes.
Location: In the Barwon Southwest region of Victoria
How To Reach: The Great Ocean Road will lead you to the Great Otway National Park at a distance of about 162 kilometers.
Tips: Go horse riding, enjoy mountain biking and explore the various picnic spots inside this natural marvel.
Suggested Read: Australia Tourist Attractions: Do You Dare To Visit All These 49 Places On Your 2022 Aussie Trip?
4. Sea Life Melbourne Aquarium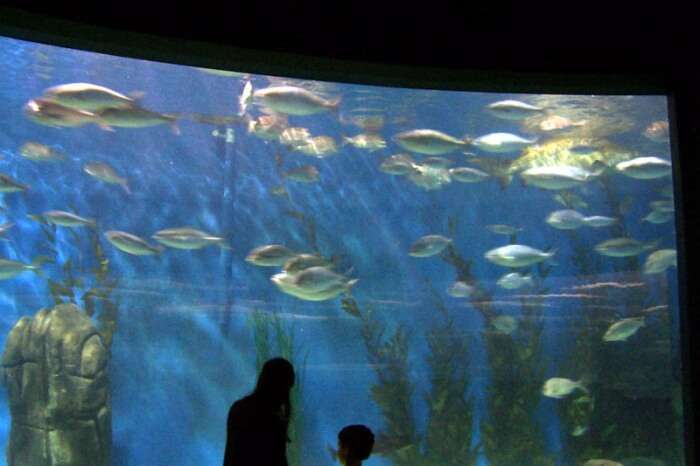 Sea Life Melbourne Aquarium is a thriving home to more than 10,000 aquatic species all gathered under one roof. Housing the world's largest Saltwater Crocodiles, this aquarium will take you on an adventure into ocean's depths.
Location: On the banks of the Yarra River
How To Reach:
The aquarium is located just 5 minutes away from Flinders train station.
Through trams, one can take route 70 and 75 to reach the aquarium.
Tips:
The aquarium is open on all days from 9.30 am to 6 pm but last admission ticket closes by 5 pm.
Do experience the diving with sharks inside the aquarium.
Suggested Read: 27 Most Beautiful Beaches In Australia
5. The Skyscraping Eureka Tower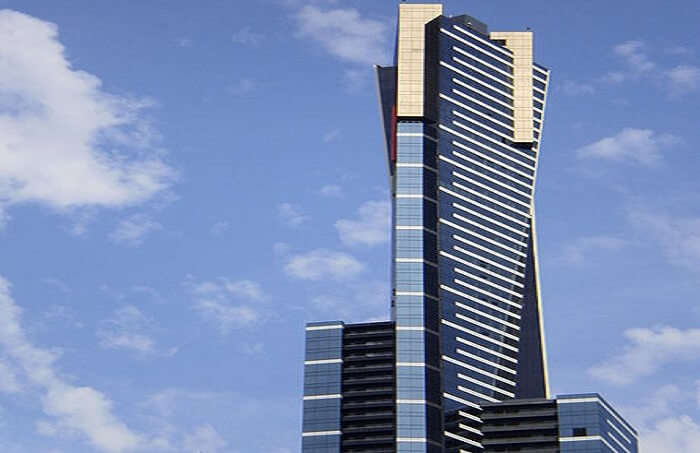 Standing tall at 975 ft., Eureka Tower is the most famous symbol of Melbourne that offers iconic views of the city's skyline. Go up to the Skydeck on 88th floor and enjoy the panoramic views of the sunset with your soulmate.
Location: Southbank, Melbourne
How To Reach: The tower is located just 5 minutes from the Flinders Street Train Station.
Tips:
The tower remains open from 10 am to 10 pm daily except for Christmas and New Year.
Also, do experience the glass ceilings, floor and walls at the Edge by Eureka Tower on its 88th floor.
Romantic Things To Do In Melbourne During Honeymoon
Apart from all the free things to do in Melbourne that the city offers, there are few must experience things that one can't miss on their honeymoon. Offering the perfect blend of nature, adventure and wildlife, your honeymoon in Melbourne is sure to be a hit with these romantic experiences.
1. Hit The Great Ocean Road For Ultimate Romance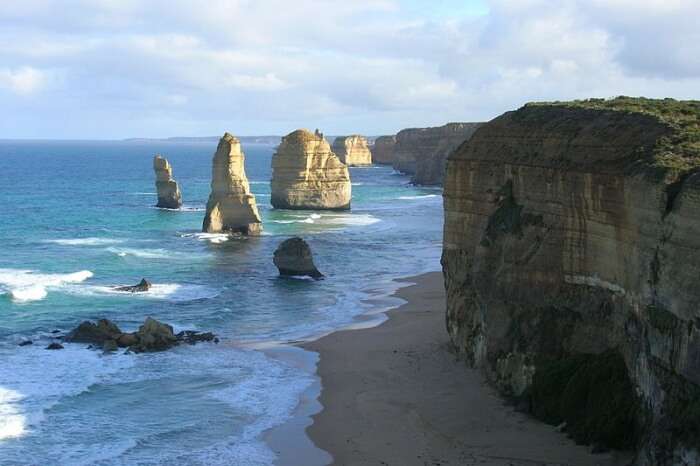 Offering breathtaking views that are one of a kind, the Great Ocean Road was built by soldiers and till today, though it passes for being a romantic getaway, it also serves as the world's largest war memorial.
Checkout the route:
Starting Point: Torquay, Victoria
Ending Point: Allansford near Warrnambool, Victoria
Route Number: B100
Stretch Of The Road: 243 kilometers
Other Things To Do On The Way: Stop at Port Campbell National Park, go for the Great Ocean Walk, explore the Southern Ocean and the Otway ranges, 12 Apostles is a sight not not to be missed and indulge in fishing and canoeing at Lake Elizabeth, Lake Colac and Lake Bullen Merri.
Tips:
If time allows, take a four day kayaking tour of the Glenelg River.
Be ready to encounter a koala, a wallaby, an echidna and spot wildflowers and native birds along the way.
How To Reach:
You can get to Torquay from Melbourne city center within 1.5 hours approximately by car.
For more information and directions, refer to the map below.
Suggested Read: Top 21 Things To Do In Australia: Scuba, Skydiving, & More
2. Witness A Sunset At St. Kilda Beach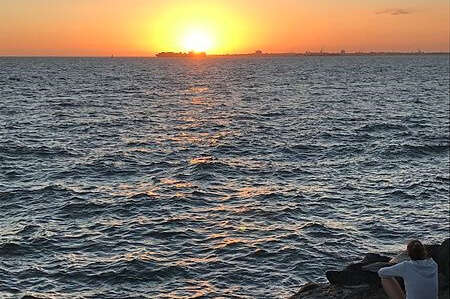 Location: St Kilda, Port Phillip, Victoria
Stretch Of The Beach: 700 meters
Surroundings: The beach lies along Jacka Boulevard & St Kilda Esplanade between St Kilda Marina and St Kilda Harbour
Other Things To Do On The Beach: Skydiving, Jetskiing, Diving, Waterskiing, Windsurfing, Kitesurfing, Sailing, Rollerblading and much more.
How To Reach:
You can reach St. Kilda beach by taking the tram via route 96, 112, and 16 from Bourke Street, Collins Street and Swanston Street respectively within 25 minutes.
You can also opt for a water transfer through private boats and ferries.
St. Kilda beach is not just filled with scintillating views fit for a romantic walk and witnessing sunset on your honeymoon but is also the hub for all the watersports enthusiasts. You name it and you'll find it here.
3. Watch Penguin Parade At The Phillip Island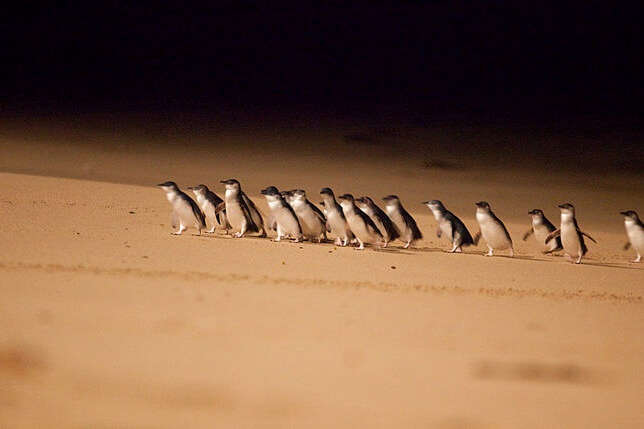 You cannot resist jumping with excitement and falling in love with the penguins at the parade. There's a reason why the Penguin Parade is world renowned and it is a must experience during your honeymoon in Melbourne. You can get closer to Penguins from various viewpoints of Penguins Plus, the underground viewing, ultimate penguin tour and much more.
Location: 1019 Ventnor Rd, Summerlands, Victoria
Other Things To Do On Phillip Island: Explore the Antarctic journey, play with Koalas at the Koala Conservation Center, visit the Churchill Highland heritage farm and fall in love again on an Ecoboat tour.
How To Reach: By car, you can reach Phillip Island within 90 minutes from Melbourne and reach the Penguin Parade bridge in another 20 minutes.
4. Wine Tasting In Yarra Valley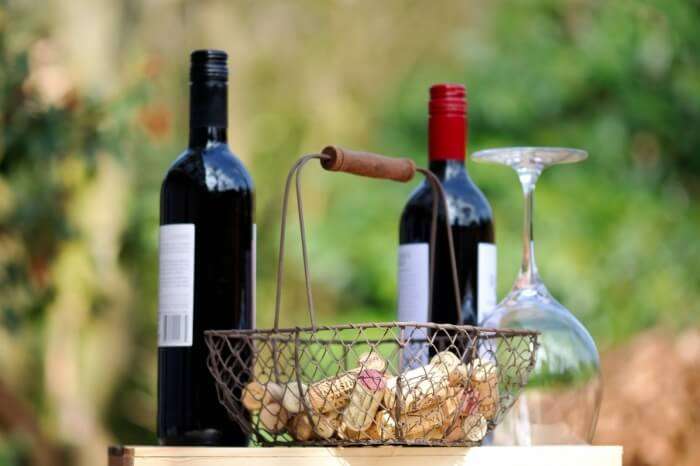 One cannot miss out on treating their taste buds to the finest wines and fresh local produce of the Yarra Valley when in Melbourne. The award winning vineyards and cellars are perfect for a laid back romantic day well spent with your better half.
Must Try: Chardonnay and pinot noir of the highest quality and witness the production of traditional sparkling wine at Domaine Chandon by Moet & Chandon
Other Things To Do: Explore the rainforests of Yarra Ranges National Park, the wildlife of Australia at Healesville Sanctuary and fall in love with masterpieces at TarraWarra Museum of Art.
How To Reach:
If you can get access to a private airplane, then you can reach Yarra Valley faster and enjoy bird's eye view as well.
You can also reach Yarra Valley via train and Lilydale is the nearest train station.
You can reach Yarra Valley approximately in an hour via self-drive which is the best way to start your day on a romantic note.
Suggested Read: 11 Boutique Australian Music Festivals To Make Your Feet Tap
5. Romantic Dinner On Yarra River Cruise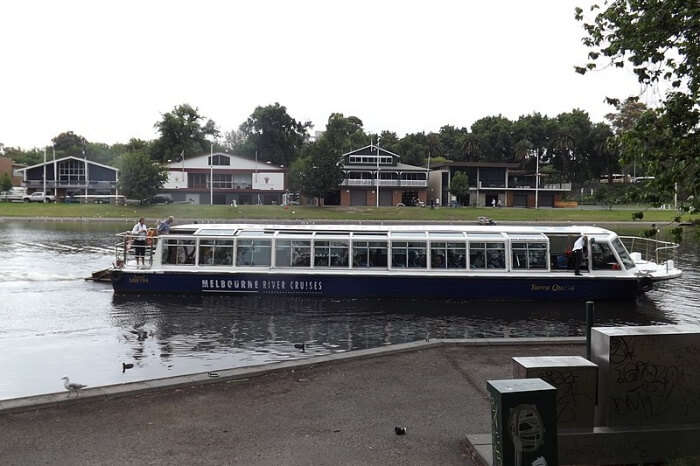 A romantic date night is a must for honeymooners and nothing gets better than a dinner date while cruising on the Yarra River in Melbourne. You can easily hire one of the many boat tour operators in the city. The entire city meets at the river and the night view of the skyline from the river is worth taking a tour. Indulge in some river romance in a gondola amidst the natural beauty of Melbourne.
Length of Yarra River: 242 kilometers
Other Things To Do Around Yarra River: Explore the Royal Botanic Gardens, Melbourne Park, Herring Island Park and the surrounding cycling trails and walking paths. Experience the best of kayaking, boating, canoeing, fishing, water skiing and cycling.
How To Reach: You can reach the Yarra river within 1.5 hours from the city of Melbourne via car.
6. Shop Till You Drop At Chinatown Melbourne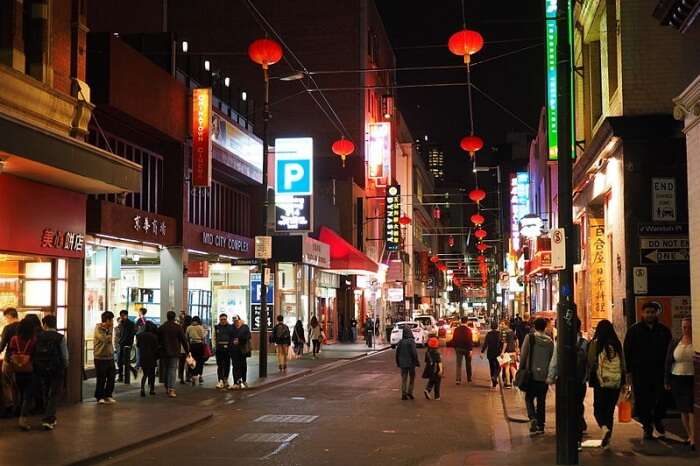 Want to make the honeymoon special for your wife? Take her to Chinatown in Melbourne and shop till you drop in the specialty shops for souvenirs, jade jewellery and much more. The night market is worth a visit on every third friday of the month. Feast on some scrumptious dumplings, satays and cakes at Heffernan Lane Chinatown.
Location: Little Bourke Street
What's Special: Souvenirs, beautiful jade jewellery and delicious food at hawker-style eateries
How To Reach:
You can reach Chinatown via train and get down at Parliament Station.
Take the tram and get down at Bourke Street station.
Where to Eat
Melbourne is one place where one's potbelly comes alive and a city that can give birth to a glutton anytime and anywhere. From lavish fine dining restaurants to enticing pubs & bars, you just can't resist drooling in the city of Melbourne.
From Shannon Bennett to Heston Blumenthal, every top chef is at your disposal with their Michelin starred restaurants along with infinite pubs, bars, clubs and cafes with lip-smacking dishes and variety of drinks at your service in Melbourne.
1. Vue de Monde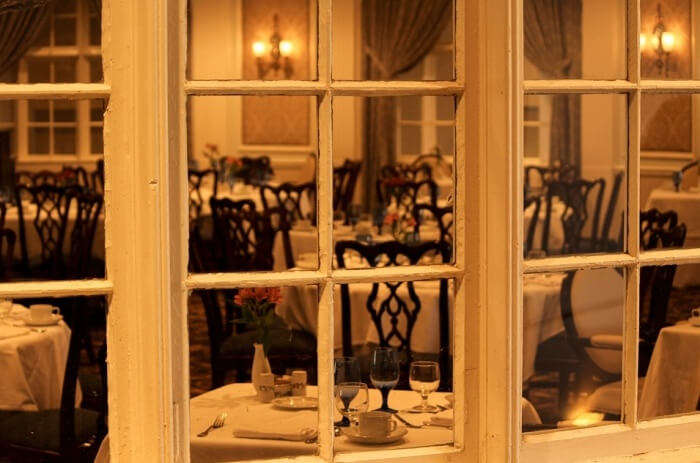 This restaurant is Shannon Bennett's brainchild of the Masterchef fame. It will feel like it costs a fortune but every bite of food tastes like heaven and is worth every penny you spend.
Address: Level 55 Rialto, 525 Collins Street, CBD, Melbourne
Timings: Thursday to Sunday: 12 noon to 4 pm & 6 pm to 12 midnight; Monday to Wednesday: 6 pm to 12 midnight
Ratings: 4.4/5
What To Eat: Marron tail & sausage, Lamb and Chocolate Soufflé
Meal For Two: INR 30,000 & above
Average Time Spent: 1.5 to 2 hours
Tips: Table booking is recommended
Website | Reviews
Suggested Read: The Ultimate Honeymoon Calendar Of The Most Romantic Destinations
2. Dinner by Heston Blumenthal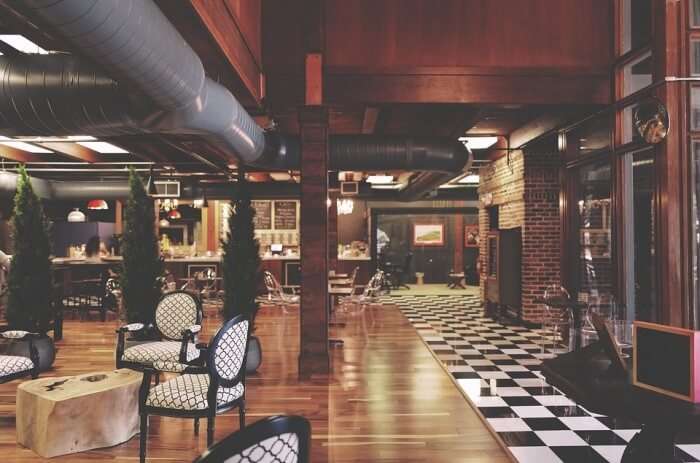 Dining in Heston Blumenthal's classic restaurant is not just fine dining but an experience in itself. Expect classic and unusual food combinations for which Heston is much famed for.
Address: Crown Melbourne, Level 3, 8 Whiteman Street, Southbank, Melbourne
Timings: Fridays & Saturdays: 12 noon to 2 pm & 5:30 pm to 11 pm; Sunday to Thursday: 5:30 pm to 11 pm
Ratings: 4.6/5
What To Eat: The famous meat fruit, the duck breast and the chicken oysters
Meal For Two: INR 15,000 & above
Average Time Spent: 2 to 3 hours
Tips: Reservations are recommended
Website | Reviews
3. MoVida Bar De Tapas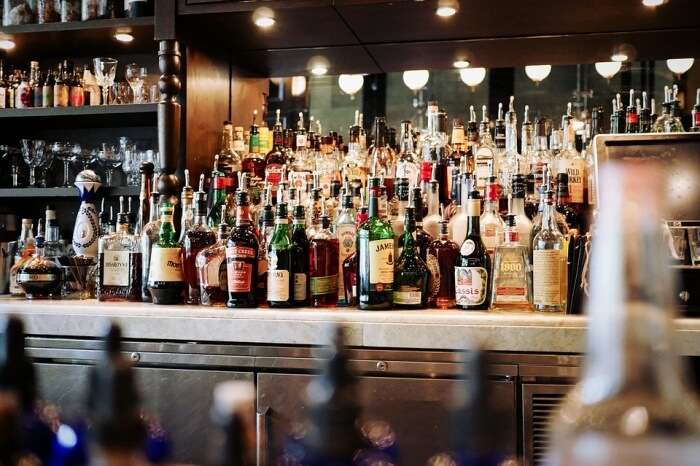 Explosion of flavors is assured with every dish that you order at MoVida Bar De Tapas in Melbourne. Specializing in Spanish tapas, MoVida offers a vibrant ambience.
Address: 1 Hosier Lane, CBD, Melbourne
Timings: Monday to Thursday: 12 noon to 10 pm; Friday to Sunday: 12 noon to 10.30 pm
Ratings: 4.8/5
What To Eat: Anchoa and Croquetta
Meal For Two: INR 6,000 & above
Average Time Spent: 1 to 2 hours
Tips: Make sure you get in early to avoid the rush. Booking a table is recommended.
Website | Reviews
Suggested Read: Take This Quiz That Will Tell You Where You'll Go For Your Honeymoon
4. Hercules Morse Kitchen + Bar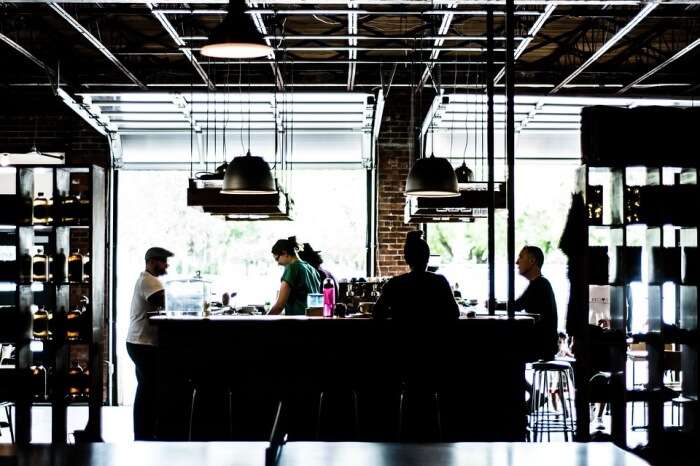 Located in the heart of Melbourne, Hercules Morse Kitchen + Bar is perfect for a romantic date with your better half. The place also has a great choice of wines.
Address: 283 Clarendon Street, South Melbourne
Timings: Mondays: Closed; Tuesdays to Saturdays: 12 noon to 11 pm; Sundays: 12 noon to 8pm
Ratings: 4.7/5
What To Eat: Chicken ribs, scallops, mushroom risotto and peanut butter parfait
Meal For Two: INR 4,000 & above
Average Time Spent: 1 to 3 hours
Tips: Book a table online for instant confirmation of your reservation. Do try the smoke and spice cocktail.
Website | Reviews
Tips For Honeymooners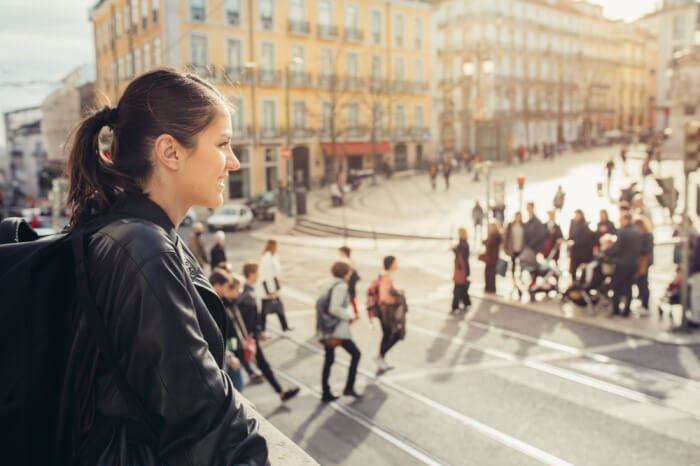 If you're driving yourself, then remember to wait for the signals to allow you to turn while turning towards the left side of the traffic. It's a rule in Melbourne.
While riding a bike, you can purchase a helmet for $5 from any of the 7/11 stores and get $3 on returning the helmet without any damage. It is pretty much like renting one for $2.
The usual two pin charger is not supported by most of the countries so check whether you'll be needing the extensions.
It is preferable not to keep all the money together in one place. Spread it out in various section of your pockets or keep some amount in separate bags so that you always have back up.
Black is the favorite color of people in Melbourne and this colour never goes out of fashion in the fashion capital of Australia. So make sure your include a pair or two of black in your packing.
Always carry a bottle of water and have a wonderful time on your honeymoon in Melbourne.
Further Read: Australia Through 20 Breathtaking Pictures
Mesmerizing much? Customize your own Australia honeymoon package with TravelTriangle and get ready to begin your journey of a lifetime in the land of love and romance.
Disclaimer: TravelTriangle claims no credit for images featured on our blog site unless otherwise noted. All visual content is copyrighted to its respectful owners. We try to link back to original sources whenever possible. If you own the rights to any of the images, and do not wish them to appear on TravelTriangle, please contact us and they will be promptly removed. We believe in providing proper attribution to the original author, artist or photographer.
Please Note: Any information published by TravelTriangle in any form of content is not intended to be a substitute for any kind of medical advice, and one must not take any action before consulting a professional medical expert of their own choice.
Frequently Asked Questions About Honeymoon In Melbourne
Is Melbourne a good honeymoon destination?
A honeymoon in Melbourne is what dreams are made of and offers a lot. You can sip on fine wine with your better half, shop at Chinatown and can even have a romantic dinner on Yarra River Cruise.
What is Melbourne known for?
Melbourne is known for not just one but many things. Some of the things that Melbourne is famous for are the many laneways, the fine dining options, and the amazing street art.
Is Melbourne better than Sydney?
Melbourne and Sydney are two very different destinations and are incomparable. Sydney offers great harbor views, the Sydney Opera House and the beautiful beaches whereas Melbourne is known for the shopping experience and the amazing street art.
Is Melbourne an expensive destination?
To be honest, yes Melbourne is an expensive destination. In fact, it ranks quite high on the list of the most expensive cities to live and naturally is expensive.
What can I shop for in Melbourne?
Some of the best things to shop for in Melbourne are Akubra Hat, Emu Oil, Kangaroo Leather, and Macadamia Nuts. Melbourne is quite famous for shopping and you should not miss out on that experience.
Is Melbourne a safe destination to visit?
Yes, Melbourne is quite a safe place to visit. In fact, it won't be wrong to say that it is the safest place to visit in Australia.
Which are the most popular restaurants in Melbourne?
Some of the most popular restaurants in Melbourne are Annam, Flower Drum Restaurant, Sun Shoppe and Cafe, and Anchovy.
---
Looking To Book An International Honeymoon?
Book memorable honeymoon on TravelTriangle with 650+ verified travel agents for 65+ domestic and international destinations.
---
People Also Read:
Honeymoon In Sydney Honeymoon In Australia Honeymoon In New Zealand
Comments
comments