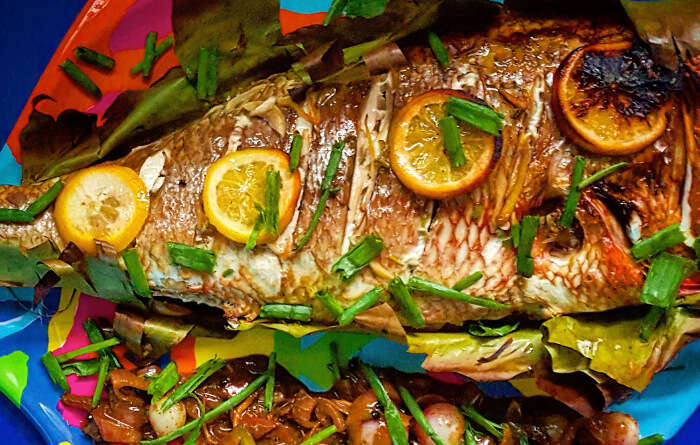 Polonnaruwa is frequented by nature admirers and peace-loving travellers to check out the beauty and surreal side of Sri Lanka. The ancient city, age-old temples and its historic ruins have made it a World Heritage Site in the UNESCO list. Those who have planned for this vintage city, must check out series of dining places, along with all the natural wonders. The restaurants in Polonnaruwa are quite popular, offer varied cuisines and immensely pamper the food-loving soul.
Bon Appetit!
Restaurants in Polonnaruwa for foodie travelers
While exploring the beauty of Sri Lanka's Polonnaruwa, if you feel hungry, these restaurants will satisfy your hunger. Try the authentic Sri Lankan food, snacks etc to get the real taste of the part of the world.
1. Jaga Food: To experience the best of local recipes
Location: D9 Ela Wel Para, Jayanthipura, Polonnaruwa, Sri Lanka
To commence the list of best restaurants in Polonnaruwa, let's start with Jaga Food. Specialising on local food, this family run restaurant has sitting arrangements in the garden, cosy ambience and super cordial staff. Taste all sorts of traditional curries, cooked on firewood and also participate in complementary cookery lesson to learn the recipes of local cuisine.
Must try: Treacle pancakes, Buffalo curd and Fiery fish curry
Opening hours: 11: 30 am to 4 pm and 6:30 pm to 9:30 pm
Reviews
Must Read: The Ultimate Guide To Sri Lanka's Dambulla Cave Temple
2. Gami Gedara: Traditional at its best
Location: 608 Bendiwewa, Polonnaruwa, Sri Lanka
Gami Gedara is another place to try mouth-watering Sri Lanka food. Cooked with authentic traditional recipes, this place serves all kinds of local food. This is a rustic looking restaurant, amid verdant paddy fields, resembling the structure of mud hut. The dishes are cooked in woodfire, served in clay pots and you get to eat from lotus leaf. Undoubtedly, this is one of the best restaurants in Polonnaruwa to experience lifestyle and hospitality the local way.
Must try: Eggplant curry, Mango curry with infused flavours of coconut and chilly. The desert of assorted local fruits, served on buffalo curd and topped with farm fresh honey is to die for.
Opening hours: 11: 30 am to 4 pm
Reviews
Suggested Read: Ceylon Tea Museum: The Perfect Spot To Relish The Taste Of The Authentic Sri Lankan Tea!
3. Sudu Araliya Restaurant: Classy and elegant dining experience
Location: B529, Polonnaruwa 51000, Sri Lanka
This place is tucked inside the luxurious Sudu Araliya Hotel. Surrounded by a sparkling lake; this is one the top rated Polonnaruwa restaurants with a stunning view. Serving International and local cuisine in ala carte and buffet menu; Sudu Araliya Restaurant is spacious and can accommodate up to 350 guests at a time. The place opens early in the morning so one can enjoy their culinary delights at breakfast, lunch and dinner.
Must try: Onion sambol, and dry fish beduma,
Opening hours: 7 am to 10 am, 12 noon to 3 pm and 7 pm to 10 pm.
Website
Reviews
4. Thidas Arana Restaurant: Authentic local food, round the clock
Location: 23rd Mile post, Bendiwewa, Polonnaruwa 51000, Sri Lanka
Open 24 hours, Thidas Arana Restaurant is a marvellous place to indulge with local breakfast, lunch and dinner. With a well-spread buffet, serving local curries, soup and desserts; Thidas Arana Restaurant has made a place in the heart of foody travellers as well as in the group of amazing local food restaurants in Polonnaruwa.
Must try: Kosata, batu curry, coconut roti.
Opening hours: Round the clock
Website
Reviews
Suggested Read: Viharamahadevi Park: A Handy Guide To Explore This Nature's Paradise In Sri Lanka!
5. Wishma: Seafood to die for
Location: No: 128/04, Ethumalpitiya, Polonnaruwa, 51000, Sri Lanka
Good news for seafood lovers! Among many Polonnaruwa restaurants serving non-vegetarian dishes, Wishma offers sumptuous seafood, cooked as per local recipes. From fish, prawn to shrimp and calamari, the place has everything on the menu card. Ask for their traditional dessert, which comprises of buffalo curd with kithul treacle.
Must try: Eggplant, mango and plantin curries
Opening hours: 10 am to 11 pm
Reviews
6. Lake Restaurant: Enjoy the best view while you dine
Location: Pothgul Vihara, New Town, The Lake Hotel, Polonnaruwa 51000, Sri Lanka
Situated inside the Lake Hotel, formerly known as Polonnaruwa Rest House, this is one of the most sought-after restaurants in Polonnaruwa, that boasts of the best view. The dining area is air conditioned, so one can beat the scorching heat during day time and enjoy the stunning lake view. From curries to salads, soups to desserts, this place masters the art of cooking both local and global recipes.
Must try: Mongolian beef curry
Opening hours: 10 am to 11 pm
Reviews
Suggested Read: Sri Lanka In January: Best Places To Visit & Stay In 2022
7. Govi Gedara: For homelike food and hospitality
Location: No, 1607, 24 Mill post, Bandiwewa, Polonnaruwa 51000, Sri Lanka
Among all the family-run restaurants in Polonnaruwa, Govi Gedara deserves a special mention. Rice and traditional curries when served as a complete meal, wrapped in banana leaf make the culinary experience delightful while the thatched hut structure and rustic ambiance enhance the charm of the place. If you are looking for homelike food and homelike warmth; no place can match the charm of Govi Gedara.
Must try: Pittus, string hoppers and kothus
Opening hours: 11:30 am to 4: 30 pm
Website
Reviews
8. Priyamali Gedara: To taste exotic varieties of local curries
Location: 1595 Bandiwewa, Jayanthipura, Polonnaruwa 51000, Sri Lanka
Next in the list is Priyamali Gedara- a place that is famed for serving huge varieties of local curries. Jackfruit curry, breadfruit curry, lotus root curry, drum stick curry, banana flower curry and egg plant curry- the list is unending and each recipe tastes unique and different. Catered by a warm and friendly owner, Priyamali Gedara satisfies the heart and soul completely after a wholesome meal.
Must try: Fish balls, coconut treacle and fried lake fish
Opening hours: 11 am to 8 pm
Reviews
Suggested Read: Dehiwala Zoo: A Pocket Guide To Have A Funtastic Experience On Your Next Sri Lankan Vacay
9. Maha Kithula: When your heart is craving for homemade food
Location: 1618 Bendiwewa, Polonnaruwa 51000, Sri Lanka
From exotic non-veg to traditional veg recipes Maha Kithula restaurant in Polonnaruwa serves everything. Located away from the hustle bustles of the town, this is place to relax and relish soul food. The warmth and personal attention showed by Needika- the owner makes the place completely homelike.
Must try: Spicy chicken curry and local cake
Opening hours: Round the clock
Reviews
10. Mahanuge Restaurant: For a cozy dinner date
Location: 26th Mile Post, Polonnaruwa 51000, Sri Lanka
Hotel Mahanuge is a popular hotel in Polonnaruwa and its in-house restaurant is one of the best places to eat in Polonnaruwa. Decorated artistically with local flowers, this place is renowned for classy dining experience. Even the place customises the menu to gluten free and vegan variants as per the request of the guest. With cozy and serene ambiance and excellent food, Mahanuge Restaurant is surely one of the best places to enjoy romantic dinner in Polonnaruwa.
Must try: Curries, fresh fruits and buffalo curd
Opening hours: 7 am to 10 pm
Website
Reviews
Further Read: 11 Top Villas In Hikkaduwa To Enjoy In The Beachy Paradise Of Sri Lanka!
While holidaying in this quaint town, check out these amazing restaurants in Polonnaruwa. If you are planning your Sri Lanka vacation with anytime soon this year, keep few of these places in the plan.
---
Looking To Book An International Holiday?
Book memorable holidays on TravelTriangle with 650+ verified travel agents for 65+ domestic and international destinations.
---
Comments
comments