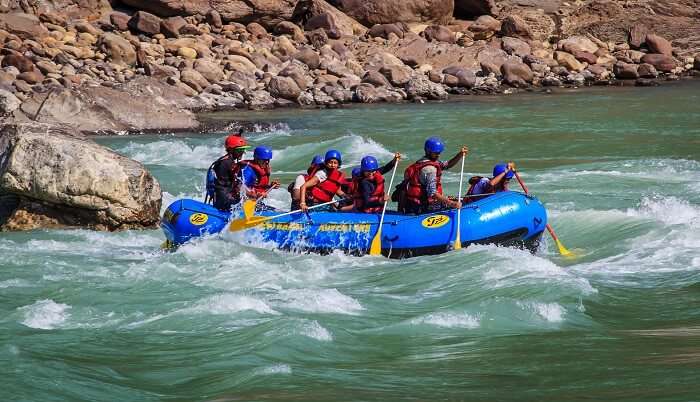 Imagine flowing in a river with water splashing around you, and you rushing down it with high velocity. The thrill, the adrenaline rush, and the enthusiasm will set you free. River rafting is one of the most popular sports of Uttarakhand, and thousands of tourists come here to get an endorphin dosage here. In fact, Uttarakhand has some major hotspots for river rafting in the world. You can choose amongst some of the greatest cities for river rafting in Uttarakhand for an absolutely fun and safe experience! See where all you can taste the thrill of rafting in the holy waters of Himalayas.
Best Time For River Rafting In Uttarakhand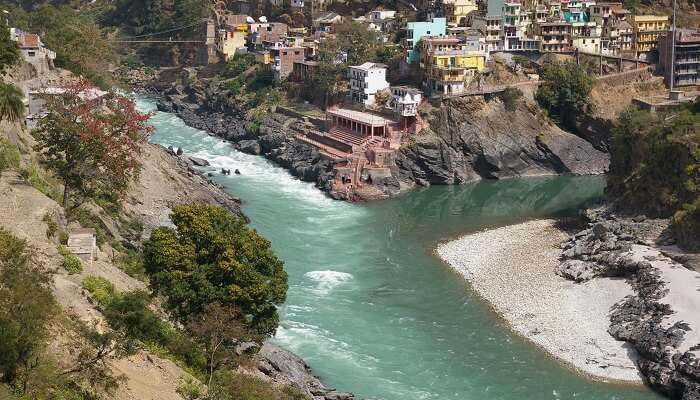 Uttarakhand is a beautiful state of snow-capped mountains valleys and green meadows. The holy river the Ganges dissects the entire Uttarakhand, and river rafting here is a whole new experience. River rafting in Uttarakhand is best enjoyed during March and June. After the rainfall, September to December is the peak month for water rafting in the Ganges. Visiting Uttarakhand during these months will give you once in a lifetime kind of experience.
Suggested Read: 28 Offbeat Places In Uttarakhand: Explore The Hidden Himalayan Gems
River Rafting In Uttarakhand: Top 5 Places
Uttarakhand is popularly known as the white water rafting spot of India. Mostly, river rafting in Uttarakhand will cost you from as low as INR 600 to as high as INR 4000 per person depending upon the location and the rapid you choose. Here's a list of some of the best river rafting places in the unbelievable state of Uttarakhand. These serve the purpose of rafting also offer some other adventure sports:
Rishikesh: The Finest Spot In India
Ranikhet: A Town Full Of Adventure
Kumaon: Enjoy Advanced Rafting
Nainital: A Thrill Seeker's Paradise
Pithoragarh: The Most Serene Place To Raft
1. Rishikesh: The Finest Spot In India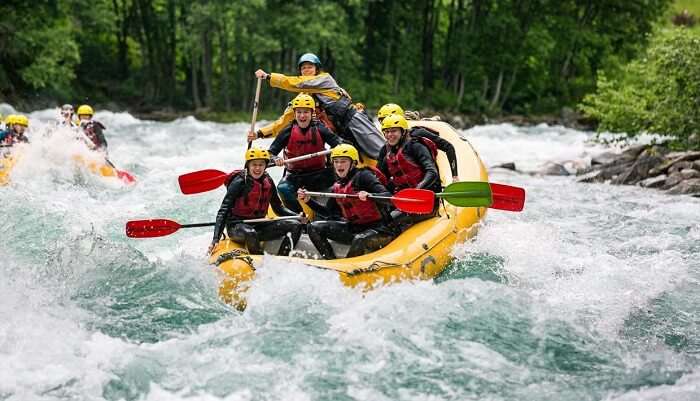 Rishikesh is one of the most popular places for river rafting in India. This will be a perfect getaway for you if you crave some adventure in life. The holy river the Ganges and many other tributaries and rivers pass through Rishikesh. This is a rejuvenating adventure in the spiritual town and will be a thrilling affair.
The swift water currents and the cold temperature surrounded by picturesque mountains make this the perfect choice for rafting in Uttarakhand. April to October is the best time for river rafting in Rishikesh. The longest rafting in Rishikesh covers a distance of 23 km and takes 5 hours to complete.
TripAdvisor Rating: 4.5
Price: INR 600 to INR 2500
Location: Brahmpuri, Shivpuri, Marine Drive, Kaudiyala 
Suggested Read: Trekking In Uttarakhand: The 22 Greatest Treks That Will Leave You Mesmerized
2. Ranikhet: A Town Full Of Adventure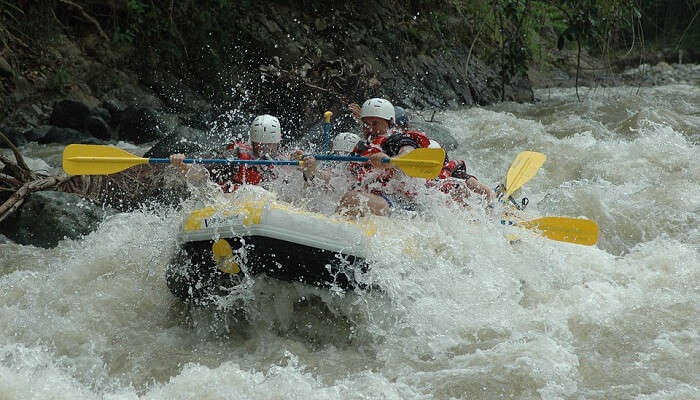 Ranikhet is a quaint town in Uttarakhand that is dissected by the emerald blue waters of river Kosi. This is an excellent choice if you want to stay away from the hustle-bustle of big cities and still enjoy the adventure Uttarakhand has to offer. Ranikhet also has many other adventure sports like trekking, hiking, and rappelling.
This is best visited between March to May and you will find several suitable packages at low prices. In fact, river rafting is one of the most preferred things to do in Ranikhet during the peak season. It is an ideal location on the budget for rafting in Uttarakhand.
TripAdvisor Rating: 3.5
Price: INR 1000
Location: Kosi River
Suggested Read: Mountaineering In Uttarakhand: Check Out These 8 Spots For Your Next Summit
3. Kumaon: Enjoy Advanced Rafting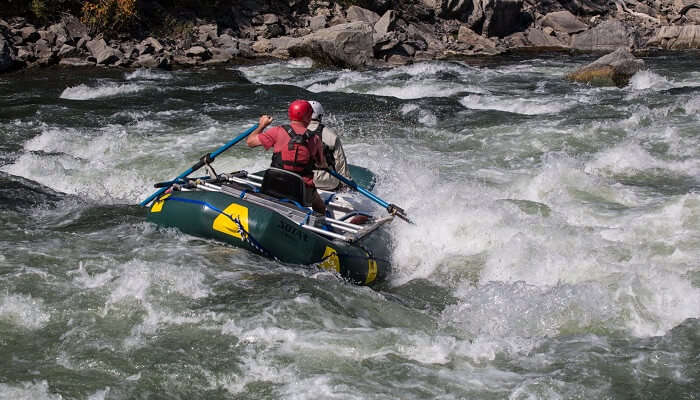 This is a place to enjoy an advanced level of river rafting. The turbulent waters of river Sarayu make this destination the best choice for anyone looking to upgrade their river rafting game. This place has perfect emerald green canyons and snow-capped mountain peaks. It also has an outdoor Beach camping facility, and you will get the best of all worlds in Kumaon.
TripAdvisor Rating: 4
Price: INR 1500 to 3000
Location: Sheraghat, Bageshwar, Jauljibi,and Pancheshwar
Suggested Read: Fasten Your Seat Belts For A New List Of Unexplored Places In Uttarakhand
4. Nainital: A Thrill Seeker's Paradise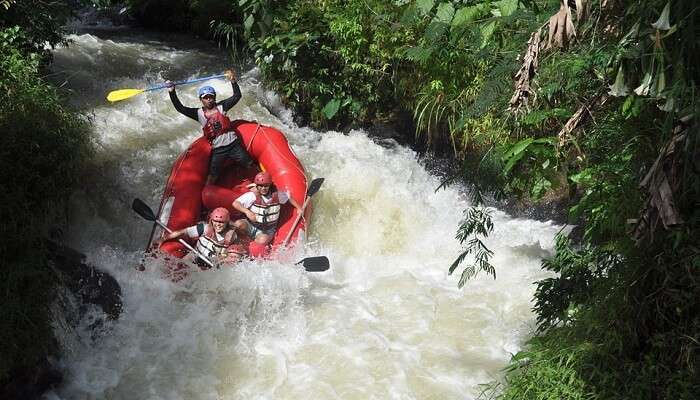 The stunning hill station of Uttarakhand, Nainital has some of the best adventure options for all its tourists. The beautiful Naini Lake is the pride of Nainital, and small peaks that line up around it are a sight to behold. Nainital is the most underrated river rafting in Uttarakhand and is being explored by many thrill seekers for its beauty and the high velocity with which the river Ganga flows into the Lake. This river rafting spot is located near the Jim Corbett National Park. Nainital River rafting is your best choice if turbulent waters and colorful scenes are what you are looking for.
TripAdvisor Rating: 4.5
Price: INR 800 to 2000
Location: Ramnagar, Ramganga river, Kosi river
Suggested Read: 16 Best Monuments In Uttarakhand
5. Pithoragarh: The Most Serene Place To Raft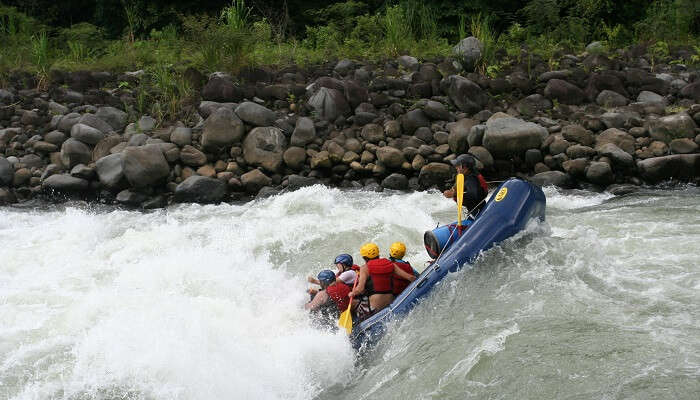 Pithoragarh is famous for its Kali river rafting adventure. This is a spiritual town where goddess Kali is worshiped. Visiting Pithoragarh will be a spiritually enlightening and thrilling experience for you. This is an excellent choice for anglers who want to fish in these waters. The cherry on the cake is the flora and fauna this town is blessed with. If you are looking to explore nature, then Pithoragarh is one of the best places to visit in Uttarakhand.
TripAdvisor Rating: 4.7
Price: INR 1300 to 2500
Location: Nidal, Sonaligaon, Pancheswar, Parigaon, Mahakali river
Suggested Read: Dehradun Travel Guide: A Traveler's Handbook To Explore The Capital City Of Uttarakhand!
Tips For River Rafting In Uttarakhand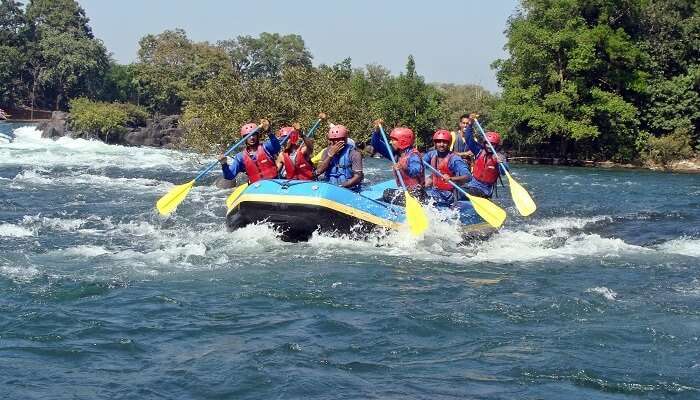 Safety should be a primary concern for river rafting in Uttarakhand. Rafting is a physically demanding sport, and it's essential to be on the top of your health and take all necessary measures to safeguard yourself.
Never remove the life jacket.
Wear comfortable clothes and sports shoes.
Always listen to your guide.
Always keep your hands on the T-grip.
Keep yourself hydrated.
Suggested Read: Solo Trip To Uttarakhand: 12 Places To Visit For The Ultimate "Me-Time"
How To Reach Uttarakhand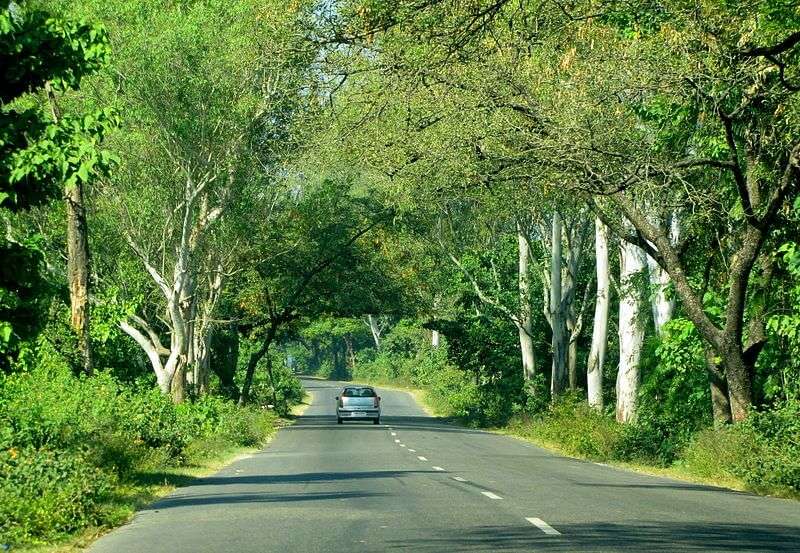 Here are the 3 ways by which you can plot a course towards Uttarakhand:
By Air: There are two major airports in Uttarakhand. One is the Jolly Grant Airport located near Dehradun, and the other is Pantnagar airport. Daily flights fly from both these airports from major cities of India.
By Rail: Taking a train to Nainital or Dehradun is the cheapest way to reach Uttarakhand. Trains frequently run to these destinations from all around the country.
By Road: Uttarakhand has a well-developed road system. All the major cities of Uttarakhand are connected to Delhi and other metros through overall expressways and highways.
Further Read: 10 Best Adventure Sports In Uttarakhand That Will Make You Skip A Beat
The state of Uttarakhand, with its panoramic views and stunning waters, is the perfect destination for river rafting. Book your tickets and set out on a trip to Uttarakhand for the most memorable adventure of your lives. And once you're back, don't forget to tell us all about your stint of river rafting in Uttarakhand.
Disclaimer: TravelTriangle claims no credit for images featured on our blog site unless otherwise noted. All visual content is copyrighted to its respectful owners. We try to link back to original sources whenever possible. If you own rights to any of the images, and do not wish them to appear on TravelTriangle, please contact us and they will be promptly removed. We believe in providing proper attribution to the original author, artist or photographer.
Frequently Asked Questions About River Rafting In Uttarakhand
What is the minimum group size for river rafting in Uttarakhand?
A minimum of 7-8 people is required for river rafting in Uttarakhand to have a balanced raft. In case you have a bigger group, it is advisable to split yourself equally into several rafts.
Is it necessary to know swimming for river rafting in Uttarakhand?
There's no mandatory condition of knowing swimming, but having confidence in the water and being sure of your abilities is always beneficial. You still have a life jacket with you, but knowing swimming is an added benefit.
Which levels of river rafting are best for newbies?
Uttarakhand is an excellent destination to experience river rafting for newbies. You can participate in a class 2 level and enjoy it thoroughly without being scared.
Can I carry my camera while river rafting in Uttarakhand?
You can always carry your camera, but there is no guarantee provided by the rafting company in case of damage. It is still advisable to buy cheap waterproof disposable cameras for this adventure. You can also book a professional to videotape your entire journey provided by the rafting company.
How long does a river rafting session in Uttarakhand last?
The amount of time taken to complete a single river rafting depends on the distance selected by you. It can be around a minimum of 1.5 hours and a maximum of 3 hours.
What is the age limit river rafting in Uttarakhand?
The minimum age for rafting in Uttarakhand is 14 years and the maximum period of 65 years.
People Also Read:
River Rafting In Coorg River Rafting In Manali River Rafting In Nepal