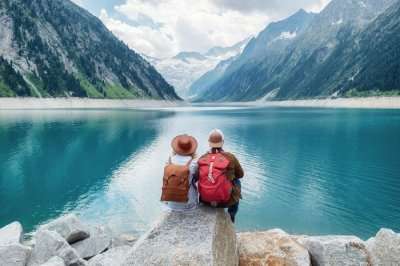 There is a reason why Uttarakhand in India is named as the Land of Gods. Gangotri, a sacred place for Hindu pilgrimages, lies in Uttarakhand. Several pilgrims undertake the arduous journey to the source of Ganga to absorb the spiritual energy of the sages who once lived here. More recently, trekking in Uttarakhand has begun gaining popularity as a recreational adventure sport.
Home to Nanda Devi (the second tallest Indian peak) and 700 million other peaks, Uttarakhand is the go-to destination for both experienced trekkers and first-timers. The best trekking season in Uttarakhand falls between April to June and October and November.
Top 20 Spots For Trekking In Uttarakhand
We have handpicked 20 best trekking places in Uttarakhand. These trekking routes in Uttarakhand will introduce you to natural wonders and sceneries of India like you've never seen before:
Roopkund Trek
Lal Tibba Trek
Valley Of Flowers
Guano Hills Trek
Chopta Trek
Dayara Bugyal Trek
Dodital Lake Trek
Bali Pass Trek
Auden's Col Trek
Har Ki Dun Trek
Gomukh Tapovan Trek
Kalindikhal Trek
Kedartal Trek
Nanda Devi Sanctuary Trek
Nag Tibba Trek
Kuari Pass Trek
Pindari Glacier Trek
Panch Kedar Trek
Khatling Trek
Satopanth Lake Trek
1. Roopkund Trek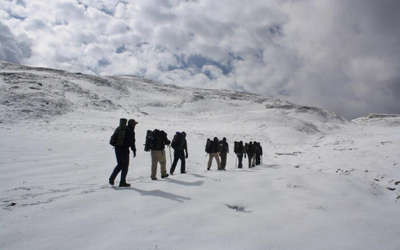 This area is usually called is the 'mystery lake', since human skeletons and remains of horses from the Paleolithic age were found here. The lake is surrounded by rock-strewn glacier and snow clad peaks. The starting point of the trek is Lohajang, easily approached by motor from Almora. Roopkund can also be reached by Ghat, connected by a motorable road with Nandprayag situated on the main highway of Badrinath. Roopkund trek in Uttarakhand passes through lush green grassy land and conifer forest clinging into the slopes of hills.
Difficulty Level: Moderate to high
Must Read: Paragliding In Uttarakhand: 5 Best Places To Make Your Heart Skip A Beat
2. Lal Tibba Trek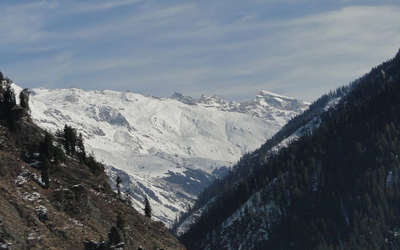 Lal Tibba is at a daunting altitude of 7500 feet which is one of the best places for trekking in Uttarakhand. The picturesque view it lends is surely worth a visit. Being the highest point in Mussoorie, the place gives a spectacular view of snow clad Himalayas, dense deodar forests, and peaceful slopes. Lal Tibba is centrally located. Therefore, you can enjoy the telescopic views of Kedarnath, Baderpunch, Badrinath and many other beautiful places whilst trekking. The Lal Tibba trek is suitable for 2 days trekking in Uttarakhand.
Difficulty Level: Moderate to high
3. Valley Of Flowers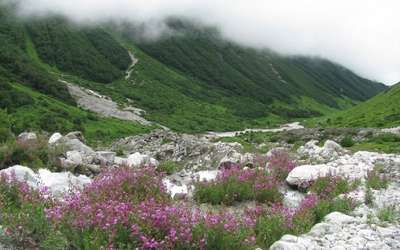 There is no better remedy for our sedentary lifestyle than a day spent in nature. With every step on a trail, mountains offer a world not seen before. Trekking in the Valley of Flowers is a popular sport among both experienced trekkers and first-timers. This one day trek in Uttarakhand in summer is like a walk in the Garden of Eden.
Difficulty Level: Easy
Suggested Read: Rivers In Uttarakhand: Know Everything About These Water Bodies Which Are A Lifesource Of The State!
4. Guano Hills Trek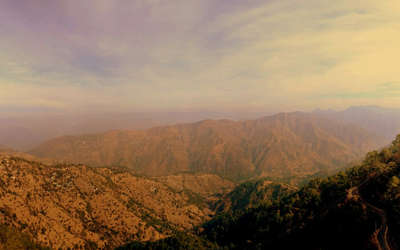 Guano Hills is a must visit for all the trekkers. All the photography freaks, nature, and peace lovers would find a visit to the Guano Hills truly mesmerizing. The Guano Hills trek is one of the best weekend treks in Uttarakhand. It is the best place for bird watching. The hills are home to millions of bird species. The view from the Guano hills is just beyond imagination and breathtaking.
Difficulty Level: Easy to moderate
Suggested Read: Snowfall In Uttarakhand, Himachal, And J&K Turns The North Into A White Wonderland
5. Chopta Trek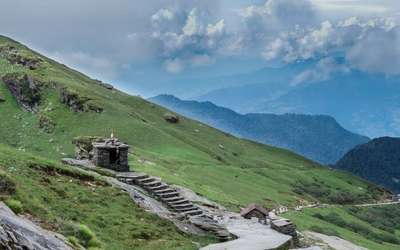 The Chopta Chandrashila trek is one of the most popular trekking routes in Uttarakhand. Chopta is a charming hill station in Kedarnath Wildlife Sanctuary and is also called the 'Mini Switzerland' of India. The Chandrashila mountain peak is home to Tungnath, the highest Shiva temple in the world. Make sure to attempt the snow trek to Chopta to find yourself closer to Shiva. It will be a moment of pure bliss.
Difficulty Level: Easy
Suggested Read: 13 Honeymoon Places In Uttarakhand For An Idyllic Escape In 2020 Right After The Wedding!
6. Dayara Bugyal Trek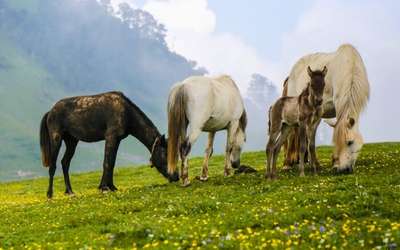 Dayara Bugyal trek is at a height of 3,408 meters above the sea level and is considered to be one of the most beautiful treks in Haridwar. The trek will take you through lush green meadows where you will find shepherds and woolly lambs passing by. You will also come across fragrant forests with sunlight filtering through the maple trees. All this makes this one of the best places for trekking in Uttarakhand.
Difficulty Level: Easy to Moderate
Suggested Read: 12 Places To Visit In Haldwani On Your 2020 Trip To This Gem In Uttarakhand
7. Dodital Lake Trek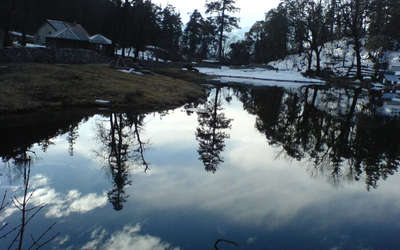 Named after Dodi (a typical trout found in the lake), the water of Dodital lake is believed to have medicinal properties. People seeking relief from chronic skin diseases should take a dip in the lake. It is said that the water can help clear up the skin. The Dodital lake is at a distance of 32 km from Uttarkashi. Lots of Himalayan birds venture the lake region during the peak season which makes it ideal for bird-watching along with trekking trip in uttarkhand.
Difficulty Level: Moderate to high
8. Bali Pass Trek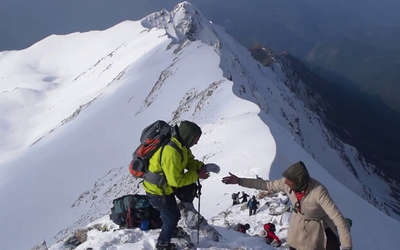 This is quite a challenging treks in Uttarakhand which is done by the seasoned trekkers. The route of the trek passes the famous Govind Wildlife Sanctuary which gives the trekkers a chance to enjoy a view of the flora and fauna. While walking across the rivers of Tons and Siyan Gad, one can see a place which is surrounded by the conifer woodlands. The trek reaches an end at the magical lake of Ruinsara Tal standing where one can witness the beautiful views of Bandarpoonch, Kalanag, and Swargarohini peaks.
Difficulty Level: Difficult
9. Auden's Col Trek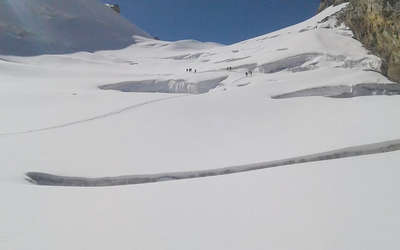 This is one of the hardest trek routes in Uttarakhand which can also be conquered by the professional trekkers. The trek starts from Gangotri and comes towards the Nala Camp while crossing the pine and cane woodlands. Walking down the Nala Camp, the route takes to the Rudra Gaira Base Camp which is an ideal location to witness the view of the snow-laden Himalayan peaks. The speciality of this trek is that it starts from the endless glaciers, moraines and narrow cliffs.
Difficulty Level: Very Difficult
10. Har Ki Dun Trek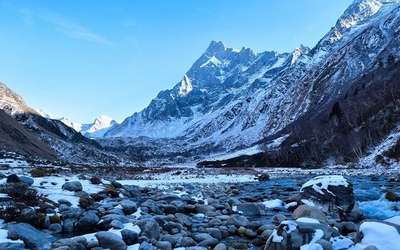 While there are many tough trek routes, the Har Ki Dun trek is quite an easy one to accomplish in the Garhwal region of the Himalayas. While experiencing this trek, one can enjoy the beautiful view of the Tons River Valley which is surrounded by highlands and dense woodlands. This is one of the best trekking places in Uttarakhand which is ideal to visit pre and post monsoon. During the pre-Monsoon spring months people can witness the mountain birds. After the monsoon season, the place is blessed with flora which is another beautiful sight.
Difficulty Level: Easy
11. Gomukh Tapovan Trek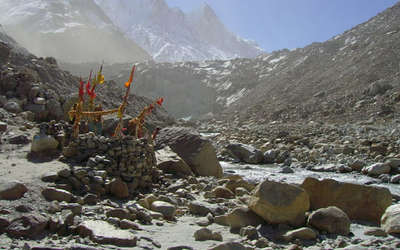 If you want to visit the lush green grasslands which are the best high-altitude grasslands in all of India, then the Gomukh Tapovan Trek must be your top choice for Uttarakhand trekking places. Sitting at an elevation of 4,400 metres, the place you will pass through orchards at Chirbasa and Bhojwassa. Herds of blue mountain goats will accompany you across the ridges. Get ready for a perfect climb!
Difficulty Level: Moderate to high
Suggested Read: Picnic Spots Near Haridwar: 6 Wonderful Retreats Amidst Sacred Lanes Of Uttarakhand!
12. Kalindikhal Trek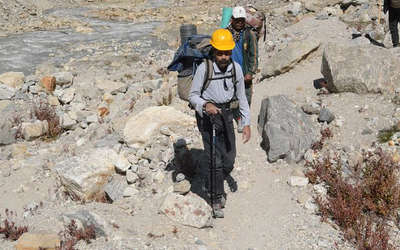 Perched in the mountains of Garhwal Himalayas, this is a high altitude trek and made rightly for the adventure junkies. There are multiple reasons as to why this is the best trek in Uttarakhand. The trek starts from Gangotri and ends at Badrinath. There are some glaciers waiting for you in the middle at the stopovers at Tapovan, Vasuki Tal, Arwa Tal and Nandanvan.
You will also come across boulders and knee deep snow that will make your ride even more thrilling. The sight of the trek will amaze you as you explore half of the Garhwal region from Bhagirathi to Alaknanda river valley. And there's more for you to see in terms of peaks like Bhagirathi, Chandra Parvat and Satopanth.
Difficulty Level: Very Difficult
Suggested Read: Upcoming Eco Zones In Uttarakhand To Take The State's Tourism Up By A Notch
13. Kedartal Trek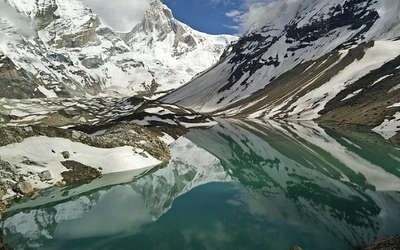 Also considered as one of the best trekking places in Uttarakhand if you are a lover of the mountains. Some major mountains of the Garhwal Himalayas are waiting for you at this trek including the Bhirgupanth and Thalay Sagar which offer some spectacular views. You will also get a small glimpse of the species like Goral, Himalayan Black Bear and Blue Sheep.
Difficulty Level: Moderate to High
Suggested Read: Camping In Uttarakhand: 18 Best Spots To Treat The Adventure Junkie In You In 2020!
14. Nanda Devi Sanctuary Trek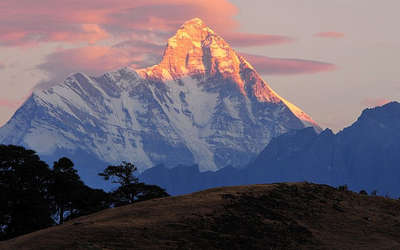 Out of all the Uttarakhand trekking places, Nanda Devi Park trek seals within it a plethora of beauty. The trails and tracks will try to ease your trek with the presence of a glittering range of flora including birch and juniper forests. Witness the very peaceful and quaint villages of Uttarakhand, some dense jungles and ridge walks. Various mountain species like the Serow, Bharal and Brown Bear can be discovered in their natural habitat along the way!
Difficulty Level: Moderate to High
Suggested Read: Top 22 Places To Visit In Uttarakhand In Summer In 2020 To Dial Down The Heat
15. Nag Tibba Trek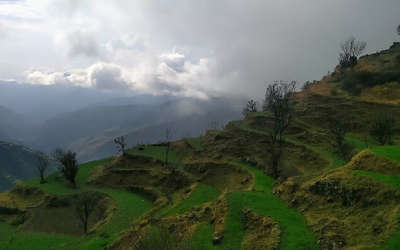 A very significant place for the locals as it is located in the lesser Himalayan region. Literal conversion of the name amounts to "Mountain of the Serpent" – is a local legend among the people, with Nag Devta being their deity. Get amazing views of the sunset and sunrise with multiple mountain ranges like Gangotri, Bandarpunch peak and Kedarnath peaks. If you are new to trekking, then this is where it would really get interesting for you!
Difficulty Level: Easy to Moderate
Suggested Read: 6 National Parks In Uttarakhand That Calm Your Adventurous Side In 2020!
16. Kuari Pass Trek

The Kuari Pass trek is one of the easiest treks in Uttarakhand and just perfect for novices. In 1905, Lord Curzon completed this task and hence the trek is sometimes referred to as the Curzon Trail. You will, rest assured, get some breath-taking views of the Himalayan peaks of Kedarnath, Chaukhamba, Kamet and Nanda Devi. After peaks, the landscape welcomes you to dense forests of conifer, birch and bamboo.
Difficulty Level: Easy
Suggested Read: Uttarakhand Cuisine: 15 Lip-Smacking Dishes You Must Try During Your Trip In 2020
17. Pindari Glacier Trek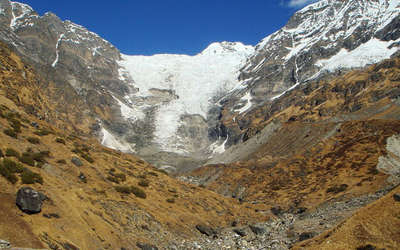 The Pindari Glacier trek is a crowning trek within Uttarakhand spanning from Nanda Devi to the Nanda Kot Peaks. Located in the Bageshwar district, the trek welcomes the adventure side of you with lush and serene beauty around. The main glacier and forests keep up throughout the trek and you get a little bit of time to experience rich local culture at the towns of Almora and Bageshwar. Being one of the most beautiful treks in Uttarakhand, you are greeted with lush green meadows and gushing waterfalls.
Difficulty Level: Moderate
Suggested Read: Rajaji National Park In Uttarakhand: Guide To The Beautiful Land Of Wildlife And Adventure
18. Panch Kedar Trek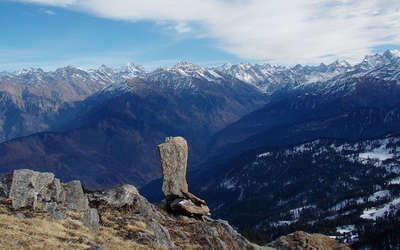 The trek is famous for all the sights that you will behold dedicated to Lord Shiva. In the pleasing Kedar valley, you start your trek at Kalpeshwar, cross 5 amazing shrines of Lord Shiva, head to Rudranath and that's where the altitude rises for you to see the grandeur of Himalayan mountains. You go through Tungnath and the famous temple, which is, by the way, the highest Shiva temple in the world. The trek ends at Kedarnath which, if you realize, is perched at an altitude of 3553 meters above the sea level.
Difficulty Level: Moderate
Suggested Read: 28 Offbeat Places In Uttarakhand: Explore The Hidden Himalayan Gems In 2020
19. Khatling Trek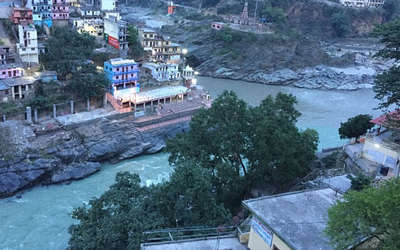 The Khatling trek is truly a remarkable trek which is unknown to many. The prime source of the trek is the Khatling Glacier, a source for river Bhilangana and if you have heard of the Bhilangana valley, then you must know what a beautiful destination that is. You will be highly greeted with a line of snow-clad mountains and glaciers for almost the entirety of the trek. You do come across a few meadows which quickly fade away into glacial debris that keeps your motivation up and running.
Difficulty Level: Difficult
Suggested Read: 19 Enchanting Lakes In Uttarakhand: Pick From Daring Treks And Soothing Getaways In 2020!
20. Satopanth Lake Trek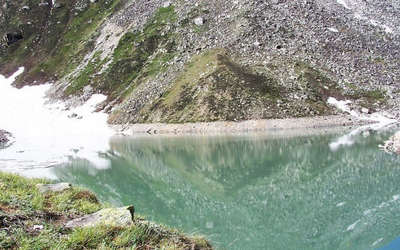 The trek is also considered as the green divinity near the town of Badrinath. The route, by the way, is pretty tough, although you are met with a line of glacial Himalayan peaks including the Neelkanth, Swargarohini and Balakun. The waters of the beautiful lake reflect the Chaukhamba Peak which just fills your trek with more beauty. Your ideal detour from Badrinath cannot be as exciting as the grace and serenity of Satopanth Lake Trek.
Difficulty Level: Moderate to High
Suggested Read: River Rafting In Uttarakhand: 5 Places To Satiate Your 2020 Adventure Lust
Tips For Trekking In Uttarakhand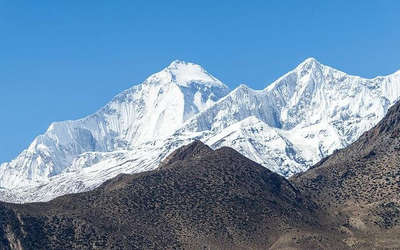 For the beginners it is suggested to opt for an easy trek first.
It is advised to do a medical checkup before going for the trek.
Take a check of the weather before going for the trek. It is better to avoid trekking during the monsoon season.
Pack all the essentials for the trek which includes waterproofed trekking boots, running shoes, down jacket and woolen clothes.
Further Read: Top 18 Amazing Places To Visit In Uttarakhand In 2020
Nothing can be more rewarding than embarking on short treks in Uttarakhand with your friends from college or work. These treks will offer you alluring beauty of lush green meadows, snow-capped mountains, and pregnant streams. Make the most of trekking in Uttarakhand by booking a trip to Uttarkhand in the trekking season. The scenic beauty of this place will draw you in time and again. The mountains are calling and you must go!
Disclaimer: Some images are for representation purposes only. TravelTriangle claims no credit for images featured on our blog site unless otherwise noted. All visual content is copyrighted to its respectful owners. We try to link back to original sources whenever possible. If you own rights to any of the images, and do not wish them to appear on TravelTriangle, please contact us and they will be promptly removed. We believe in providing proper attribution to the original author, artist or photographer.
Frequently Asked Questions About Trekking In Uttarakhand
Q. How can I reach Rupin Pass?
A. Rupin pass trek begins from Dhaula which is situated at a distance of 180 km from the Himalayas. It is one of the best places for trekking in Uttarakhand.
Q. How to reach Nanda Devi mountain ?
A. There are many ways to reach Nanda Devi mountain. The best way is by airport. The nearest airport is Jolly Grant Airport in Dehradun. Upon reaching the airport, you can take a taxi to the national park.
Q. Is alcohol banned in Uttarakhand?
A. No, alcohol is not banned in Uttarakhand. However, you cannot drink and stroll on the roads. And it is not allowed to throw liquor bottles on roadsides.
Q. What is Uttarakhand famous for?
A. Uttarakhand is famous for mountains, rivers and scenic views. There are many places in Uttarakhand that make it a good option for a blissful vacation.
Q. Where is Rupin pass trek?
A. Rupin pass trek begins from Dhaula in Uttarakhand and ends at Sangla in Himachal Pradesh.
Q. Which is the highest peak in India?
A. Kanchenjunga is the highest peak in India.
Q. Where is Kafani glacier located?
A. Kafani glacier is located in the uppermost region of Kumaon Himalayas.
Q. What language do they speak in Uttarakhand?
A. Garhwali language is mostly spoken in the state of Uttarakhand.
---
Looking To Book A Holiday Package?
---
People Also Read:
Trekking In Goa Trekking In Himachal Pradesh Trekking In Kerala
Comments
comments