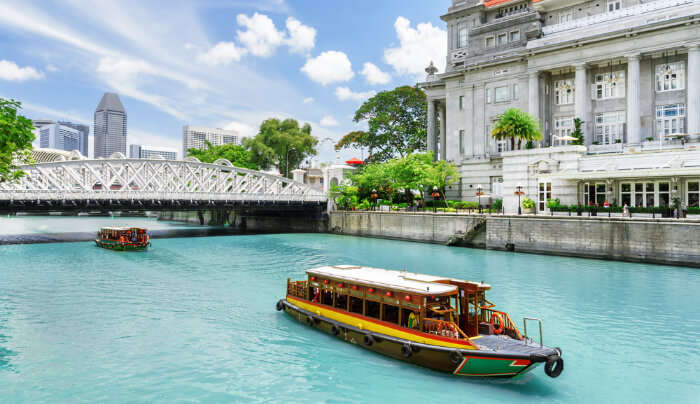 Most renowned and admired amongst tourists, the country of Singapore is quite prominent in Southeast Asia. Being a home to awe-striking attractions and colorful culture, the island city state has been stealing the hearts of travelers since a long time. You get a chance to be closer to nature, as there are numerous beaches, national parks, and rivers in Singapore. The rivers in this country are not many in number and are limitedly wide and long. Since there are just a handful of them, witnessing all of them won't be a hassle.
5 Rivers In Singapore
The country of Singapore is known for its skyscrapers with magnificent architecture and various tourist attractions. Such factors bring people from all over the world to this country in order to explore the island city state. While the country is famous for all such marvels, then how can one miss these awe-inspiring Rivers in Singapore. Take a look and get to learn about them in details given below!
1. Singapore River

This river flows along Alexandra Road and end up at the Marina Reservoir. This river is around 3.2 kilometers in length – as measured from its source that lies around Kim Seng Bridge to Marina Bay. This river is believed to have some historical significance. Back in the day, the river used to be the ultimate source of trade in the island city state. Moreover, this river is also remembered for a vibrant and mythical past. Make a visit to get insights about the same.
Must Read: Best Casinos In Singapore For Some Poker, Entertainment, And A Whole Lot Of Fun!
2. Kallang River

This one's the longest in Singapore and is running till 10 kilometers into Kallang Basin from Lower Peirce Reservoir. The source of the river is Central Water Catchment, a well-known planning area of Singapore. Before the land reclamation project that happened around the southeastern coast of Singapore, this river used to empty at Kallang Basin into the Singapore Straits. However, now this river ends up at the sea through the Marina Channel.
Suggested Read: Singapore Aquarium: Immerse Yourself In The Magical Marine World With This Handy Guide
3. Rochor River

This is one of the canalised rivers in Singapore that flows in Kallang in the Central Region. The length of this river is 0.8 kilometers. This river is an extension of Rochor Canal and starts under the famous Victoria Bridge, flowing into the Kallang Basin. This river originates from Beauty World MRT Station. In the past, this river was usually under the observation and was channelised in order to avoid the risk of floods in the Bukit Timah region.
Suggested Read: Singapore In October Calls All Nature Lovers To Take A Dip In The Beauty Of The Lion City!
4. Sungei Punggol (Punggol River)

This river flows within the area of Northeastern Singapore. Apart from this area, Sungei Punggol passes through almost 8 towns, including Punggol New Town. Most of the banks of this river have gone through reclamation over the years and since the year 2011 the river has been made a part of the Punggol Reservoir. There are a lot of other developments that have been made around the river in order to take care of the demands of Sengkang New Town residents for recreational purposes.
Suggested Read: 8 Must-Go Flea Markets In Singapore That Are A Paradise For Shopaholics
5. Geylang River

This river too is a canalised one that flows between Geylang and Kallang. As Marina Reservoir has been established, the river has now become a part of it. This river starts from Ubi in the form of Geylang Canal and flows towards the south, turning towards the west. Later, it is turned towards the southern direction again, around Guillemard Road and is directed towards the west from Dunman Road. It finally reaches the Kallang Basin.
Further Read: Singapore Visa For Indians: Requirements For Application Process
When you're out in the island city state, exploring these perennial rivers, then don't forget to witness the significant places located nearby. These rivers in Singapore are reflective of this Southeast Asian country's glory and never-ending growth and development. So, while vacationing in Singapore, don't forget to behold the above-listed awe-striking rivers and make the most of your time in this country.