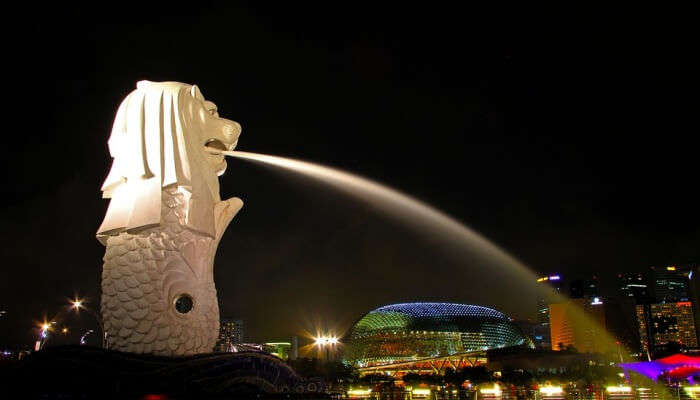 Singapore is one of the most admired Southeast Asian countries, which is known for its eclectic culture and various tourist attractions that leave you all surprised. The country is even considered to be the financial hub of the world and is apparently the most expensive nation to spend livelihood in. With the presence of sacred sites like churches, temples, and monasteries, a vacay here becomes quite enriching. The country is historically rich as well and this is depicted through the various museums and monuments. Visiting Singapore monuments will not only be an enlightening experience but will even add value to your trip.
Top 7 Singapore Monuments
Your Singapore vacation plan will be incomplete if you won't add visiting these monuments to your itinerary. Scroll down to know more about them as you make a plan to visit them!
1. Statue Of Raffles

This is one of the most prominent monuments in the country, as the marble statue depicts the founder of Singapore. The statue stands tall exactly at the spot where Sir Stamford Raffles apparently landed for the first time in the year 1819. The spot is famous by the name Raffles' Landing Site. The statue was inaugurated in 1972.
Location: Downtown Core, Singapore
Places To Visit Nearby:
Must Read: Best Casinos In Singapore For Some Poker, Entertainment, And A Whole Lot Of Fun!
2. Civilian War Memorial

https://en.wikipedia.org/wiki/War_Memorial_Park,_Singapore
This memorial has been built to remember the civilian victims of Japanese Occupation who lost their lives during World War 2. It is counted amongst the most noteworthy sites in Singapore and considered to be a heritage landmark of the island city state. The monument is designed by Leong Swee Lim of Swan & Maclaren architects.
Location: Bras Basah Road and Beach Road intersection | War Memorial Park, Singapore 189561, Singapore
Places To Visit Nearby:
Suggested Read: Singapore Aquarium: Immerse Yourself In The Magical Marine World With This Handy Guide
3. Merlion Park

This landmark essentially symbolises the country of Singapore. The statue depicts an imaginary creature with half body of a fish and half of a lion. The national symbol can be seen everywhere around the island city state.
People from all over the world who come to explore Singapore never miss a chance to visit this monument that is simply a treat to the eyes.
Location: 1 Fullerton Road One Fullerton | Merlion Park, Singapore 049213, Singapore
Places To Visit Nearby:
Suggested Read: Singapore In October Calls All Nature Lovers To Take A Dip In The Beauty Of The Lion City!
4. Floating Baby (The Planet)

This is a unique attraction that tourists from all over the world come to witness. The Floating Baby is a gigantic statue of a sleeping baby designed with precision and inexplicable intelligence.
The unique way in which it is designed makes it look like as if the baby is floating in the air with one hand on the ground. This is a must-visit tourist attraction for when you're visiting Marina Park.
Location: 31 Marina Park, Singapore 019191
Places To Visit Nearby:
Suggested Read: 8 Must-Go Flea Markets In Singapore That Are A Paradise For Shopaholics
5. The River Merchants

Designed by Aw Tee Hong in the year 2002, the sculpture of River Merchants is definitely a sight to behold. Sculpted with bronze, these sculptures basically depict one of the regular days in the lives of labourers and merchants.
The scenarios in these two different kinds of lives have been shown awe-strikingly and with precision. The part where merchants are depicted, an accurately designed sculpture of Alexander Laurie Johnston is featured who is dealing with a Chinese trader and a Malay chief.
Location: Boat Quay, Singapore
Places To Visit Nearby:
Suggested Read: 7 Upscale Spas In Singapore For A Relaxing And Rejuvenating Time There
6. Tan Kim Seng Fountain

The fountain has been built as a way of paying respect to a prominently known philanthropist, Tan Kim Seng, who donated wholeheartedly for the establishment of first reservoir and waterworks of Singapore. The fountain was inaugurated in the year 1882 and stands as a proof of the rich historicity of Singapore.
Designed by Andrew Handyside and Company with utmost precision and is considered to be the highlight of Connaught Drive Road.
Location: connaught Dr, Singapore
Places To Visit Nearby:
Suggested Read: Top 8 Things To Buy In Singapore: Souvenirs For Gifting And Treasuring In 2022
7. Fort Canning Sculpture Trail

Formerly known by the names, Singapore Hill, Bukit Larangan, and Government Hill, this hill is just 48 meters high and lies in the southeastern region of the country. The hill also comes in the Central Area that is considered to be the business district of Singapore. This park hill is well maintained by the National Parks Board of Singapore and therefore remains spick and span at all times.
The park is one of the most prominent sites in the island city state and therefore has a monumental entity here.
Location: River Valley Rd, Singapore 179037
Places To Visit Nearby:
Further Read: Singapore Visa For Indians: Requirements For Application Process
The island city state of Singapore is known for its heritage. The historically rich nation in Southeast Asia is considered to be one of the best tourist destinations in the world, thanks to the wondrous attractions and welcoming culture. A Singapore vacation will definitely be a success if you'll cover the above-mentioned tourist attractions. Each of these Singapore monuments will enhance your travel experience.