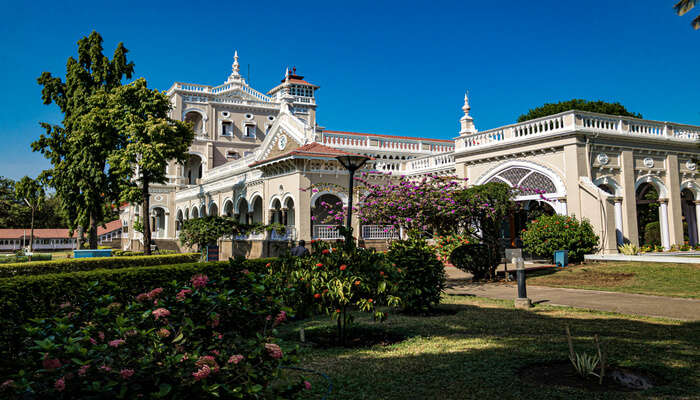 Pune is one of the most popular places right now in the country of India. It is a complete mixture of cultures and ideas and the city keeps evolving every now and then. It is India's most favored city for education because it has the best educational institutes right now. But were you aware of the fact that Pune offers some of the most exciting activities. No? Well, we don't blame you, people tend to ignore Pune as a boring destination. But after checking out this list of the top things to do in Pune, your outlook might change towards this city. Moreover, a visit to this place will make you realize that it has an easily blendable culture that makes you fall in love with the city.
10 Best Things To Do In Pune
Here is the list of the best activities in Pune that you might not want to miss out on your vacation. Check it out and pick the best options for you.
1. Aga Khan Palace: Blend In The Culture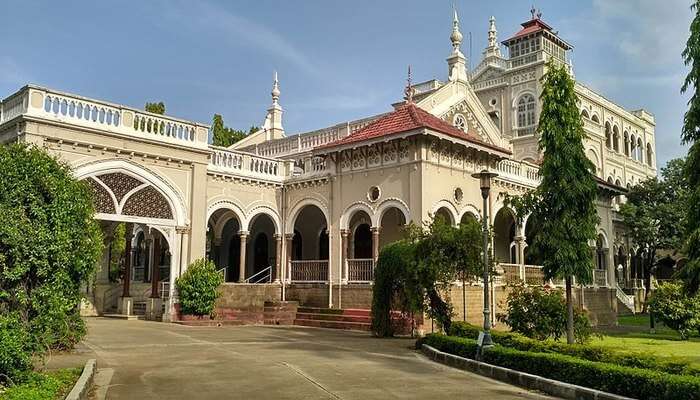 It is the best dedication to the father of the nation, Mahatma Gandhi. The Aga Khan Palace is the place where you can get to know about pretty interesting revelations about some of the greatest men of India. It is now a well-known tourist spot and there is a museum with some of the best displays.
Ideal for: Generic visit with friends or family
Activity cost/ticket fee: INR 5 for Indians and INR 100 for foreigners
Timings: 9 AM – 5. 30 PM
Location: Nagar Road, Samrat Ashok Rd, Pune, Maharashtra 411006
Must Read: 10 Hill Stations Near Pune That Take Serenity And Picturesque To New Highs!
---
Looking To Book A Holiday Package?
---
2. National War Museum: Know About The History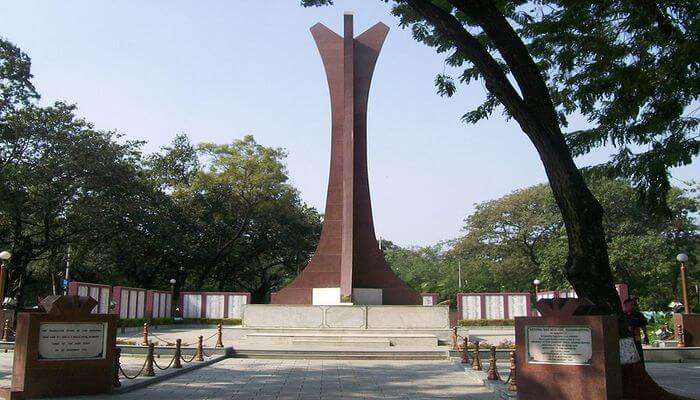 If you are a patriot and you respect the people out there that are protecting the country, then this museum is meant for you. It is a great museum that makes every Indian swell up with pride. It is in the Pune Cantonment and it is like a proper memoir where every Indian soldier who was martyred for the country is respected here. It also showcases the complete armory of time immemorial. A visit to this place is surely going to keep you humbled and you will realize it is one of the best things to do in Pune city.
Ideal for: Generic visit with friends or family and history buffs
Activity cost/ticket fee: Free
Timings: 9:30 AM – 12 PM, 3 PM – 7 PM
Location: Prince of Wales Dr Rd, Ghorpuri Lines, Dobarwadi, Ghorpadi, Pune, Maharashtra 411001
Suggested Read: 20 Beautiful Beaches Near Pune For A Perfect 2020 Weekend Escape!
3. Osho Ashram: Gain Some Inner Peace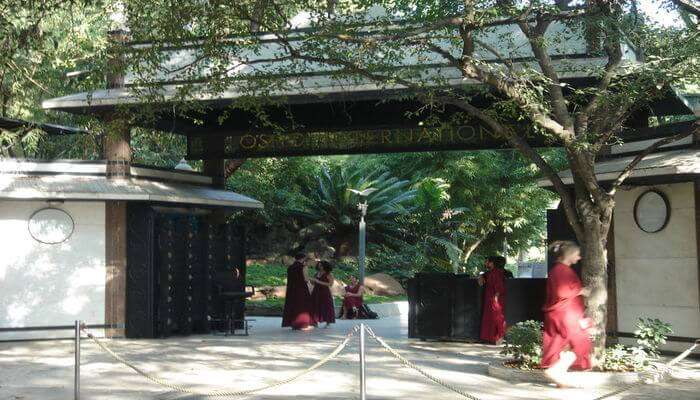 If you are looking for a quiet retreat in this city then you have to cover Osho Ashram on your trip. This is one of those places which helps in learning more about the teachings of Osho. You will simply love the whole pious and tranquil scene of the ashram. Just a visit to this place can speak for itself. So, if you want to get away from the hustle-bustle then you can come here to visit.
Ideal for: Generic visit with friends or family
Activity cost/ticket fee: no entry fee.
Timings: 6 AM – 10. 30 PM
Location: Oregano Park
Suggested Read: 19 Romantic Places In Pune And Around To Visit With Your Partner In 2020
4. Pune Cuisine: Get Your Tongue Ready For A Roller-Coaster Ride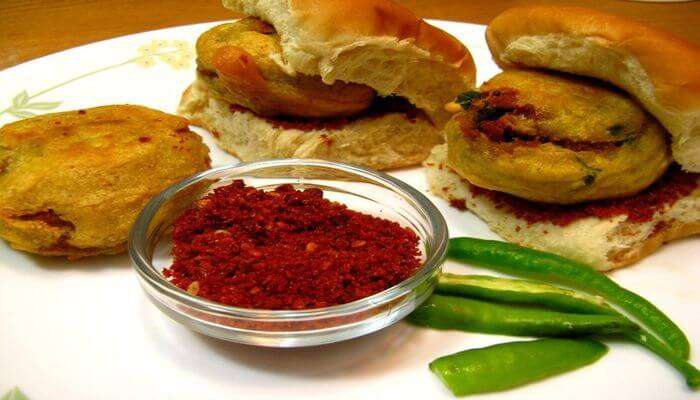 When you are in Pune, you need to eat what the other Punkers eat. This place has the best cuisine and food in the world and if you are bored, this is the best thing to do in Pune. Just grab a ride and go to places where the food is the most relished. Do you know there is a Pune Cuisine tour? This tour starts and completes in the nearby bazaars. You have a little bit of interactive session and then you are taken to taste the food. It is a great fun thing to do in Pune and if you love food, you need to get this tour. It is one of the recommended activities to do in this city.
Ideal for: Foodies, family, and friends
Suggested Read: 15 Most Romantic Restaurants In Pune For An Idyllic Dinner Date In 2020
---
Planning your holiday but confused about where to go? These travel stories help you find your best trip ever!
---
5. Adventure Activities: Indulge In Some Fun Things To Do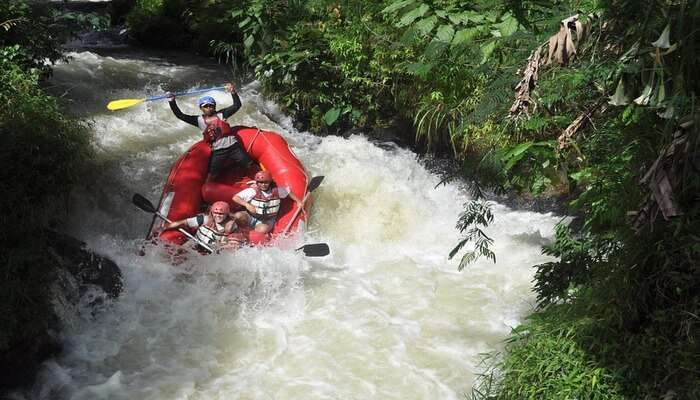 If you are in Pune, you need to step out and have fun because this place has a lot to offer. You can easily go for some river rafting in the nearby famous place called Kola. Here you can take a quick break from work and go at the weekend to have the most fun. River rafting in the Kandalama river near Pune is sure to do a thing because here, it is the fastest river in India. Just imagine those rapids splashing on your face and the adrenaline rushing through your body. Thus, you can think of this activity as one of the most adventurous things to do in Pune.
Ideal for: Adventurous people
Timings: River rafting starts at 8 AM.
Suggested Read: 7 Gorgeous Honeymoon Places Near Pune You'll Be Delighted To Visit In 2020!
6. Katraj Snake Park: Know More About Snakes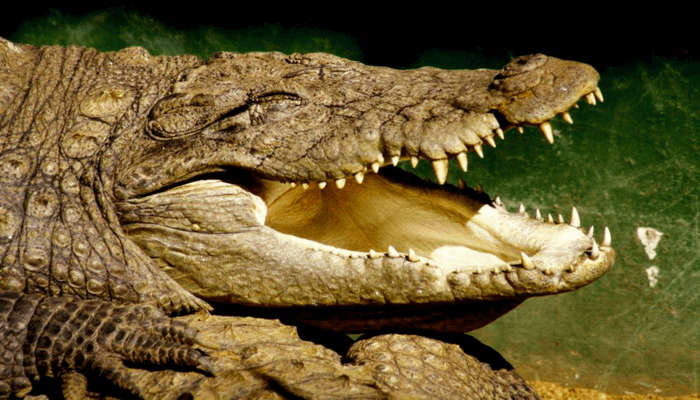 When you are in this city, you need to do all the things recommended. Pay a visit to Katraj Snake Park which is a breeding place for more than 160 types of snakes. There are a lot of bird species living here too. Along with these, you will find the other reptiles living here. This park was founded long back around 1986 and since then it has become a famous spot in Pune. Hence, if you are in Pune, do not forget to go here.
Ideal for: Casual Day with friends
Activity cost/ticket fee: INR 25 for children and the children below 4 feet need to pay INR 10. Foreigners need to pay INR 100 per person.
Timings: 9:30 AM – 5 PM
Location: Katraj Snake Park, Pune
Suggested Read: New Year Parties In Pune (2020): Top 18 Venues
7. Tribal Cultural Museum: Learn About The Tribes In India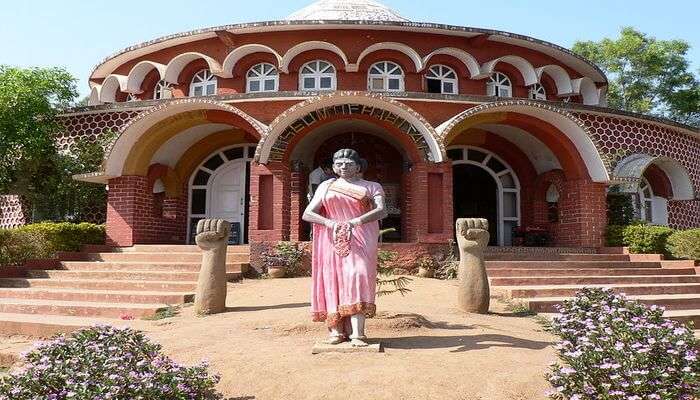 Maharashtra alone has a lot of tribes living here that have a rich history. They come with their own set of cultures, languages, beliefs, and ways. If you want to know more about them, then you need to visit the Tribal Cultural Museum which depicts the life of different tribals.
Ideal for: Casual day with friends
Activity cost/ticket fee: NA
Timings: 9 AM- 6 PM
Location: Band Garden Road
Suggested Read: 26 Weekend Getaways Near Pune For A Quick Vacation With Your Loved Ones In 2020
8. Sinhagad Fort: Marvel At The Architecture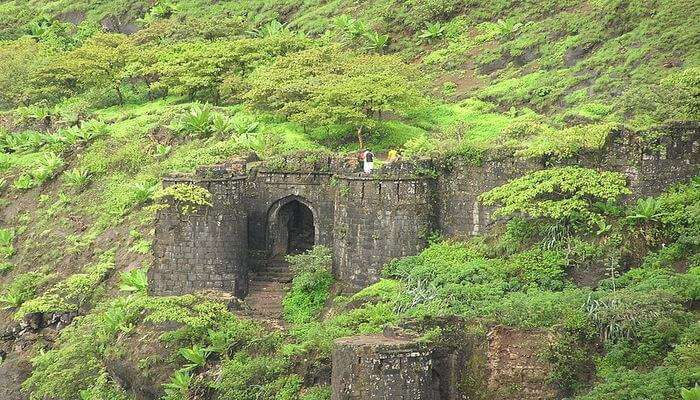 If you are a history buff and you love the forts, then you have to do this thing in Pune: go visit the Sinhagad Fort. Did you know that back in the time it was from Sinhagad Fort that all the trade routes were controlled and monitored from this city? It is surrounded by the beauty of what Maharastra has to offer. Apart from this, it is not only a visual delight, but it is also a great place to go and one of the best things to do with kids. You can educate them about our rich history!
Ideal for: Casual day with friends, kids, and family
Activity cost/ticket fee: free
Timings: open all-day
Location: Sinhagad Ghat Rd, Thoptewadi, Maharashtra 411025
Suggested Read: 8 Insanely Gorgeous Destinations Near Pune That Managed To Remain Hidden Till Now!
9. Doolally At Tap: Taste The Finest Brews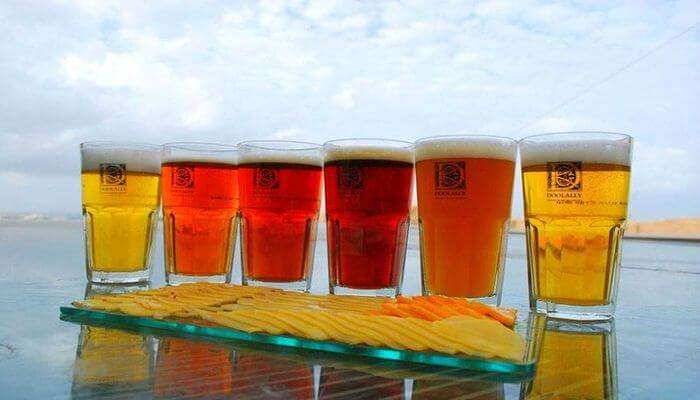 If you are looking for things to do in Pune at night, then you have to taste the best brews of Pune in this very microbrewery. The best brews of the place keep changing and the visitors who come keep greeting new tastes and experiences. The interiors of the microbrewery are simply amazing and they add a charm to the whole complete space. A trip to Pune is definitely incomplete without tasting the latest brews with your gang.
Ideal for: Adults who love to taste new brews.
Timings: 12:30 PM – 12 AM
Location: The Corinthians Resort & Club, Nyati County, Mohammed Wadi, Pune, Maharashtra 411060
Suggested Read: 17 Breathtakingly Beautiful Monsoon Getaways Near Pune And Mumbai In 2020!
10. Imagica Theme Park: Have Fun With Your Kids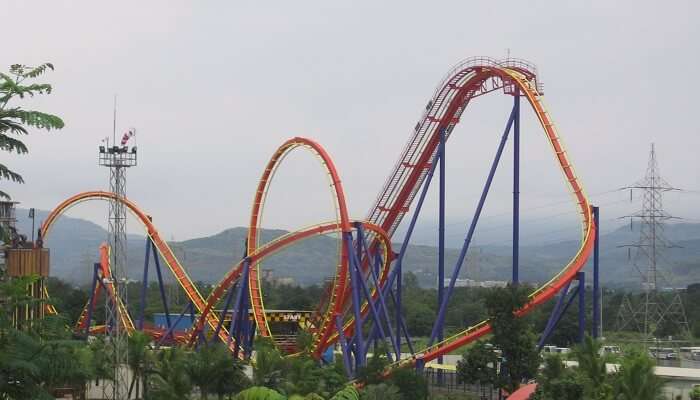 One of the best activities in Pune city for kids is to take them to Adlabs Entertainment Ltd owned Adlabs Imagica. This is a theme park which is spread over 130 acres of land. This park is quite famous for getting an estimated footfall of 15, 000 people every day. The park has been highly successful and is one of the best places in Pune. It boasts of 3.5 million visitors who have visited the place already. You have the theme park, water park, and the snow park.
Ideal for: Kids, family
Activity cost/ticket fee: INR 1,699 for adults.
Timings: 10.30 AM- 6 PM
Location: 30/31 Sangdewadi, Khopoli-Pali Road, Near Lonavala, Khopoli, Maharashtra 410203
How To Reach Pune
If you want to reach Pune, you can travel by air, by road or by train. Here are brief details about reaching Pune.
By Bus
Pune has a well-connected network of buses and metro lane. Hence, you can choose to visit Pune by bus. You can book the bus to Pune through online service operators. There is a major bus stand called Chinch wad Pune Bus Stand or the Pune Bypass. The buses stop here to pick up and drop to various destinations.
By Train
Pune has well-connected trains to both north and south parts of India. There are local trains as well as the super-fast and express trains that run through the Pune railway stations. You have Pune Duronto, Puducherry Express, and other trains. You can book the tickets to Pune through the official IRCTC website.
By Air
There is an airport in Pune and it is located in the center of the city. Yes, this is an international airport and has a busy schedule. It is one of the busiest airports in India. You can find that many direct flights are available from all the major cities of India. This is the fastest way to get to Pune so choose this way of transport if you are in the city for some urgent work.
By Car
If you love road trips and you do not mind traveling by road, then you can travel to Pune by car. The advantage of traveling in this way is that you can stop at different places to enjoy the route to Pune. Whether traveling with wife, kids or friends, a road trip is always fun.
Further Read: 10 Beautiful Pre-Wedding Photoshoot Locations In Pune 2020
If you want to make the most of your Pune trip then plan your trip in between October and March. The temperature dips down a bit, making the weather just perfect for sightseeing. Apart from the best time to visit, you now have a list of the best things to do in Pune. So, make no excuses, gift yourself a trip to Pune and take that break from your busy schedule to relax your body and mind. You will not regret your decision and will come back with memories galore.
Frequently Asked Questions
Q. What can we do in Pune?
A. There is no dearth of things to do in Pune. You can camp, trek and visit the Adlabs Magica. You can also pay a visit to the Aga Khan's Palace.
Q. What can we do in Pune or a day?
A. For a single day trip, you can go to Aga Khan Palace, Shaniwar Wada, and Dagdusheth Ganpati Temple.
Q. For what is Pune famous?
A. Pune is known to be top of the choices for living in India. The city is known to be very decent and safe. Also, known as Oxford, you can go to several other places but Pune is the most deserving.
Q. Where can I go with my girlfriend to Pune?
A. If you are traveling to Pune with your partner then you can explore places like Lohagad Fort, Singhala Fort, Multi Dam or Bund Garden.
Q. What is the special food in Pune?
A. In Pune, you can try these Maharashtrian dishes like keema or bun maska. You can try also try vada pav and bhelpuri which are the most famous street food snacks in Pune as well as in Maharashtra.
Q. What is the best place to buy products in Pune?
A. Laxmi Road, Koregaon Road Park, Fashion Street, Clover Center, ABC Pune, and Tulsi Baug are some of the places in Pune where you can find a variety of things to buy.
---
Looking To Book An International Holiday?
---
Comments
comments