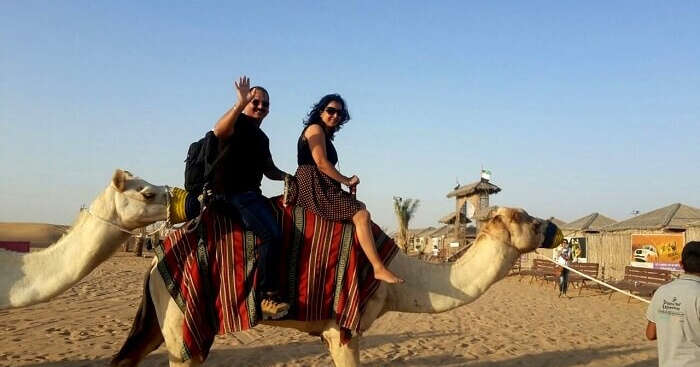 Glamor and glitz, Dubai was one destination Roshan always had in mind. He describes his amazing romantic experience in the modern city and tells about their highlights and fun moments!  Roshan booked his 4 nights 5 days Dubai tour package from Travel Triangle and it included their flights, accommodation, breakfast, sightseeing, and other activities – all for a cost of only INR 77, 200/-
Having heard so much about the rich culture and awe-inspiring skyscrapers, I and my wife were fascinated about a vacation in Dubai, the city of glitz and glamor. Hence, we decided to ditch our monotonous routines and indulge in some Dubai fun!
As I was browsing for various packages and vendors online, I came across Travel Triangle. The fact that I could customize my trip and add activities of my own choice, made me feel so comfortable that I gave no second thoughts to book my tour package with Travel Triangle.
Going forward I submitted all the required details on Travel Triangle's website post which I was soon contacted by one of their travel representatives. Having understood my requirements, they further connected me to few local travel agents who offered best packages that fit my budget.
We soon finalized on 'A1 Tours' who sent us the best quotes that matched our requirements perfectly. Now that the package was booked and bags were packed, I and my wife couldn't contain the excitement of actually going to a destination that had been on our bucket list for so long.
Day 1: Touchdown Dubai And You're In Love, Already!

We boarded our flights from New Delhi and landed safely in Dubai by 3:30pm. On arrival, the representative of the travel agent greeted us in a friendly manner and guided us to Fortune Deira Hotel. Our transfers were very smooth, the staff were very courteous and I have to mention Ankur from A1 Tours who facilitated our entire trip in a well-planned manner.
We rested in our lavish room for a while. We later went out to experience the Dhow Cruise. It was a classic Dubai cruise boat that was breathtakingly decked with lights and shined like a star in the crystal waters of Dubai Creek.
We enjoyed a sumptuous dinner served by the courteous staff on the cruise along with an extraordinary cultural performance as the boat sailed through the sparkling skyscrapers of Dubai. Soaking the vibes slowly, we returned to our hotel by midnight and the entire experience had us looking forward to the next day!
Day 2: Enjoying The Best Of Desert Safari!

We had an early breakfast in the morning and by 9.30am, we were on our way to visit the Dubai beach. We basked in the sun and enjoyed swimming for a while and returned to the hotel via shuttle. Post enjoying the lip-smacking lunch at the hotel, our driver picked us up by 3.30pm. He showed us many other places on our way to the Desert Safari.

Desert Safari was the best experience of the trip and left us wanting for more. I and my wife were both equally thrilled by the quad bike sessions. Later on, we also enjoyed an Arabian night experience wherein a delicious dinner was followed by music and dances performances. On our way back, our driver dropped us at the Meena Bazaar. We indulged in some shopping, enjoyed a walk back to the hotel and called it a day.

Day 3: City Tour Of The Great Land Of Sheikhs!

After having a scrumptious breakfast, we were picked up by our driver and headed for the city tour by 9am. Our city tour included attractions like that of Jumeirah Beach and Dubai Museum at Al Fahidi Fort among other attractions. We realized how Dubai was a perfect blend of both the old and the new.

Attention Travellers: These 5 Destinations Just Got A Hell Lot Cheaper For Indians!
We clicked a lot of pictures on city tour post which we headed towards Gold Souk which was amazing indeed. We took a boat to the traditional markets of Deira which cost us only 1 Dirham per person for one way and ended our day as we enjoyed a romantic dinner. Our walks back to the hotel together was the best way to end the trip. We reached the hotel by midnight and soon retired to bed!
Day 4: Shop Till You Drop Day!

Post our refreshing breakfast, we took the hotel shuttle to visit Mall of Emirates and Mall of Dubai. Both the malls were huge and offered wide range of ornaments, clothing and thousand other things. We had lunch and explored in and around the majestic malls till evening.
Later in the evening, the time had finally arrived to visit the royal and magnificent Burj Khalifa. We started our way through the fountains to the world-renowned skyscraper. There was no end to clicking pictures from every angle and no limit to our excitement. We settled in the whole musical ambiance of the city while we enjoyed our last dinner in Dubai.
Day 5: Bidding Adieu To The Modern Magnificence!

The past four days had given us some incredible moments in Dubai that were to be treasured forever.
Dubai made us feel alive and extravagant as we went on to realize that this city is a mix of flawless modern foundations that has strong traditional and cultural roots.
With such countless memories and thrilling experiences, the final day of our trip was here already. We checked out of the hotel, our driver transferred us to the airport and soon we set on our journey back to India.
High Points:
Dhow Cruise, Desert Safari and visit to Gold Souk.
The entire Dubai experience was just extraordinary.
Tips for Travelers:
For your own convenience, book a hotel that offers free shuttle to travel. This will save a lot of money while traveling within the city as traveling within Dubai can be pretty expensive.
Dubai is perfect for everyone! Enjoy thrilling activities, amazing sightseeing, and more. Choose an exciting vacation with your partner!