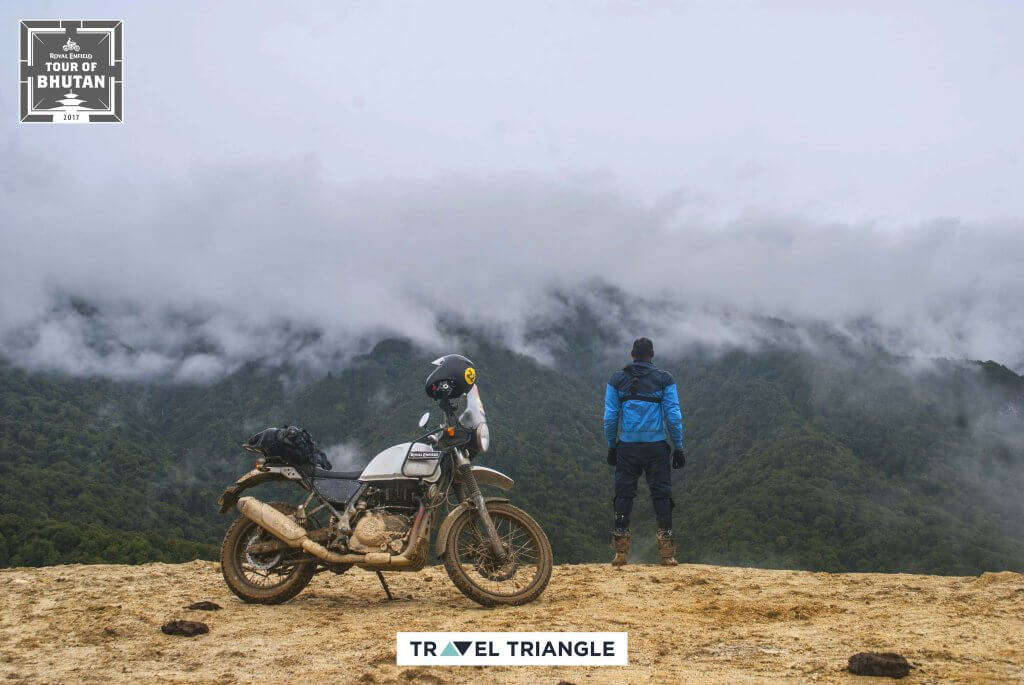 "Four wheels move the body. Two wheels move the soul!"
It's been quite a few days since the trip that's got everyone talking and we thought we'd share a small snippet of what it was all about. The Royal Enfield India Tour Of Bhutan 2017 was one hell of a trip, not just for the riders and their crew, but also for those who aspire to tame the hefty landscapes of Bhutan on their own. It has sent a deep, soul-stirring message to the world's travelers, bikers, and backpackers about what power they and their mean machines hold, inspiring all to take on the scariest of terrains to fight their fears and test their skills.
See a synopsis of what happened on the Royal Enfield Bhutan Road Trip 2017 to know what all they experienced.
And while we await more smashing Royal Enfield bike trips where we will be taking on a new set of roads, we'll let you in on what happened on this one, and how it changed our fearless riders for the better!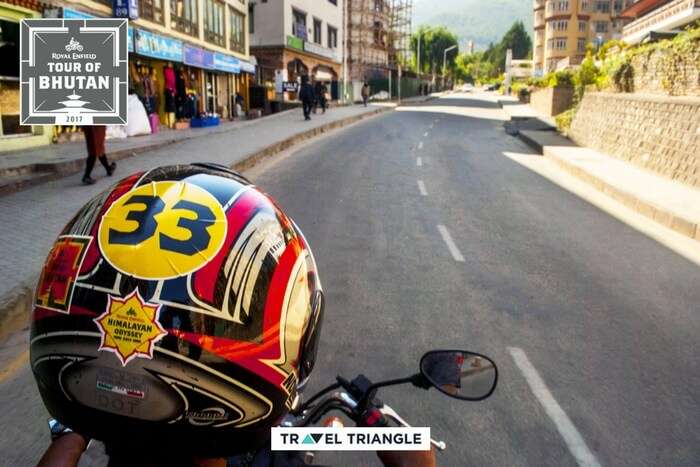 So, here's a little about one of India's most offbeat adventures that shall inspire and awaken the wanderer in you! Hop on your bikes, rev up the engines, and vroom away to on an adventure!
Here are the details of the trip to help you grasp the 'who', 'what', 'when', 'why' and 'how' of the trip!
Royal Enfield India Tour of Bhutan 2017 Trip Details
Route Map: Siliguri — Phuentsholing — Paro — Thimphu — Punakha — Gelephu — Bumthang — Mongar — Tashi Gang — Samdrup Jongkhar — Guwahati
Trip Dates: 13th October to 25th October
Trip Duration: 13 days
Total Distance: 1,569 km
Level: Challenging
Find more details of the trip here.
The Trip
There was no dearth of the amount of adventure and thrill our riders engaged in during India's most awaited Bhutan road trip. From trekking to Tiger's Nest, making friends with adorable little Bhutanese kids, enjoying the peppy nightlife of Thimphu, savoring local cuisine, and riding more than 1,400 km across an entire nation, there was nothing that the group did not take part in on this most exciting of Royal Enfield bike trips!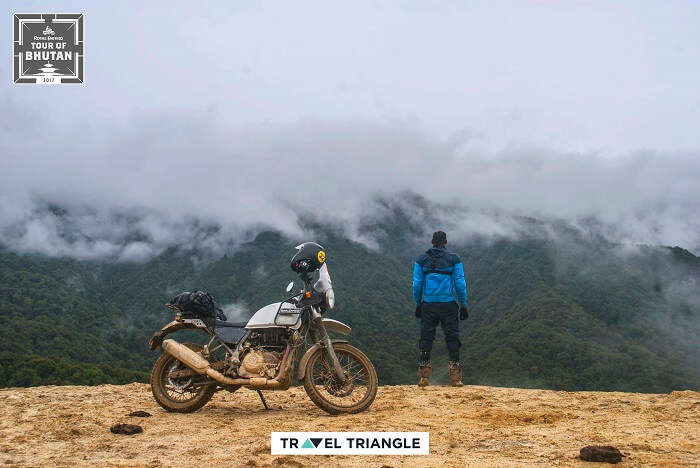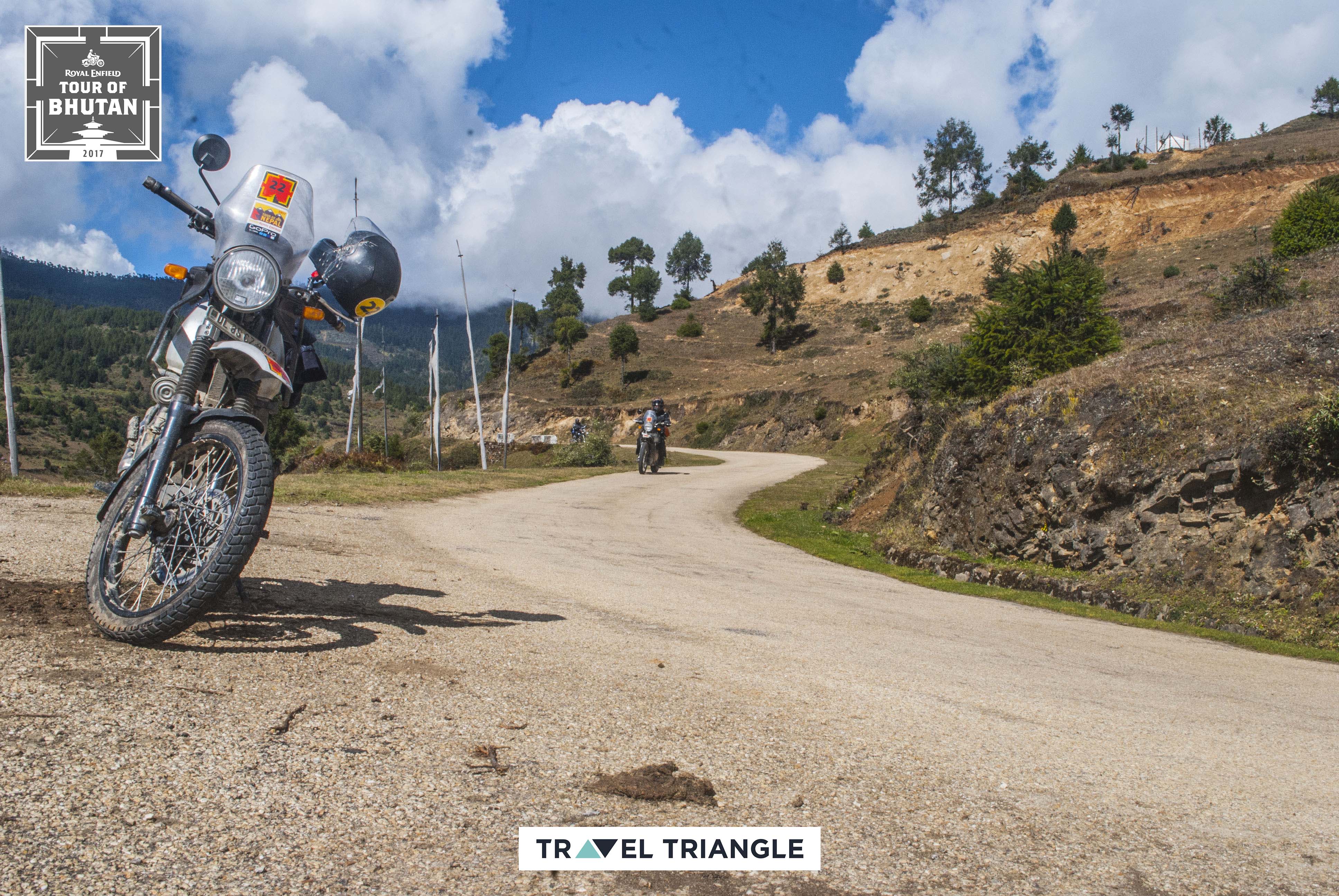 The ride was a lot of things, but boring! Treacherous treks in Paro, a vivid and crazy nightlife of Thimphu, the steep descents through the hills and valleys of Punakha, the tough slush-laden tracks of Phobjikha & Trashigang, and the awesome landscapes all along – Bhutan made sure to bless our riders with myriad landscapes and experiences throughout their trip. Even the weather threw in occasional surprises! From scorching heat one day to non-stop showers the next, our bikers rode through changing weather conditions and topography all along.
The Bike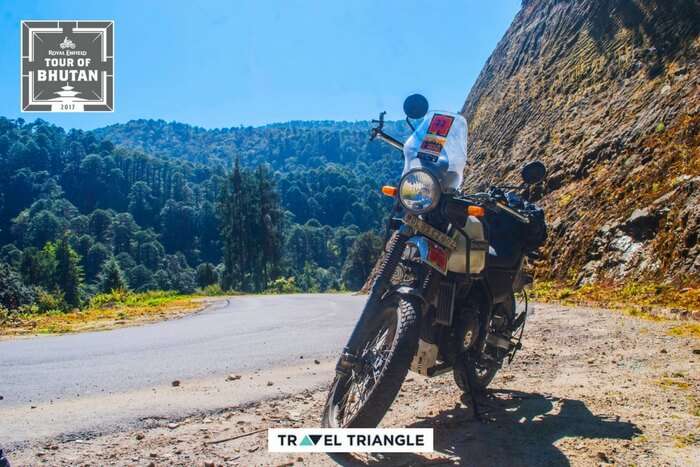 The Royal Enfield Himalayan truly has been "Built For All Roads & Built For No Roads"! Emerging victorious in every challenge the landscapes and weather of Bhutan put in its way, it has proved out to be the most reliable machine for every backpacker, no matter how long a journey one plans to embark on! Designed by experts for the most non-complying mountainous roads, these versatile, robust, yet lightweight and absolutely comfortable motorbikes effortlessly took our riders from one destination to another without fail!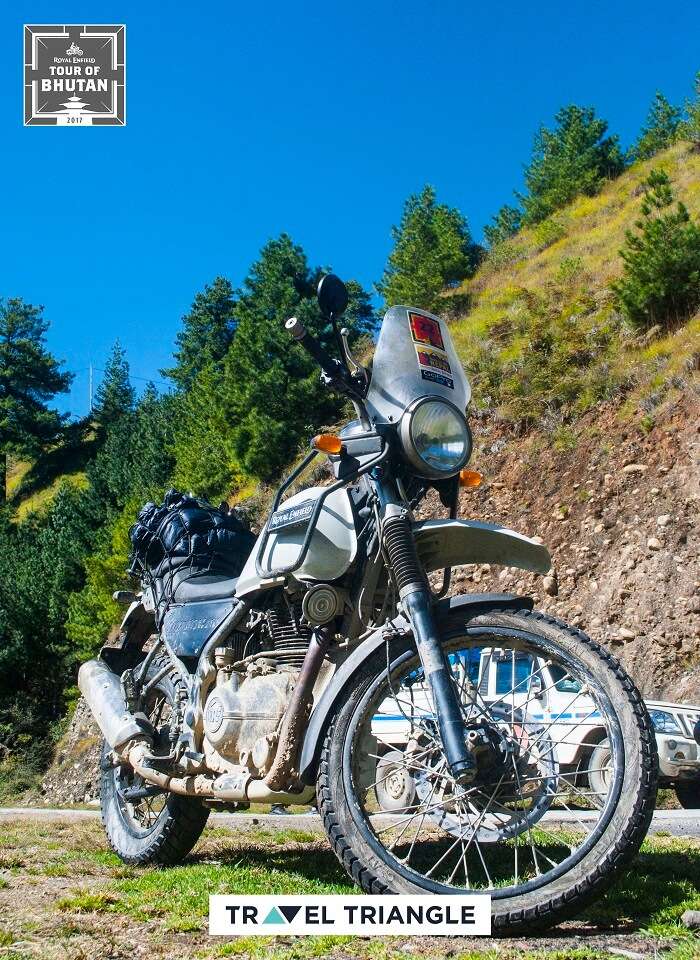 About Royal Enfield Himalayan: Undoubtedly, the Royal Enfield Himalayan, with its unique, simplistic and purpose-driven design, is a different breed of bikes altogether. When backpacking, off-roading, and hefty inter-country road trips are becoming a sensation, the RE Himalayan is now the best bike one can count on.

Just when everyone was preparing for the final days of one of the most trusted brand names in affordable two-wheeler commuter transportation, Royal Enfield, it came back from the dead and surprised backpackers with what was to become their most remarkable companion in their future trips. RE has surely made a smashing comeback with Royal Enfield Himalayan!
The Roads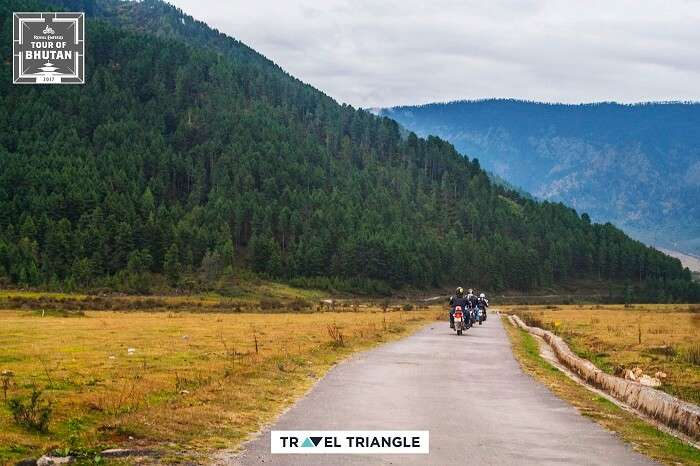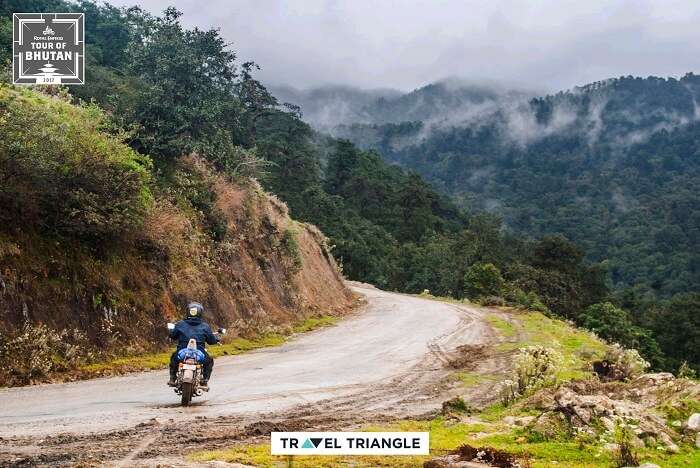 Owing to its varying topography, the terrains of Bhutan change every few hundred yards. The roads our riders rode on were never the same. From well-built tarmac roads, rocky trails, muck-laden narrow passes, serpentine rivers, to steep dirt tracks leading up hefty mountains, our riders took on every challenge (read 'terrain') thrown their way, and they won!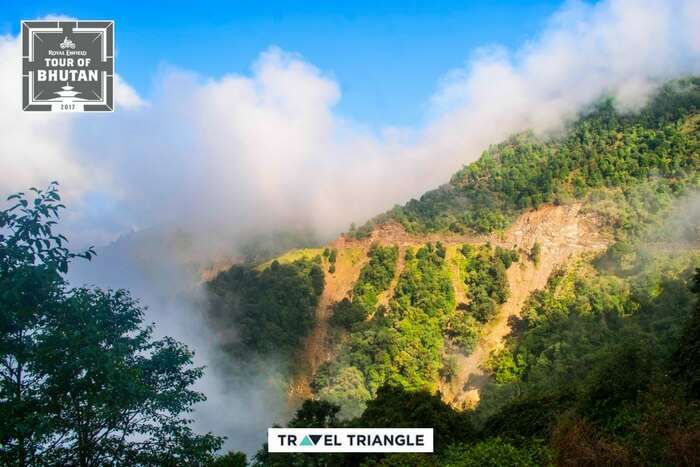 The Culture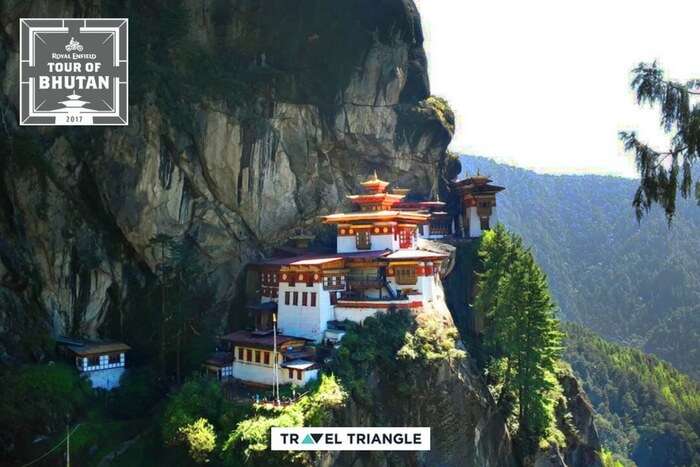 Bhutan's culture unravels something new and unique with every deeper look into its heritage and photogenic cities enveloped by lofty mountains. Our riders got to witness the most diverse heritage a country could possibly have in a mere 13 days that left them wishing they could stay there longer.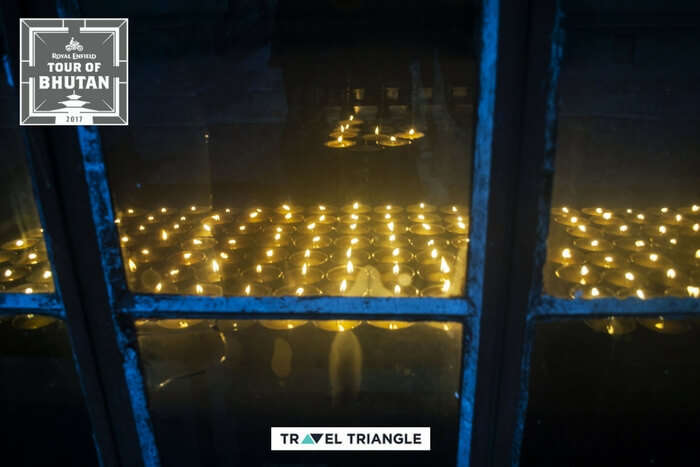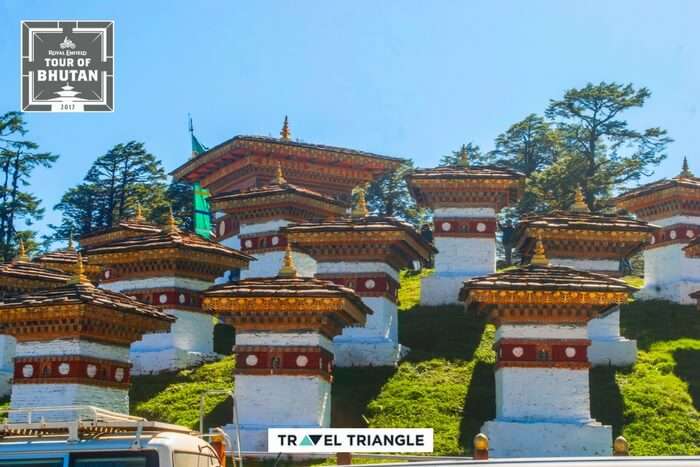 Diverse and rich, this little country holds more to it than meets the eye. From the Instagram-friendly architecture of monasteries, shrines reverberating with religious chants that can calm you down in an instant, colours of Bhutanese prayer flags waving at passersby from atop snowy peaks, enchanting dances and costumes of performers on sprightly festivals, to the Instagram-friendly architecture of buildings, Bhutan is a treasure trove of experiences and the most engaging sights for travelers!
The People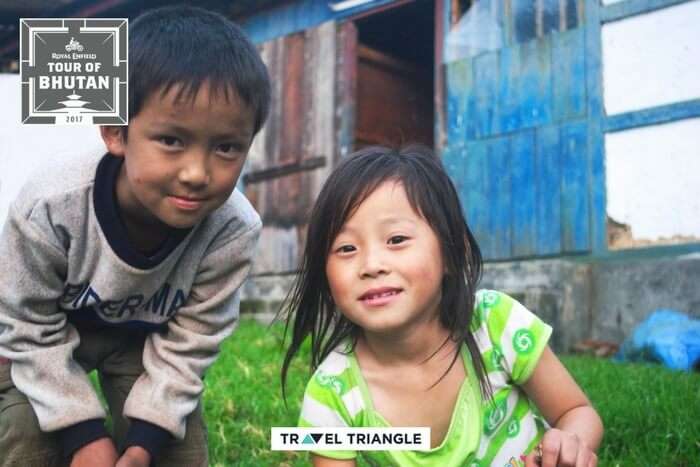 Bhutan owes its happiness index to its people. One of the many things our riders discovered on this trip was the reason why this holds true! Strict traffic rules aside, the people of Bhutan are some of the friendliest, helpful, and charming folks that exist on the planet. With every encounter and conversation with a Bhutanese, our riders fell more and more in love with them! The infectious smiles and ready-to-help, cooperative attitude of most locals are definitely one of the biggest reasons why the Royal Enfield road trip was a huge success!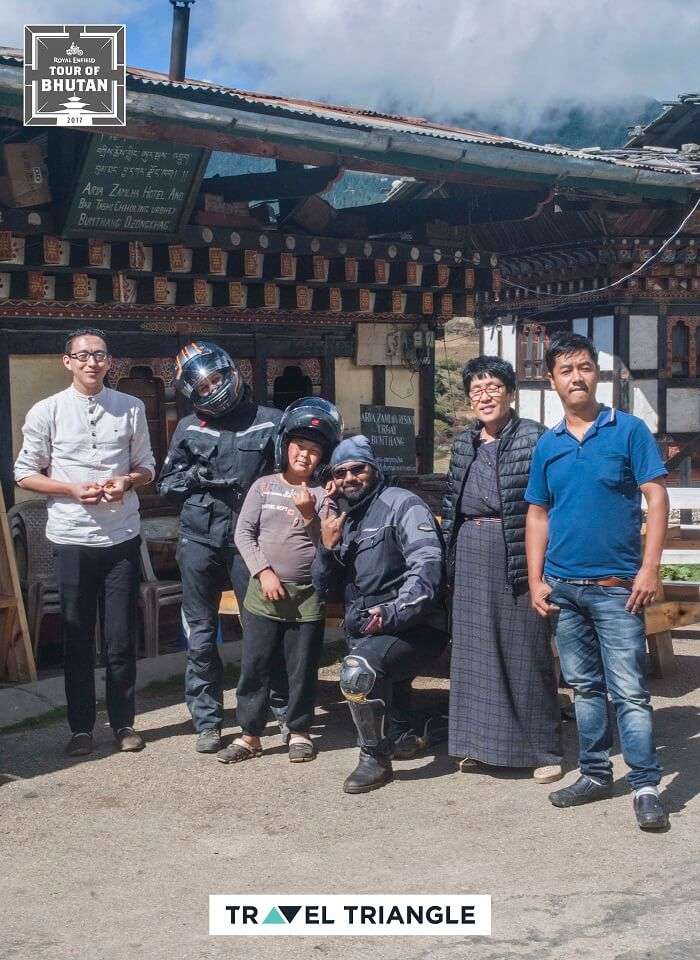 The Food
Though a paradise for non-vegetarians, one will find that vegetarian options in Bhutan are rather limited. Not saying that a vegetarian would face problems acquiring good food in Bhutan, but they must be ready for all kinds of surprises that come their way when traveling to this country.
The Feel
"We all want to be brave in our own minds. But you don't know who you are until something happens. And then you just react" – The Darkest Hour.
Trips like these are a great way to figure out our strengths and weaknesses. It's a way to tell, not just the world, but ourselves, that we are capable of more than we think we are. And that is exactly what our riders experienced on the trip. They weren't aware of their own strengths and capabilities till they took on challenges that came their way and beat them down.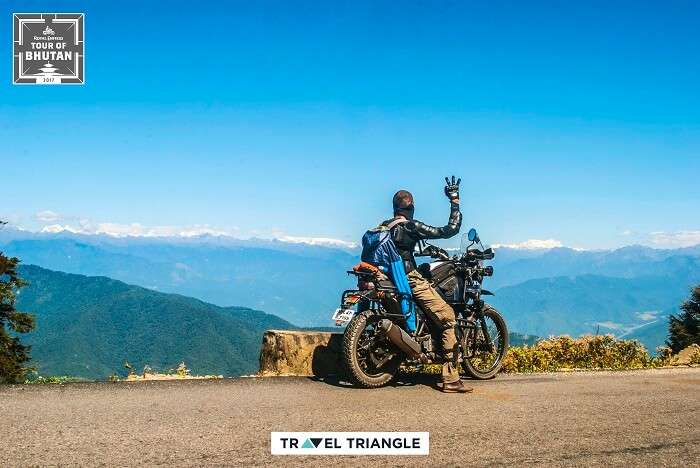 More than helping them discover what they could do, the trip gave them countless memories to cherish for life. Riding through rising altitudes, pushing their way through rocky streams, ripping through hairpin bends, meeting curious locals on the way, and the sheer joy of whizzing through city after city in the company of some of the most skilled and passionate riders, was an experience surpassing all limits and bounds.

"But trips like these can only be fully enjoyed if you're with a group, like this one", says Siddharth, TravelTriangle's representative rider on the tour. "The route may change, the destination may change, the people around you may change, but the bond you've built with your bike through thick and thin, remains with you forever!"
The Bonds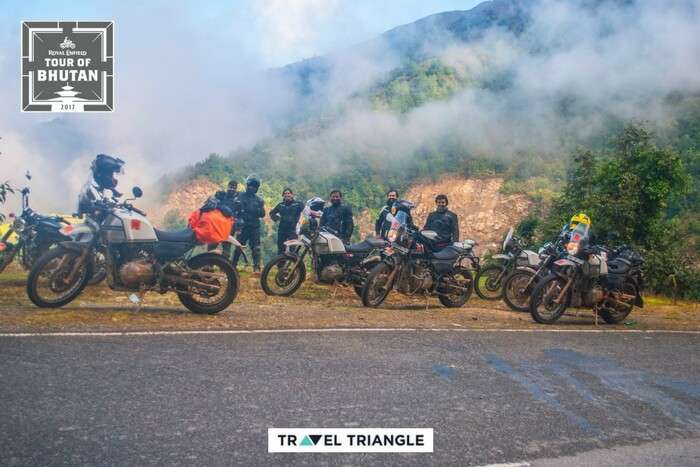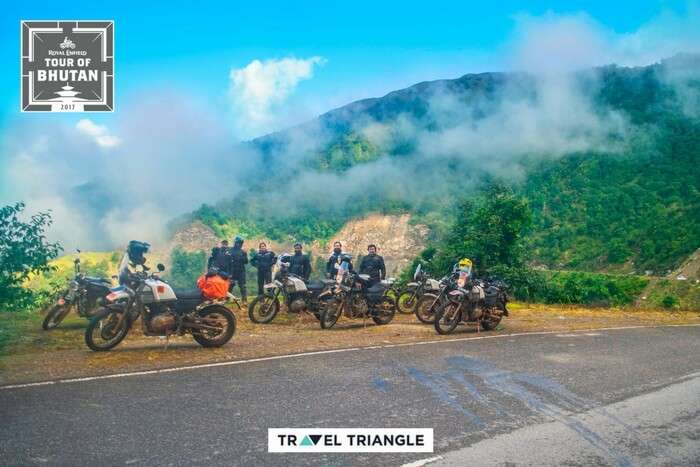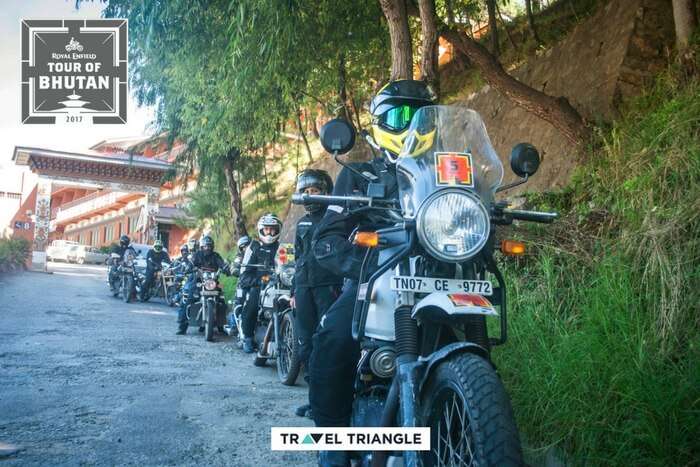 Always watching each other's backs, our group of brave riders made some lifelong bonds on their Bhutan road trip. Though the memories will surely stay with them till the end of time, the friends they made too have become an indispensable part of their lives.

Somewhere between looking after each other, waiting for fellow riders during long and dangerous rides, chanting motivational words to help all keep up their strengths at all times, sharing countless stories of their lives, and laughing together, each of our riders made found a best buddy in the other. They say 'common interests bring people together', but their passion for riding has not only brought them together but surely also will keep them close in the time to come.
The Initiative
We are thankful to Royal Enfield for this great initiative of bringing together people sharing the same passion and giving them the opportunity to showcase their skills and talents on the best journey of their lives. Throughout the Bhutan road trip 2017, RE and it screw took great care of all the riders, ensuring their health and safety each time.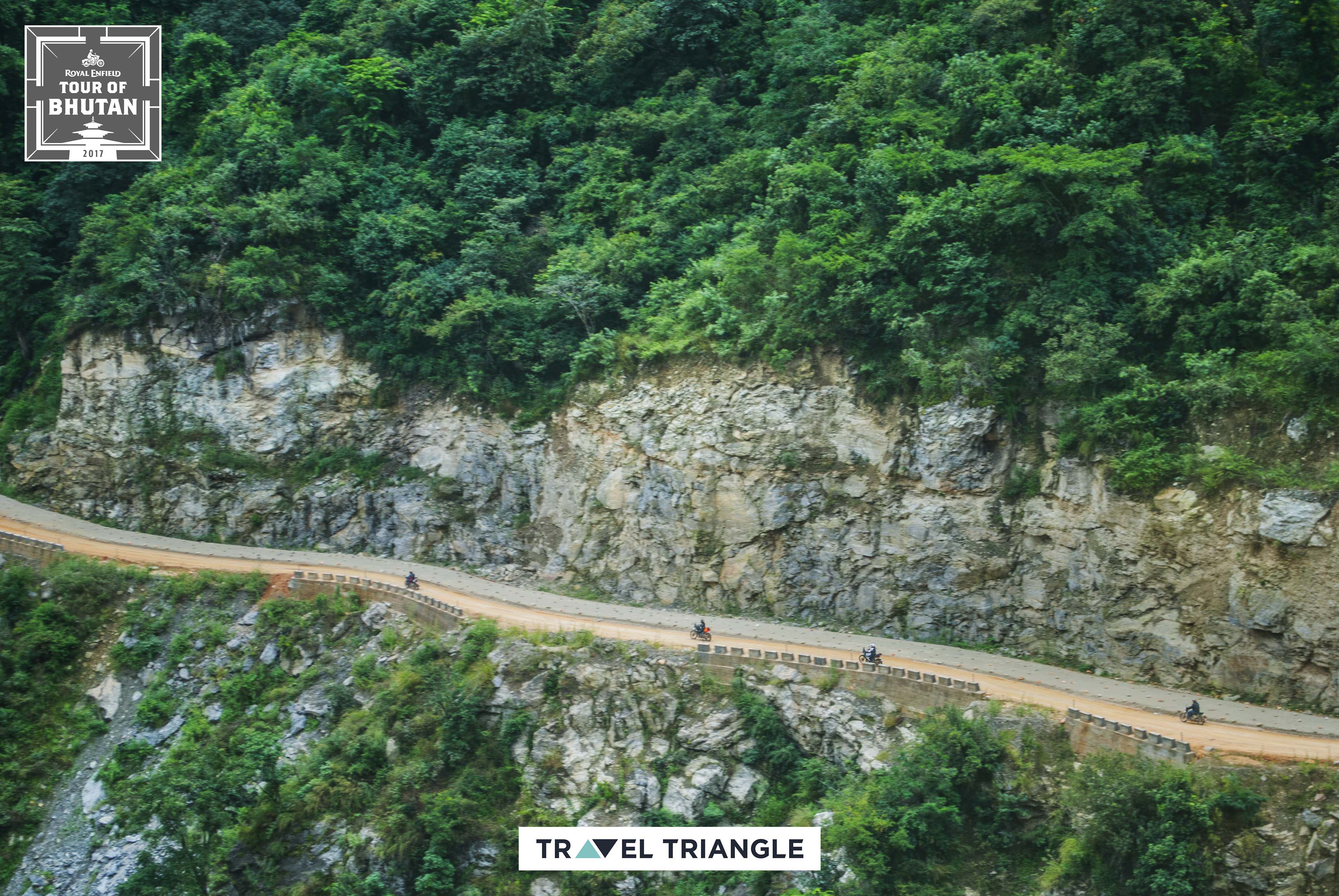 They ensured that they, along with the bikers, adhered to the safety measures communicated and strictly followed the protocols laid down for a successful, hassle-free trip at all times. Post being a part of this brilliantly organised and executed Tour Of Bhutan by Royal Enfield India, the riders now eagerly await the next adventure-packed trip by RE that will let them tame a new set of roads and landscapes this time!
Debunking Common Myths About Bike Trips
Though bike road trips are starting to gain popularity, there are still some common myths and misconceptions about them that need to be sorted, Let's try and take down some of them:
Myth 1: You have to be a hard-core biker for riding on such strenuous terrains
All you need for bike trips is a lot of determination, persistence, and a thorough understanding of your bike to embark on bike road trips on any type of terrain. Other than this, good physical strength and an unflinching control over your bike is needed to make it through all types of topography that comes your way. Many of the skilled riders on these Royal Enfield bike trips are regular people belonging to a diverse range of professions, but, with an unconditional love for traveling, and of course, their bikes! Then again, if you're a rookie, you can't just think of embarking on road trips as tough and challenging as these yet.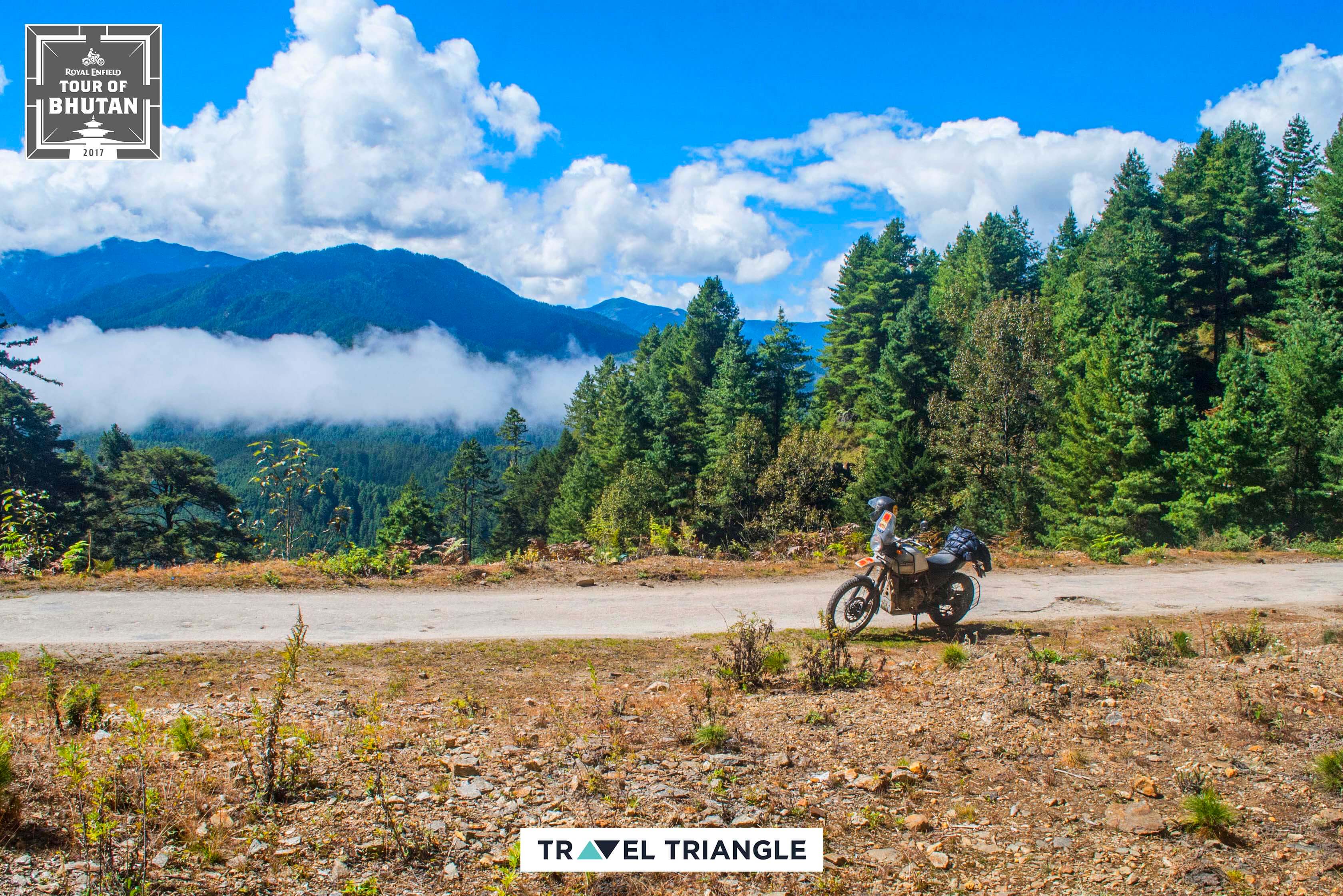 Myth 2: You can pick any bike for riding across difficult terrains and hilly roads
Not all bikes have been built with a purpose to tread on difficult, uneven terrains. Only the bikes with the right suspension, durability, weight, torque, and comfort required for long, uneven, and high altitude roads can be trusted for a trip in changing topography and landscapes – like the RE Himalayan.
Myth 3: Bike trips aren't a good option for long routes
With regular breaks for rest, both for yourself and your bikes, long bike trips can actually turn enjoyable, convenient, and economical. One needs to make sure that the bike is regularly serviced and in good condition.
Myth 4: Bike road trips can be dangerous
Safety doesn't come from the mode of transport, it comes from your knowledge of the route you're picking, the place you're visiting, and the precautions you're taking – like taking good care of your belongings and not riding a bike that's not been serviced recently, for starters. When you're well prepared and confident, bike trips won't be just safe, but an absolutely fun way to travel, and experience the offbeat!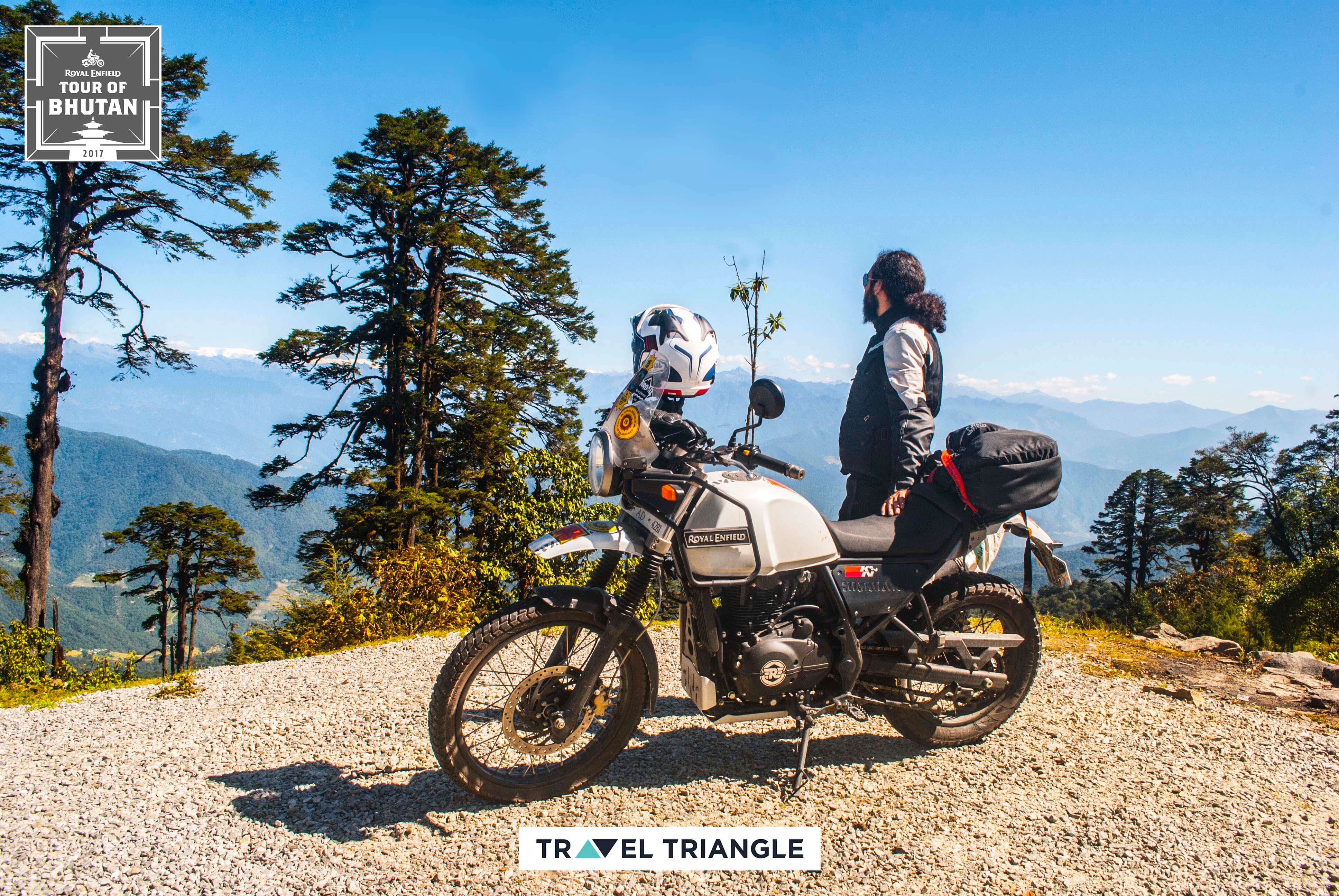 Myth 5: The Royal Enfield Himalayan is not apt for adventure tours and mountainous terrains
NDTV Auto has tagged RE Himalayan as the "Best Adventure Touring Motorcycle Available in India" and the "most affordable bike in the country". The Hindu, too, calls it a "promising machine" for those with a mountain adventure in mind. With outstanding versatility, long travel suspension, a durable and torquey engine, agile handling mechanism, and a purpose built design, the lightweight RE Himalayan has been created for those remote, road-less terrains that are the first love of every biker backpacker and off-roading enthusiast.
And the best part – the RE Himalayan is being constantly updated and improved on the basis of regular feedback and suggestions by riders. Each improvisation and touch-up are what's making the bike more and more reliable for today's adventure hungry generation of nomads. Designed to smoothly traverse through all kinds of road environments and surfaces, the REH will soon be having an Anti-Lock Brake System (ABS) to make it an unparalleled pick for your adventures on the roads, and off it!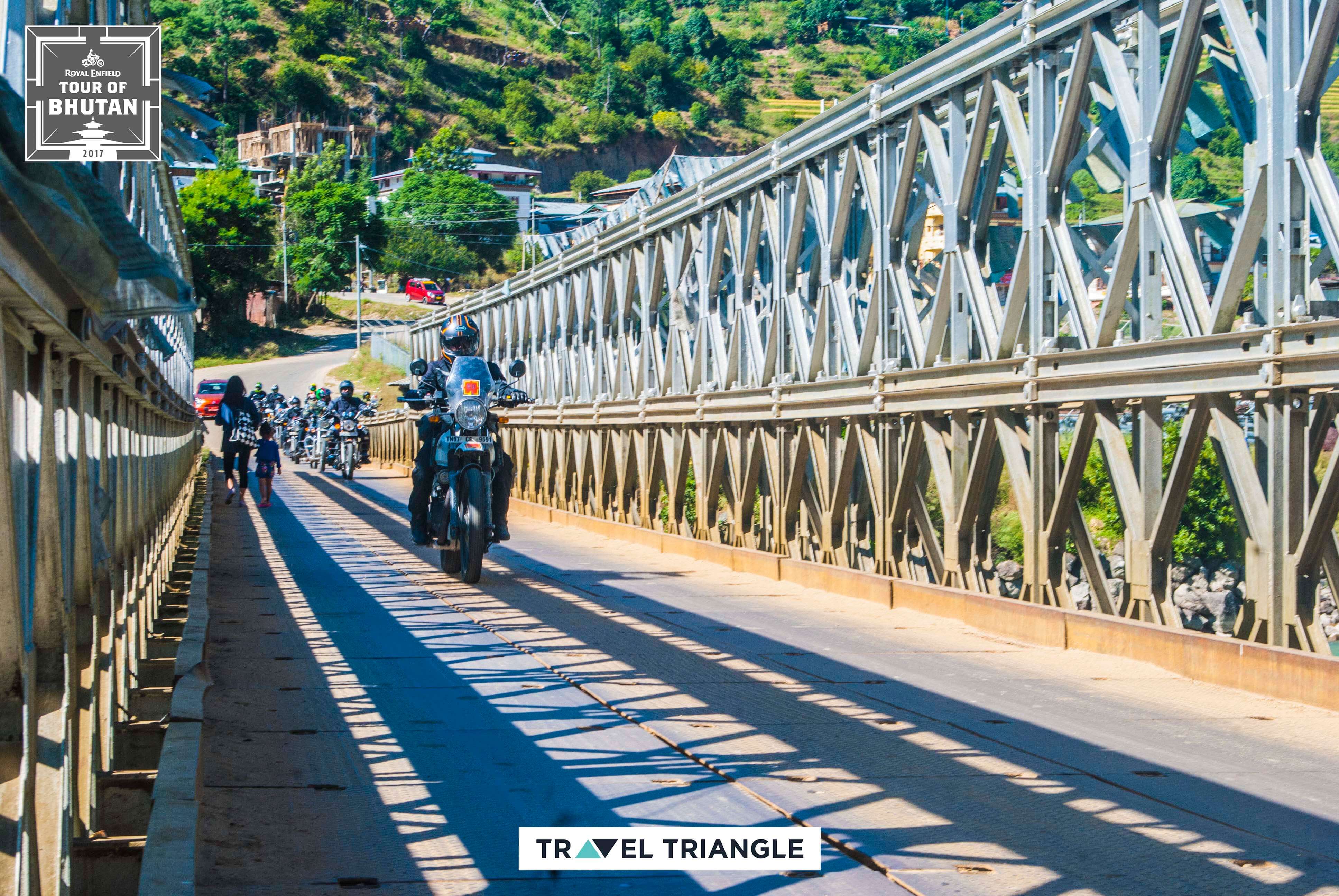 Still got excuses? Time to dump them all and take that much-awaited bike trip you've been yearning for! Pick a destination, pack your bags, rev up your mean machine, and ride on! So, who's up for an adventure?
*All the images in this blog have been clicked by Siddharth Sengar
---
Looking To Book A Holiday Package?
Book memorable holidays on TravelTriangle with 650+ verified travel agents for 65+ domestic and international destinations.
---