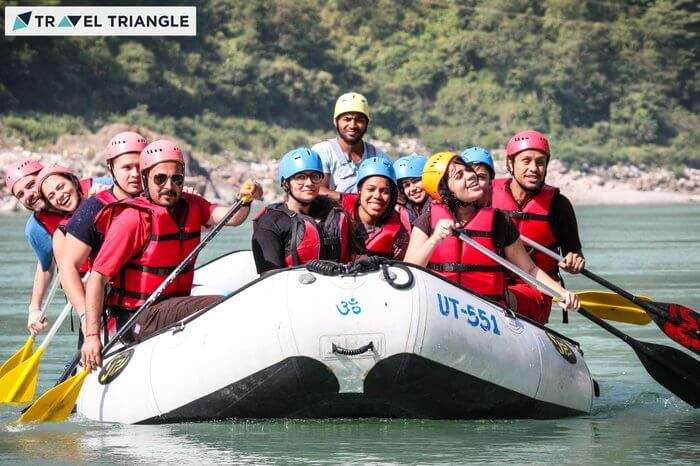 A group becomes a team when they travel together. And we strongly believe that travelling with your teammates creates a strong team spirit, which eventually leads to an unbreakable bond and understanding. It's time you learn from wilderness to do great things, come up with unique ideas, and achieve your goal along your journey.
And this is not all, a corporate outing near Delhi let you have unlimited fun, groove til the sun comes up, trek the muddy trails while watching the captivating vistas, go fishing in the clear waters of the rivers emerging from the Himalayas, sink deep in a pool while having ice-cold beer.
Surreal weekend destinations for team outing in Himachal
1. Tirthan Valley – A land of mesmerizing landscapes

Have you ever seen clouds engulfing the mountains or the mist meandering through the thick forests of pines or the impressive silhouettes of tall trees during twilight? It's up there, in the calm valleys of Tirthan, which is also known as the "best kept secret of Himachal". Tirthan is perched at an altitude of about 1600 meters above sea level, with the gushing Tirthan river flowing down the rugged mountains. The river is Tirthan's major attraction, which originates from the springs of Hanskund in the rich Great Himalayan National Park.

This offbeat destination hasn't been spoiled by commercialization yet which makes it a right place for a corporate outing near Delhi. Tirthan is heaven for trekkers and nature lovers; tourists can camp amid the verdant meadows or book an accommodation near the river to enjoy the healing music of the water. Beside offering mesmerizing landscapes, it is also a great place for bird watching and nature photography. The clear night sky of Tirthan also make it an ideal place to do some long exposure photography.
Average budget per person: INR 4,500/person
Resorts and hotels in Tirthan Valley for team outing: Trishala Resort, Sun N Sky Tirthan Valley, For a While, Devat Farm Cottages, Gone Fishing Cottages etc.
Tourist attractions in and around Tirthan Valley: Great Himalayan National Park, the waterfalls in Tirthan Valley, Jalori Pass, Serolsar Lake, Parashar Lake etc.
Things to do in Tirthan Valley: Trekking, village hopping, bonfire, wildlife photography, and bird watching.
Distance from Delhi: Approx 335 km.
2. Chail & Shimla – Major crowd-puller weekend getaways

Image Source
Chail is about 45 km from Shimla via Kufri and can be done on a short weekend from Delhi. Surrounded by the beautiful trees of deodar and home to lush pastures, Chail lies in the Shivalik region of Himachal. Spread across Rajgarh, Pandewa and Sadh Tiba, this gorgeous little hill towns lets you enjoy the appealing vistas Sutlej Valley. Chail is a hiker's paradise, where you can hike some easy paths to witness the magnificent views of Shivalik peaks and sylvan pine valleys.

Shimal, on the other hand is a commercialized yet gorgeous hill station for a team outing near Delhi. Once the summer-capital of pre-independence India, Shimla rests at a height of 2206 meters offering the beautiful views of oak and deodar trees. Easy to reach, this hill station is home to some of the most vibrant shops situated on Mall Road.
Average budget per person: INR 4,000/person
Resorts and hotels in Chail & Shimla for team outing: Chail: Hotel Ekant, United 21, The Chail Palace, Deventure Chail etc. Shimla: Hotel Combermere, Hotel Willow Banks, Hotel Marina, The Cedar Grand etc.
Tourist attractions in and around Chail & Shimla: Chail: Sadhupul Lake, Chail Palace, Kali Ka Tibba, Chail Wildlife Sanctuary etc. Shimla: Summer Hills, Indian Institute of Advanced Studies, Annandale, Jakhoo Hill, The Scandal Point, Chadwick Falls, Jakhoo Hill etc.
Things to do in Chail & Shimla: Hiking, nature walks, ice skating etc. Distance from Delhi: About 350 km.
Suggested Read: 10 Terribly Overrated Destinations In Himachal & Where To Travel Instead
3. Narkanda – A town amid river Sutlej and Giri

Settled right in the middle of the verdant valleys of river Giri and Sutlej, Narkanda is a hill town known for skiing and other exciting winter sports. It's not just the thrilling sports that make it among the best corporate weekend getaways, but also the scenic landscapes and serene valleys that let you live in the moments of peace.

Anyone who wants to see the vast and sweet smelling fruit orchards near Delhi must visit Narkanda. One can trek Hatu Peak on their journey through Narkanda and do an overnight camping under the star studded sky.
Average budget per person: INR 5,000/person
Resorts and hotels in Narkanda for team outing: Hotels Snowflake, Hotel Sara, Hotel Mountview, Hotel Hatu, Tethys Ski Resort, The Shyam Regency etc.
Tourist attractions in and around Narkanda: Hatu Peak, Stokes Farm, Ski Slope, Mahamaya Temple, Jalori Pass etc.
Things to do in Narkanda: Trekking, skiing, and nature walks.
Distance from Delhi: About 400 km.
4. Manali – A year-round magnet in the lap of Beas

Enveloped in woody forests, thick mists, and wonderful Beas Valley, Manali tempts adventure enthusiasts from all across the country. Backpackers from across the world come here to enjoy the Himalayan life in the vibrant villages of Manali. Availability of thrilling sports like trekking, rafting, skiing, and mountain climbing make it a perfect destination for a corporate outing near Delhi.

Couples and families also travel all the way from Delhi to this mesmerizing land of snow-capped peaks and the alluring Rohtang La. Among the best places to visit in Himachal Pradesh, Manali offers hypnotizing vistats of Hanuman Tibba, Friendship peak, Mt. Ladakhi peak, Seven Sister peak, Patalsu peak, and Manali peak. Those who want to witness snowfall and enjoy snow sports should visit between Mid Dec and Jan.
Average budget per person: INR 4,500/person
Resorts and hotels in Manali for team outing: Manali Queen, Hotel Devlok, Hotel Vintage, The Orchard Greens, Apple Country Resorts, Snow Valley Resorts etc.
Tourist attractions in and around Manali: Beas river, Hadimba Temple, Manikaran Gurudwara, Solang Valley, Jogini Waterfalls, Vashishta Baths etc.
Things to do in Manali: Paragliding, zorbing, take sulphur bath at Manikarna, trekking, rafting etc.
Distance from Delhi: About 535 km.
Suggested Read: 12 Hidden Romantic Places In Himalayas
---
Planning your holiday but confused about where to go? These travel stories help you find your best trip ever!
Real travel stories. Real stays. Handy tips to help you make the right choice.
---
Mesmerizing corporate weekend getaways in Uttarakhand
5. Rishikesh – An adventure hub in the foothills of the Himalayas

Rishikesh, the place where sun paints traces of gold and red on the river's surface, the place where solitude soothes your soul and adventure pumps up your adrenaline. Your Rishikesh weekend trip with your colleagues can change the way you define a vacation. Anyone looking for a corporate outing near Delhi for a bunch of adventure loving folks should keep Rishikesh at the top of their list.

This yoga capital of the world turned into a land of hippies, young adventurers and peace-seekers ever since The Beatles played at Maharishi Mahesh Yogi ashram in the late 60's. From seeing the beautifully illuminated night sky and rafting in water, there's so much that can be explored to build the team bond you've thinking about.
Average budget per person: INR 3,000/person
Hotels and resorts in Rishikesh for team outing: Vatika Camp, Aloha On The Ganges, Divine Resort, Kedia Resorts, The Narayana Palace, Phool Chatti Resort, Hotel Devoy Inn, Hotel SK International, Hotel Ganesh Inn etc.
Tourist attractions in and around Rishikesh: Laxman Jhula, Ram Jhula, The Beatles Ashram, Shivpuri, Neelkanth Mahadev, Triveni Ghat, Neer Garh waterfall, Swarg Ashram etc.
Things to do in Rishikesh: Bungee jumping, river rafting, camping, mountain biking, flying fox, cliff jumping, trekking etc.
Distance from Delhi: About 250 km.
6. Jim Corbett – Lets you experience the wilderness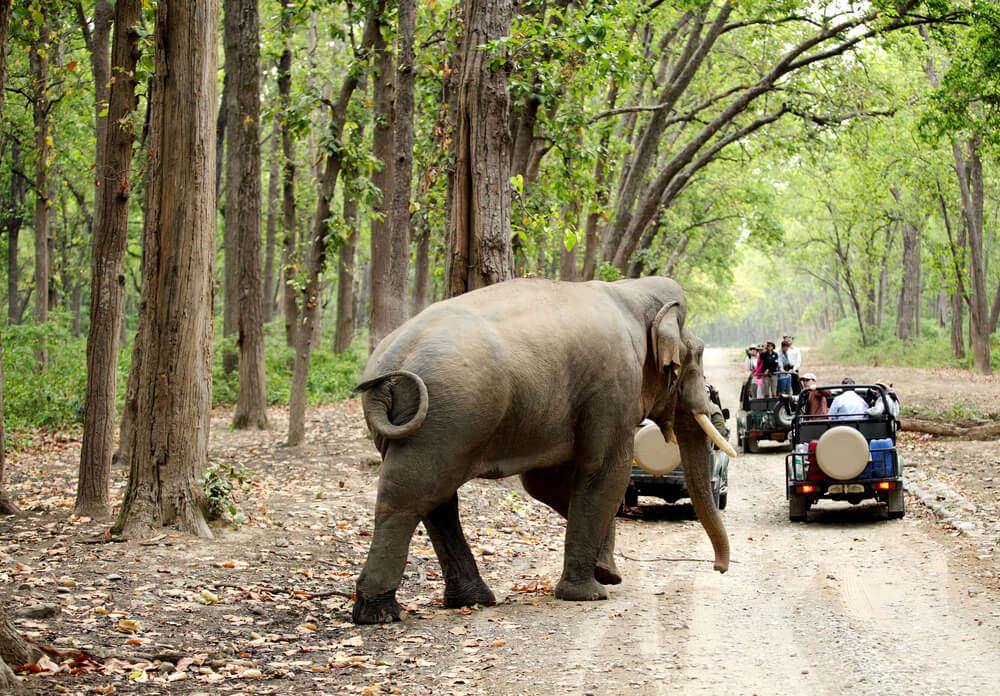 Among the oldest and best national parks in India, Jim Corbett National Park was established in 1936 as Hailey National Park. It's probably the best and year-around destination in Uttarakhand for a corporate outing near Delhi. Established by the popular hunter turned author and wildlife conservationist, Jim Corbett. The national park is home to about 488 species of wild animals, and plants, which includes elephants, Bengal tigers, king cobra, wild boar, nilgai, chital etc. The park is also a paradise for bird lovers as there are about 600 species of gorgeous birds.

Dues to its popularity as one of the best weekend getaways from Delhi, it has plenty of amazing and luxurious resorts that not only arrange jungle safaris for the guests, but also organize team-building games within the campus area. If your team consists of nature and wildlife lovers, then there's no place better than Jim Corbett National Park.
Average budget per person: INR 3,000/person
Hotel and resorts in Jim Corbett for team outing: Winsome Resort, The Solluna Resort, Namah Resort, Resort De Coracao, Kafal House, Vanvasa Resort etc.
Tourist attractions in and around Jim Corbett: Garjiya Devi Temple, Corbett Falls, Jim Corbett Museum, Dhangarhi Museum, Kosi River etc.
Things to do in Jim Corbett Go jungle safari, rafting, fishing, bird watching etc.
Distance from Delhi: About 245 km.
Must Read: 12 Wallet-Friendly Resorts And Hotels In Jim Corbett National Park
7. Kanatal – A perfect blend of adventure and scenic beauty

A sleepy village resting in the scenic Garhwal Himalayas, Kanatal offers mesmerizing views of sun-kissed peaks and lush valleys. It is gradually emerging as a perfect weekend getaway near Delhi, and its proximity and connectivity from Mussoorie makes it easy to reach. Kanatal receives medium to heavy snowfall during winter months, so those willing to experience the snowfall of Himalayas without dealing with the touristy crowd of Mussoorie, must visit this hill station.

One can also spot some wild animals by taking a jeep ride, and there are some wonderful natural springs inside the jungles. Kanatal is not a thrill destination, so do not expect extreme adventurous activities, but the resorts and 8 Camps In Kanatal Under 5k For A Budget Weekend In The Mountains do organize team-building activities for the guests. Tourists who visit Kanatal also travel to New Tehri for adventurous sports like jet skiing, rafting, and kayaking.
Average budget per person: INR 3,000/person
Hotels and resorts in Kanatal for team outing: Jayshree Camp, Club Mahindra Kanatal, Himalyan Rays Kanatal, Wildex Camp, 180 Degree Resort etc.
Tourist attractions in and around Kanatal: Kodia Jungle, New Tehri, and Surkanda Devi Temple.
Things to do in Kantal: Rafting, jet skiing, kayaking, nature walks etc.
Distance from Delhi: About 315 km.
8. Mukteshwar – All about high mountain peaks, fruit orchards, and some adventure

Mukteshwar is probably one of the most picturesque hill stations in Uttarakhand. It has got its name from a 350-year-old Mukteshwar Dham, which is also a must-visit place. At an elevation of 2288 meters above sea level, the hill station is known for its snow-capped peaks and vibrant fruit orchards. Also, there's so much to do for trekking and hiking enthusiasts in Mukteshwar.

Mukteshwar is a land of surprises; it has breathtaking views of the Himalayas and the flaming red rhododendron forests that will make you fall in love with this alluring heaven. Whether you are looking for a scenic and peaceful getaway or want a place to try some adventure, you can't go wrong with it.
Average budget per person: INR 5,000/person
Hotels and resorts in Mukteshwar for team outing: Great Himalayan Hotels and Resorts, Club-10 Pine, The Golden Peak Hotel, Maa Gauri Resort, Panchachuli etc.
Tourist attractions in and around Mukteshwar: Mukteshwar Temple, Chauli Ki Jali, Mukteshwar Inspection Bungalow, and Indian Veterinary Research Institute.
Things to do in Mukteshwar Trekking, camping, paragliding, rock climbing, and rappelling.
Distance from Delhi: About 350 km.
Suggested Read: 9 Awesome Things To Do In Kanatal For A Refreshing Getaway
9. Ramgarh – A serene and scenic hill station for a perfect team outing in the hills

Image Source
If you're thinking of peace and tranquility, Ramgarh is the right choice. Also known as the "Fruit Bowl of Kumaon", this little hill town near Nainital is gradually becoming a popular weekend getaway for team outings. The beauty of this place lies in its soothing silence and unobstructed views of the snow-capped mountain peaks.

Rabindranath Tagore and social activist, Narain Swami has established their ashrams in Ramgarh, and Rabindranath Tagore wrote many of his poems while staying in Ramgarh. The Kainchi Dham ashram in Ramgarh has attracted tech biggies such as Steve Jobs and Mark Zuckerberg. This hill station has also inspired many writers and still offers a tranquil space for creative people to come up with idea.
Average budget per person: INR 5,000/person
Hotels and resorts in Ramgarh for team outing: Seasons Silent Trail, V Resorts Ramgarh, Aamari Resort, Soulitude in the Himalayas, The Himalayan View Retreat Hotel, The Ramgarh Retreat etc.
Tourist attractions in and around Ramgarh: Devi Mandir, Writer's Bungalow, and Kainchi Dha.
Things to do in Ramgarh Naini Lake, camping, fishing, nature walks etc.
Distance from Delhi: About 335 km.
10. Chaukori – A hill town for the dreamers

A little village surrounded by towering snow-capped mountains, Chaukori is a lesser known gem in Pithoragarh district of Uttarakhand. At an altitude of about 2,010 m and 175 km from Nainital, it may not be a popular destination for corporate outings, but it certainly is growing as a laidback weekend destination for those planning for a peaceful vacay in the sublime valleys.

Image Source
Since Chaukori is situated at the Indo-Tibetan and Indo-Nepal boundaries, which means one can see the hypnotizing Greater Himalayan peaks of Panchachuli, Nanda Kot, Nanda Devi, and Nanda Khat. The hotels and resorts in Chaukori do not have conference rooms, but they do organize team activities on demand.
Average budget per person: INR 5,000/person
Hotels and resorts in Chaukori for team outing: Ojaswi Tea Garden Resort, Hotel Gaurav Resort, Chestnut Grove Himalayan Lodge, and The Misty Mountains etc.
Tourist attractions in and around Chaukori: Patal Bhubaneshwari, Nag Mandir, Kapileshwar Mahadev etc.
Things to do in Chaukori: Nature walks, camping, stargazing, hiking etc.
Distance from Delhi: About 470 km.

While these wonderful team outing destinations offer a tranquil and fun outing, the accommodations offer a luxurious stay, high-tech conference rooms, and exciting team-building activities for corporate group tours. You can checkout some great weekend getaway packages or talk to the experts to know more about corporate outing destinations.


Further Read: With These 46 Weekend Getaways From Delhi Under 5k, Budget Is No More A Constraint
---
Long Weekend Trips Starting @ Rs 3299/-
Take a trip to spend the upcoming long weekend with your buddies.
✓ Stay at 4 star rating hotels with local sightseeing, meals and transfers.
✓ Travel in AC coach round trip (from Delhi).
✓ All Inclusive Deal– Camping, Jeep Safari & Trekking as per itinerary
✓ Sign up NOW to celebrate the long weekend out of town!
---