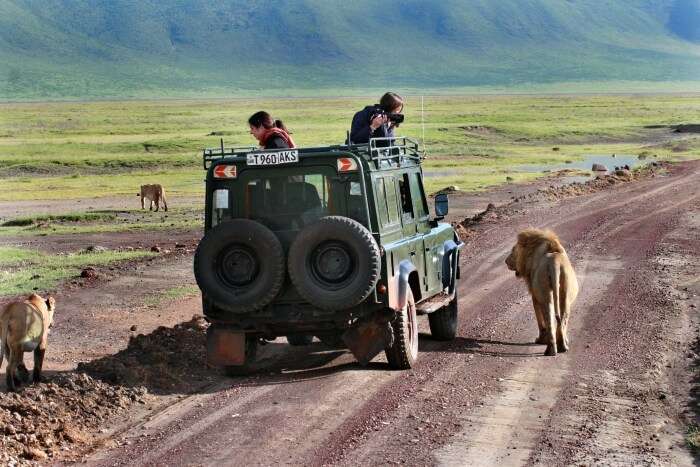 Who doesn't love fun and adventure? Everybody loves adventure. Of all the fun and challenging way to chase adventure, one of the best is going on a safari. And that can be experienced best, through quite a few safaris in Cape Town. All of us love fun and adventure and the safaris of Cape Town deliver it to us throughout the tour. We go on safari mainly to see animals and its delightful and natural behavior, and so while planning to visit safari parks in Cape Town we must consider the type and species of animals that we would love to see.
5 Best Safaris In Cape Town
There are quite a few safari parks that provide many animals for tourists to see. Take a look at the 5 best safaris in Cape Town that will give an adventurous experience you'll remember throughout your life.
1. Inverdoorn

First, we bring you a trip to Inverdoorn. It is by far, one of the most interesting routes within the Western Cape. As interesting as it is, it will provide you with enough thrills along the route. Lying in the Ceres Karoo of South Africa's Western Cape Province, Inverdoorn lies just above two hours away from Cape Town. The game reserve houses in itself, a wide variety of wildlife. And among these, the visitors can learn in details, about the processes involved in the rescue and rehabilitation of cheetahs. The reserve hosts a number of adventurous game drives, which are open for the visitors' enjoyment. Also on the safari, the visitors can take in their minds, or capture pictures of the solitude, and the vast scenery of the Karoo.
For accommodation, visitors can head to the comfortable rooms and chalets in the park. One can enjoy the anecdotes shared by the lodge's game ranges about their safari experiences. To come across wild animal while driving through the roads of Inverdoorn is a regular affair for the guests. It goes without saying that Inverdoorn makes it a point to take swift and effective measures to protect and preserve the animals of the reserve. The travelers must not, however, miss out on visiting the Cheetah Sanctuary within the reserve.
Distance: 200 km northeast of Cape Town. It will take you 2:30 hours to reach Inverdoorn from Cape Town.
Accommodation: The 3-star Izibi Safari Lodge has slick visitor houses, up-scale chalets, and opulent suites. Unwinding is the name of the amusement here with top notch culinary feasting and poolside relaxing.
---
Looking To Book An International Holiday?
Book memorable holidays on TravelTriangle with 650+ verified travel agents for 65+ domestic and international destinations.
---
2. Aquila Private Game Reserve

'Aquila Private Game Reserve' is set in the immaculate 'Southern Karoo' against a setting of dramatic mounts and is only two hours' from Cape Town. 'Aquila Private Game Reserve' is well-known for its preservation endeavors and brilliant client offers. It offers safaris in four drive vehicles, quad bicycles or on horseback and is home to a gigantic assortment of amusement, including the Big 5. Guests are given cabins and one can enjoy like horseback safari, quad bicycle safari and furthermore fly-in safari. Guests are not unsatisfied as they are given a lifetime experience of fun and experience. With all the amusement drives and exercises to complete multi day trip isn't sufficient. It is likewise an ideal place to make tracks away from the hassle around of the city life and appreciate the beauty of nature. This place is incredible for safari lovers and has an extensive variety of stunning grand magnificence.
Distance: 176 km northeast of Cape Town in the significant Touws River Town. It will take you around 2 hours to reach here, perfect for a day trip.
Accommodation: A 4-star lodge provides standard rooms, family suites, and extravagance cabins that incorporate their own special chimney. An eatery, spa, vastness pool, wet bar, stogie parlor, and youngsters' stimulation focus are additionally included.
3. Sanbona Wildlife Reserve

Sanbona is one the largest reserve on the list with 58,000 sprawling hectares and is situated at the bottom of the Warmwaterberg Mountains. It is set apart from the other safari parks in South Africa because of its impressive landscapes and some exceptional and uncommon wildlife. It is the home of the messengers of God, the white lion and it adds to the uniqueness of the safari reserve. It is only a three hours' drive from Cape Town in the Western Cape and is a semi-arid region where plants and animals have evolved over millennia to create a diverse and unique environment. A connection to history can be found from the occasional tumbledown cottage sited in the middle of nowhere and also because of the Georgian lines and interior décor of the manor house or the African proverbs on their pillow at night. Visitors will be pleased to watch some of the rarest wildlife sightings in Sanbona Wildlife Reserve. The seven rock-art sites throughout Sanbona can be visited on game drives.
Distance: Located 256 km east of Cape town in Mongtau town will take you around 3 hours to reach. Day trips are not entertained here, so it is compulsory to spend a night.
Accommodation: Naturally amicable 5-star convenience as extravagance rose cabins with private spa showers. Or reserve a whole house finish with private bar, pool, and his and her washrooms.
4. Garden Route Game Lodge

Garden Route is set against the background of the Langeberg Mountain Range. It guards the entry to South Africa's famous 'Garden Route Coast.' It is in an area with numerous forest and coastal sanctuaries. This safari park near Cape Town provides a good environment to watch most known African animals. One can enjoy the lovely environment of the park. It offers two safari tours daily and safari enthusiasts can get their money's worth as they are able to spot four out of the Big 5: lions, rhinos, elephants, and buffalos.
Giraffes, zebras, various antelope species and free-roaming cheetahs can be spotted during the safari tour. One can appreciate dusk and dawn amusement drives in an open Landrover with sightings of lion, elephant, white rhino, wild ox and cheetah brought by the accomplished diversion officer. Guests are not permitted to drive through the recreation center in their own vehicles as it sticks to ideal preservation practices to make a reasonable biological system. The 'Garden Route Game Lodge' is additionally home to numerous changeless and transitory winged animal species which are best seen by walking and recognizable by the diversion officers. Activities at the Garden Game Route Lodge include guided game drives, spa, reptile encounters, kids on safari, bird watching and the diverse flora and fauna.
Distance: 350 km east of Cape Town established in Albertinia village, it will take you a drive of 3 hours and 40 minutes. A day trip is possible but we recommend you to stay for a night.
Accommodation: Room alternatives in the 3-star stop run from standard rooms to family and extravagance suites, to special night chalets. Full eatery with porch feasting is nearby.
5. Fairy Glen Private Game Reserve

It is claimed to be the closest Big 5 safari in Cape Town. It is home to numerous wild game and bird species. It provides a wonderful and unforgettable experience of safari with the diversity of game, birds, and activities. Safari enthusiasts will never be disappointed with what this safari park has to offer. One will not only come across zebras and steenbok, giraffes and eland, blue wildebeest and lynx but also have a view of the Khoisan rock art. Lucky ones might also spot the rare Aquila, a type of vanishing black eagle in this safari park in Cape Town. It is a bucket list thing for any safari enthusiast.
Distance: 113 km from Cape Town in Worchester town. This is perfect for a day trip.
Accommodation: Safari visitors who want to stay for the night have the alternative to remain in either the standard or extravagance chalets. BBQ offices and an open air pool are incorporated with the settlement.
Before choosing which safaris in Cape Town to set out upon, think about your needs, try to read all the safari near Cape Town reviews. In case you're going with kids, there are a couple of options that are more family-accommodating than others. Or then again if it's about which creatures you will see, be it the Big 5 or an uncommon experience with the White Lion. So what are you waiting for? Head to South Africa now!
---
Looking To Book A Holiday Package?
Book memorable holidays on TravelTriangle with 650+ verified travel agents for 65+ domestic and international destinations.
---