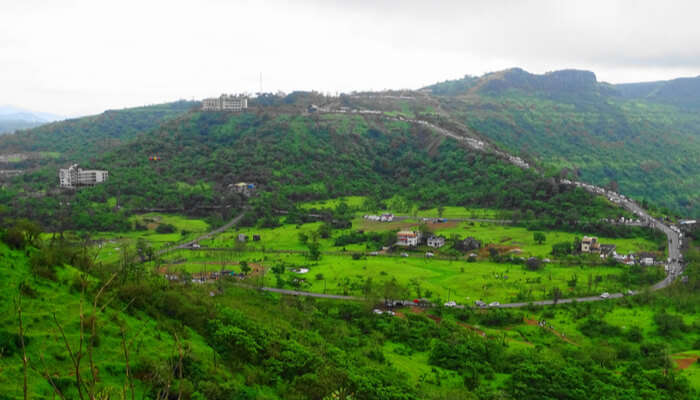 Situated on the plateaus of the Western Ghats and the Sahyadris in the Dang district, Saputara is a well-known hill stations in the state of Gujarat and is famous for tribal arts and crafts, heritage sites, picturesque locations, artifacts, green spaces, rivers, and valleys. Saputara is an absolute delight in summers because of the comfortable weather and the many activities that it allows you to indulge in.
There are numerous places to visit in Saputara in summers such as Saputara Tribal Museum, Step Garden, Lake Garden, Gira Waterfall, Sunset Point, the Rose Garden, and Lake Saputara. The place is also famous for paragliding and other activities such as biking, parasailing, go-carting, and zorbing. With a favorable location of just 80 kilometers from Nashik, Saputara is a frequent weekend getaway for people from Gujarat and Maharashtra.
Weather In Saputara In Summer
Located at an altitude of 1000 meters above sea level,Saputara has a pleasant and calm climate all through the year. The summer season in Saputara lasts from March to June. Summer is moderate with the maximum temperature around 32°C and the minimum around 26°C and you can easily roam around the city. Many tourists visit Saputara between December and January due to the warm and comfortable weather of the place during this season as well as because of the famous 26-day annual festival known as Paragliding Festival.
Best Time To Visit Saputara
The best part of visiting Saputara is it has a favorable and welcoming climate all through the year. However, most tourists visit Saputara from March to mid-November because of the weather and the many activities that you can enjoy during this time.
Things To Do In Saputara In Summer
With a bucket-full of adventurous things to do in summer, you will be spoiled for choices in Saputara. Here are the best ones to experience to make your day lit!
1. Sightseeing: Explore The Forest Nurser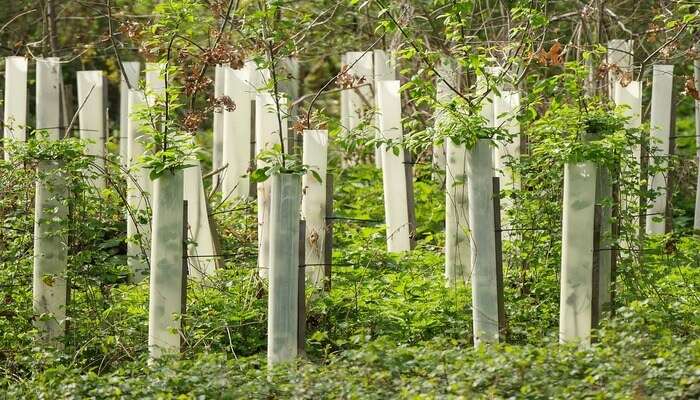 An environment-conservation initiative by the Forest Department of Saputara, Forest Nursery is organized to conserve and preserve the wide range of flora of the region. The tourists visit the nursery to witness its rich collection of flowering plants, fruit trees, and creepers. The main attractions are a variety of Hibiscus flowers that blooms amidst lush surroundings and you can visit the nursery to purchase saplings of various plants and trees that are available here at reasonable prices. A Saputara trip in summer calls for losing yourself amidst nature for sure!
Must Read: 30 Incomparable Places To Visit In Gujarat For A Memorable Trip In 2020
2. Adventure: Hear Yourself From The Echo Point!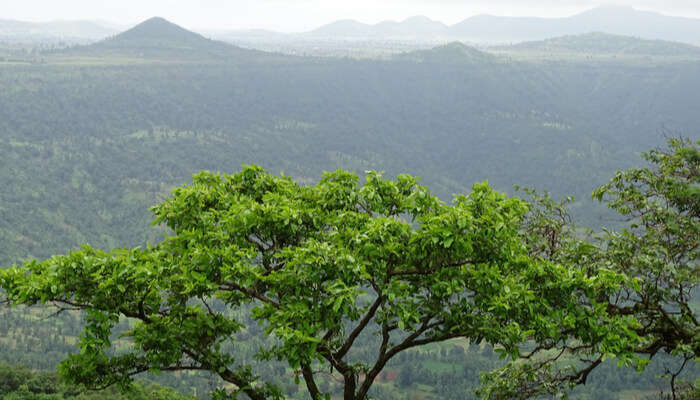 How amazing would it be to scream in the oblivion and hear yourself back? Well, that is possible at the Echo Point in Saputara! Situated in Matheran, near Saputara, Echo Point gives a chance to visitors to hear their voices bounce back from the surroundings. A visit to Echo Point also gives a chance to visit places like King George Point, Louisa Point, and Charlotte Lake. Visitors get a chance to witness splendid waterfalls and nature at its best. The tourists love to plan a visit to Saputara during their summer vacations to enjoy the beauty and tranquility of the location.
Suggested Read: 37 Intriguing Tourist Places In Ahmedabad For Your Gujarat Getaway In 2020
3. Explore: Tour Around Artist Village!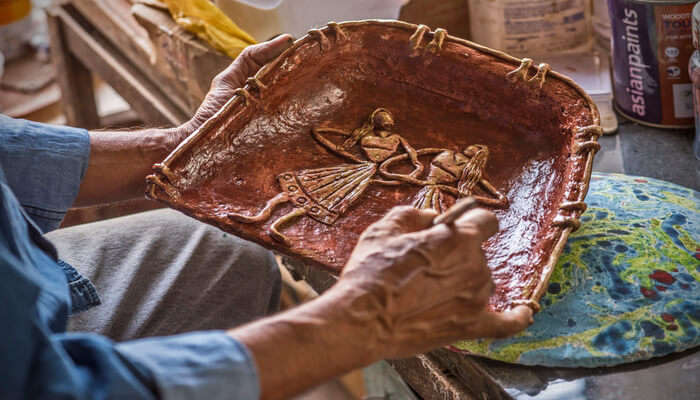 Image Source: https://www.gujarattourism.com/destination/details/9/123
The Artist village is famous for tribal artifacts like warli painting and craft tribal objects. The place is run by Chandrakant Parmar and Surya Goswami and gives a chance to visitors to know about the culture of the region. You can thoroughly explore the place as the community also provides simple accommodation for a very reasonable cost.
Suggested Read: Shopping In Gujarat: 10 Incredibly Awesome Places That Will Tempt You To Splurge More!
4. Paragliding: Go Paragliding at Saputara Adventure Park!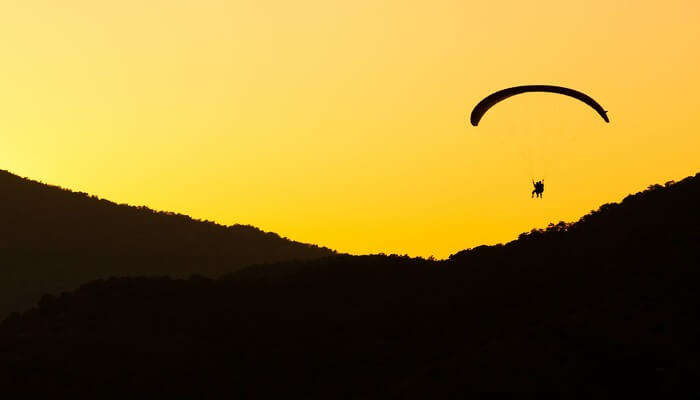 Visiting Saputara and not experiencing paragliding is a visit gone waste! Saputara is famous for its paragliding activity, one which will set you free as you fly high and get an ariel view of the beautiful hill station. The Saputara Adventure Park also has provisions of boat tours, water sports, ziplining, hiking along mountain trails and much more!
Suggested Read: Top 8 Places To Visit In Gujarat During Monsoon To Enjoy This Season In 2020
Places To Stay Near Saputara
These places near Saputara will offer an exquisite stay to your on your vacation. Choose any of these accommodations for a wonderful stay.
1. Aakar Lords Inn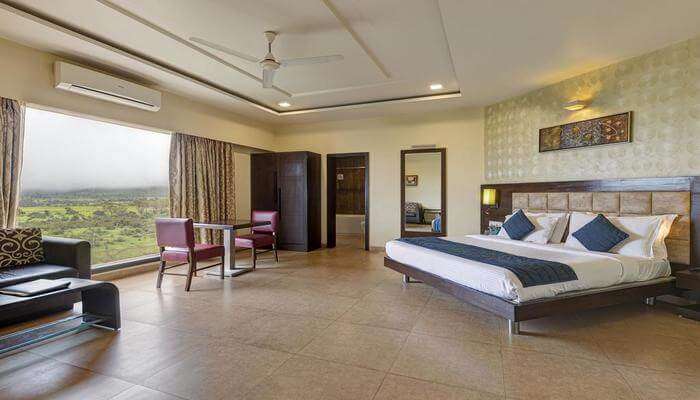 Aakar Lords Inns is a beautiful and luxurious resort located in the tranquil location of Saputara. The amenities provided include parking, WiFi, a restaurant, an outdoor pool, and
a fitness center. The rooms are decorated with décor in earth color tones. Each room is air-conditioned and has large bay windows, a minibar, seating area, and flat-screen cable TV.
Guests can enjoy a variety of activities like boating, trekking, and excursions and after a tiring day of
doing these activities, you can enjoy a variety of local, Chinese and continental dishes at Blue Coriander restaurant.
Location: Nasik Road, Dist – Dang, 394720 Saputara, India
Price per night: INR 4,500
Suggested Read: 10 Best Places To Visit In Gujarat In Summer For An Enthralling Holiday
2. Hotel Anando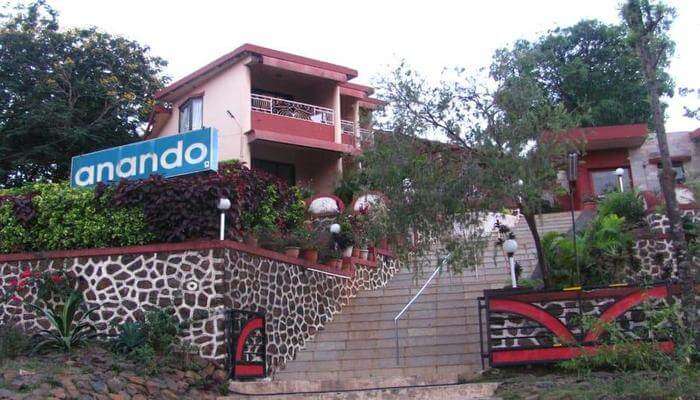 Hotel Anando is an eminent hotel with a beautiful garden located in Saputara. The amenities include a restaurant, a 24-hour front desk and room service, free WiFi and private parking. The guest rooms include a lake view, a seating area, a TV with satellite channels, wardrobe and private bathrooms. It's a great place to come and relax after a day of exploring Saputara in summer.
Location: Plot No. 5 , Nageshwar Mahadev Road Saputara , Taluka Ahwa , Dist. Dang , Gujarat, 394720 Saputara, India
Price: INR 2,670
Suggested Read: 10 Historical Places In Gujarat That Uncover A Legendary Past
3. SPOT ON 65376 Artist Village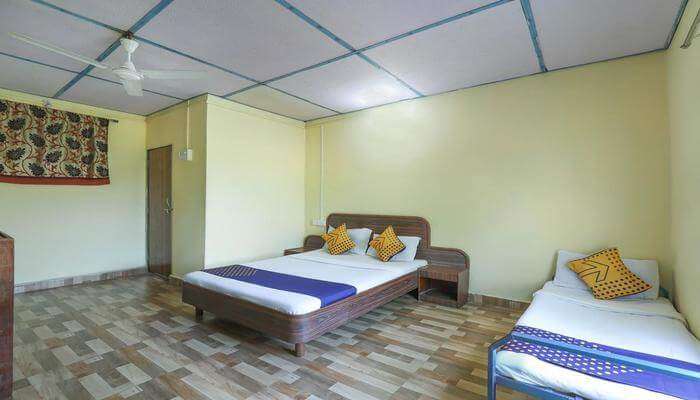 SPOT ON 65376 is a 3-star hotel located in Artist Village in Saputara. The air-conditioned rooms with a private bathroom are equipped with wardrobes, a TV with cable channels, 24-hour front desk and room service for guests. Guests at the accommodation can enjoy a continental breakfast.
Location: Artist Village, In front of Saputara Lake, Saputara Nasik Highway, Saputara, 394720 Saputara, India
Price: ₹ 1,978
Suggested Read: 6 Haunted Places In Gujarat That Will Scare You Out Of Your Wits In 2020
Tips For Visiting Saputara
It is advisable to carry rain gear as it could rain more than expected during monsoons
There is only 1 ATM of Bank of Baroda in Saputara which is not a 24-hour ATM. So, if there is a need for money after 6 PM, make sure to get it through ATM before sunset in Saputara
Avoid sightseeing in the afternoons during summer because the heat is too scorching and might cause sunburns
It is really great to visit Saputara in summer not only because of the pleasant weather conditions but also because the place in itself is so enriching and fulfilling that it will leave you with happy memories! There are many exciting things to do and many comfortable resorts for a stay in Saputara. Don't miss an opportunity to explore these things and much more as you plan your trip to Gujarat with TravelTriangle!
Frequently Asked Questions On Saputara
Q. How can one reach Saputara?
A.The nearest railway station is the Waghai railway station at Billimora. The railway station is well-connected with Mumbai, Gujarat, and Ahmedabad.
Q. What can be purchased in Saputara?
A.Things which can be purchased in Saputara are –
1. Tribal artifacts and handicrafts at Gandharvpur Artist Village
2. Honey from the Honey Bees Centre
3. Dangi saree from the Ahwa village
4. Bamboo Lamps from Ambapada
Q. Which is the main tourist attraction of Saputara?
A.The main tourist attraction of Saputara is the Saputara Lake which is situated around 1.5 km away from Saputara hill station. It is a man-made lake perched with lush greenery, popularly known for its boating activity.
Q. What to pack when visiting Saputara?
A.Remember to carry:
1. Sandals
2. Light dresses.
3. Light shorts.
4. Thin pants, such as light khakis.
5. High-SPF sunscreen lotion.
6. Tank tops.
7. Thin short sleeve shirts.
8. Sunglasses.
Q. What is the meaning of Saputara?
A.Saputara means "Adobe of Serpents" in Gujarati, apparently deriving its name from the Sarpanganga ("Serpent Ganga") river that is in the shape of a serpent. On the banks of this river, there is an image of a snake that is is worshiped by the Adivasi tribal people on festivals like Holi.
Q. How far is Saputara from Pune?
A.Pune is located at a distance of 288 km from Saputara.
Q. Is Saputara in Gujarat or Maharashtra?
A. Saputara is located in the Dang district of Gujarat.
---
Looking To Book A Holiday Package?
---
People Also Read
Wayanad In Summer Munnar In Summer Auli In Summer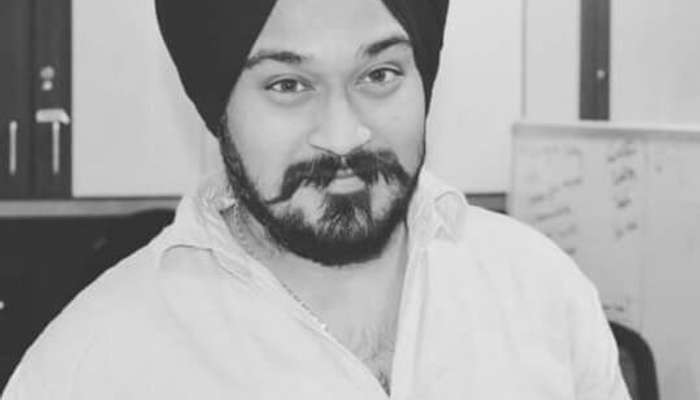 Comments
comments