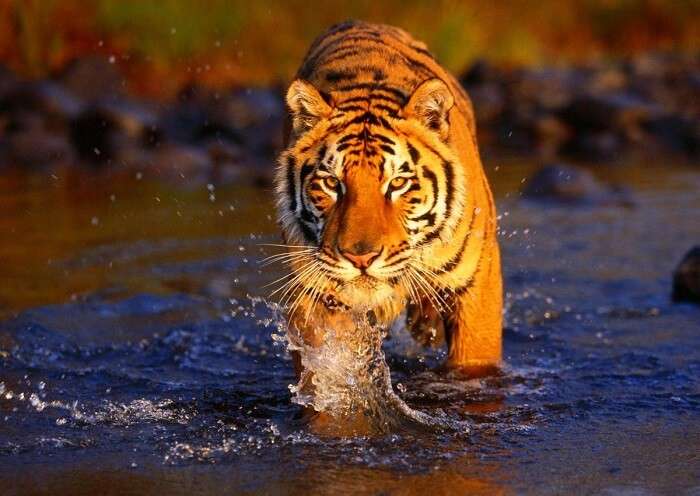 Safari, tigers, temples, and more – there's no end to exploring when one's in Sariska National Park & Tiger Reserve near Alwar, Rajasthan. Home of the Bengal tigers and located on the slopes of Aravalli, the lush environs of Sariska are the perfect sanctum for thrill seekers, wildlife enthusiasts, and nature lovers. With so much to offer, our power package of fun and adventure is just a weekend trip away from the metros of Delhi and Jaipur.
Scale those verdant deciduous and tropical jungles of Rajasthan tour packages with the best of Rajasthan tour packages and watch the wild in their natural habitat.
Sariska National Park Basic Information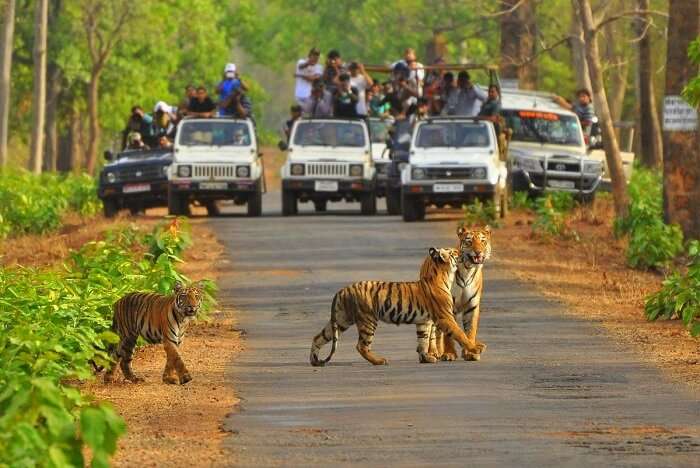 Image Source
Area: 881 km²
Elevation: Between 985 ft to 2,360 ft above sea level
Location: Subhash Chowk Station Road Malakhera, Alwar, Rajasthan 301406
Latitude: 27.3285° N | Longitude: 76.4332° E
Geography: The topography of Sariska Tiger Reserve is dominated by scrub-thorn arid forests, rocky landscapes, dry Deciduous and Tropical forests, grassy plains, and hilly cliffs
Map of Sariska National Park
What is Sariska National Park famous for?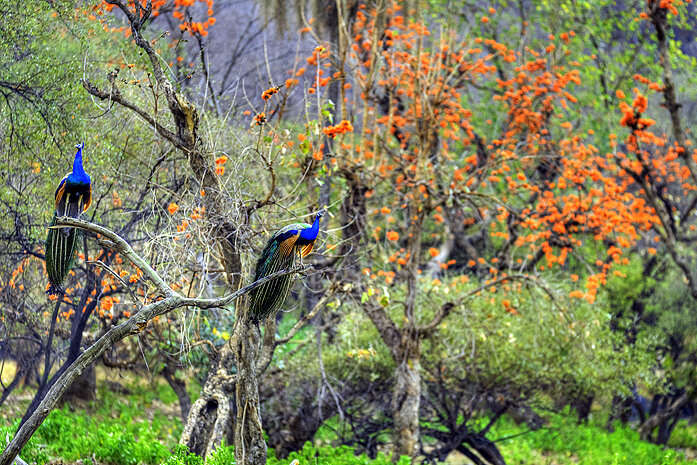 Image Source
The most attractive aspect of Sariska Tiger Reserve are its Bengal tigers. While there were more than 16 tigers reported before 2005, rampant poaching and hunting led to a horrendous decline. A two-month investigative probe by the Central Bureau of Investigation and Rajasthan Forest Department in 2011 revealed that there wasn't a single tiger left in the park.
Somewhere in 2012, with the collective efforts of the Rajasthan Forest Department and National Tiger Conservation Authority (Project Tiger), three tigers were relocated to Sariska in order to try and repopulate the tiger reserve. The number had significantly increased to 14 by 2016, as per the last recorded data. In fact, Sariska happens to be the ever reserve in the world to have successfully relocated tigers.
This significant increase in tigers' population in Sariska has spiked tourism and brought in more and more wildlife enthusiasts and photographers to the area since.
What is the best time to visit Sariska National Park?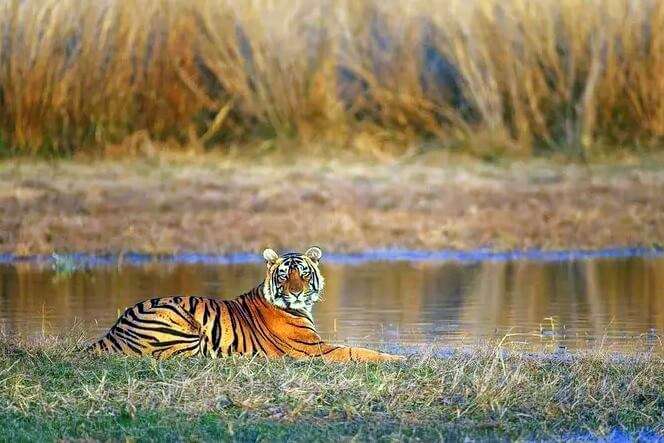 Image Source
The best time to visit the Sariska Tiger Reserve is between the months of October and March, when the weather conditions in Rajasthan are adequately pleasant and favourable for activities like wildlife safaris and wildlife sighting.
Temperature in Winters: 8°C to 25°C
Weather in Winters: October to February mark the winter season in Sariska Wildlife Sanctuary. Though a little chilly, winters offer the most favourable climatic conditions for safari as well as wildlife spotting in the park.
Temperature in Summers: 22°C to 40°C
Weather in Summers: Despite the fact that summers in Sariska bring scorching heat and a blazing weather, it is considered an ideal time to visit this tiger reserve by many wildlife enthusiasts and photographers since the hot weather draws wild animals out and around the jungle's water sources.
Temperature in Monsoons: 25°C to 38°C
Weather in Monsoons: July to September defines the monsoon season in Sariska National Park. The park usually remains closed during this time, but one can visit with prior permission from the forest authorities. Since there's very little rainfall the area remains rather hot and humid during these months as well.
How to reach Sariska Tiger Reserve

It is relatively easy to get to Sariska Reserve from major cities like Delhi and Jaipur, thanks to a range of transportation modes available from these and other cities. Find out all hassle-free ways to get to Sariska:
By Air: The nearest airport to Sariska National Park is the Sanganeer Airport in Jaipur located 111 km away. One can also easily get to Sariska from the Indira Gandhi International Airport in Delhi located 135 km away. Delhi & Jaipur airports are in turn connected to major cities of the world like Mumbai, Agra, Pune, Kolkata, Chennai, and more. Once you reach Sariska by flight, you can either take a bus, train, or taxi to the rest of the way to Sariska.
By Train: The nearest railway station from Sariska is the Alwar Junction Railway Station, located around 37 km away. The next nearest station is the Jaipur Junction Railway Station in Jaipur, located 111 km away. Both the stations are well connected to nearby cities like Delhi and Jaipur through the Jaipur-Delhi Express. From here, one can cover the rest of the distance to Sariska via a taxi or the regular bus services available from all cities of Rajasthan.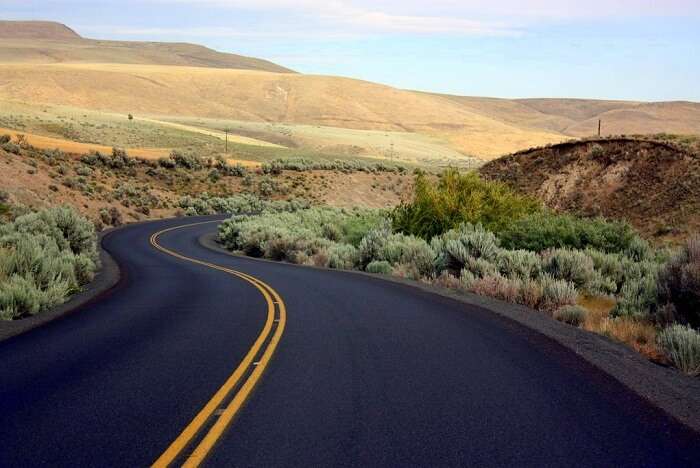 Must Read: 37 One Day Road Trips From Delhi
By Road:
If you are traveling by road, the most economical way to reach Sariska National Park location is by bus. There are regular private and government run bus services plying from Delhi and Jaipur to Alwar and even Sariska. From Alwar, one can take a private or shared taxi to Sariska. If you are travelling by car then you can cover the 4 hour journey with ease due to the presence of well-maintained National and State Highways.
Distance from Delhi to Sariska National Park: 203 km
Travel Time: 4 hours 45 minutes
Distance from Jaipur to Sariska National Park: 110 km
Travel Time: 2 hours 30 minutes
Distance from Alwar to Sariska National Park: 1 hour
Travel Time: 37 km
Sariska National Park Timings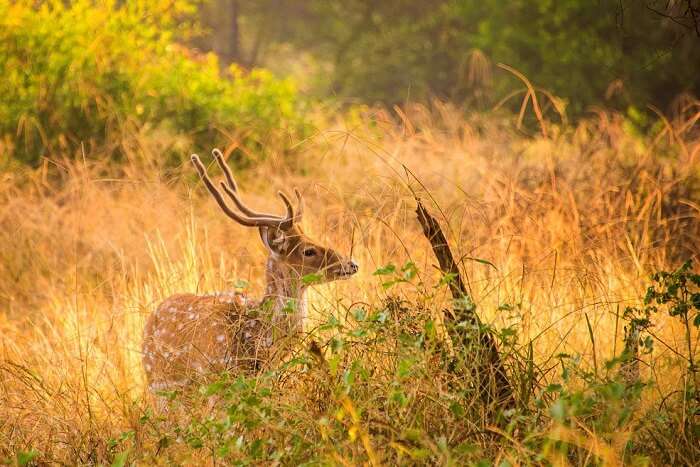 Image Courtesy: Bruised Passports
The forest reserve is open from 6 AM to 8 PM for tourists every day. There are different timings for safari in Sariska, which have been mentioned below.
Sariska National Park Safari Timings
Safari in Sariska is conducted in two separate time slots, the timings of which differ in winter and summer.
Sariska Safari in Winter
Morning Safari Timings: 6:30 AM to 10:30 AM
Evening Safari Timings: 2 PM to 6 PM
Sariska Safari in Summer
Morning Safari Timings: 6 AM to 10 AM
Evening Safari Timings: 2:30 PM to 6:30 PM.
Sariska National Park Entry Fee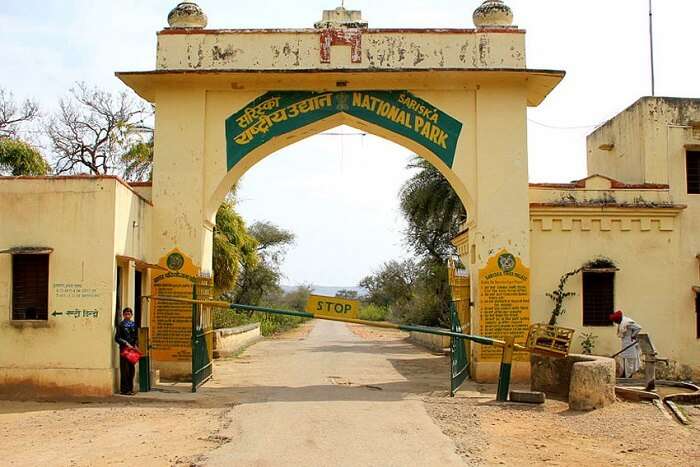 Image Source
One requires to pay a certain fee for the type of vehicle, guide, and the type of camera they are carrying inside the park.
Indians: INR 80/- per person
Foreign Nationals: INR 470/- per person
Video Camera: INR 400/-
Movie/Feature Film: INR 20,000/-
What is the Sariska Jeep Safari cost?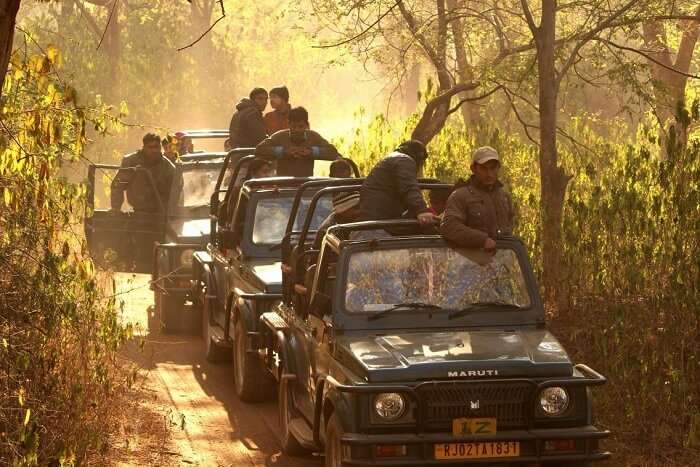 Image Courtesy: Ruby Singh
Travelers can either hire a jeep (or open safari bus) for safari from the Forest Reception Office opposite Hotel Sariska Palace or take their own vehicle inside the park for sightseeing and safari. A Sariska National Park safari in any of these vehicles requires them to pay a certain fee at the entrance.
Safari Jeep: INR 2,600/- (for 4 persons)
Open Safari Bus: INR 4,200/- (for 6 persons)
Bus: INR 200/-
Two-wheelers: INR 15/-
Tonga: INR 20/-
Cycle Rickshaw: INR 5/-
Tip: One can also hire a Forest Department Guide for INR 50 per hour.
Ideal duration of a trip to Sariska Tiger Reserve
A duration of 1 night 2 days is ideal for a trip to Sariska Park. Within that, a duration of 3 to 4 hours is adequate to explore the park, indulge in all the major activities like safari and wildlife spotting, and visit all the major attractions inside the park like temples, lakes, and more. Wildlife enthusiasts and photographers can spend more time inside the reserve to observe the wide range of animals and birds that take shelter in the park.
Flora and Fauna of Sariska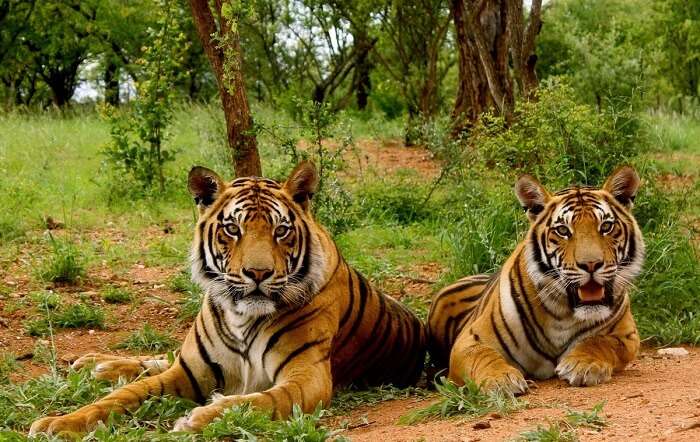 Suggested Read: 67 Places To Visit In Rajasthan: A Glimpse Of Rajputana Splendor
The Sariska forest is home to an enormous variety of plant species, birds, and animals including mammals, reptiles and amphibians.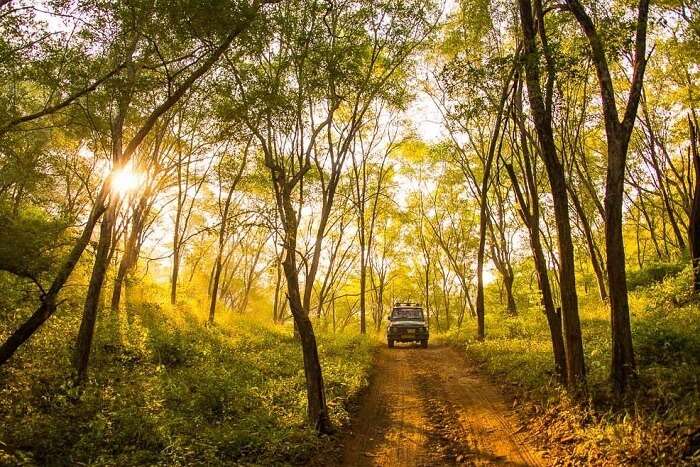 Image Courtesy: Bruised Passports
Flora: Species of plants and trees include dhok (dominant), salar, kadaya, dhak, gol, ber, khair, cheela, surwal, and goria. Prominent trees like mango, jamun, Bargad, arjun, gugal, bahera, and bamboo. Shrubs include kair, adusta, and jhar ber.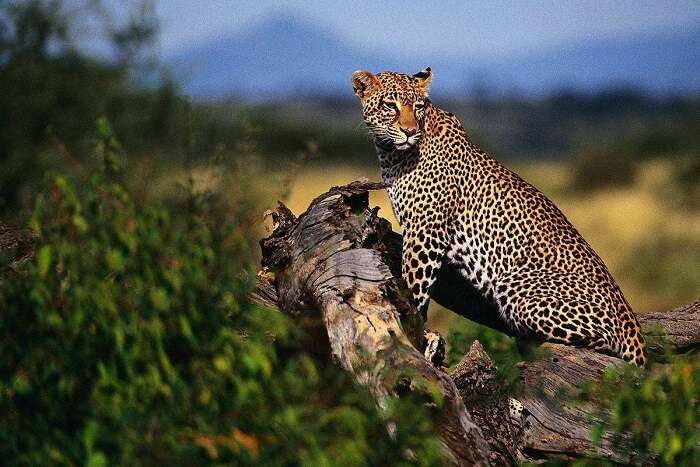 Image Source
Fauna: Animals include Bengal Tiger, leopards, jungle cats, caracal, striped hyena, Indian jackal, chital, tarunda, sambar, nilgai (Blue Bull), chinkara, four-horned antelope, wild boar, hare, porcupine, Hanuman langur, rhesus monkeys, and wild dogs. Reptiles include monitor lizards, cobras and pythons.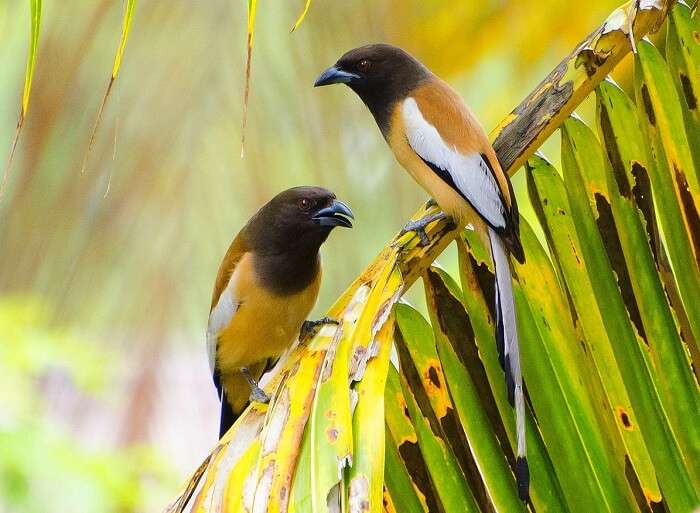 Image Source
Avifauna (Birds): White Breasted Kingfishers, Partridges, Indian Peafowl, Bush Quails, Sandgrouse, Treepies, Golden Backed Woodpeckers, Crested Serpent Eagles, Red Jungle Fowl, Spur Fowls, Great Indian Horned Owls, Indian Eagle Owl, Parakeets, Drongos, Sunbirds and Vultures. The park has over 255 bird species.
Average per person budget for a trip to Sariska National Park
Here's a breakdown of how much it can cost per person for a trip to Bhimashankar Reserve including aspects like transfers, accommodation, food, and safari.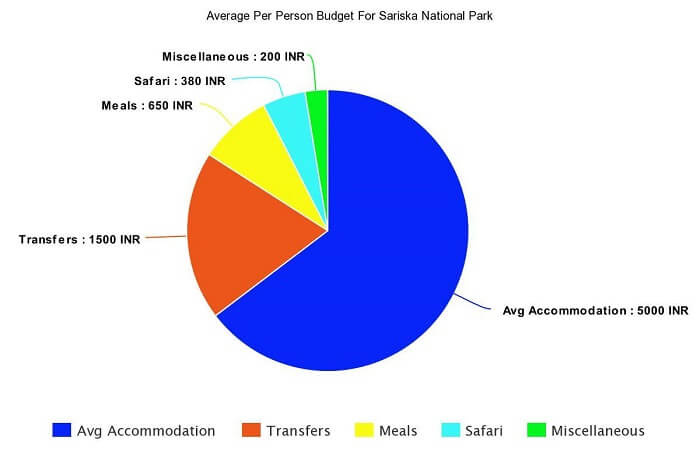 Avg Flight Rate (round trip): INR 4,300/- per person
Avg Accommodation: INR 5,000/- per person
Transfers: INR 1,500/- per person
Meals: INR 650/- per person
Safari: INR 380/- per person
Miscellaneous: INR 200/- per person
Note:
Flight rates are not included in the budget given above as they may vary on the traveler's destination and time of booking
Flight rates given above are average current round trip airfares from major cities like Delhi, Mumbai, Chennai, and Kolkata to Jaipur
'Transfers' here indicate transportation from Delhi and/or Jaipur to Sariska Tiger Reserve (either by train or road), and then getting around in the forest reserve (safari)
---
Planning your holiday in Rajasthan but confused about what to do? These Rajasthan travel stories help you find your best trip ever!
Real travel stories. Real stays. Handy tips to help you make the right choice.
---
Things to do at the Sariska National Park
Safaris, treks, and temples, there's a lot waiting to be discovered at Sariska for travelers of all kinds – honeymooners, families with kids, adventure seekers, pilgrims, and wildlife enthusiasts. Some of the places in and near Sariska Reserve have been listed below so that one can plan their trip to this popular wildlife reserve at ease.
1. Set off for Safari & Wildlife Spotting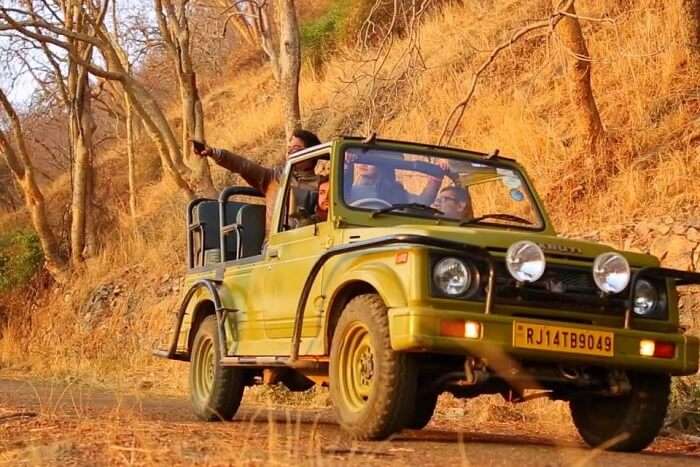 Image Source
Book yourself a safari tour of the park and set off on an adventurous ride over the dirt paths of Sariska. While on a safari, you can spot some of the greatest animal species in India like the famous Bengal tigers, leopards, antelopes, Nilgai, and more. Birds loves can delight themselves with sightings of different kinds of birds like kingfishers, treepies, eagles, partridges, and more. One can also cover various attractions, like temples and lakes, inside the park while on a safari.
Sariska conducts safari in two different slots – Morning & Evening, the time and duration of which may change according to the prevailing season. Travelers can pick from a number of safari vehicles depending on the number of persons in their group.
Safari timings: 6:30 AM to 10:30 AM (Morning Safari) | 2 PM to 6 PM (Evening Safari)
Safari cost: INR 2,600/- (4 persons) for Safari Jeep | INR 4,200/- (6 persons) for Open Safari Bus
Tip: Reach an hour earlier than your appointed safari time.
2. Seek Lord Shiva's blessings at the Neelkanth Temple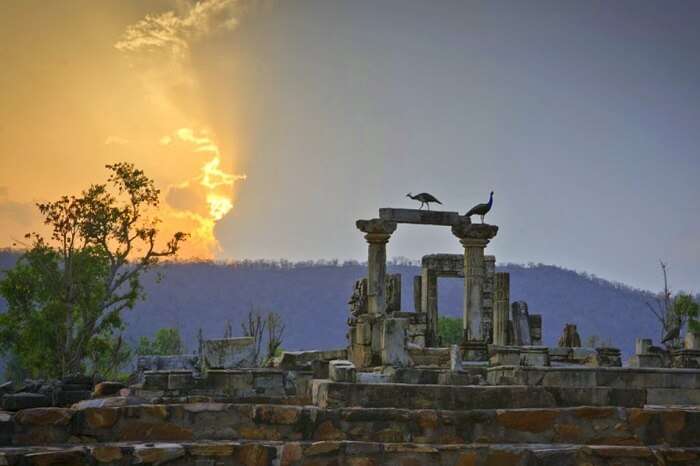 Image Source
A Hindu temple located in the Rajgarh tehsil, Neelkanth Temple is popular Shiv temple in Sariska that requires one to trek a treacherous tract in order to reach it. Pilgrims from all over India visit the temple to offer prayers and witness the calming statue of Jain Tirthankara Shantinatha, made centuries ago in the Digambara style of architecture. The temple receives its largest share of tourists and pilgrims during Maha Shivratri.
Timings: 8 AM to 6 PM
3. Explore the ruins of Kankwari Fort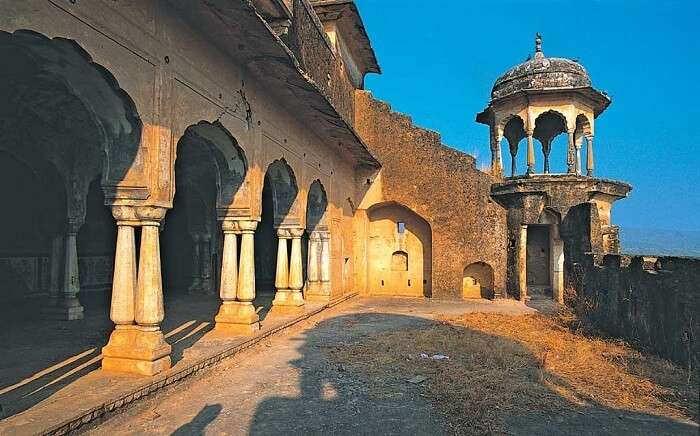 Image Source
Kankwari Fort is one of the major tourist attractions inside the Sariska National Park location. Located 21 km away from the main park entrance, this old fort is renowned for its unique landscaping. Flanked with hillocks on all sides, these ruins have lavish manors and sprawling green glades that attract history and architecture fanatics every year.
Location: SH 29A, Rund Kankwari, Sariska
Timings: 8 AM to 12 PM and 3 PM to 6 PM
4. Lose yourself in the charming interiors of Sariska Palace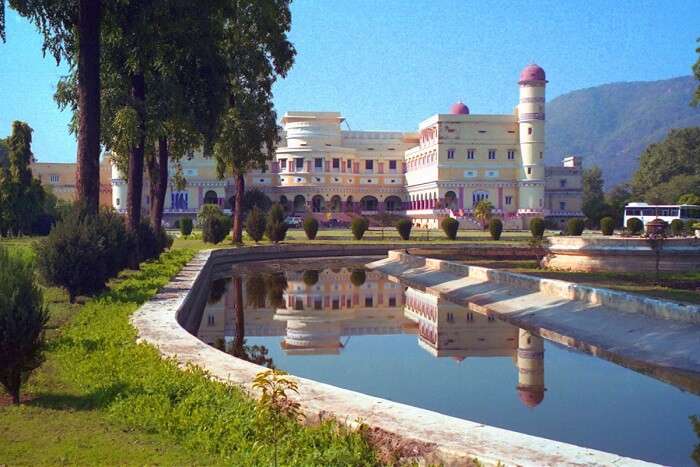 Image Source
Beckoning travelers with its stunning architecture and regal outlook, the Sariska Palace-cum-resort stands out from the other attractions inside the park. Built by the Maharaja of Alwar long back as his royal residence during game drives, the palace was a chasing lodge for the Maharajas. The exteriors of this stunning abode are just the beginning. One would be awestruck with the grand interiors of the palace bearing a fusion of the French and Indian style of architecture. Lush lawns, yoga, spa, swimming pool, tennis patio, and the most extravagant services ever, the palace offers complete luxury to guests. The palace is located right next to the Sariska Tiger Reserve.
5. Pay your respects at the Hanuman Temple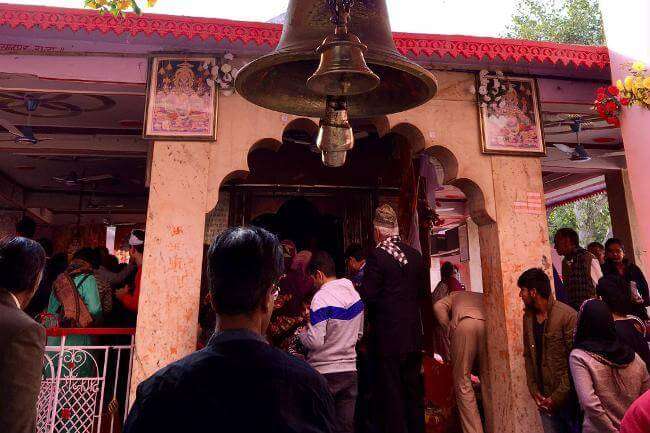 Image Source
Situated in the lush hill extensions of the Aravalli ranges, the Hanuman Temple inside the tiger reserve. With an amazing architecture made with rocks this temple is among the most visited sanctuaries inside the park. Other than that, the giant idol of Lord Hanuman along with the various langurs and macaques that you can find here will definitely blow your mind! One can also see a mesmerizing waterfall once monsoon sets in.
Timings: 5 AM to 10 PM
6. Visit the Pandupol – the sanctuary built by Pandavas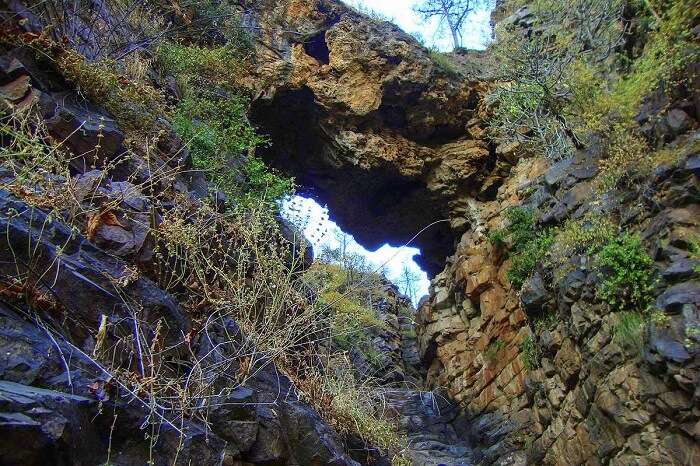 Suggested Read: Savor The Local Food Of Rajasthan With These 15 Iconic Dishes
One of the best places to visit in Sariska National Park, the Pandupol is a Hanuman sanctuary which, according to legend, is where the Pandavas lived during their exile. It is believed that it was right on this piece of land where Bheem smashed his 'Gada', creating an entry in the rock from which a characteristic water stream flows today! The place holds intriguing elements that attract tourists and pilgrims alike.
Timings: 5 AM to 10 PM
7. Go picnicking near the Siliserh Lake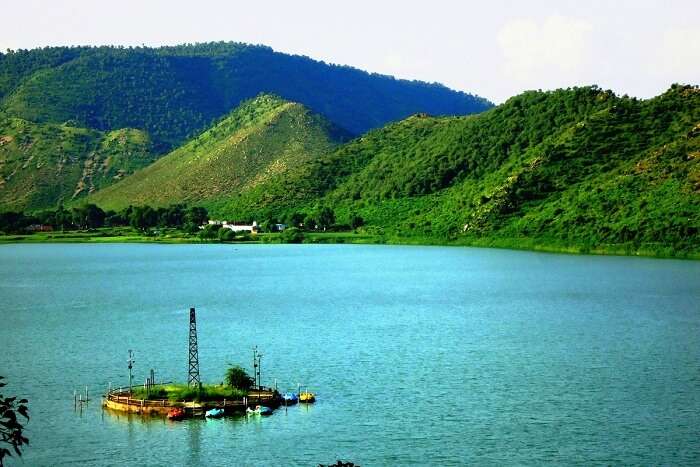 Image Courtesy: Clicks And Tales Photography
Lying 13 km from Alwar and Sariska, the beautiful lake makes for a perfect stopover for people heading to the tiger reserve. The verdant banks of this 10.5 km stretch of amber-hued water body provide stunning views of the Aravalli ranges and is perfect for a picnic with friends and family. The lake also serves as a hub for bird photographers who can click the many water birds resting and feeding in the marshy areas near the bank of the lake.
Tip: You can also visit the Siliserh Lake Palace while you are here.
8. Scale the eerie realms of Bhangarh Fort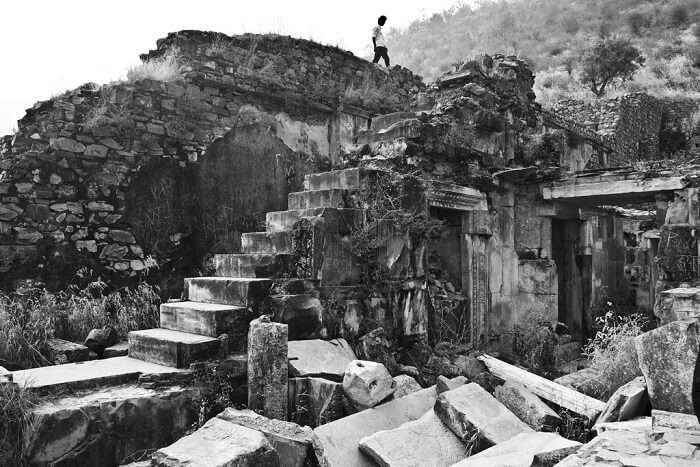 Image Source
Add more thrill to your trip to Sariska Tiger Reserve by visiting the Bhangarh Fort near Alwar. Lose yourself in the spooky ruins of this erstwhile fortress of Queen Ratnavati (not literally though), check out the awesome panoramic views from atop the fortress, and learn the intriguing story behind the haunting of Bhangarh Fort while you're here. The stories of how the villagers here died overnight and how their spirits still linger near their demolished houses will surely give you the chills!
Timings: 6 AM to 6 PM
Entry fee: Free
Warning: It's not safe to stay here after dark, especially for women, as the place swarms with robbers, bandits, and even murderers.
Accommodation Options: Budget Places to Stay in Sariska
There are a number of budget hotels and resorts near Sariska National Park that offer all basic amenities, comfort, good food, and an enjoyable stay to travelers. Some of the best options have been listed below:
1. Gulmohar Sariska Resort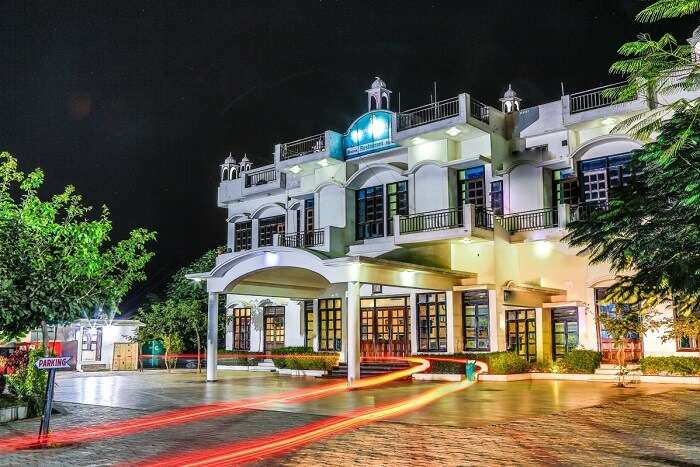 Image Source
Nestled in the lap of nature, Gulmohar is among the best Sariska Tiger Reserve resorts offering luxurious amenities to travelers at pocket-friendly rates. The hotel, along with providing comfort, grand views of the Sariska forest, and the best services, also offers travelers a fusion of traditional and modern architectural styles.
Location: Jaipur-Alwar Rd, Village Papdi, Tehsil-Virat Nagar, near Sariska
Prices starting from: INR 1,774/- per night per person
Facilities: 24-hour speedy room service, pool, lush lawns, indoor nature farm, drive-in parking, laundry, multi-cuisine restaurant, doctor on call, sightseeing tours, taxi on request, indoor games like table tennis, chess, carom, and outdoor games like cricket, football, badminton and volleyball
Google Rating: 3.9 | TripAdvisor Rating: 3.5
Website | TripAdvisor Reviews
2. Sariska Tiger Heaven Resort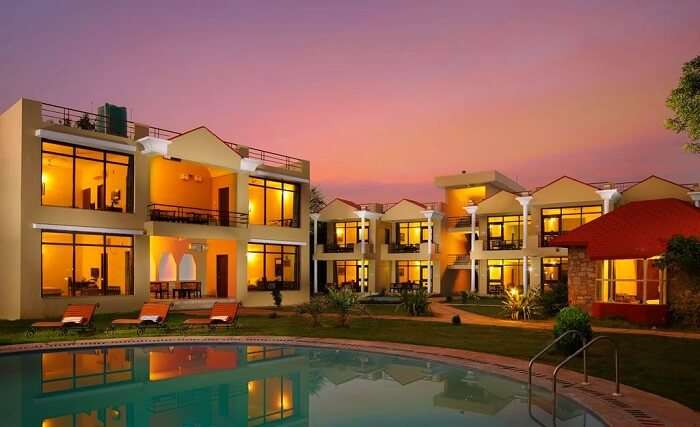 Image Source
It's the perfect abode for those seeking absolute peace, serenity, and eco-friendly environment. One of the most fascinating Sariska National Park hotels, Sariska Tiger Heaven is spread over more than 5 sections of land on the western slopes of the tiger reserve, offering unbeatable views and utter seclusion to guests. The resort offers guests the options of staying in either the furnished rooms of the resort area, of the beautiful luxury tents and cottages in te camp area.
Location: Amra Ka Baas, Thanaghazi District, Alwar 301001
Prices starting from: INR 3,615/- per night per person
Facilities: 16 luxury tents, 14 spacious rooms, 10 cottages, multi-cuisine restaurant, pool, indoor pool, free parking, speedy room service, free WiFi
Google Rating: 4 | TripAdvisor Rating: 3.5
Website | TripAdvisor Reviews
Accommodation Options: Luxury Places to Stay in Sariska
3. Dadhikar Fort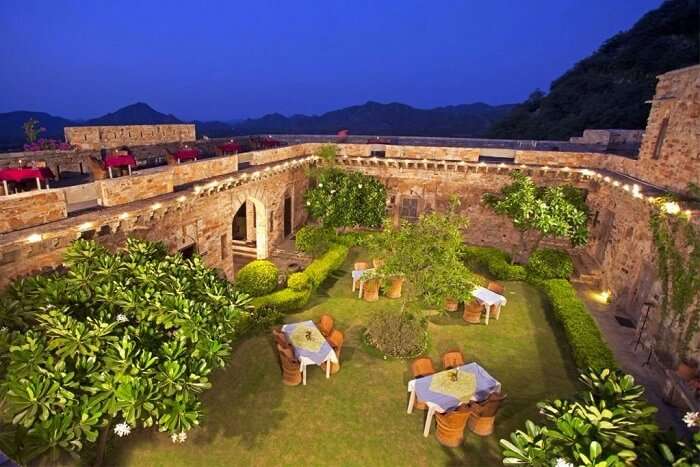 Image Source
A heritage property turned hotel, the Dadhikar Fort is a classic example of luxury, style and the authentic Rajasthani heritage, which is why it is listed among the top hotels near Sariska National Park. A mere 6 km from Alwar, the resort has rooms with the most tasteful interiors to give guests the true feeling of living in a royal Rajasthani palace. The resorts is located on the slopes of the Aravalli ranges overlooking the beautiful plains of Alwar, which is why it is among the perfect weekend retreat for holidaymakers coming to Sariska Tiger Reserve
Location: Village Dadhikar, Alwar 301001
Prices starting from: INR 4,535/- per night per person
Facilities: Restaurant, rooftop dining area, lounge area, beautifully decorated rooms with private balcony, cultural performances, Sufi Nights, lush lawns, 24-hour room service, free parking, free WiFi
Google Rating: 4.3 | TripAdvisor Rating: 4.5
Website | TripAdvisor Reviews
4. V Resorts Sariska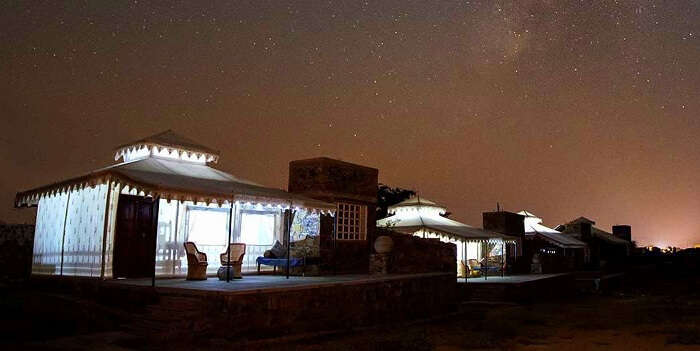 Image Source
Allowing guests to relish the unparalleled beauty of nature, this camp resort is among the best Sariska National Park hotels for adventure seekers. Conveniently located near the tiger reserve, V Resort has fully furnished and well maintained tents and cottages for travelers to stay in. Guests enjoy the opportunities provided here, the best of which include staying in beautifully decorated tents, waking up the chirping of birds in the morning, and enjoying authentic Rajasthani cuisine amidst a quiet ambiance and well-acclaimed hospitality.
Amenities: Gazebo, Sit outs, Poolside space, V unwind common room, Rajasthani Thali.
Location: Tehla Bypass Road | Village Tehla, Alwar 301408
Prices starting from: INR 6,243/- per night per person
Facilities: Restaurant, pool, gazebo, sit outs, common room or dorm, luxury tents, orchards, free parking
Google Rating: 4.3 | TripAdvisor Rating: 4.5
Website | TripAdvisor Reviews
5. The Sariska Palace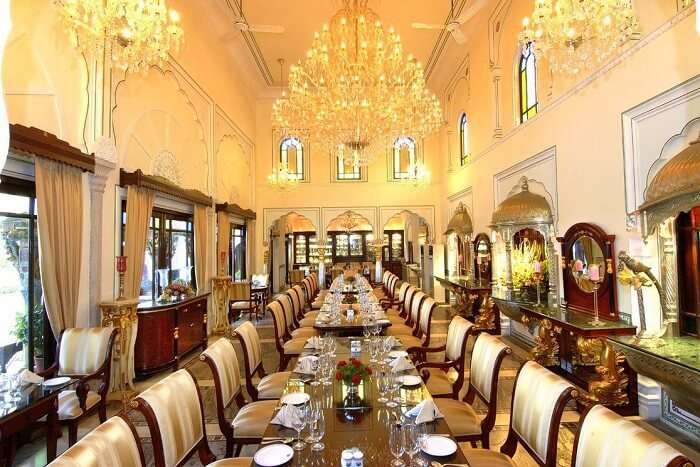 Suggested Read: Stay At These Heritage Hotels In Rajasthan & Bask In The Royal Magnificence
Also a popular tourist attraction near Sariska, the Sariska Palace is the perfect blend of incomparable luxury and an old royal heritage. The palace exhibits a regal French and Indian style of architecture in its interiors as well as exteriors. Located right next to the tiger reserve, Sariska Palace is among the most beautiful Sariska National Park resorts which offers the best of luxury, comfort, and convenience to guests.
Location: Alwar, Sariska 301022, India
Prices starting from: INR 9,999/- per night per person
Facilities: Speedy and impeccable services, pool, restaurant and dining space, fitness centre, spa, lawns and courtyards, tennis court, indoor games, sightseeing tours, safaris
Google Rating: 3.8 | TripAdvisor Rating: 3
Website | TripAdvisor Reviews
Restaurants near Sariska
Most of the restaurants and diners near Bhimashankar are located inside the hotels and resorts around it and offer sumptuous vegetarian and non-vegetarian cuisines to travelers. Listed below is one pure vegetarian and one non-vegetarian restaurant, the best ones around the forest reserve.
1. The Bridge Restaurant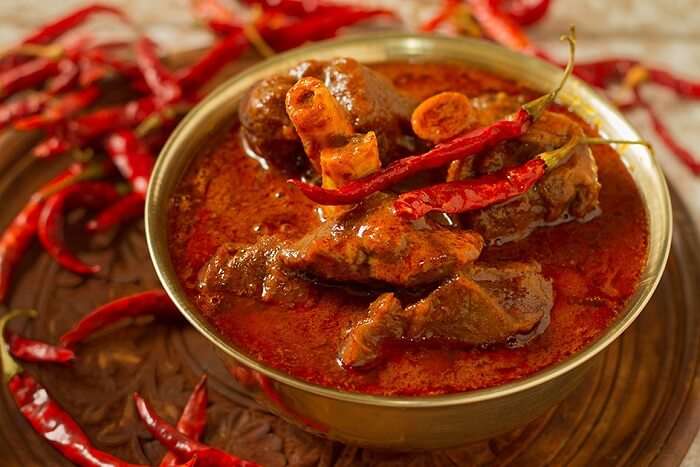 Image Source
Serving the most awesome food amidst a homely ambience, the Bridge Restaurant is the best place to eat near Sariska National Park at pocket-friendly rates. Located less than a mile away from the tiger reserve, the restaurant offers delicious Rajasthani vegetarian and non-vegetarian food to guests. The restaurant also provides a buffet system with a wide variety of dishes.
Location: Clarks Inn Alwar, Near Railway Station, Alwar 201010
Cuisine: Indian, specially Rajasthani
Distance from Sariska: 0.1 km | Travel time: 5 minutes!
Average Cost: INR 700/- per person
TripAdvisor Rating: 4.5
TripAdvisor Reviews
2. Ice & Spice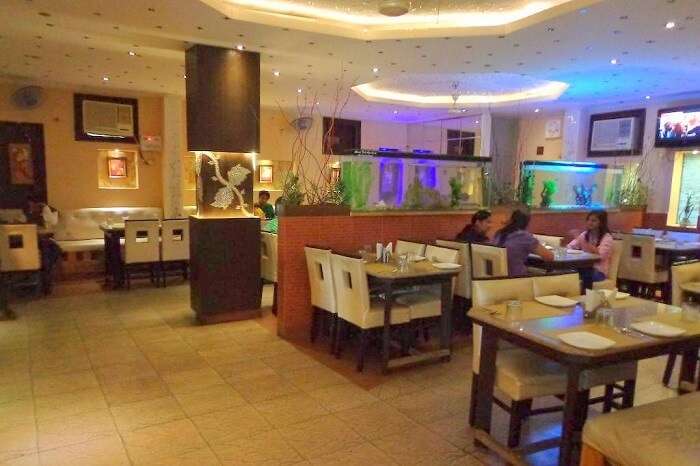 Image Source
If one wishes to indulgent in continental food like pizzas, pastas, noodles, and sandwiches to appease their hunger, then Ice & Spice is the place they should head to. This place too offers finger-licking vegetarian and non vegetarian food at economical rates and never lets a visitor leave disappointed!
Location: Company Bagh Road, Near SBBJ Bank, Ashok Circle, Alwar 301001
Average Cost: INR 500/- per person
Cuisine: Indian, Continental, Chinese
Distance from Sariska: 0.56 km | Travel time: 6 minutes
TripAdvisor Rating: 4.5
TripAdvisor Reviews
Traveler Reviews for Sariska National Park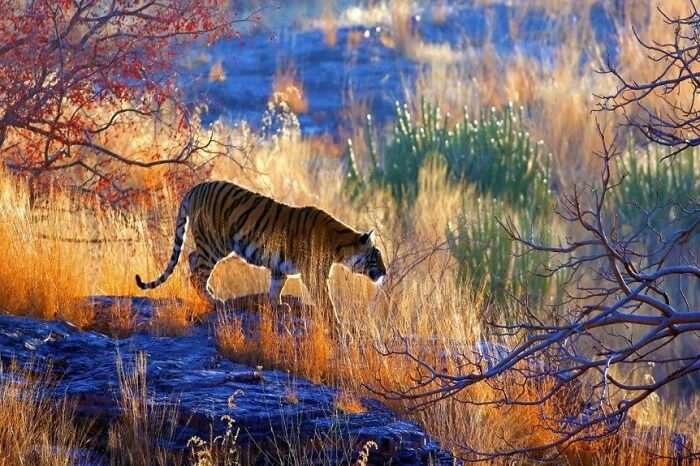 Further Read: Bharatpur Bird Sanctuary: Your Perfect Date With Nature
Any information about Sariska Tiger Reserve is incomplete without mentioning what its past and frequent visitors said about it. So, we've put down some reviews given by people who have experienced the awesomeness of Sariska reserve.
1. Sapna says: "The Safari was superb. The govt guide as well as the driver were well experienced. Saw many peacocks, barasingha, nilgai, spotted deer, monkeys, crocodiles, brown hare, snake, pugmarks of tiger, mongoose, etc. Also the forest is abundant in various medicinal and other useful plants like Babool, sanghri, ker, gugal, vasaka to name a few."
2. Manohar Shetty says: "I have visited a lot of national park across but this one is different from all as it gives you first hand experience of seeing a tiger. Apart from tiger spotting, the Sariska Park is very beautiful with many wildlife species. Worth visiting if you enjoy wildlife and a quiet atmosphere"
3. Mohit says: "Impressed with the natural beauty. A lovely place for nature lovers. Must enjoy in monsoon. If you are lucky enough than may be you will see a tiger."
That's not all that travelers have to say! You can read more Sariska Tiger Reserve reviews here.
Gear up for your adrenaline pumping adventure in the midst of India's wildest terrains. Browse from a range of Rajasthan tour packages with TravelTriangle that offer the best Sariska National Park safari and book your trip to Sariska right away! Hurry!
---
Looking To Book A Holiday Package?
Book memorable holidays on TravelTriangle with 650+ verified travel agents for 65+ domestic and international destinations.
---