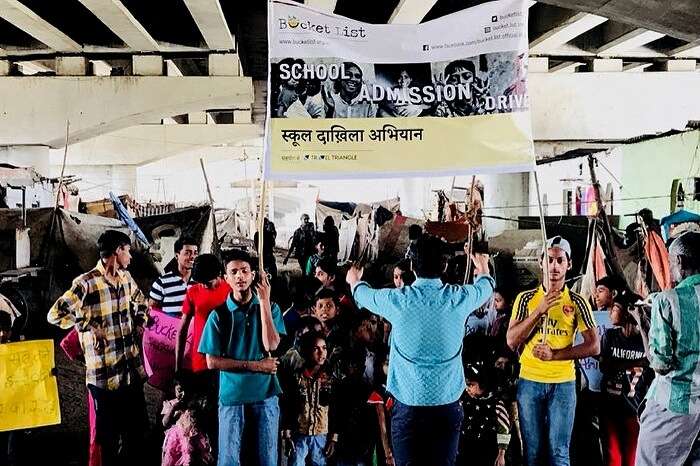 Memories of summer vacations, cultural functions, morning assemblies, and, of course, games periods flash through my mind as I see, on my Facebook feed, pictures of young kids heading for their first day at school. The never-ending cycle of work & fun has undoubtedly given me the best days of my life. Sadly though, despite the enactment of the Right To Education Act (2009), there are children who are missing out on the most vital part of their lives. And this is exactly what we wish to change.
What is the Right To Education Act

The Right of Children to Free Compulsory Education Act, or Right to Education (RTE) Act, aims to make education a fundamental right for every child between the ages of 6 & 14, irrespective of gender & social category. The act, passed by the Indian parliament on 4th August 2009, came into effect nationwide (except the state of Jammu & Kashmir) from 1st April 2010.
School Admission Drive 2018

With the central idea to enroll every child in the age bracket of 6-14 years into the school and to spread awareness about RTE, the NGO Bucket List collaborated with TravelTriangle for the School Admission Drive 2018. Listed below are the detailed objectives:
To enrol a minimum of 30 children (living on streets and in slum colonies) into the Sarvodaya Vidyalayas.
To spread awareness about free and compulsory education under the RTE — on-ground and online awareness.
Initiate documentation procedure of the children and impart relevant knowledge (Aadhaar, Bank A/C, etc).
Launch several rallies to give out information regarding RTE and prompt the audience to register for the same during the short window before admission process commences.
To document the progression of the drive, reflecting all the obstacles and reliefs, to present a contrast.
Creating impact: Imparting education to the underprivileged

TravelTriangle has, thus far, been able to raise over Rs. 25,000 on behalf of Bucket List through the school admission drive, thus ensuring school admission for at least 23 children. Going forward, the team hopes to be able to sponsor the education for even more children.
What is Bucket List?
About the NGO

Bucket List is an NGO working for the underprivileged children through creative media — storytelling, sports, and arts — to enhance their physical & social well being. Its programmes, such as Tell a Tale, Genie in a Bucket, and Streets to Field, aim to bring a change in their lives and help them make the most of their talents & skills.
Our association with the NGO

TravelTriangle has been associated with the NGO — Bucket List — for the past 6 months. Together, the two have successfully conducted multiple events; including donation drive, Children's Day celebration, and Secret Santa for the underprivileged kids.
When asked about their wishes during the Secret Santa event, these kids expressed their desire to get admission into school. While some of our employees stepped in right away to make these dreams come true, these wishes of the little kids all led to the genesis of the next event — the School Admission Drive.
Here's what the project lead of Bucket List has to say about the initiative

"Under the School Admission Drive, we had the pledge to get all the children, eligible under RTE, admitted to a school. How many kids do we know who love going to school? Not so many. But once you witness all these children getting ready for school so enthusiastically every single day, it becomes a source of inspiration for us. It is here that we see education truly being valued. And it is with these children that you can be sure that education will be positively utilized. A big thank you to TravelTriangle for believing in our endeavors & becoming lifetime 'Genies' for so many deserving children."
– Saif Ullah Khan
Project Lead, Bucket List

It's truly a great initiative that Bucket List has taken to ensure a great future & 'achhe din' for the destitute children. Small steps, such as this one, can make tremendous impact on the lives of others. We, at TravelTriangle, have already started contributing to the cause, and so can you.