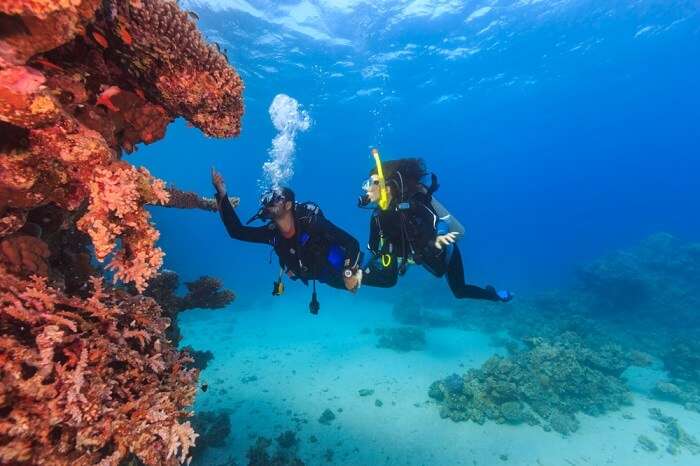 Scuba diving in Colombo, Sri Lanka is one of the best diving spot destinations in the country. It is considered as the paradise for scuba diving lovers. Colombo has many coral reefs, exceptional wrecks, and flora with a rich marine life. Colombo is a hub of a wide range of shipwrecks right from Merchant Navy ships in World War I sunk by German ship to Age of Steamships which was sunk in the year 2012 recently. There are many older ships which are covered with coral and are home to many reef systems such as Chief Dragon and the Pecheur Breton, while other wrecks are home to many fishes such as T.Sierra. The advanced divers get an opportunity to go inside some of the wrecks.
Scuba diving in Colombo is best suited for the advanced diver who has the best training. There are limited opportunities available for the beginners subject to certain conditions. The most popular are the wrecks littering the coast and it attracts many divers also. Colombo's best site includes fish life, wrecks and coral reefs including black coral trees.
Best Time For Diving In Colombo

The diving season starts from November to Mid- April, after which the monsoon comes. The month which offers an excellent diving condition is February to March. During these two months, the climate is hot and dry. The temperature with high humidity ranges from 28-30 in the sea and 30 on the shore. The water is surrounding the Colombo is unprotected. The local dive shops manage the marine conservation in Colombo by organizing the beach cleanups and net cleanups from the wrecks.
The divers can view the glass fish and shoaling fish, loan fish, scorpion fish surgeon fish banner fish, banded pipefish etc. The wrecks are home o reef fish such as anthias and various species of moray such as honey comb and giant.
Suggested Read: Colombo In August 2022 : Ultimate Guide For A Refreshing Tour During Monsoon
10 Places For Scuba Diving In Colombo, Sri Lanka
Scuba diving in Colombo Sri Lanka is ideal for underwater photography and macro lovers. The divers may encounter some crocodile fish, panther turbots, Napoleon fish, and white eared moray inside the shallow water. Here are some of the top scuba diving destinations in and near Colombo, Sri Lanka. Go through the list to know about locations for best scuba diving in Colombo, Sri Lanka.
1. Hikkaduwa and Unawatuna

These are very popular scuba diving spots with a proper PADI dive center and training center. It also includes 10 coral reef dive spots for all levels and at all depths such as Hikkaduwa Gala and Barracuda Point. There are many shipwrecks which are not more than 30 meters deep. One can view these as a part of most of Sri Lanka diving tours.
Location: Hikkaduwa
Must Read: 15 Things To Do In Ella That Will Take Your Sri Lanka Trip To The Next Level
2. Trincomalee

It is located on the east coast of Sri Lanka. The launch pad for most dives in the area is the Nilaveli beach. The pigeon Island Marine Life Sanctuary is a few kilometers off the coast and is full of colorful fishes, coral reefs, anemone etc. The shipwreck Irakkandy is another diving spot in Trincomalee. It also offers one of the best price of scuba diving in Colombo, Sri Lanka.
Location: Trincomalee Town
3. Poseidon Diving Centre

Mirissa is the most popular area for scuba diving near Colombo. This place is most famous for whale watching. It includes five diving sites. It is located on the southeast coast of the island. It offers full PADI courses and training program for beginners in the Poseidon Diving Centre. So, if you are an underwater person, you can enroll in their training program and have fun exploring life underwater.
Location: Mirissa
Suggested Read: Viharamahadevi Park: A Handy Guide To Explore This Nature's Paradise In Sri Lanka!
4. Kirinda

It is a great diving spot in Sri Lanka which can only be visited in the month of March and April. The waters become choppy and murky which may not be comfortable for the divers. There is no dive center available in Kirinda, but not to worry the dive center in Hikkaduwa and Mirissa can definitely take you if you wish to visit.
Location: Kirinda Village
Suggested Read: 7 Most Haunted Places In Sri Lanka To Make You Face Your Darkest Fears
5. Barracuda Reef

It is a great and popular dive site which is located on the coast of Mount Lavinia near Colombo which never disappoints the divers. It is home to a variety of aquatic creatures such as rays, nudibranch, and lionfish. Have a great time viewing this aquatic life while scuba diving in Colombo.
Location: East of Mount Lavinia
Suggested Read: Take The Safari In Colombo To Spend Some Time In The Wilderness & Cherish The Rare Fauna
6. Goda Gala Diyamba

It is an underwater rock formation which is located in the south side of Sri Lanka. It is a scuba diving near Colombo Sri Lanka, 10 minutes from the resort town of Unawatuna by boat. The divers can explore reef system full of fishes such as trevally and Napoleon wrasse with different types of nudibranchs.
Location: South Sri Lanka
Suggested Read: The Ultimate Guide To Sri Lanka's Dambulla Cave Temple
7. Gorgonian Garden

The Gorgonian Garden is an amazing scuba diving in Colombo which is filled with majestic gorgons. The anchor is prohibited in this seabed to protect the dive site. To view this amazing forest the divers have to go 35 metres inside the waters. This dive is most suitable for the experienced divers.The divers may also encounter with many tiger fishes. Strong currents and capricious can also be experienced by the divers.
Location: Colombo
8. Taprobane North Wreck

Taprobane North Wreck is located 20 km off the coast of Colombo. Divers can do several immersions in well preserved vessels that lie between 30 and 40 metres deep. It is most suitable for advanced and PADI divers. The wreck is covered with black corals and soft corals. The wreck is a home of many fishes like groupers, snappers, napoleon fish and trevally.
Location: 20 Kilometers Off the Coast of Colombo
Suggested Read: Sri Lanka In January: Places To Visit And Things To Do On Your Vacay
9. British Sergeant In Pasikuda

British Sergeant is one of the best scuba diving near Colombo. It is the most popular wreck in Sri Lanka which is 122 metre long steamer sunk by the Japanese in the year 1942. It is the most suitable for an advanced diver with a proper diving skill. The diver will definitely get the best diving experience although the visibility is mediocre and they can also view various species of fishes, corals and many penetration points.
Location: Colombo
10. Great Basses

Great Basses is located 10 kilometers away from the southeastern coast of Sri Lanka. It is the best scuba diving in Colombo. The experienced divers are only allowed and can get an opportunity to view majestic and impressive drift dives. It is a best can to dive as the divers can explore different kinds of wrecks, caves, tombs and each of them is home to varieties of species such as pompanos, big-headed travelers, white pointed sharks, eagle rays and Portuguese disc. Sri Lankas marine life gives a delightful experience to the divers. It is also best for the macro lovers as they can view varieties of nudibranch, shrimp, plants, and corals around the dive sites. Many lucky divers also had an encounter with blue whales, whale sharks, reef sharks, sperm whales, spotted dolphins, and bottlenose dolphins.
Location: Southeastern Coast of Sri Lanka
Further Read: The Definitive Guide To National Museum Of Colombo In Sri Lanka
So if you are planning a trip to Sri Lanka with TravelTriangle, do head out to these places listed above for some great scuba diving experience in Colombo. We bet you would have the time of your life! Also, do not forget to share the list with your friends and folks.
Frequently Asked Questions
Is Sri Lanka good for scuba diving?
Oh, yes! you will find plenty of spots in Sri Lanka for scuba diving. While you will get to see unique marine biodiversity from close, you will also swim by shipwrecks that look astounding.
Where is the best diving in Sri Lanka?
Unawatuna is one of the best spots for scuba diving in Sri Lanka. You can go as deep as 30 m and watch colorful tropical fish swimming by.
When can you dive in Sri Lanka?
There are a lot of places in Sri Lanka where you can go diving in the deep sea waters. Unawatnu and Trincomalee are two of the amazing spots for scuba diving in Sri Lanka. There's Hikkaduwa and Barracuda Reef that are also popular.
How populous is Colombo?
Colombo is the capital of Sri Lanka and has a population size of 7.5 lakhs according to 2011 consensus. If you are planning a trip, there are plenty of places to visit in Colombo for sightseeing.
---
People Also Read:
Scuba Diving in Andaman Scuba Diving in Kochi Scuba Diving in Kerala