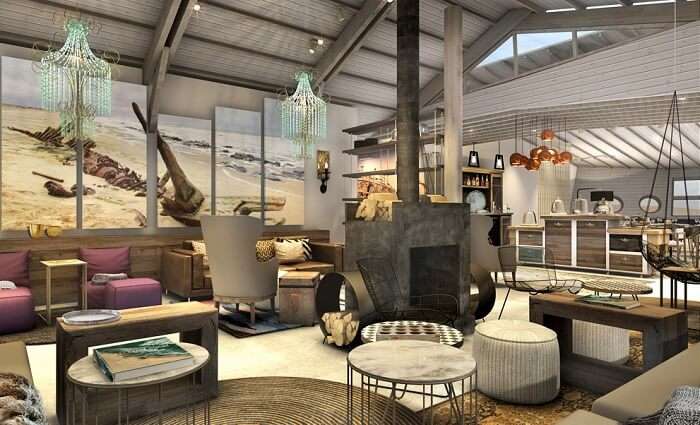 Set on the popular Skeleton Coast and spread across a deserted region of about 146,600 hectares, this African paradise offers a Shipwreck Lodge in Namibia in which, one wouldn't mind sinking at all. In middle of all the skulls and bones that reside on the coast, an offbeat accommodation awaits in the northwestern region of Namibia that lets you relish the taste of luxury amidst African wilderness like none other.

Suggested Read: The Mightiest National Parks In Africa For The Love Of Wildlife And Adventure
The best thing about this Shipwreck Lodge in Namibia is its location, which is:
Inside Skeleton Coast Park
At the heart of Skeleton Coast Central Concession
On the banks of the Hoarusib River Mouth
Between the rivers of Hoarusib and Hoanib
Perched between the massive dunes
Overlooking Atlantic Ocean
At a distance of just 68 kilometers to the north of Möwe Bay
Cannot give shape to your imagination yet? Well that's how mesmerizing your stay would feel like at these luxurious cabins built in the shape of an actual shipwreck. While the whole lodge comprises of eight twin-sharing rooms and two family tents, each of the wrecks or the rooms will offer:
Fully-furnished rooms
A lamp and a wood-burning stoves
Huge windows
A private swimming pool
A shower, toilet, a washbasin, and other facilities that run on solar power
A writing desk
A coffee or tea station

While staying at Skeleton Coast National Park's first ever lodge is an experience in itself, you will also be taken through the mind-blowing relics of the Karimona shipwreck, the Ventura Bomber, the Suiderkus Shipwreck, the deserted diamond mines of the Westies, and the remains of Flamingo pools' reeds.
Other Experiences That Are Not To Be Missed At All!
Excursion to the seal colony on Mowe Bay
Dune bashing on the Namibian desert
Go for a sundowner drive
Say hello to hyenas at the Clay Castles on a 4×4 drive
Go on a full-day excursion on River Hoarusib
Enjoy a scrumptious lunch on the beach (subjected to feasible weather conditions)

Suggested Read: Kruger National Park In South Africa Is Your Ultimate Date With The Wild
Details Of Shipwreck Lodge In Namibia
Location: Shipwreck Lodge – Skeleton Coast, Namibia
Website | Phone: 0026-461-228-104
Price: (based on double-sharing per person)
Introductory Rate: 8685 NAD / 47530 INR / 730 USD (1st June 2018 to 31st July)
Peak Season: 12220 NAD / 66875 INR / 1028 USD (1st August to 15th November and 20th December to 6th January)
Low Season: 10200 NAD / 55818 INR / 858 USD (16th November to 19th December and 7th January to 30th June)
Don't know about shipwreck-diving, but we are all in to indulge in this stunning Shipwreck Lodge in Namibia. So, how many of you are eager to stay here? Share your thoughts with us in the comments below!