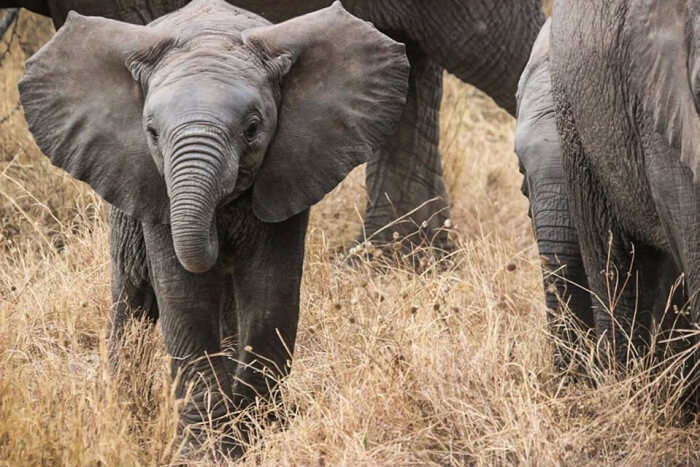 "There is something special about Africa that touches the soul."
Whether you're a keen first-timer or an old safari hand, the African wildlife and Saharan landscapes never fail to get under your skin. The continent's natural beauty may not be defined by lush greenery and refreshing waterfalls, but we can bet it'll still bowl you over the moment you set your eyes on it. But where exactly to witness the magic of Africa unfold? In its national parks and game reserves, of course. There are over 50 national parks in Africa, and we bring you the 10 most extraordinary among them right here.
Prep your camera, throw on your khakis, and ride off to any of these dauntless mixtures of thrilling wildlife encounters, breathtaking sceneries, and once-in-a-lifetime experiences! Trekking volcanic craters? Sightings of leopards catching prey? Witnessing pink flamingos basking in the sun? With these national reserves in Africa, we got it all covered.
The Best National Parks In Africa: Take Your Pick
Each offers something unique and extraordinary other than a plethora of animals and birds.
1. Serengeti National Park, Tanzania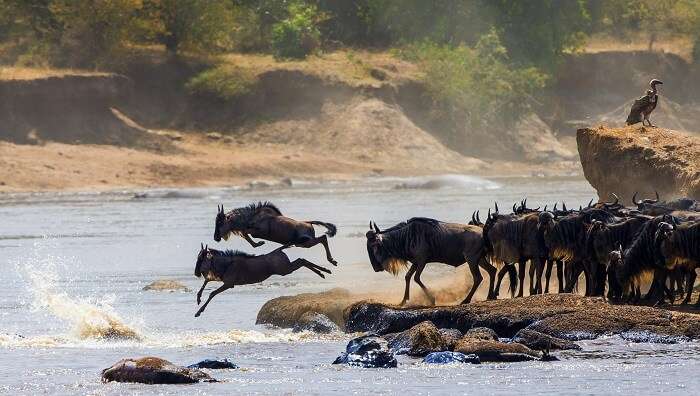 Other than being one of the most famous national parks in Africa, Serengeti is also a UNESCO World Heritage site. Many even consider it to be the seventh wonder of the world, such is its beauty and diversity of flora and fauna. Serengeti National Park serves to protect and preserve a major share of Africa's wildlife. One of the most thrilling phenomena that occur here year after year is the great wildebeest migration, where about six million of these mighty beasts take part in this 40 km long ritual that has existed for millennia. 
Serengeti National Park is among the top 10 national parks in Africa owing to the wildebeest migration and its reputation of maintaining the natural balance of predator and prey. If you're lucky, you might be able to spot lions and aardwolves on the hunt here!
Best Known For: Wildebeest Migration, Lion Game Hunts
Best Safari In Kenya: The Ultimate Guide For A Vacation In The Wild
2. Etosha National Park, Namibia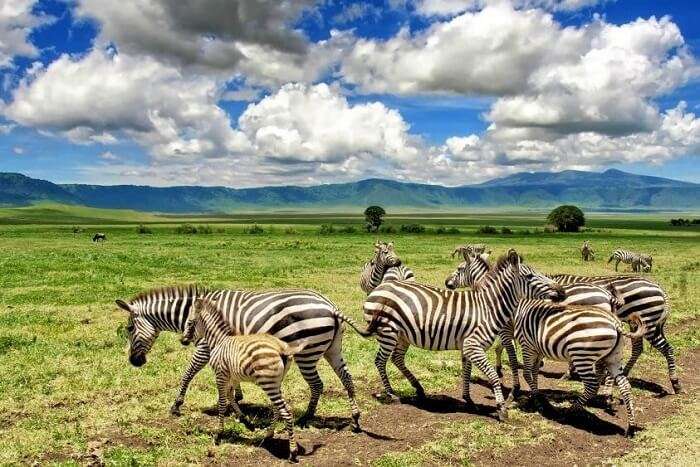 Namibia's premier wildlife venue, Etosha National Park is among the best national parks in Africa for spotting cheetahs. It has been a game reserve since 1907 when efforts were made to repopulate the region after a large number of game animals like elephants and lions were hunted almost to the point of extinction. When here at this South Africa national park, visitors can go camping, embark on extended wildlife safaris, and spot animals in their natural habitat. From black rhinoceros, elephants, cheetahs, to zebras, there is an enormous range of species living within the bounds of this park. Other than animals, Etosha National Park is known for its hypnotic landscapes including savannas, grasslands, dry lake beds, dolomite hills, and more.
Best Known For: Cheetah Spotting, Waterhole Stakeouts
3. Kruger National Park, South Africa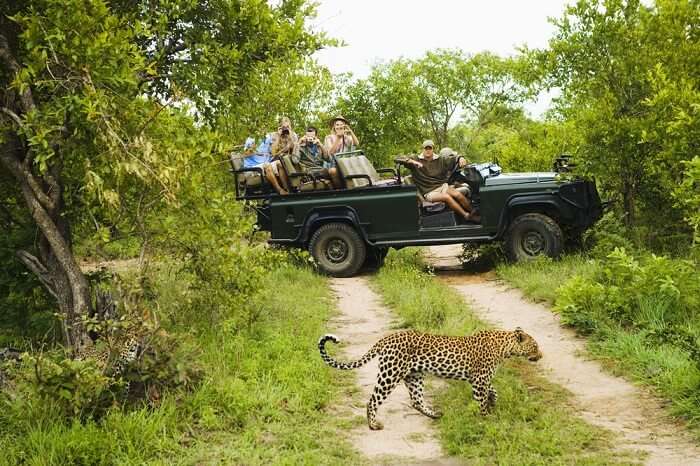 Established in 1898, the Kruger National Park is among the most popular and best national game parks in South Africa owing to its astounding population of the African 'Big Five' – lions, rhinos, elephants, buffalos, and leopards. Like many other national parks in Africa, Kruger also takes pride in being a grassroots animal breeding and conservation area. Other than wildlife spotting, visitors can also explore the unique historical and archaeological sites located within the boundaries of the park and witness things like ancient Bushman rock paintings. Other than the best, Kruger is also the most equipped of national parks here, owing to its webcams showing live animal activities, signposts, restaurants, and gas stations.
Best Known For: Accessible Wilderness, Elephant Back Safari, Self-drive Safari, Mountain Biking Tours
12 Handpicked Resorts In South Africa For A Glamorous Holiday
4. Lake Nakuru National Park, Kenya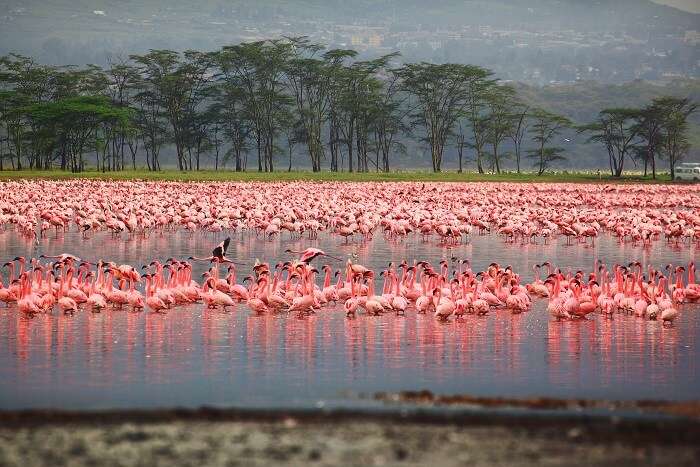 The type of algae present in Lake Nakuru attracts millions of pink flamingos here, which is why this national park has been deemed a title of 'the bird watcher's paradise'! Other than the flamingos, the park also harbors an ecologically broad spectrum of animal species including the white rhinos, baboons, warthogs, cheetahs, giraffes, and many more. A relatively new name on the list of national parks in Africa, Lake Nakuru was recently enlarged to help the rare and endangered black rhino find sanctuary.
Other bird species that one can spot here include the pied kingfisher, African fish eagle, and the Goliath Heron.
Best Known For: Bird Watching, White Rhinos
5. Namib-Naukluft National Park, Namibia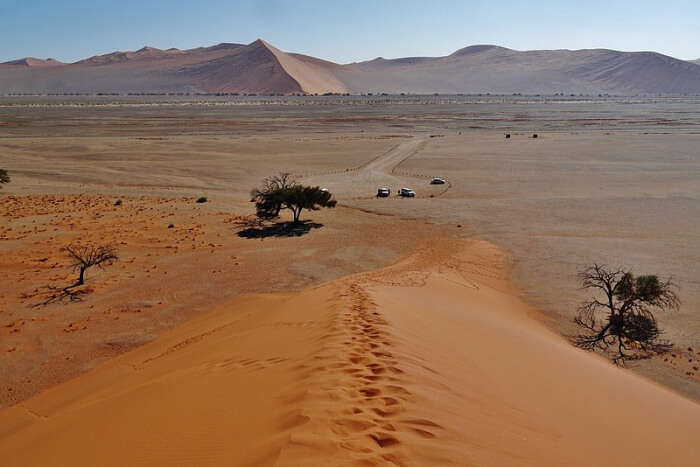 The Namib-Naukluft National Park is home to the Sossusvlei clay and salt pan, Naukluft Mountains, and part of the Namib Desert in Namibia. Among the major factors drawing people to this largest national park in Africa (and the world!) are it's striking orange dunes. One can easily spot pretty interesting creatures inside this area including geckos, snakes, rare insects, hyenas, and jackals, even despite the aridity of this region. Its location close to the Atlantic coast is what helps this park extract its required amount of moisture to sustain the animals living here.
Best Known For: Biggest National Park in Africa, Geckos, Orange Sand Dunes
Best Safari In South Africa: Adrenaline Pumping Experiences In The World's Wildest Corner
6. Virunga National Park, Democratic Republic of the Congo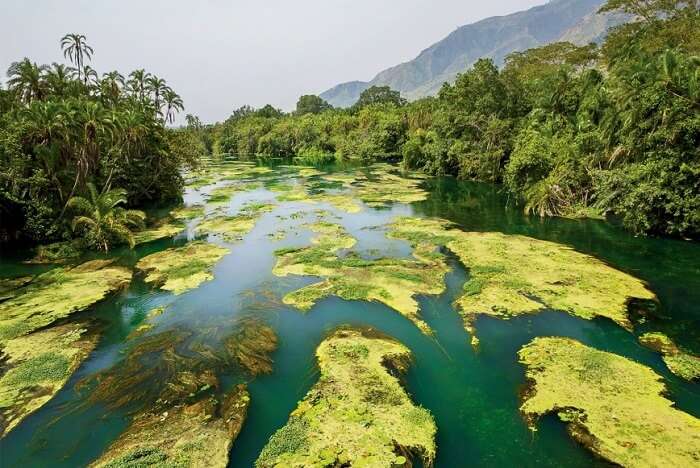 Those looking for an enormous biodiversity should head to the first national park in Africa – the Virunga National Park. Visitors will be enthralled to witness rainforests, volcanoes, mountains with glacial peaks, savannas, swamps and more at this most biologically diverse part of the continent. Climb to the top of the Nyiragongo Volcano and you'll be able to see an expansive 360-degree view of the largest volcanic lake in the world.
In fact, Virunga was featured in the 2014 documentary called 'Virunga' that showcased the park's efforts to protect the nearly extinct mountain gorillas who live here. The motion picture also showed how the dedicated group of forest rangers running this first national park in Africa work every day to ward off poachers. The park is also home to chimpanzees and lowland gorillas.
Best Known For: Mountain Gorillas, Varying Topography, Volcano
7. Ngorongoro National Park, Tanzania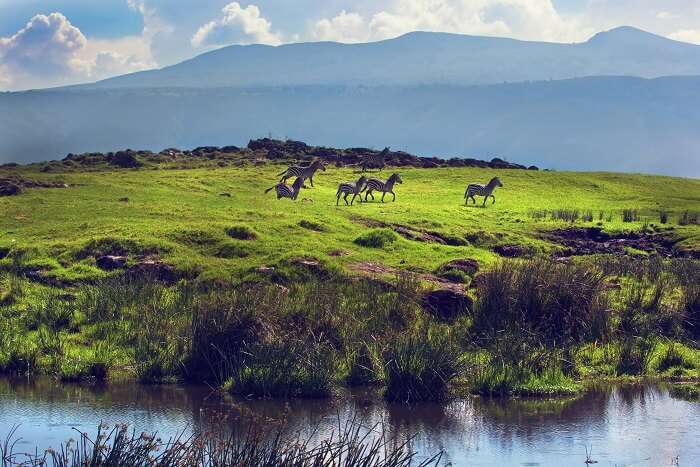 Located in Tanzania, Ngorongoro National Park is largely populated by the native Maasai pastoralists. Ngorongoro means the 'gift of life' in Maasai. Also housing the famous Ngorongoro Crater, which came into being after a large volcanic explosion, the Ngorongoro Park is among the best national parks in East Africa. Presently, none of the head administrators of the park are actually Maasai.
Though the park is extremely beautiful and houses an enormous population of Africa's wildlife, questions are being raised about the ethical side of the park's governance which is trying to eradicate the native Maasai people living on this land for the purpose of making luxury hotels.
Best Known For: Ngorongoro Crater, Crater Rim Walk, Maasai Village Tour
10 Most Splendid Zanzibar Honeymoon Resorts
8. Amboseli National Park, Kenya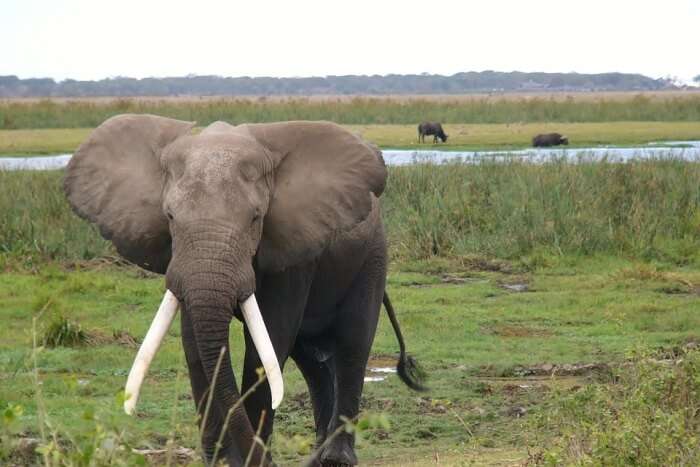 Image Source
Another prominent name in the list of national parks in Africa, the Amboseli National Park is known to contain over 400 species of birds and over 47 species of raptors thanks to its large system of swamps. In fact, Amboseli reserve is known as one of the best places in the world for bird watching and bird photography.
Herds of elephants grazing against the majestic backdrop of Mount Kilimanjaro, the stunning sunsets in the vast horizons, and a rare chance to get up close and personal with some of the most fierce African creatures – that's what you get in Amboseli National Park. The park originally began as a reservation for the Maasai peoples and is now a full-fledged game reserve.
Best Known For: Bird Species, Reptiles, Mount Kilimanjaro
9. Hwange National Park, Zimbabwe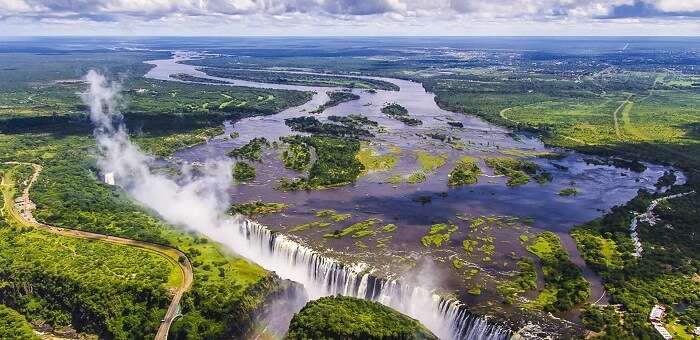 Tired of the dry Sahara deserts and the unending arid vegetation on your African safari? Head to Hwange National Park for a refreshing visit to the world's tallest waterfall – Victoria Falls. The park is home to over 500 species of animals and birds that reside in this unique ecosystem of forests right at the edge of the Kalahari Desert. One is sure to find a great number of elephants in the Hwange National Park if not anything else. After the tragic death of the famed lion called Cecil after a poaching incident, the park authorities are taking every necessary step to prevent such awful acts on this beautiful and biologically rich South Africa national park.
Best Known For: Victoria Falls, Elephants, Bird Species
10 Things To Do In South Africa To Convince You For Your Next African Adventure!
10. Lake Manyara National Park, Tanzania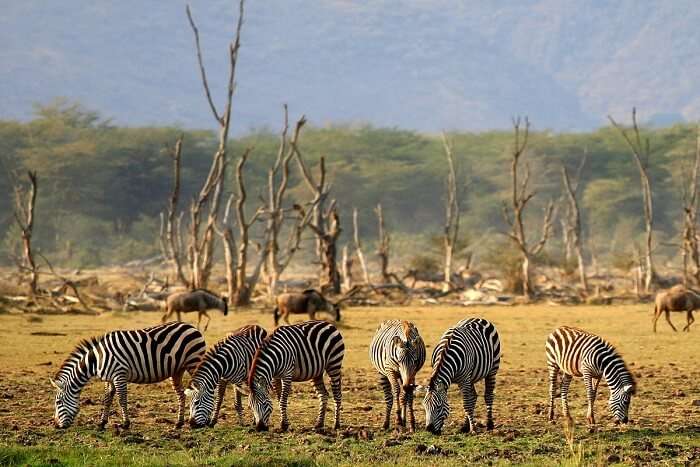 Spanning from the Soda Lake Manyara all the way to the Gregory Rift, Lake Manyara National Park is among the best national parks in Africa for families with kids, couples, and adventure seekers. The Soda Lake makes up for an enormous portion of the Lake Manyara park in monsoons and almost disappears during the dry season.
The park attracts a large number of African wildlife, like Maasai lions, Tanzanian cheetahs, African leopards, blue monkeys, African bush elephants, gazelles, giraffes, hippos, and Grant's zebras, and more. Indulge in a dauntless game drive here and spot the big cats of the park climbing trees when they aren't stalking prey. One can also observe hippos lounging in their favourite pond from a distance.
Best Known For: Soda Lake Manyara, Maasai Lions
So, which one of these adventure-loaded national parks in Africa will you be visiting first? Let us know in the comments below. But before that, plan a trip to Africa, the wildest continent of the world.
For our editorial codes of conduct and copyright disclaimer, please click here. 
Frequently Asked Questions About National Parks In Africa
Which are the best national parks for a safari in South Africa?
The Addo Elephant National Park, Kruger National Park, Marakele National Park, Sanbona Wildlife Reserve, and West Coast National Park are some of the best national national parks in South Africa for a safari.
Which are best national parks in East Africa?
Ngorongoro National Park and Lake Manyara National Park in Tanzania are named among the best national parks in East Africa.
Which are best national parks in South Africa?
Etosha National Park in Namibia, Kruger National Park and Hwange National Park in Zimbabwe are counted among the best national parks in South Africa.
Which is the biggest national park in Africa?
Namib-Naukluft National Park in Namibia is the biggest national park in Africa.
Looking To Book A Holiday Package?
Book memorable holidays on TravelTriangle with 650+ verified travel agents for 65+ domestic and international destinations.
People Also Read
National Parks In Indonesia National Parks Of Spain National Parks In Turkey
Comments
comments