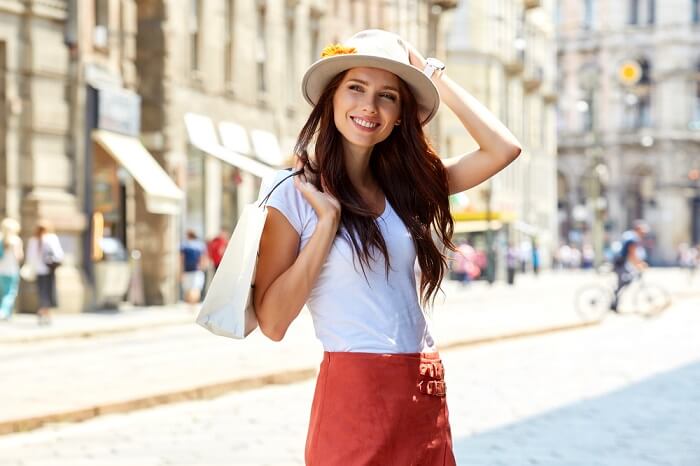 Imagine yourself strolling in the popular cobbled streets of Rome with shopping bags from high-street brands in one hand and your favorite drink in another, while you enjoy the city's sumptuous beauty. Sounds like quite a heavenly & dreamy experience, right? Well, the city of ruins is truly a haven for Shopaholics and shopping in Rome will let you have this experience for real!
Home to top-notch brands, high-street stores, vintage shops, and more, the city has got the best of everything for everyone. So, if you're planning a trip to Europe, keep this Rome shopping guide handy as it won't just help you discover the best places to shop but also unveil the best-kept shopping secrets, Rome holds!
10 Top-Notch Places For Shopping In Rome
Since the city has got innumerable famous shopping streets as well as malls, here's a list of the best places that would definitely offer you a soul-satisfying experience when you'd be shopping in Rome, Italy. Take a look!
1. Via Dei Condotti
For the best experience of shopping in Rome, Italy, head out to the popular Via Dei Condotti. This shopping street is known for featuring top-notch brands like Gucci, Dior, Dolce & Gabbana, and more, that would not only treat the Shopaholic within you but also leave you in awe.
Location: Via Condotti, 00187 Rome, Italy
2. Via Del Corso
Suggested Read: Rome Received Its First Snowfall In 6 Years, And Boy, Are The Pictures Amazing!
One of the longest streets in the city, this is the best place to be if you wish to go for dress shopping in Rome. Offering high-street stores and international brands like H&M, Zara and more, Via Del Corso is one shopping place you just cannot miss on your Rome trip!
Location: Via del Corso, Rome, Italy
3. La Rinascente
Irrespective of how many streets you explore, your Rome holiday would stay incomplete without shopping at some of the finest brands in a shopping mall. Rome is home to this multi-brand luxury store which houses everything from cosmetics to home decor, and offers all of it under one roof.
Location: Via del Tritone 61, Via Dei Due Macelli 23, 00187 Rome, Italy
4. Via Cola Di Rienzo
Suggested Read: Rome Is Finally Getting Its Own Beach And We're Packing Already!
If you are planning to visit Rome and want to shop somewhere away from the hustle & bustle of the city, Cola Di Rienzo is your place. The most popular street amongst the locals, it offers a mix of international and Italian brands. Make sure you visit this place if you wish to enjoy affordable shopping in Rome.
Location: Via Cola di Rienzo, Prati, 00192 Rome, Italy
5. Via Dei Coronari
One of the oldest and yet the finest streets in Rome, Via Dei Coronari is known for selling exemplary antiques. If you are going out for shopping in Rome on a budget, this is the best place for you! It houses vintage shops that would take you back to the old Roman times.
Location: Navona, Pantheon, Campo de' Fiori
6. Via Del Governo Vecchio
Suggested Read: 10 Must-See Tourist Places In Rome: Flipping Through The Pages Of Roman History
This cobbled street is located just behind the beautiful Piazza Navona and is known for being home to high-quality Italian brands. From good quality leather to extraordinary souvenirs, you would find everything here that you won't find anywhere else. Just don't forget to check out the vintage shops!
Location: 00186 Roma RM, Italy
7. Via Del Boschetto
Situated in the beautiful neighborhood of Monti, this street is popular for its artisanal shops. While it has various handcraft boutiques, Kokoro is a one-stop shop that sells such colorful handcrafted materials that you would not want to leave empty-handed!
Location: 00184 Roma RM, Italy
8. Via Margutta
Suggested Read: 10 Romantic Things To Do In Rome With Your Amore
A beautiful small street marked by the presence of hanging plants, art galleries, and small shops, Via Margutta is the place that would offer you the most blissful shopping experience. Also, if you plan to go shopping in Rome on Sunday, this is undoubtedly the best place to visit and pamper the art lover within!
Location: Centro Storico, Via Margutta, 00187 Rome, Italy
9. Castel Romano
For the best outlet shopping in Rome, reach out to the Castel Romano outlet which offers famous designer brands like Michael Kors, Roberto Cavalli, Nike, and more at 30 to 70% off throughout the year. Also, it has a beautiful setting surrounded by cafes & restaurants that would enhance your shopping experience!
Location: Via del Ponte di Piscina Cupa, 64, 00128 Castel Romano RM, Italy
10. Via Frattina
Suggested Read: Rome Nightlife: 10 Best Places To Let Your Hair Down In This Ancient City
Home to the most famous stores like Fausto Santini, Andrea Fabini, and more, this street is known for the best shoe shopping in Rome. It is situated near the popular Spanish Steps and is also one of the most-visited places for shopping in Rome. Just don't forget to get a 'Made in Italy' pair of shoes for yourself while you'd be here!
Location: 00187 Roma RM, Italy
Tips For Shopping In Rome
1. While many stores in Rome are closed on Monday mornings, especially the smaller ones, some of the stores remain closed for a few hours in the afternoon as well. So, make sure you check with the locals and pick the right time for shopping.
2. Getting a change in Italy is quite difficult. So, try to keep the exact change with you if plan to pay in cash while shopping there.
3. The international brands like Prada, Gucci, and more sell selective items to non-European citizens on which VAT can be claimed by the customer. So, make sure you carry your passport and ask the sales assistant for help to fill out the required form at the time of making the purchase.
4. If you are looking for local Italian artifacts and jewelry on your Rome trip, head to Via Del Boschetto as it's the best place in the city to buy accessories.
5. Last but not the least, try and make a list of things to buy in order to have an easy & convenient shopping experience.
Your shopping experience in Rome will not be an ordinary one as the city offers stunning things to buy which will excite your soul even more! So, plan your Italy trip with TravelTriangle right away, and head out on the most unique shopping spree.
Comments
comments