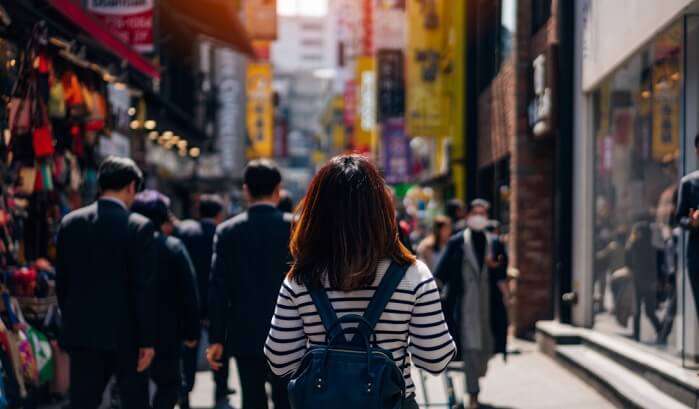 South Korea has over 51 million people living in its capital, Seoul and it has become the shopping hub of the country. It is also recorded to be the fourth largest metropolitan economy in the world. During your visit to Seoul, you will be able to find the best places to shop and the goods are quite affordable. Busan is the next best destination after Seoul and you can find remarkable products to buy during your time here. Enjoy buying the best products and eating the most delicious street food during your shopping in Korea. One of the best things to buy from Korea are cosmetics and skincare products which are available in most of the markets. 
10 Places For Shopping In Korea
Korea is a magical place to shop for various kinds of goods. The products found here have affordable prices and you will be able to go on the craziest shopping spree. For women, it is a dream come true to go shopping in Korea as you will get the best quality of cosmetics and skincare products. Here are a few places to go for shopping in Korea:
1. Myeongdong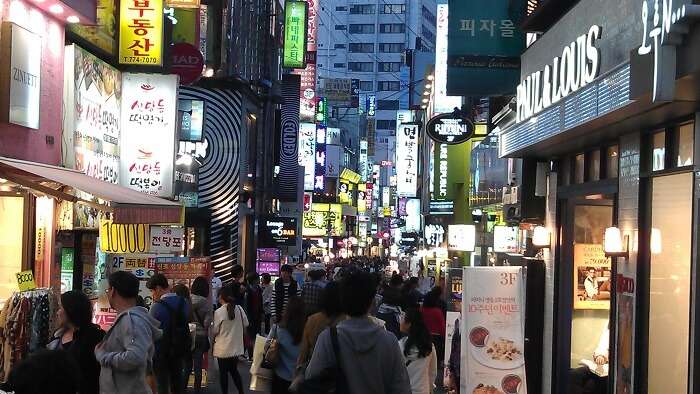 Myeongdong is the biggest shopping place in Seoul and has a variety of goods to buy in the market. The best thing about this place is that the rates are affordable and you can buy the best products with the best price. You will be able to buy clothes, shoes, accessories, jewellery, handbags and other goods which are locally manufactured or imported and they happen to be the cool things to buy from Korea. Myeongdong is famous for cosmetic and skincare goods with over a thousand outlets.
Address: Myeongdong-gil, Jung-gu, Seoul
Best to buy: Cosmetics and Skincare products
Must Read: Korean Food Guide: 15 Tasteful Korean Dishes For An Epicurean Delight!
2. Ewha Women's University Shopping Street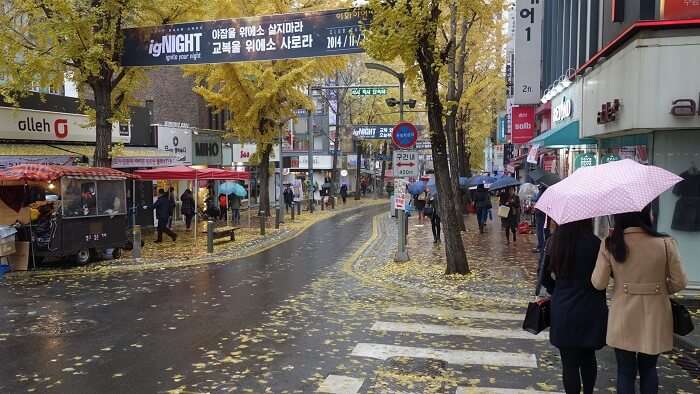 Ewha Women's University Shopping Street is a shopping place which suits the young students who go to the university. As it is situated in an institutional area, the rates are affordable and you will find a lot of things to buy. The goods here are trendy and stylish for young women and you will get to purchase clothes, shoes, accessories and discounted cosmetics. During your trip to Korea, this market is a must visit and you will find all the outlets of popular brands lined up on the streets.
Address: Ewhayeodae-gil, Seodaemun-gu, Seoul
Best to buy: Clothes and Shoes
3. Namdaemun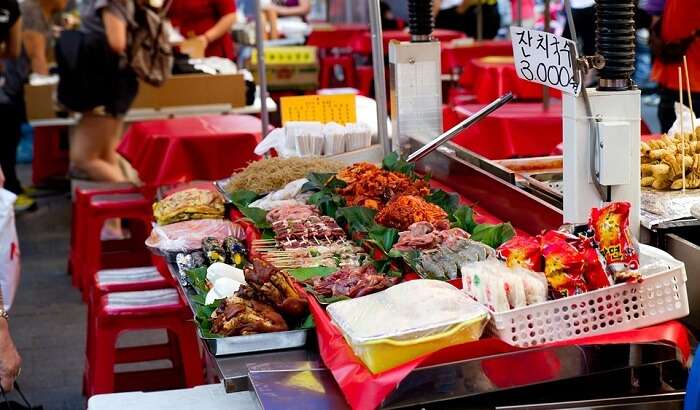 Namdaemun is a busy traditional market located in Seoul. It was named after Seoul's Great South Gate which had a huge importance to the ancient city. You will get leather products, clothes, handicrafts, utensils, carpets, electronics, imported products at the best prices. If you ask what is good to buy in Korea, it could be traditional oriental medicine which is available in Namdaemun. If you are into bargaining, this market is the right place to shop for you. لعبه الافلام You can also go for local shopping and buy groceries and household goods in this market.
Address: Namdaemunsijang 4 gil, Jung-gu, Seoul
Best to buy: Oriental medicine
Suggested Read: Bukchon Hanok Village: Know The Historicity Of This Korean Village
4. Dongdaemun Market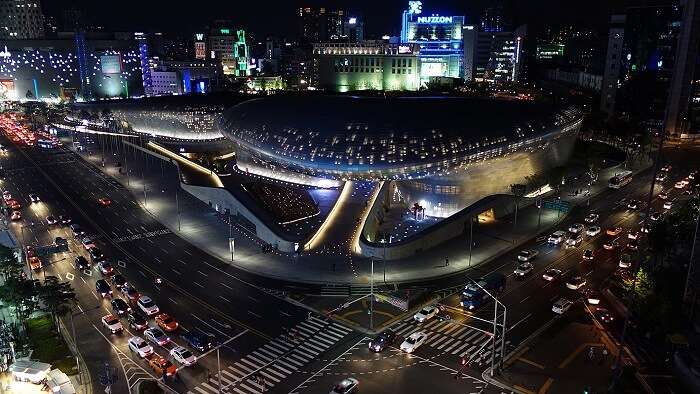 Dongdaemun Market is the best place to shop if you are looking for wholesale and retail. There are a number of shopping malls with thousands of shops and manufacturers. The brands are mostly international with items like textiles, clothes, shoes, jewellery, leather products, toys and electronics. There is a whole alley for street food and Mukja Golmok is famous at this place. This market is usually busy with festivities, shows and performances throughout the night.
Address: Euljiro 6(yuk)-ga, Jung-gu, Seoul
Best to buy: Mukja Golmok
5. Hongdae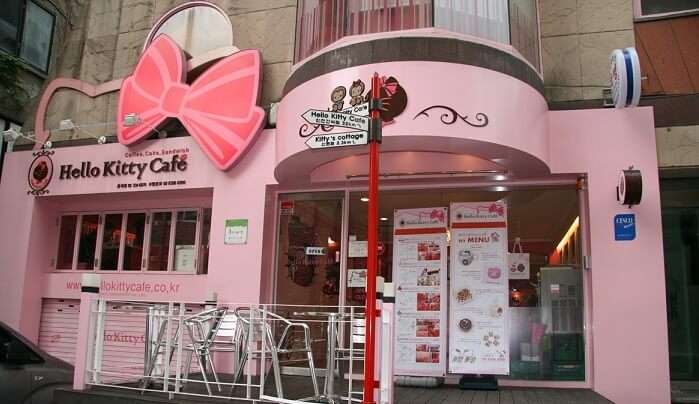 Hongdae is an area in Seoul which is greatly influenced by the youth population. It is a must visit during your Korea shopping and its unique underground culture style attracts a lot of youngsters from Hongik University which is situated near the market. The place is full of cafes, art galleries, fashion outlets, bars and clubs. The streets are lined up with outlets selling handmade clothes and luxury items. The weekend free market attracts huge number of people to experience live performances, festivals and cultural events which makes it a hub for young people.
Address: Hongdae, Mapo-gu, Seoul
Best to buy: Handmade items
Suggested Read: Banpo Bridge: All You Need To Know For Your Visit To South Korea's Marvelous Attraction
6. In-sadong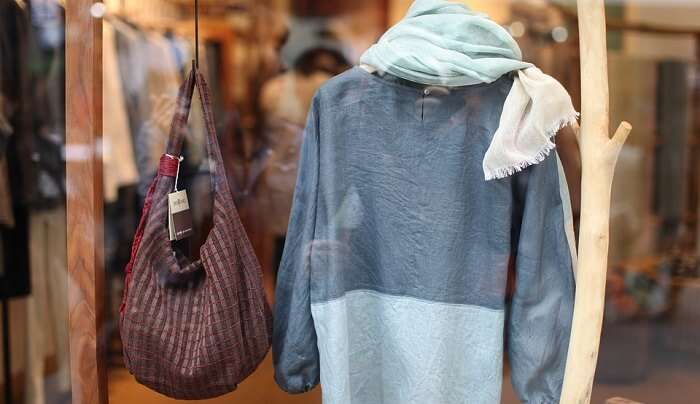 In-sadong is the best market to buy traditional and antique products in Seoul. You will be able to buy a lot of authentic items like hanbok which is the traditional clothing of Korea. Hanji, a traditional paper made in Korea is also a magnificent item to get as a souvenir while you visit this market. بايرن ميونخ دوري ابطال اوروبا The bookstores and art galleries are the enjoyable spots to check out if you are into literature and art. During the weekend, the streets are filled with concerts, art exhibits and Korean street food.
Address: Insadong-gil, Jongno-gu, Seoul
Best to buy: Traditional items
Suggested Read: Top 10 Reasons To Visit South Korea & Have A Blast With Your Family
7. Busanjin Market

Busanjin is a shopping mall where you can find hundreds of shops selling different type of goods. The best goods to buy in this market are clothes, shoes, bags, textiles and souvenirs and you may get them at affordable prices. It is also considered to be the best shopping place to buy Hanbok, the traditional costume of Korea. yyycasino You can get the finest materials like silk, rayon, cotton and satin with designs and patterns on and they are cheap things to buy in Korea. Visit Busanjin during your stay in Busan and get the finest cloth materials with reasonable prices.
Address: Beomil-dong, Dong-gu, Busan
Best to buy: Hanbok
Suggested Read: Korean Nightlife: 10 Awesome Places To Visit As The Sun Goes Down
8. BIFF Square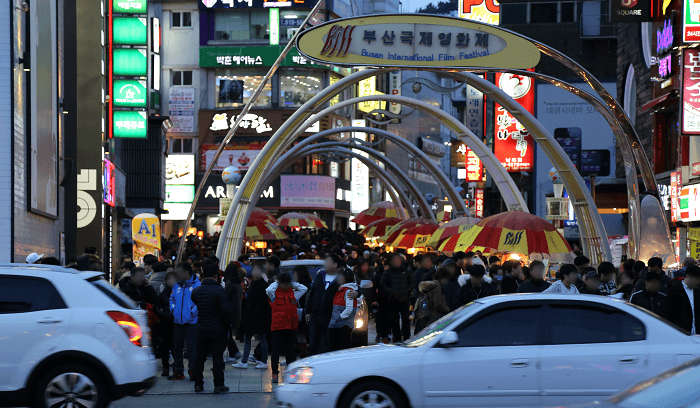 BIFF Square is a long street in Busan where a number of movie theatres, outlets and cosmetic shops are lined up. The market looks breathtaking at night with the lights and decorations of the stalls. There are different types of shops selling a variety of products. Most of the goods sold here are affordable while a few of them can be a little expensive. The place is filled with youngsters and the goods sold here are trendy. You will find several food stalls to get the best Korean street food.
Address: BIFF Gwangjang-ro, Jung-gu, Busan
Best to buy: Street food
Suggested Read: 6 Places To Visit In Seoul For A Spellbinding Trip To South Korea
9. Gukje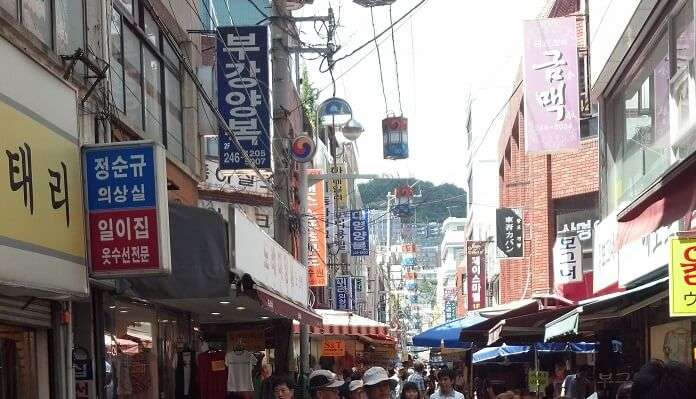 Gukje Market is one of the biggest markets of Korea and you will be able to find all kinds of goods in this market. It was set up following the Korean war by refugees who fled to Busan and they set up stalls to make a living. The place offers you goods from electronics to fruits and vegetables. As it is an outdoor shopping place, there are vendors along the streets. You can get clothes, food and handicrafts at affordable prices in this market.
Address: Sinchang-dong 4-ga, Jung-gu, Busanjin
Best to buy: Groceries
Suggested Read: 7 Amazing Restaurants In Busan: Enjoy The Best Of Korean And Other Cuisines Here
10. Lotte Duty Free Shop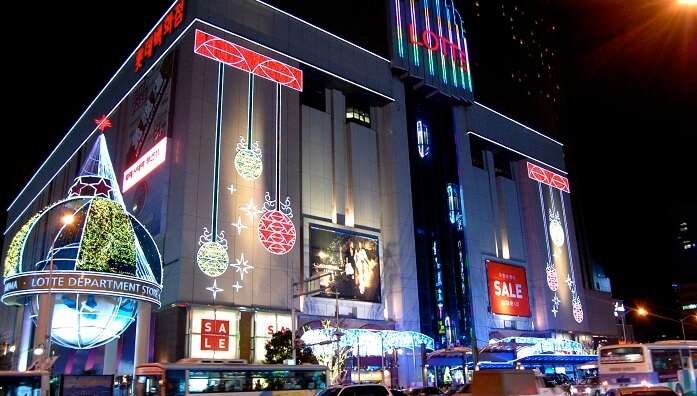 The Lotte Duty Free Shop is a chain store in Korea where you can get all types of goods in one place. It is situated in Busan and the store occupies a couple of floors. You can get the best imported goods in this store with cheaper prices. The Lotte Duty Free Shop is also available in other cities of Korea like Seoul.
Address: Bujeon-dong, Busan
Best to buy: Imported items
Further Read: 8 Hotels In South Korea That Are All About Class, Comfort, And Convenience!
Korea has the most exciting places to shop and the best products to buy. Seoul and Busan are known to be the shopping centres of Korea.You can get the best quality goods at affordable prices during your shopping in Korea. Don't miss out on the street food during your stay in the country as Korea has the most finger licking street food. Grab the most suitable package to go on a vacation to Korea from TravelTriangle and shop till you drop on your exciting holiday.
People Also Read