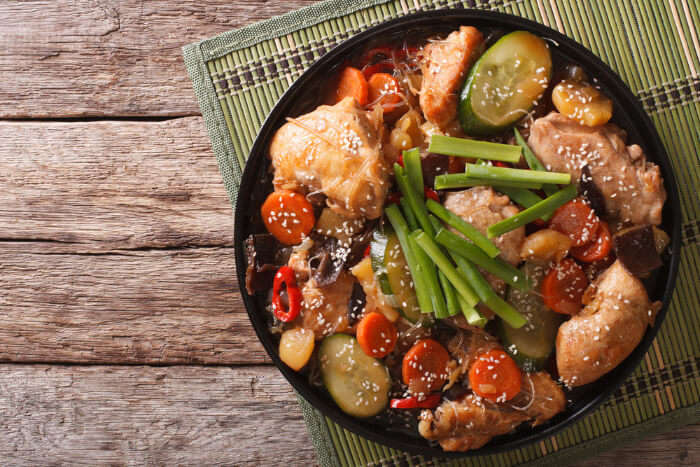 If you are a food connoisseur, you know how revered Korean Food is on World Cuisine Map. There is so much more to it than Kimchi. And, much like any Asian Cuisine, Korean Food too is an acquired taste.

Korean cuisine evolved through years of social and political changes. Unlike Western course meal, Korean food has main and side dishes. The traditional Korean food consist of five main colour- green, red, yellow, white, and black. Each of them signify a direction, a natural element, and a health benefit.
For those who want to try out Korean Cuisine and don't know how to begin, here is a list of all Korean dishes to put on your 'Try-it' list.
Korean Food Guide: Top Must-Try Dishes
Here is a Korean food list that you must should try out this year. Apart from the usual Kimchi and Korean BBQ dishes, there is much more to Korean cuisine that a foodie needs to know.
Bibimbap
Japchae
Samgyeopsal
Kimchi
Haemul Pajeon
Kimbap/Gimbap
Sundubu Jjigae
Tteokbokki
Seolleongtang
Patbingsu
Hangover Stew
Kongguksu
Jjajangmyeon
Chimaek
Soy Sauce Crab
1. Bibimbap (Rice Bowl)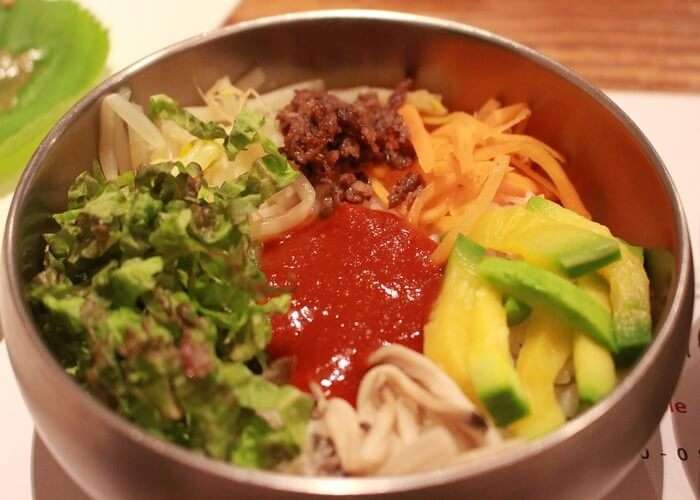 For those who find comfort in food bowls, Bibimbap will surely leave you filled and comforted. Bibimbap is a tasty mixture of rice, vegetables, beef, gochujang (hot chili paste), and a fried egg seasoned with soy sauce and sesame seeds.
Bibimbap was created as a Royaldish in yesteryears but slowly it became the favorite staple lunch meal among the Korean dishes.
Must Read: 5 Places Worth Exploring On Korea Tour-Land Of Morning Calm
2. Japchae (Stir-Fried Glass Noodles)

Arguably Korea's favourite noodle dish, Japchae is made up of glass noodles stirred in sesame oil with beef, mushrooms, and an assortment of other vegetables. These clear, thin noodles are made with sweet potato.
Unlike other Asian noodle dishes which are soupy, Koreans find it impolite to eat with bowl so close to the mouth. So, they use spoon along with metal chopsticks to slurp these flavorful noodles.
Suggested Read: Singapore Street Food Guide: What To Eat At The Best Places To Pamper The Foodie In You

3. Samgyeopsal (Korean BBQ)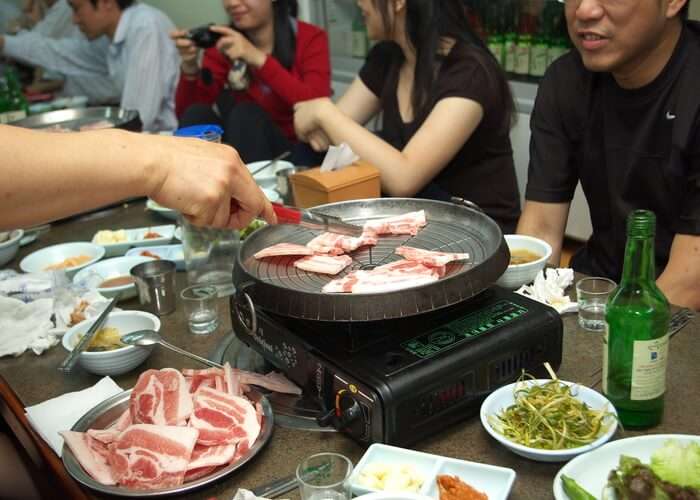 Koreans have a things for pork. And, Samgyeopsal is their style of BBQ. If you are a non-vegetarian with an affinity for pork meat, you ought to try Samgyeopsal. The dish is simply the thick slices of pork belly meat grilled on your table and not marinated. The strips are dipped in seasoning made with sesame oil and wrapped in lettuce along with a strip of garlic and onion. It is a popular Korean meal.
Suggested Read: 26 Places To Visit In Korea During Winter That Would Hook You With Their Charm
4. Kimchi (Spicy Fermented Vegetables)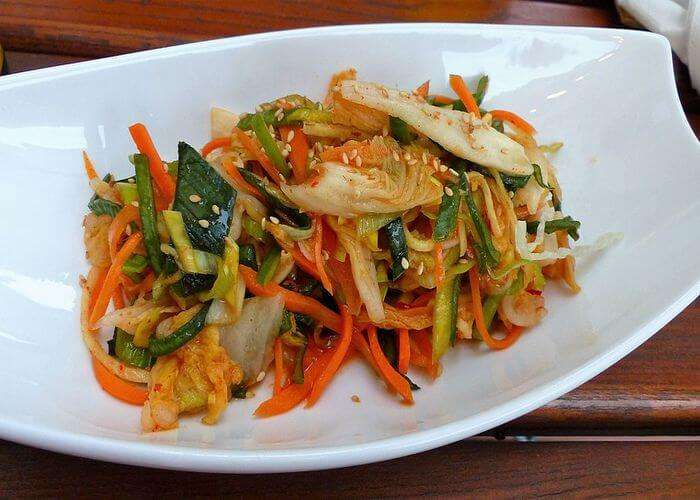 Kimchi is the first thing that comes to our mind on the mention of Korean food. It is the best way to get familiar with the Korean Cuisine. Consider it a spicy, crunchy salad made up from fermented vegetables with cabbage as its main ingredient.
It has high nutritional value, fibre content, and low calorie count. The quintessential Korean food item, Korean dining is incomplete without this delectable side dish.
5. Haemul Pajeon (Seafood Vegetable Pancake)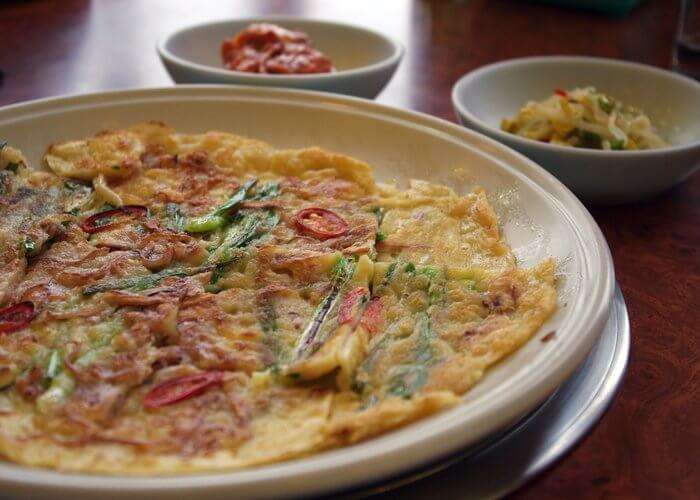 For all seafood lovers out there, Haemul Pajeon is one dish you should put on your list. Crunchy on the outside, this pancake is made with rice and egg batter mixed with a variety of seafood and green onions. Common seafood items include shellfish, oysters, shrimp, and squid.
The savoury Korean pancake dish is usually accompanied with Korean Rice Wine – Makgeolli. It may taste sweet but it is as strong as any alcohol. So, drink up with caution.
Suggested Read: Thailand Street Food: A Gastronomical Guide To The Best Local Dishes And Where To Find Them!

6. Kimbap/Gimbap (Korean-Style Sushi)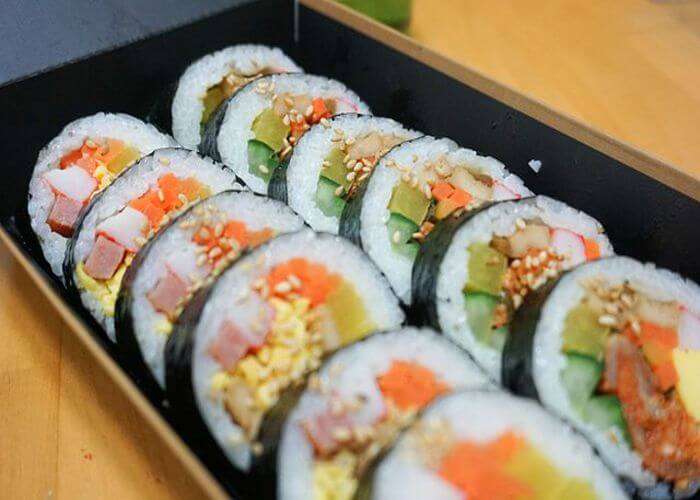 Gimbap or Kimbap is a popular grab-and-go Korean street food which resemble a lot like Japanese sushi rolls. Too pretty to eat, this Korean food recipe is made with sushi rice, meat, spinach, and stir-fried vegetables wrapped in a seaweed roll. The roll is then cut to small bite-sized discs and served with kimchi as side dish. You ought to try this next time you are in Seoul.
7. Sundubu Jjigae (Soft Tofu Stew)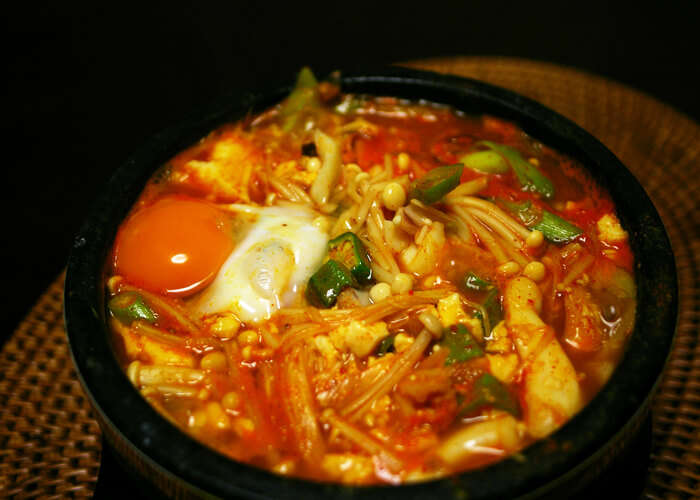 Soft Tofu Stew is a party of unusual flavours in a bowl. A popular Korean Stew is made with Tofu, vegetables, meat, seafood, and chilli paste with a raw egg thrown over the top. The stew is served in a large stone bowl alongside rice and kimchi.
Having different variations in different regions, this hot stew is a delightful combination of unexpected flavours yielding delightful sensations.
8. Tteokbokki (Spicy Red Rice Cake)

Tteokbokki is a famous Korean street food in Seoul which is made with sweet and chewy rice cakes and fish cakes. The steamed rice cakes are stirred up with fish cakes and scallions in a special sauce made if chilli paste and soybean paste. The flavorsome street food is a must-try for those who like hot and spicy flavours.
Suggested Read: A Vegetarian's Guide To Malaysia: Exploring Dishes, Cuisines, And Restaurants

9. Seolleongtang (Ox Bone Soup)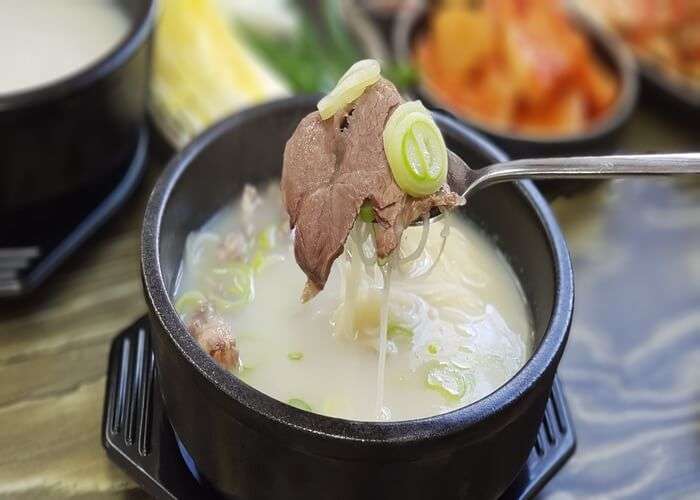 Just like we Indians have 'Kharode ka Soup' in winters, Seolleongtang is a similar version and a popular Korean food name in the households. The winter soup is made from ox bones and beef bones boiled over for hours. The white-colored soups is reach in proteins. The frugal noodle soup is seasoned with salt, pepper, garlic and scallions. There is nothing like a bowl of this flavorful soup on winter days.
10. Patbingsu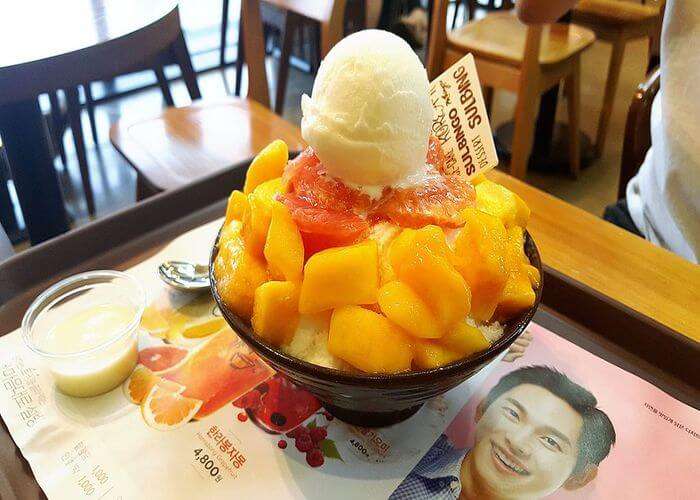 How can this list of Korean food be complete without a dessert? Made with ice shavings and sweet toppings, Patbingsu is the most popular dessert in Korea. It is a bowl of a huge mountain of ice shavings and condensed milk decorated with chopped fruits and red beans (bingsu).
Koreans have a tradition of eating a dessert together from a large bowl. So, if you get a huge Patbingsu bowl at a restaurant, don't be intimidated. However, you wouldn't want to share this tasty dessert with anyone.
11. Hangover Stew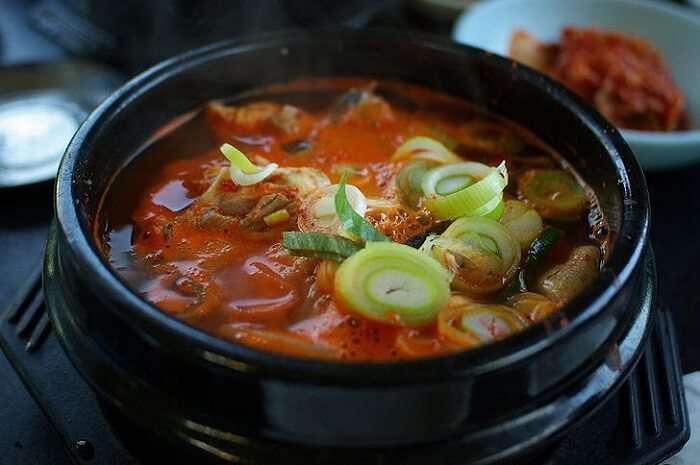 Image Source
South Korea's hangover culture is equally developed as its drinking culture. There are several kinds of stews prepared specially meant to drink either before or after drinking. They are made from beef broth along with cabbage, radish, bean sprouts, spices, and other food items that enhance the flavor of this stew.
Suggested Read: 5 Best Indian Restaurants In Korea To Devour A Scrumptious Meal
12. Kongguksu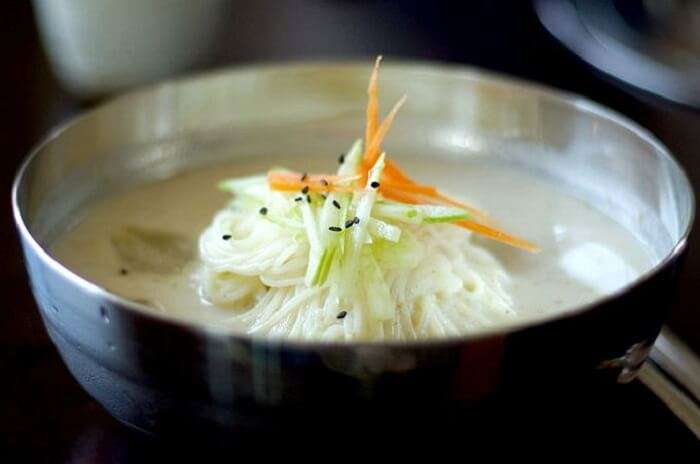 Kongguksu is a seasonal dish that is not everyone's cup of tea. This textured noodle dish has a subtle flavor of beans which is eaten in summer. It is not only a highly nutritious dish but also vegetarian Korean food. If you are a vegetarian, then you must try Kongguksu when in Korea.
13. Jjajangmyeon

Image Source
Originally a Chinese dish, Korean has acquired Jjajangmyeon and made their own thicker, flavorsome and tastier version of it. It may not be the most famous Korean food, but Koreans eat Jjajangmyeon at least once a week. They are so fond of this dish that they also have a delivery shop for it on speed dial.
14. Chimaek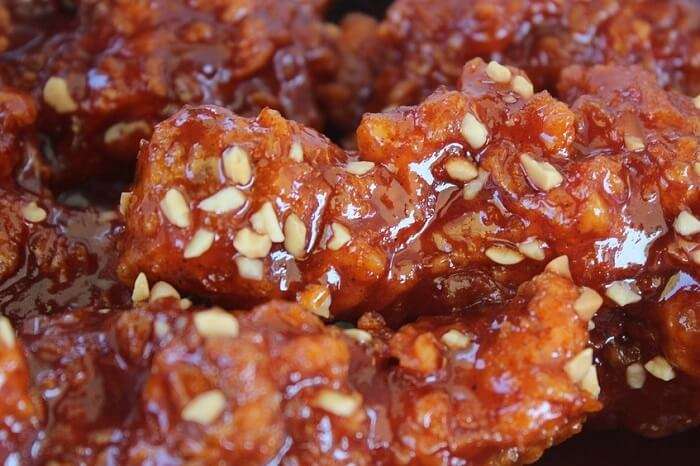 Image Source
Chimaek is a combination of two mundane foods chicken and beer which have been converted into a flavorsome dish. This dish is devoured by Koreans and they favor to eat this rather than chicken or beer itself. If you too are bored with these items alone, then you might like the lip-smacking Chimaek.
Suggested Read: 8 Homestays In Korea That Will Turn Your Vacation Into A Staycation
15. Soy Sauce Crab

Crab marinated in soy sauce or ganjang gejang is an addictive food for Koreans. It has a tangy bitter taste and is eaten cold instead of hot. If you like to try out new food items, then this food is definitely meant for you since the taste of it comes as a shock for first-timers. Although, it is stealing the show of other seafood and creating a niche for itself in the food market.
Further Read: 8 Hotels In South Korea That Are All About Class, Comfort, And Convenience!
Korean Food is a must-try for all those who are always on a lookout for new food adventures. Plan a vacation with TravelTriangle. Its cuisine is strong with flavors and a delightful experience for your taste buds. While many won't relish it, some will love it with all their heart and soul. As mentioned before, Korean food is an acquired taste.
Disclaimer: TravelTriangle claims no credit for images featured on our blog site unless otherwise noted. All visual content is copyrighted to its respectful owners. We try to link back to original sources whenever possible. If you own the rights to any of the images, and do not wish them to appear on TravelTriangle, please contact us and they will be promptly removed. We believe in providing proper attribution to the original author, artist or photographer.
Please Note: Any information published by TravelTriangle in any form of content is not intended to be a substitute for any kind of medical advice, and one must not take any action before consulting a professional medical expert of their own choice.
Frequently Asked Questions About Korean Food
What is traditional Korean food?
Here are some of the traditional Korean food recipes that you should try on your trip to South Korea:
1. Bibimbap
2. Korean dumplings
3.Stir-fried Korean noodles
4. Kimchi stew
5. Korean Beef Barbecue Bulgogi
What is chulpan Korean food?
It is actually chul pan gu e which means mixed rice topped with a mixture of seasoned vegetables and meat. You will find this at a number of Korean cafes.
Is Korean food healthy?
Studies may suggest that Korean food is healthy as it low-calorie food and involves soup at every meal. It also consists of a lot of vegetables. Koreans stay slim and healthy eating Korean food. Most of Korean food is fermented which is very good for your gut.
What is the healthiest Korean food?
Kimchi is considered to be a healthy choice as it is fermented. Fermented foods are good for the gut.
Is food expensive in Korea?
Korean food is not expensive, however, Western food is. Also, you pay what you see on the price tag. So, there's no service charge or delivery fee to pay.
Is Korean food low carb?
Not apparently. Korean food includes steamed rice and carbs like beef and pork. It is low in calories and has good carbs. So, you are good.
Why is Korean food popular?
Korean food is popular because Koreans have perfected the art and science of fermenting. Also, Korean food includes sweet, sour, spicy, and tangy that complete your taste spectrum. So, there you go.
What is the national dish of Korea?
Kimchi is the national dish of Korea and boy is it delicious.
People Also Read