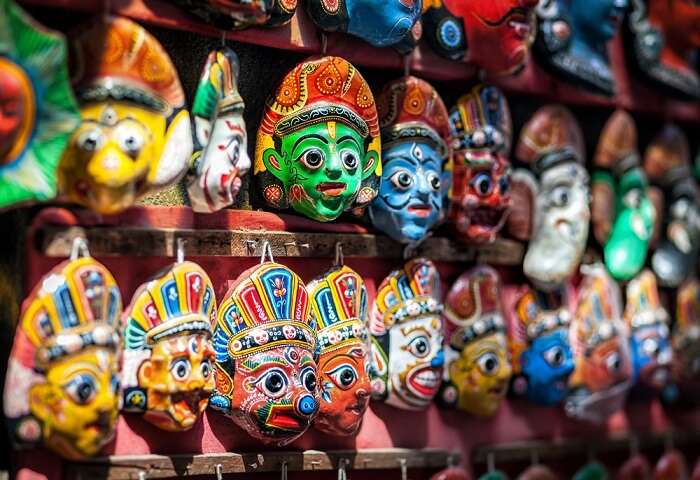 When Nepal comes into a conversation, it is generally because of all the Politics around it or the giant Himalayas it holds. But shopping in Nepal is not a very common thought. But it couldn't be more wrong. Nepal is a great destination for shopping too!
There are many things that can be exclusively found in Nepal. Nepal has a rich history and culture which gives birth to a variety of craftsmanship. Heavenly temples and stupas will surely be a part of your Nepal itinerary but don't forget to visit the vibrant markets of Nepal, offering an enormous variety of products to its guests. These markets exhibit the true culture of this landlocked country and you would surely want to grab these tints of Nepal bank home!
10 Things To Buy While Shopping In Nepal
Nepal travel is not a very expensive tourist destination, and so is shopping. Travelers can bring out the shopoholics within them and enjoy shopping following things in Nepal.
1. Thangka Paintings 
2. Rice Paper items
3. Statues and masks
4. Traditional Jewelry
5. Hemp Bags
6. Singing Bowls
7. Pashmina
8. Khukuri
9. Handicrafts
10. Tea
1. Thangka Paintings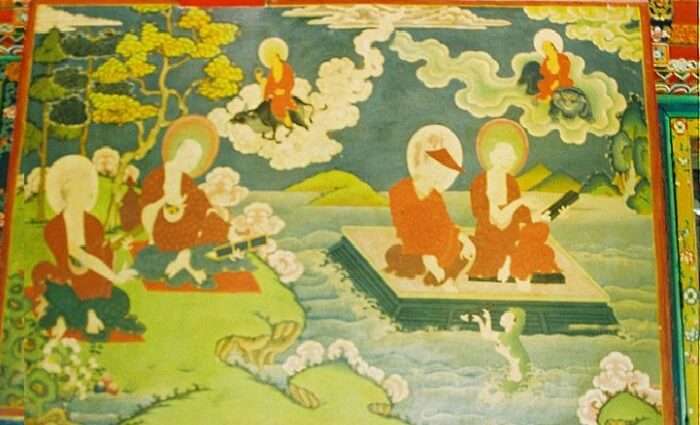 Thangka Paintings are religious symbols of Hinduism and Buddhism. They are made out of a textile-like cotton and silk. These paintings are very beautiful and interesting and generally has Buddha as their object. They are not flat lay paintings on textile but embroidery made on the textile mouth and then covered with silk. This item will turn out one of the best traditional Nepali gifts for travelers.
Where to buy from: Boudha and Bhaktapur market
Suggested Read: These 10 Heritage Places In Nepal Would Leave You Spellbound For Sure!
---
Looking To Book An International Holiday?
Book memorable holidays on TravelTriangle with 650+ verified travel agents for 65+ domestic and international destinations.
---
2. Rice Paper items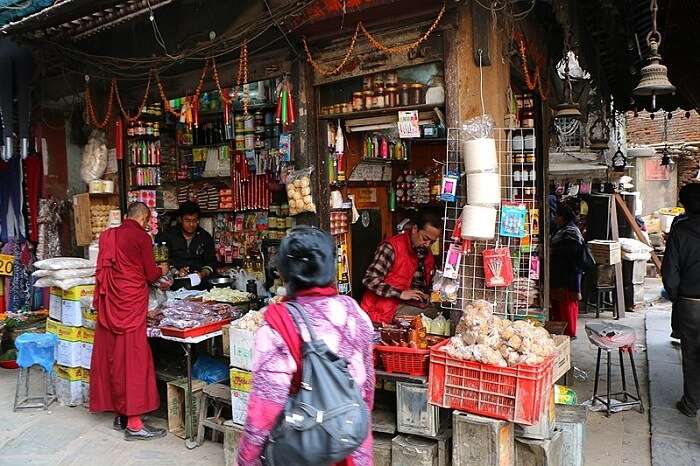 Image Source
Rice paper is paper made out of rice husk. The whole process of creating this rice paper is done by hand and is a very tedious process. Earlier is was used for manuscripts and paintings but over the time it is used for making journals and diaries. This is a great traditional Nepali gift for friends and family members.
Where to buy from: Public markets of Kathmandu and Pokhara
Suggested Read: These 10 Heritage Places In Nepal Would Leave You Spellbound For Sure!
3. Statues and masks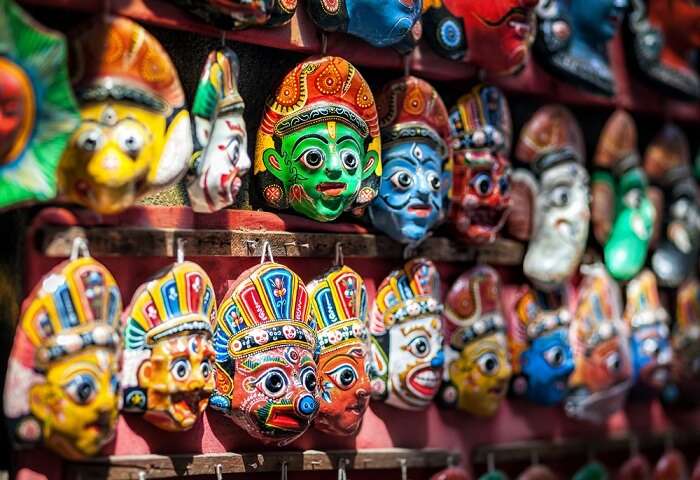 Another very interesting artifact that can be found in Nepal is the statues and masks that are made over there. There create their statues and masks inspired from mythical creatures. These masks are very beautiful and is a must buy while shopping in Nepal. These masks are also worn by people during their festivals. These masks can surely enhance the beauty of your walls back home with their vibrant colors! Don't forget to check out these interesting items while wandering in the streets of Nepal.
Where to buy from: Shops in Bhaktapur
Suggested Read: Nepal Nightlife: 5 Places That Prove It Is The Perfect Hotspot For Your Evening Escapades
4. Traditional Jewelry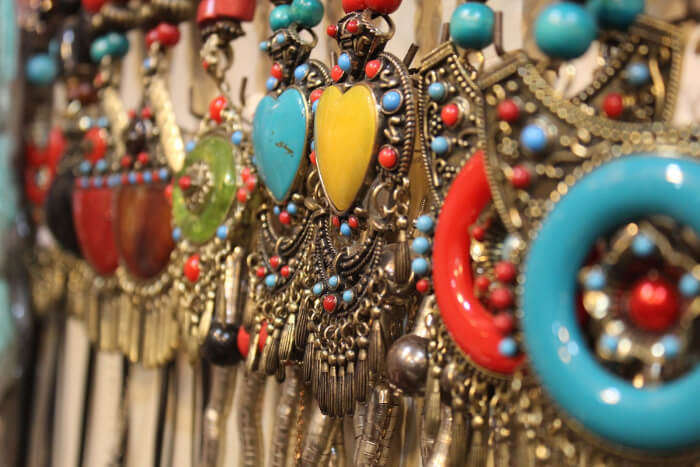 Nepal is also famous for its jewelry. Make sure to go jewelry shopping in Nepal. Kathmandu is the prime location for all these jewelry. These jewelry have very intricate designs and long beaded necklaces. The alloy is also used to create Newari utensils which are also a great buy. Whether traveling with your family or not, Nepal gives you a chance to check out some unique dazzling items for your loved ones!
Where to buy from: Asan market in Kathmandu
Suggested Read: Consider These Snug Homestays In Nepal Your Home While Backpacking In The Paradise
5. Hemp Bags

If you're still thinking what to bring form Nepal then another great buy is the hemp bags. These bags are spacious, biodegradable and very fashionable. These bags will go great with any indo-western or boho look. They also have very detailed work on their front. So, just visit the market places and grab a hemp bag for yourself!
Where to buy from: Shops in Bhaktapur
Suggested Read: Visit The Bardia National Park To Experience Nepal's Absolute Wilderness
6. Singing Bowls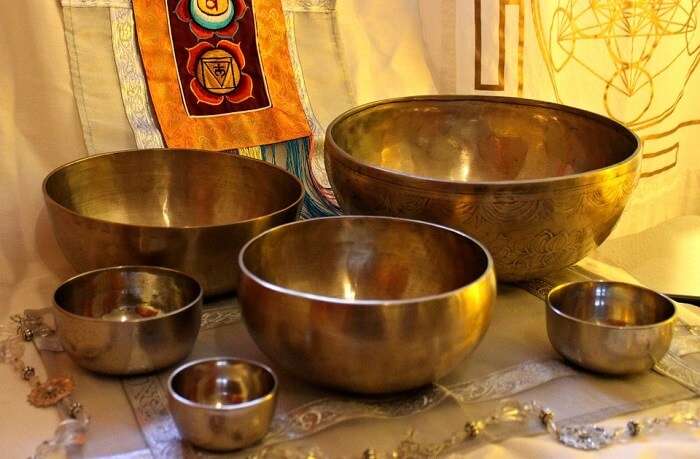 Apart from the artistic souvenirs, Nepal is also known for its abundance in the making of singing bowls. This is one of the beautiful things to take from the country, crafted with metal this bowl produces a soothing sound and its vibration brings out the healing qualities and creates an ambiance for meditation. The majestic sounds of these bowls will surely entice you, motivating to carry a pair back home. You don't need to be a musician to create a melodious sound from these bowls. Just simple pats are enough to produce the soothing sound.
Where to buy from: Thamel or Durbar Marg
Suggested Read: 11 Nepal Travel Tips For Traveling To The Country Like A Pro!
7. Pashmina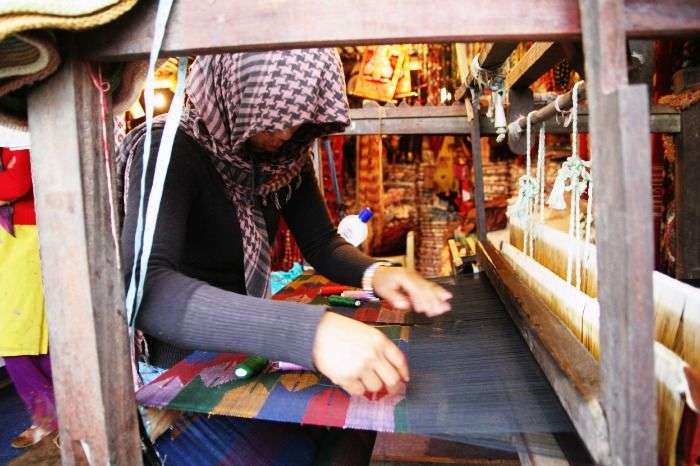 Pashmina, popularly known as Cashmere in Nepal is the premium quality wool fiber. It is called the Soft Gold king of fibers and has the coziness with warmth. This fiber is made from the outer skin of Himalayan goats that are found in the higher plateau regions of Nepal. If you are looking for clothes shopping in Nepal, then don't forget to check out the exclusive Pashmina collections!
Where to buy from: factories in Thamel or exclusive Pashmina Shops
8. Khukuri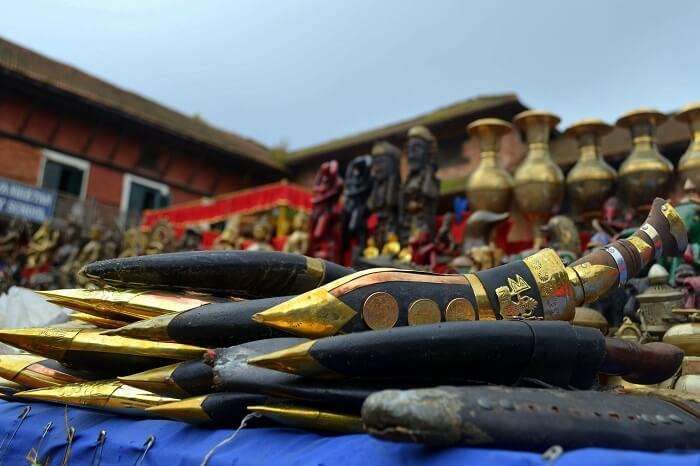 Nepali Khukuri is a knife that originated from the Indian subcontinent and is associated with the Nepali Gorkhas. It is a significant weapon used by the Nepalese Army and by the Gorkha regiment of the Indian Army. You can check out the various kind of Khukri while shopping in Nepal and get one for yourself too. These Khukri are either in a decorated wooden scabbard or wrapped in leather. Traditionally, the wooden scabbard also holds one or two smaller blades.
Where to buy from: Gorkha Zone Khukuri House in Thamel
9. Handicrafts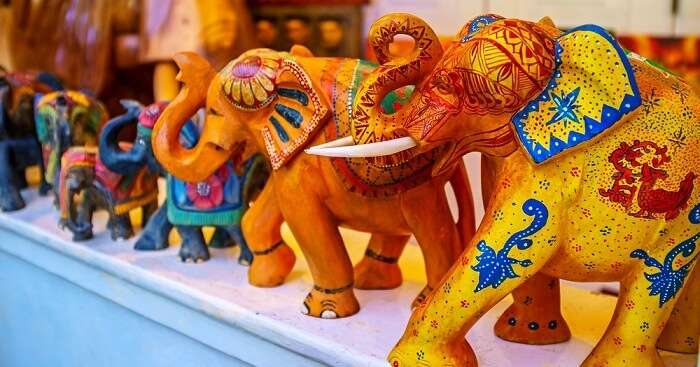 Nepalese handicrafts are quite unique and feature items like a prayer wheel, vibrant traditional masks, rare puppets, beautifully carved wooden sculptures, and pottery items. The wooden carved handicraft items are the best options to grab when you don't know what to buy in Nepal! You can check these handicraft items in the local markets or at popular attractions while sightseeing.
Where to buy: Bhaktapur, and Traditional Craftsman's Colony in Patan
10. Tea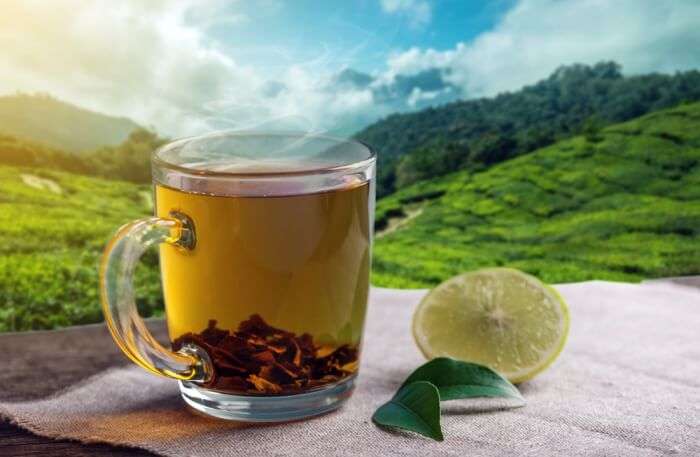 Nepal is one of the best places to buy some exclusive quality of teas. You will realize the love of the local people for their special tea while vacationing in this mesmerizing country and getting a pack of this local Chiya or Nepali tea back home, will surely be a great idea.
Where to buy: Thamel Chowk
Nepal Shopping Tips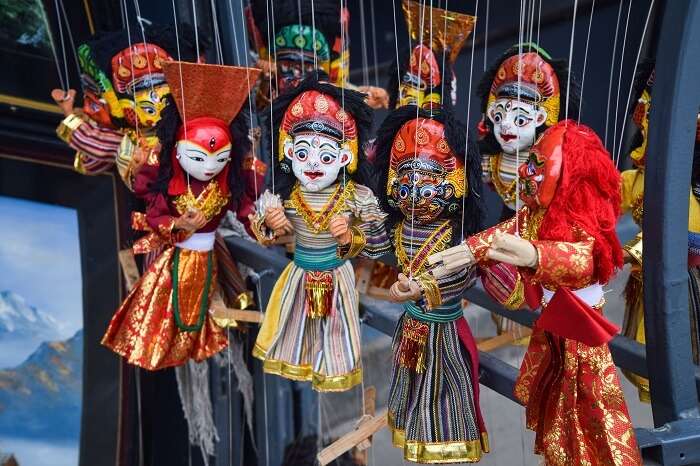 Few tips that will come in handy while shopping in Nepal.
1. It is very common to bargain in Nepal so to get the best buy do bargain.
2. Most of the item that is good for buying are delicate in nature so make sure to ask the vendor's to give bubble wrap.
3. Make sure that the products you buy are actually made in Nepal and are not made in China. Made in China products donot have good quality.
Further Read: Top 10 Nepalese Food Items To Savor Beyond Momos & Pulao
Have you already decided Nepal as your next shopping destination? We are here to offer you a completely customizable trip to Nepal  at minimum rates that will make your dream trip come true.
Frequently Asked Questions About Shopping In Nepal
What spices to buy in Nepal?

Nepal is known for numerous spices such as pepper, cardamom, red chilly and black chilly, and cumin seeds.

What should I wear in Nepal?

Wearing a t-shirt, windbreaker, shorts, and lightweight pants will be a smart alternative for males. However, females are advised to avoid sundresses, high heels and revealing clothes in Nepal.

What is famous in Nepal?

Nepal is famous for numerous handmade goods. The country is known for its unique and rare art and architecture and one can check out the meticulous collections exhibiting the richness of Nepali art. Metalworks, tea, puppets, sculptures are other items that lure tourists in the beautiful country.

What are the best things to shop in Nepal?

You can find some of the best things to shop in Nepal such as Statues and masks, Hemp Bags, Thangka Paintings, Pashmina, Rice Paper items, Traditional Jewelry, Khukuri, Tea, Handicrafts, Singing Bowls etc.

What are the best places to visit in Nepal?

Some of the most amazing places to visit in Nepal such as Kathmandu, Pokhara, Bhaktapur, Annapurna, Chitwan National Park, Namche Bazar, Nagarkot, Lalitpur, Jomsom, Lukla, Ghode Pani, etc where you can go for a holiday to remember in Nepal.

What is Nepal famous for?

Nepal is known for the peace, its tryst with divinity and stunning views. Also, it is well known for being the home to the highest peak in the world that is Mount Everest, also this one is a friendly country.

What are the best souvenirs to take back from Nepal?

There are a lot of options that you get while taking back things from Nepal for your friends and family such as Statues and masks, Hemp Bags, Thangka Paintings, Pashmina, Rice Paper items, Traditional Jewelry, Khukuri, Tea, Handicrafts, Singing Bowls etc.

What is the famous food of Nepal?

Yomari, Gundruk, Sel Roti, and Tongba are some of the best Nepalese food items that are a must-try.

What are the best experiences to try in Nepal?

You can get a variety of experiences in Nepal such as trekking, visiting the popular Chitwan National Park, trying the amazing mountain biking, going on a sightseeing tour in Kathmandu or trying the Mount Everest Helicopter Tour, visiting Bardia National Park, visiting Pokhara, etc.

What is the ideal time to visit Nepal?

The most ideal time to visit Nepal is from October to December as this is the time when the sky is clear and the views are captivating. The weather in Nepal is dry till April.
---
p>People Also Read: