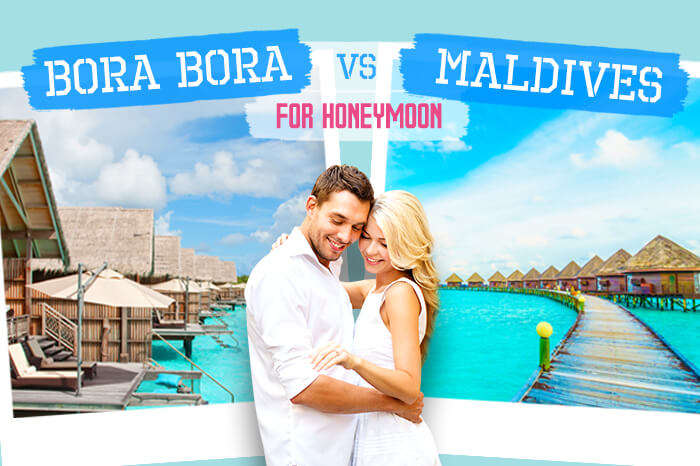 Unarguably among the most glamorous honeymoon destinations in the world, Maldives and Bora Bora are bound to appear on every couple's bucket list. The clash of beauty of the two kings of honeymoon has torn many into making the painful decision – whether to choose Maldives or Bora Bora for honeymoon. The uncanny similarity between the two island destinations in their highlights – white sand beaches, islands, marine life, and fancy stay options perched above idyllic waters – makes the decision all the more difficult.
But, however unfair it may appear, the choice needs to be made. And the following factors will help you decide on your pick between Maldives and Bora Bora for honeymoon.
Best Time To Visit & Weather Conditions
---
Maldives Honeymoon Packages On TravelTriangle
Romance on paradise island of Maldives. Go on a snorkeling trip, visit the coral islands, go fishing, or explore the sandy beaches. Honeymoon packages at best rates. Get customized honeymoon deals from expert agents on TravelTriangle. Book Now!
---
Best time to visit Maldives
January to March is the best season to visit Maldives for honeymoon. November, December, and April are also well-suited for a honeymoon in Maldives. Climate in Maldives The minimum temperature in Maldives during the best season is 25° C. The maximum temperature in Maldives during the best season is 31° C.
Suggested Read: Bora Bora Honeymoon: Your Guide To Plan An Extravagant Affair On The Exotic Island
Best time to visit Bora Bora
July to September is the best season to visit Bora Bora for honeymoon. April and June are also well suited for a honeymoon in Bora Bora and other parts of French Polynesia. Climate in Bora Bora Bora Bora also enjoys a tropical monsoon like climate. The minimum temperature in Bora Bora during the best season is 23.4° C. The maximum temperature in Maldives during the best season is 29° C.
Verdict
Since both Maldives and Bora Bora enjoy a tropical monsoon climate with similar temperatures, the call is totally yours. Your go-to destination will depend entirely on the chosen month for honeymoon.
Maldives: 1 | Bora Bora: 1
Location & Travel Time
Location of Maldives
Maldives is located in the Indian Ocean, southwest of India & Sri Lanka. It is closer to Europe, Asia, and Africa.
Location of Bora Bora
Bora Bora is located in the South Pacific Ocean, northeast of New Zealand. It is located closer to countries in the continents of North America, South America, and Australia.
Verdict
Though location and time of travel should hardly be a deciding factor, it is the jet lag that can cause problems. Hence, it is often suggested to travel to destinations closer to your time zone.
Maldives: 2 | Bora Bora: 2
Landscape & Geography
Maldives
Maldives is defined by plains and white shores that vary from mostly sandy to marshy wetlands and tiny resort-cum-islets. The view of the endless stretches of the Indian Ocean, occasionally interrupted by resort islets, is what you would enjoy. And the beautiful views of the sun setting into the ocean are beyond compare.
Bora Bora
Rugged, volcanic, & mountainous island featuring a large lagoon surrounded by beautiful coral reefs and islets – this is how one defines the geography of Bora Bora.
Verdict
The uninterrupted views of the Indian Ocean in Maldives are, undoubtedly, beautiful. But, along with the blue waters, Bora Bora offers mountains and peaks. This holistic view gives the latter an edge.
Maldives: 2 | Bora Bora: 3
Places To Visit
Places to visit in Maldives on honeymoon
Fihalhohi Island, HP Reef, Artificial Beach, Banana Reef, Sun Island, and Malé are some of the places to visit in Maldives. However, most of these romantic places in Maldives are suitable for beach activities and watersports.
Places to visit in Bora Bora on honeymoon
Contrary to Maldives, the tourist attractions in Bora Bora – Vaitape, Mount Otemanu, Matira Beach, Anau village, Alain Gerbault Memorial, and Taihi Point – are more diverse in their nature. These romantic places in Bora Bora offer splendid views and stunning backdrops for the perfect honeymoon pictures.
Verdict
Yes, Bora Bora has a diversity in its attractions. But the quality of the beaches of Bora Bora is nowhere close to those in Maldives. The sand on the beaches of Maldives is so soft and the water so clear that it makes up for the lack of variety with ease. And, to be honest, why would the couples want to go anywhere else when there are too many romantic things to do on the beaches of Maldives itself!
Maldives: 3 | Bora Bora: 3
---
Planning your honeymoon in Maldives but confused about what to do? These Maldives honeymoon stories help you find your best honeymoon trip ever!
Real honeymooners. Real stays. Real opinions to help you make the right choice.
---
Things To Do
Things to do in Maldives on honeymoon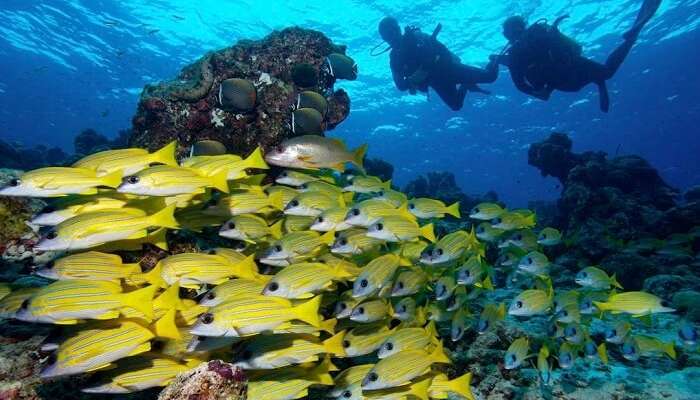 Scuba-diving, snorkeling, submarine riding, cruising, and safari boating are some of the best things to do in Maldives. In addition to the water sports in Maldives, couples can also enjoy long walks on the beautiful beaches, luxury cruise rides, and other boat rides.
Must Read: 10 Romantic Things To Do In Maldives On Your Dream Honeymoon
Things to do in Bora Bora on honeymoon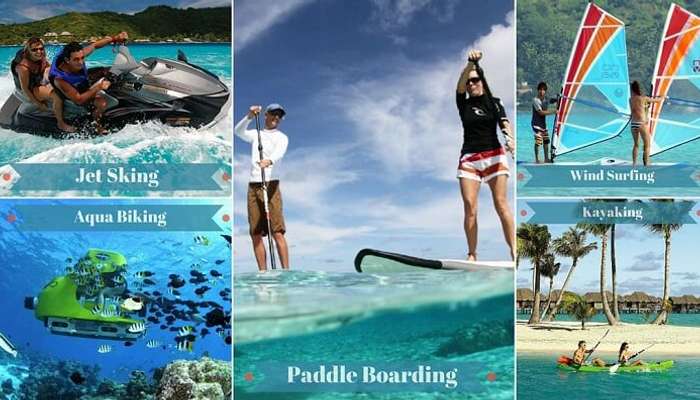 Bora Bora also offers a long list of water activities – snorkeling, kayaking, paddle boarding, jet skiing, aqua-bike riding, and windsurfing. And then there are some amazing tours – 4×4 tours (jeep safaris), bicycle tours, boat tours (ferries, speed boats, sailboats, glass-bottom boats, & kayaks), shark & stingray feeding tours, photo lagoon tours, helicopter tours, and aqua-bike tours – that can't be missed.
Verdict
The beautiful water of Maldives beats that of Bora Bora by a thin margin. And then there are the wonderful coral reefs in Maldives that make the diving experience all the more amazing.
Maldives: 4 | Bora Bora:3
Overwater Properties
Had the two types of overwater properties not looked so similar, I'd have asked you to go by the looks. However, they do. And, hence, we compared the two on 3 major parameters.
Overwater villas in Maldives
Privacy: The villas in Maldives ensure high levels of privacy. Even the balconies are not visible to those in the other villas. ♥
Cost: Most villas in Maldives are highly expensive.
Luxury: Honeymooners will never be in a position to question the facilities and luxuries offered in the overwater villas of Maldives. ♥
Must Read: 10 Best Resorts in Maldives For Honeymoon
Overwater bungalows in Bora Bora
Privacy: The destination overall has high levels of privacy. But the same cannot be said about the bungalows, especially the balconies.
Cost: The cost of stay in these overwater bungalows is extremely high.
Luxury: The overwater bungalows of Bora Bora are no less in the levels of luxury. ♥
Verdict
While both the options offer luxury at high prices, the water villas in Maldives ensure higher level of privacy to the honeymooners. Thus, Maldives manages to win this round.
Maldives: 5 | Bora Bora: 3
Culture
Maldives
Though the locals claim themselves to be very tolerant, it is best to adhere to the norms of the Muslim nation. Dress decently in the main town. Liquor is not sold on the locally owned islands. We suggest you not to carry it either on the sightseeing tours. Once you're back to your island resort, you're free to dress in style and drink alcohol.
Until not long ago, one could also see a gender bias in the country. Most of the staff members were either males or foreign females. The hypnotic performances of Boduberu – local Maldivian dance and music – also have all male cast.
Bora Bora
The Christian-dominated French colony has no dress codes or restrictions to adhere to. The tourism staff has a fair share of both males and females. And not just the gender equality, Bora Bora openly accepts the LGBT community as well and conducts Miss Trans-Tahiti Pageant for the trans-gendered Tahitians.
Verdict
Each culture offers different experiences. But the more welcoming & comfortable French Polynesian culture in Bora Bora does score some extra points here.
Maldives: 5 | Bora Bora: 4
Crowd Factor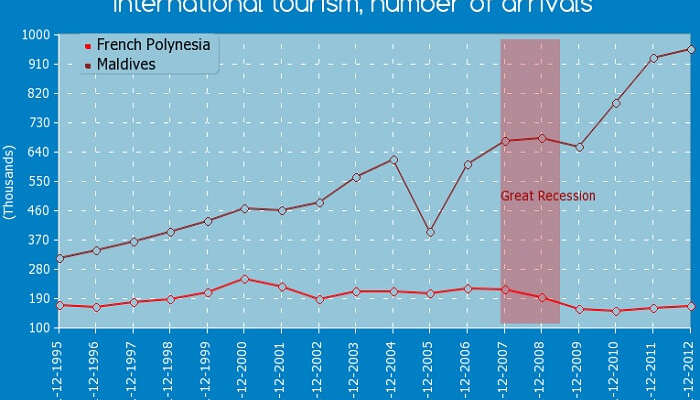 Maldives
Maldives is a much more popular destination and is flooded with tourists at all times. So, one can not hope to find privacy in public areas. Moreover, the tourists have a fair share of honeymooners/couples, families, and friends. However, as mentioned before, most resorts here offer high levels of privacy and seclusion.
Bora Bora
The French Polynesian areas see very little of tourist traffic. Most of these tourists are honeymooners. So, you can hope to be a lot more comfortable with your beloved even in the public spots.
Verdict
With a larger tourism influx in Maldives, the prices of flights and even hotels may be lower. But on grounds of larger privacy and comfort in public areas, Bora Bora wins this round.
Maldives: 5 | Bora Bora: 5
Food
Maldives
Food in Maldives is greatly influenced by Indian & Asian cuisines. The authentic Maldivian food is based a lot on curry, coconut, and seafood. Seafood grilled over coconut-infused charcoal is heavenly. And with the growing number of hotels & resorts, one can expect more variety in food and more varied price ranges.
In fact, dining has become a more differentiating factor for many resorts. Some have Michelin-starred chefs, grow their own produce, and offer organic food & healthy options. If you want the chef to cook you a private dinner on your deck or serve you a romantic dinner on the sandbank with your own seafood BBQ, some resorts offer that. Almost every resort can offer a wine pairing dinner prepared just for you. Let's not forget the impressive cellars with a large collection of wine at the high-end resorts.
Don't miss: The Ithaa Undersea Restaurant is an experience in itself.
Bora Bora
Vanilla is the key essence of French Polynesian cuisine. But, unlike Maldives, emphasis here is not on the Michelin-starred chefs; rather on the quality. The food, tough locally sourced & fresh, may become repetitive.
Luckily, being a French colony, Bora Bora knows its bread and pastries well. The aroma of freshly-baked croissants & bread and the breath-taking views go well with the fragrance & the taste of the food cooked in Vanilla sauce.
Verdict
A lot has to be imported to both Bora Bora and Maldives. And the food, therefore, is crazy expensive in either destination. But the fact that Maldives offers more variety in terms of experience and food makes it emerge as a winner in this domain.
Maldives: 6 | Bora Bora: 5
Final Verdict
Hurray! We have a winner – Maldives. But that's just us. Whether you choose Maldives or Bora Bora for honeymoon, it's totally up to you. And, regardless of the choice, you can be sure of a wonderful time in one of the two heavenly island honeymoon destinations.
Further Read: 10 Luxury Honeymoon Destinations To Choose From
But if you have decided to go with our verdict, think no more. Simply plan a honeymoon in Maldives now! And when you return do share your experiences with us.
Frequently Asked Questions About Maldives Or Bora Bora For Honeymoon
Q. What is the best time to visit the Maldives?
A. The best time to pay a visit to the Maldives is during the dry season when traveling around the island is much easier. The dry season in the Maldives persists from November to the month of April.
Q. What is the best time to visit Bora Bora?
A. The best time to visit Bora Bora is during the shoulder season that commences in November and continues through April. The temperature during these months hovers from the mid-70s to mid-80s, allowing travelers to experience pleasant and comfortable weather.
Q. What are some romantic things to do in the Maldives?
A. Some of the most romantic things to do in the Maldives include diving, island hopping, massages, boat riding, hiking, riding a submarine, and many more.
Q. What can one do on a honeymoon in Bora Bora?
A. Some of the things that one can do on a honeymoon in Bora Bora are climbing a mountain, strolling along the white sandy beaches, island hopping, exploring the sights of Vaitape, parasailing, riding a boat, wild safari, and much more.
Q. Where can one stay in the Maldives?
A. Some of the most luxurious hotels and resorts in the Maldives are One&Only Reethi Rah, JOALI Maldives, Soneva Jani, The Nautilus Maldives, Kudadoo Maldives Private Island, and many more.
Q. Where can one stay in Bora Bora?
A. Some romantic places where one can stay in Bora Bora are St Regis, Hilton, Four Seasons, Pearl Beach Resort, Maitai Polynesia, and many more.
Q. Which is island nation's food is better- Maldives or Bora Bora?
A. When deciding between the Maldives or Bora Bora honeymoon, taking the food that one can find in both the island nations is of utmost importance as bad food can spoil the whole fun in an instant. 
While the food in the Maldives showcases the influences of Indian and Asian cuisines immensely, the food in Bora Bora exhibits the essence of French Polynesian cuisine. The Maldivian food is all about curries, coconut flavors, and seafood while the food in Bora Bora is all about bread, pastries, and croissants.
Q. Which place is better for honeymoon- Maldives or Bora Bora?
A. Keeping in mind various factors such as the quality of beaches in terms of sand and water, various romantic experiences hiding in each island, coral reefs, luxurious properties, culture, food, and other aspects, it can be said that Maldives is a much better place for a honeymoon.
---
Looking To Book An International Honeymoon?
Book memorable honeymoon on TravelTriangle with 650+ verified travel agents for 65+ domestic and international destinations.
---
People Also Read:
Honeymoon At Hurawalhi Maldives Budget Honeymoon In Maldives Honeymoon Places In Sri Lanka
Comments
comments