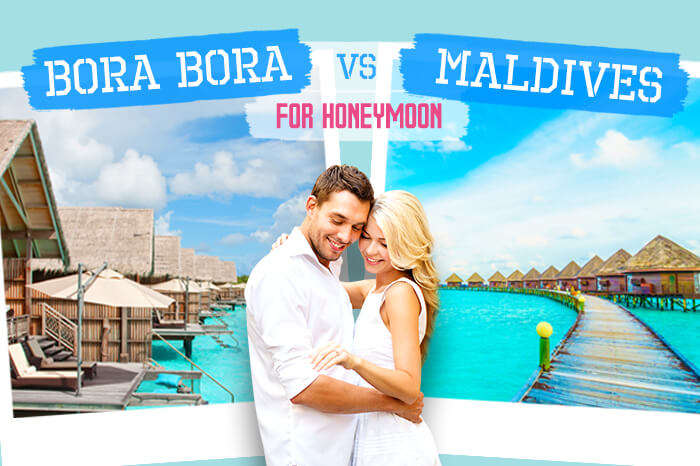 Unarguably among the most glamorous honeymoon destinations in the world, Maldives and Bora Bora are bound to appear on every couple's bucket list. The clash of beauty of the two kings of honeymoon has torn many into making the painful decision – whether to choose Maldives or Bora Bora for honeymoon. The uncanny similarity between the two island destinations in their highlights – white sand beaches, islands, marine life, and fancy stay options perched above idyllic waters – makes the decision all the more difficult.
But, however unfair it may appear, the choice needs to be made. And the following factors will help you decide on your pick between Maldives and Bora Bora for honeymoon. You will have a wonderful time and as long as you choose the right place and activities that best suit you. Planning for a honeymoon trip and to decide between Maldives vs Bora Bora has never been easier with this guide as you will get to know the innate details about both destinations. 
Underwater Attractions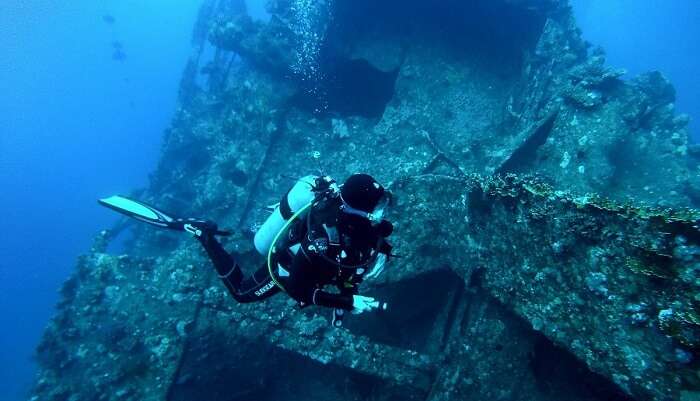 The head-on-head battle for Maldives or Bora Bora is loose without Underwater Attractions. Since both of  them are beach destinations, it becomes important to assess the underwater delights that you can expect: the aquatic life, reefs, wrecks or anything that is unique and appears different, find out here!
Maldives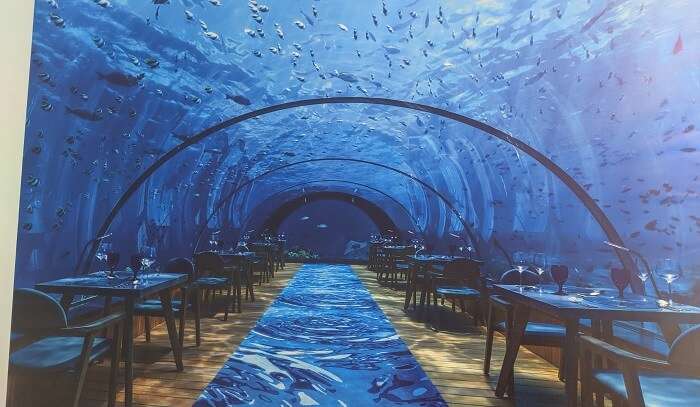 Maldives is a great place to explore the seas, beaches and other attractions. However, the sea is where we are concerned about right now. You will be so glad that you visited Maldives to get ready for some incredible experiences that imprint for a lifetime. What you get is what you have only imagined or maybe seen in the movies. It satisfies a different level of your wanderlust. So, here a few of them that you can explore:
Underwater Attractions In Maldives:
The Underwater Restaurant

: The Ithaa Restaurant, as it is called, is a restaurant built under the water. You can dine through a range of dishes and admire the aquatic life at this one-of-a kind attraction in Maldives.

Island Resorts:

The Adaaran Select Meedhupparu Resort, one of the best

resorts in Maldives

is a luxurious place to stay and offers a unique experience with rooms alongside the sparkling waters. Spend some romantic moments with your loved one around clownfish, manta rays and sweetlips hammerheads.
Maldives Viceroy:

It is a cargo ship that wrecked below the  sea in 1981 and is popular amongst divers. Dive with your loved one to this amazing place, home to corals, fishes and other sea life.
Bora Bora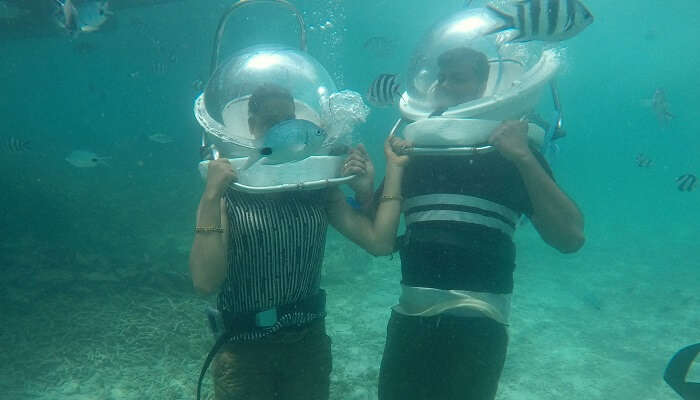 Bora Bora has some awesome underwater experiences in store for you. A perfect destination for honeymooners, private and secluded, Bora Bora will make sure that you remember each and every moment of your time. There are certain adventures, some boat rides that are going to give you the time of your life. It's going to be the perfect way to experience the best of beach waters.
Underwater Attractions In Bora Bora:
Bora Bora Romantic Tour: Admire the underwater flora at the coral gardens and snorkel with a multitude of colorful fish including gentle sharks and stingrays. 
Underwater Walk:

Discover the unique feeling of walking under the calm waters of Bora Bora and feel like an astronaut. Jump, dance, swim and play with the aquatic world!
Drive Underwater:

Submerge yourself in the turquoise waters and ride on an underwater s

cooter. 
Maldives Honeymoon Packages On TravelTriangle
Activities

How will you eventually decide, your choice between Maldives or Bora Bora? They are both unique, different and offer plenty of attractions that are just the way to go while on a honeymoon. In light of that, listed below are a few things that you can get involved while at either of the locations. The ultimate goal is to enjoy to the fullest! 
Maldives

Very popular as a beach destination, a vacation here will lead to ultimate relaxation and enjoyment. A honeymoon at Maldives is one of the best ideas you can have. Couples can enjoy long walks on the beautiful beaches, luxury cruise rides, and other boat rides.  So, what else is there for you to do while you honeymoon in Maldives, a beach hub?
Activities In Maldives
Island Hopping

: Since, there are a bunch of islands that together constitute Maldives, hopping from one to other is a great time spending avenue for the two of you!

Snorkeling:

Going to Maldives and not taking part in snorkeling is a great miss! There are multiple options that allow couples to customize their experience according to them.
Glowing Beach Tour

: Why not see you love glow at this eye-catching destination that will liven up your relationship.
Bora Bora

You can experience a whole range of activities that you can be a part of while honeymooning at Bora Bora – be it adventure, water sports like windsurfing, jet skiing, boat tours and whatnot. In return, you get lots of unique experiences, and memories that bind you for life. You get to tell stories to your kids or families or friends! So, here are a few activities that you can do at Bora Bora.
Activities In Bora Bora:
Climb Mount Otemanu:

For some breathtaking photos and adrenaline-pumping adventure, get atop this highest mountain at Bora Bora.

Strolling:

Nothing is more romantic than a beach walk. Extreme stretches of white sand allow you to take a long walk along the beach lines. The sound, the wind – isn't it romantic?
Private Boat Ride:

Going on a honeymoon and not being part of a boat ride is a miss. Sail above those pristine waters that bookmark a lovely time.
Must Read: 28 Offbeat Honeymoon Destinations In The World For 2022 Trip You'd Have Never Heard Of!
Beaches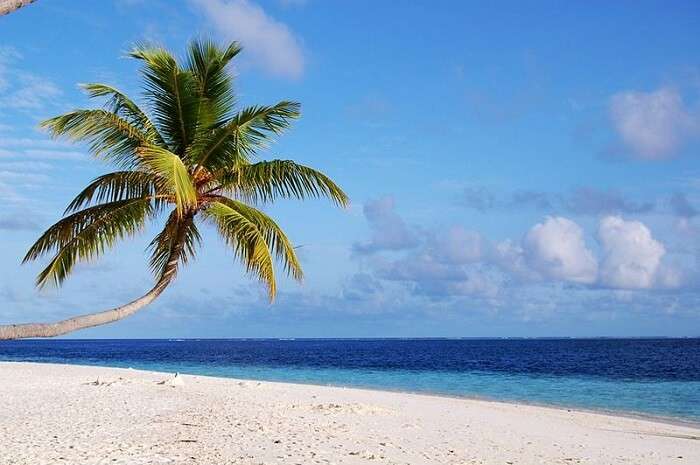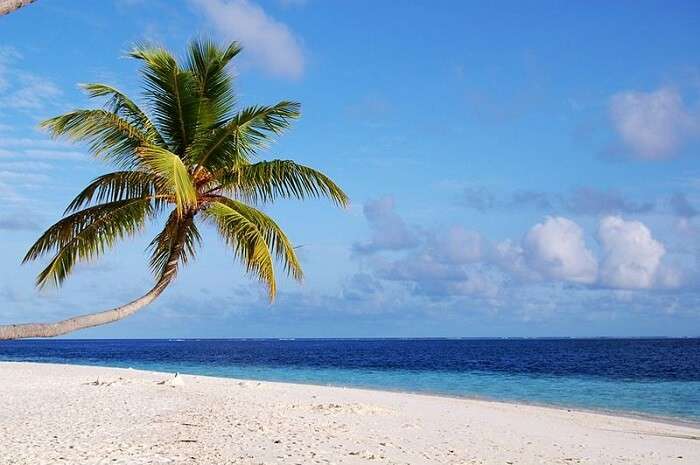 The very reason the debate between Maldives vs Bora Bora starts is because both of them are top notch destinations and known for their beaches. Well, we now take a look at the fine stretches of sand and the amazing winds that blow at the pristine waters. The perfect turquoise colors with the perfect romantic spots just add glitz to your honeymoon.
Maldives

With more than a dozen beaches in Maldives, there are plenty of things they offer to the honeymooners. The beach resorts, over water villas and water sport options, you can rest assured, have a wonderful time at this beach destination. So, below mentioned are some awesome beaches that have special facilities to enhance your honeymoon. The beaches reek of serenity and impress a lot.
Beaches In Maldives:
Kurumba Beach:

A beach located in the solitude of Maldives, completely private and secluded. In short, it makes it one of the best beaches for honeymoon.

Hulhumale Beach:

A pretty coastline and secluded location makes this beach one of the best during your honeymoon.

Biyadhoo Beach:

With a wide range of vegetation cover, this is your perfect serene honeymoon destination.
Bora Bora

There is a lot to love about this island destination, with a rich marine life, turquoise blue waters and over-water bungalows. One of the best places you can find beaches are at the several resorts. However, some beaches are popular as honeymoon destinations and preferred by a lot of couples. Here are a few of them for you to take a look at:
Beaches In Bora Bora:
Matira Beach:

One of the most beautiful beaches in all of Bora Bora and perhaps the only stretch of beach on the mainland. White sand, calm waters make for a breathtaking experience.

Beach at the St. Regis Bora Bora:

Facing the magnificent Mount Otemanu, this is one fine stretch of sand with multiple relaxation points.

Beach at the Blue Heaven Island:

A secluded, private and totally isolated beach in Bora Bora signifying privacy for honeymooners.
Suggested Read: 24 Best Honeymoon Destinations In February To Explore Around The World In 2022!
Food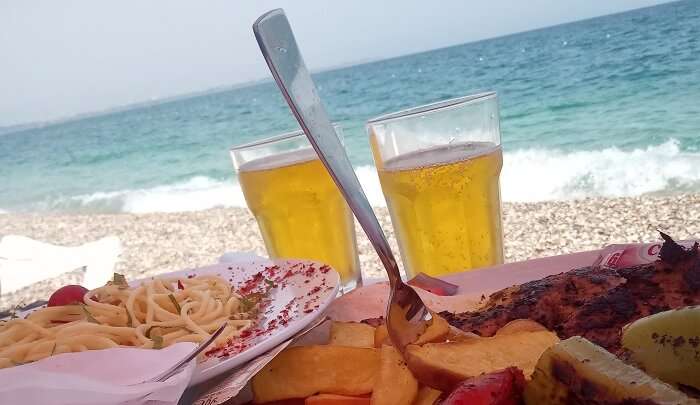 The battle intensifies for the best destination: Maldives or Bora Bora for your honeymoon. And now a pleasing aspect that is covered in love and is a very important aspect for building a bond. It is said that Food has an innate bind attached within it and to serve great food is to show love which means it is the ultimate expression of love.
Maldives

Food in Maldives is greatly influenced by Indian & Asian cuisines. The authentic Maldivian food is based a lot on curry, coconut, and seafood. Seafood grilled over coconut-infused charcoal is heavenly. And with the growing number of hotels & resorts, one can expect more variety in food and more varied price ranges. Almost every resort can offer a wine pairing dinner prepared just for you. Let's not forget the impressive cellars with a large collection of wine at the high-end resorts.
Food In Maldives:
Street Food

: Breadfruit, Cassava, Coconut, Frigate tuna, Fish curry, Garudhiya

Desserts

: Flan, Bread Pudding, Corn Pudding, Neapolitan,

Maldivian Sweetened Condensed Milk Cake

Restaurants/Cafes:

Blu Restaurant, REETHI RESTAURANT, The Liquid
Bora Bora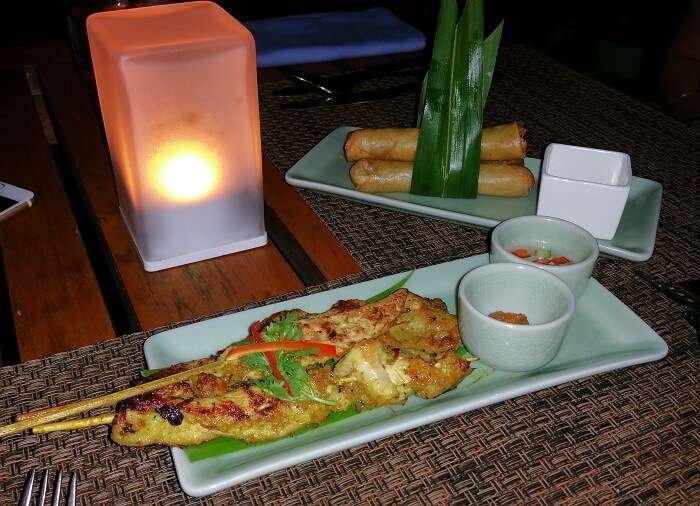 Vanilla is the key essence of French Polynesian cuisine. But, unlike Maldives, emphasis here is not on the Michelin-starred chefs; rather on the quality. The food, tough locally sourced & fresh, may become repetitive. Luckily, being a French colony, there are lots of cafes and restaurants in Bora Bora that know their bread and pastries well. The aroma of freshly-baked croissants & bread and the breath-taking views go well with the fragrance & the taste of the food cooked in Vanilla sauce.
Food In Bora Bora:
Street Food

: Baguettes,  salami, colds meats, Poisson Cru

Desserts

: Profiterole, Puffed Rice & Coconut Sorbet, Banana & Passion Fruit Sorbet, Cider Caramel & Tahaa Vanilla Ice Cream

Restaurants/Cafes:

La Villa Mahana, Bora Bora Yacht Club, Bloody Mary's Restaurant
Suggested Read: World's 20 Best Honeymoon Destinations In September 2022 To Revive Your Romance!
Places To Visit

This debate between Maldives vs Bora Bora intensifies and gets to the next level. You go on a honeymoon but where can you spend more time? Well, both Maldives and Bora Bora have some amazing destinations that are perfect for your honeymoon trip to Maldives or Bora Bora. So, here are our top picks for the best places to visit in both the destinations.
Maldives 

While a major beach destination awaits your arrival, particularly honeymooners, there are no dearth of places to visit in Maldives on your next honeymoon trip. Be sure to enjoy all the water activities, which Maldives is quite famous for. With two main towns, Malé and Seenu, you can also spot the Muslim, Dutch and British influences. 
Places To Visit In Maldives:
Maafushi:

It is an inhabited island in Kaafu Atoll and the proposed capital for the Medhu Uthuru Province of the Maldives. A great destination for honeymooners with private resorts and a secluded vibe!

Nalaguraidhoo Island:

An island where you can find everything from snorkeling sites, to a seaside resort to romantic beaches.
Bandos:

Perhaps, one of the best places to visit on a honeymoon. You get great beaches, an isolated vibe where you can freely soak in love.
Bora Bora

A land in French Polynesia with a lot of mesmerizing beauty, the white sands and lagoons of Bora Bora will impress you on your honeymoon. With a range of natural beauty, you get to explore a great culture influenced by the French. So, on your honeymoon, here are some top places to visit in Bora Bora while enjoying the exclusive moments with your partner.
Places To Visit In Bora Bora:
Vaitape:

Get an exquisite culinary experience, find traditional markets and a pretty fishing harbor that await your arrival in the  Bora Bora's largest town.

Anau Village:

A very tiny village with minimal population would be a perfect getaway for a private time for you.
Taihi Point:

Grab a drink, get some light food and your perfect time awaits you at this mesmerizing point.
Suggested Read: 40 Exotic Honeymoon Destinations In The World All Romantics Must Go To In 2022
Shopping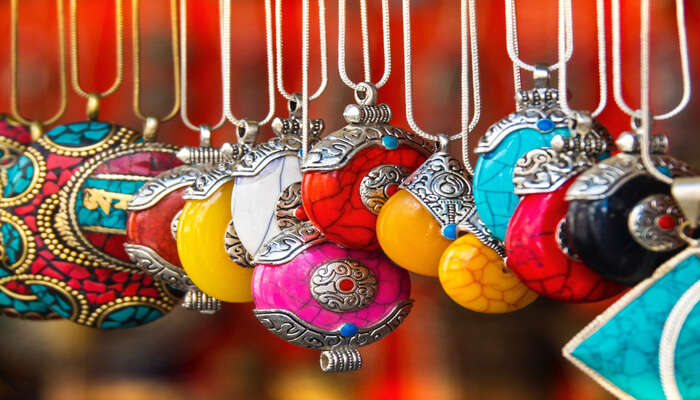 Another great perspective to judge the Maldives vs Bora Bora debate is through assessing the shopping destinations and souvenirs. It's a great  activity to spend time with your loved one and check how much chemistry you have on your shopping choices. Ready, here we go!
Maldives

Let's face it, Maldives isn't the best shopping haven but shopaholics can still buy souvenirs that and cute items that always remind you of your trip. With a new culture, you can always look forward to shop to get into shop mode. Here are a few local markets from where you can buy some amazing stuff while on a honeymoon trip to Maldives.
Shopping Destinations In Maldives:
Majeedhee Magu:

The main road in Male that covers the entire length of the island from east to west. Popular for clothing, bags, electronics, accessories, cosmetics, perfumes etc. 

Male Local Market:

Mostly popular among the locals, you can find fresh fruits, eat local snacks and buy seashells,  lacquer work and wooden crafts.

Chaandhanee Magu:

A street market in the capital Male, you can find scarves, sarongs, Thundu Kunaa mats, etc. in this market.
Bora Bora

Bora Bora has a few markets up its sleeve that sell pearls,  trendsetting boutique, accessories, swimsuits, Bora art and much more. So, in order to take a break from beaches and safari rides or even sightseeing, shopping is your ultimate option to spend some time exploring and understanding the culture of the place. There is nothing more romantic than going forward for a shopping spree and ending the day with a nice bite of food from the street.
Shopping Destinations In Bora Bora:
Tahiti Pearl Market:

Find a lot of local items at competitive prices.

Galerie Alain et Linda

: Not just items, you can also take a look at the traditional art, etchings, books and pottery.

Tiare Market:

A local supermarket, make sure you buy a thing or two for your kitchen.
Suggested Read: Top Safari Honeymoon Destinations, Experiences, & Resorts In The World
Nightlife

When the sun sets and you feel like going crazy, going insane, after a tiring day, then it's time to enjoy the nightlife. Here, however, both the destinations are not known for a vibrant nightlife. So, to run down a few points about if you want to grab some drinks and chill down, here is where you can head on your honeymoon trip to Bora Bora or Maldives.
Maldives

Being a Muslim country, Islamic laws forbid alcohol consumption. But enjoying nightlife in Maldives is not always about drinks or alcohol as there are plenty of locations in Maldives itself that make sure that you are not deprived of entertainment. 
Nightlife In Maldives:
15 Below:

Party underground, literally! Choose dark cocktails, DJ music, live entertainment and lots of dance.

Babuna Bar:

Dress in white and glow under the influence of UV lights. Be a part of White Night Parties, a unique experience in Maldives!
Club Med Kani:

You can enjoy a glass of drink and eat plenty of food items like finger sandwiches, sushi, etc.
Bora Bora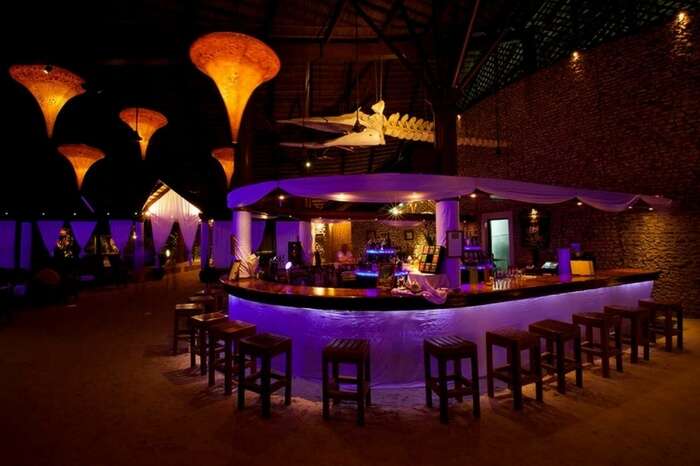 Again, this is not a place popular for its nightlife but you can get some beach-style entertainment at the lovely islands. From live music to barbecue in a bonfire, there is plenty much to enjoy during the nights of your honeymoon to Bora Bora. Listed below are a few top places where you get to enjoy the best of nightlife in Bora Bora.  
Nightlife In Bora Bora:
Aparima Bar:

A decent place to grab a drink and have some food and relax. Enjoy the seating near the pool bar to enjoy the party.

Sunset Bar:

If you want to just go for a drink with your partner, then go ahead, and if you want to grab a full-sized meal, then go ahead and do that while also enjoying the great sunset views.
La Recife Discotheque:

Find several Tahitian bands and dance shows are featured every now and then. It's great to enjoy it with your loved one!
Best Time To Visit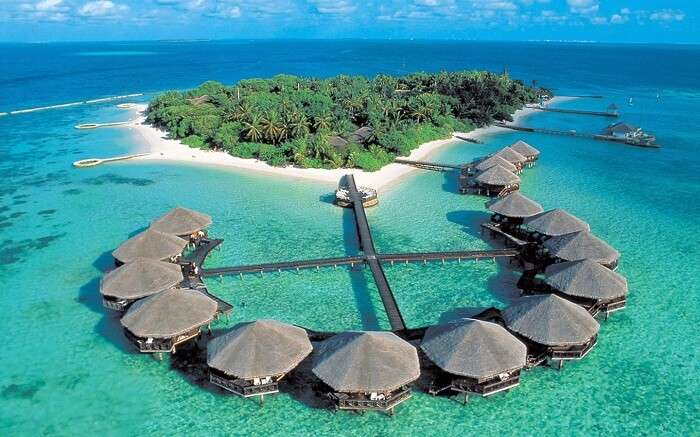 When is the best time to visit Bora Bora or Maldives? Obviously, once you get married. But these are destinations you can visit multiple times. You need to be aware of what you can expect in terms of weather and climate. Therefore, here is a brief about the best time to visit Maldives and Bora Bora:
Maldives: January to March is the best season to visit Maldives for honeymoon. November, December, and April are also well-suited for a honeymoon in Maldives. Climate in Maldives The minimum temperature in Maldives during the best season is 25° C. The maximum temperature in Maldives during the best season is 31° C.
Bora Bora: July to September is the best season to visit Bora Bora for honeymoon. April and June are also well suited for a honeymoon in Bora Bora and other parts of French Polynesia. Climate in Bora Bora Bora Bora also enjoys a tropical monsoon like climate. The minimum temperature in Bora Bora during the best season is 23.4° C. The maximum temperature in Maldives during the best season is 29° C.
Suggested Read: 24 Utterly Romantic Things To Do In Maldives On Honeymoon In 2022
Over-Water Properties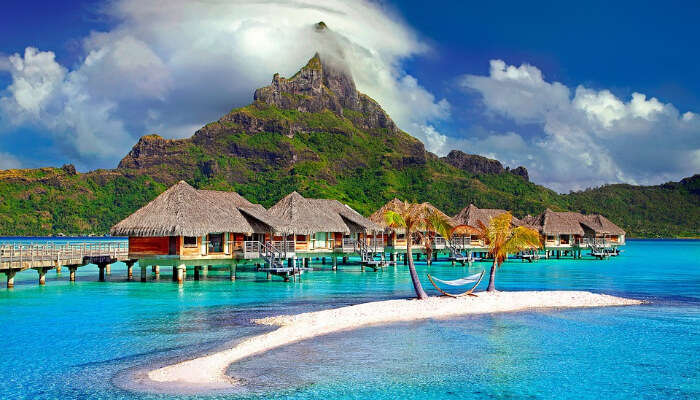 Had the two types of over-water properties not looked so similar, we'd have asked you to go by the looks. However, they do. And, hence, we compared the two on 3 major parameters.
Maldives: Over-Water Villas

Here are a few things to know about the Over-Water Villas in Maldives:
Privacy: The villas in Maldives ensure high levels of privacy. Even the balconies are not visible to those in the other villas.
Cost: Most villas in Maldives are highly expensive.
Luxury: Honeymooners will never be in a position to question the facilities and luxuries offered in the over-water villas of Maldives.
Suggested Read: Best Islands For Honeymoon: Across The World & Full Of Love!
Bora Bora: Over-Water Bungalows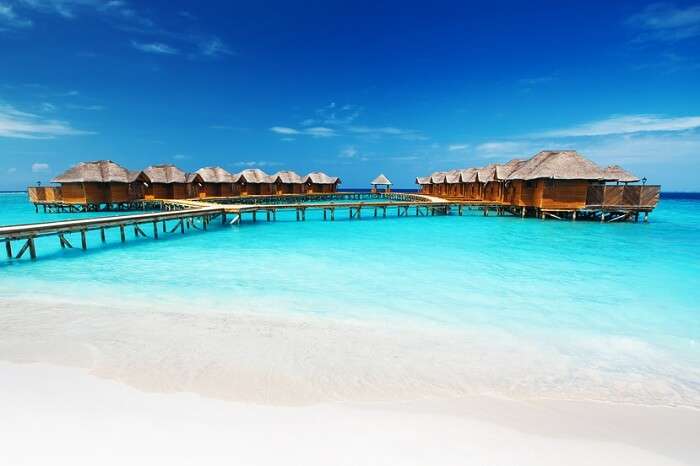 Here are a few things to know about the Over-Water Bungalows in Bora Bora:
Privacy: The destination overall has high levels of privacy. But the same cannot be said about the bungalows, especially the balconies.
Cost: The cost of stay in these over-water bungalows is extremely high.
Luxury: The over-water bungalows of Bora Bora are no less in the levels of luxury. 
Suggested Read: World's Most Expensive Celebrity Honeymoon Destinations
Culture

Here is a brief about the culture of both the destinations which you should be familiar about:
Maldives: Though the locals claim themselves to be very tolerant, it is best to adhere to the norms of the Muslim nation. Dress decently in the main town. Liquor is not sold on the locally owned islands. We suggest you not to carry it either on the sightseeing tours. Once you're back to your island resort, you're free to dress in style and drink alcohol.
Bora Bora: The Christian-dominated French colony has no dress codes or restrictions to adhere to. The tourism staff has a fair share of both males and females. And not just the gender equality, Bora Bora openly accepts the LGBT community as well and conducts Miss Trans-Tahiti Pageant for the trans-gendered Tahitians.
Suggested Read: 25 Best Honeymoon Destinations In Asia In Summer Of 2022
Crowd Factor
So, what factors are responsible for pulling in the crowds to either, Maldives or Bora Bora:
Maldives: Maldives is a much more popular destination and is flooded with tourists at all times. So, one can not hope to find privacy in public areas. Moreover, the tourists have a fair share of honeymooners/couples, families, and friends. However, as mentioned before, most resorts here offer high levels of privacy and seclusion.
Bora Bora: The French Polynesian areas see very little of tourist traffic. Most of these tourists are honeymooners. So, you can hope to be a lot more comfortable with your beloved even in the public spots.
Suggested Read: 20 Romantic Places To Visit In Singapore For Honeymoon In 2022
Location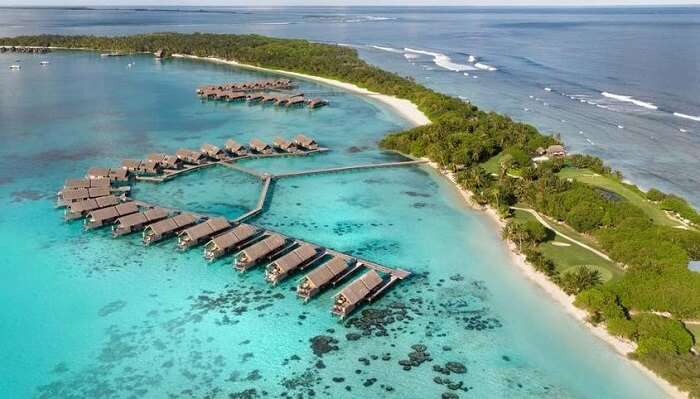 To locate, either Maldives or Bora Bora on a map is what this this guide is all about. So, here is a small description about their location:
Maldives: Maldives is located in the Indian Ocean, southwest of India & Sri Lanka. It is closer to Europe, Asia, and Africa.
Bora Bora: Bora Bora is located in the South Pacific Ocean, northeast of New Zealand. It is located closer to countries in the continents of North America, South America, and Australia.
Suggested Read: Honeymoon in Bangkok: An Ultimate Guide For A Romantic Start In 2022!
Landscape & Geography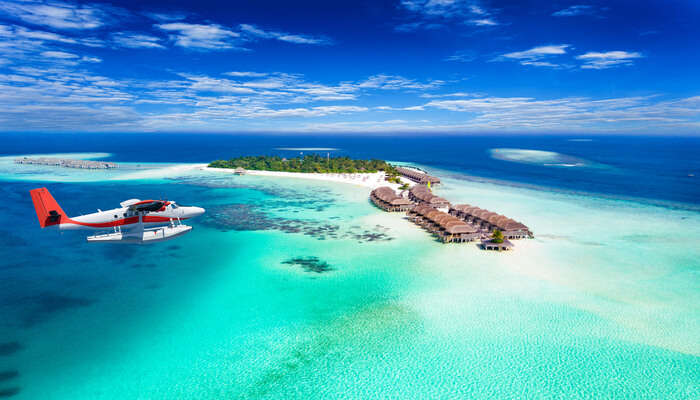 What sort of land and conditions can you expect. Where do you eventually want to go on your honeymoon trip? Here is a short brief about the landscapes of Maldives and Bora Bora: 
Maldives: Maldives is defined by plains and white shores that vary from mostly sandy to marshy wetlands and tiny resort-cum-islets. The view of the endless stretches of the Indian Ocean, occasionally interrupted by resort islets, is what you would enjoy. And the beautiful views of the sun setting into the ocean are beyond compare.
Bora Bora: Rugged, volcanic, & mountainous island featuring a large lagoon surrounded by beautiful coral reefs and islets – this is how one defines the geography of Bora Bora.
Further Read: 10 Luxury Honeymoon Destinations To Choose From
So who's won you over – Maldives or Bora Bora? Either way, you will have a lovely and romantic time. There are plenty of avenues to work upon and it would eventually be you who'll experience. We hope that we were able to make your job easier for sorting and planning for your honeymoon trip. While you are enjoying your personal and private time, do not forget to share your experience with us!
Disclaimer: TravelTriangle claims no credit for images featured on our blog site unless otherwise noted. All visual content is copyrighted to its respectful owners. We try to link back to original sources whenever possible. If you own the rights to any of the images, and do not wish them to appear on TravelTriangle, please contact us and they will be promptly removed. We believe in providing proper attribution to the original author, artist or photographer.
Please Note: Any information published by TravelTriangle in any form of content is not intended to be a substitute for any kind of medical advice, and one must not take any action before consulting a professional medical expert of their own choice.
Frequently Asked Questions About Maldives Or Bora Bora For Honeymoon
What is the best time to visit the Maldives?
The best time to pay a visit to the Maldives is during the dry season when traveling around the island is much easier. The dry season in the Maldives persists from November to the month of April.
What is the best time to visit Bora Bora?
The best time to visit Bora Bora is during the shoulder season that commences in November and continues through April. The temperature during these months hovers from the mid-70s to mid-80s, allowing travelers to experience pleasant and comfortable weather.
What are some romantic things to do in the Maldives?
Some of the most romantic things to do in the Maldives include diving, island hopping, massages, boat riding, hiking, riding a submarine, and many more.
What can one do on a honeymoon in Bora Bora?
Some of the things that one can do on a honeymoon in Bora Bora are climbing a mountain, strolling along the white sandy beaches, island hopping, exploring the sights of Vaitape, parasailing, riding a boat, wild safari, and much more.
Where can one stay in the Maldives?
Some of the most luxurious hotels and resorts in the Maldives are One&Only Reethi Rah, JOALI Maldives, Soneva Jani, The Nautilus Maldives, Kudadoo Maldives Private Island, and many more.
Where can one stay in Bora Bora?
Some romantic places where one can stay in Bora Bora are St Regis, Hilton, Four Seasons, Pearl Beach Resort, Maitai Polynesia, and many more.
Which is island nation's food is better- Maldives or Bora Bora?
When deciding between the Maldives or Bora Bora honeymoon, taking the food that one can find in both the island nations is of utmost importance as bad food can spoil the whole fun in an instant. While the food in the Maldives showcases the influences of Indian and Asian cuisines immensely, the food in Bora Bora exhibits the essence of French Polynesian cuisine. The Maldivian food is all about curries, coconut flavors, and seafood while the food in Bora Bora is all about bread, pastries, and croissants.
Which place is better for honeymoon- Maldives or Bora Bora?
Keeping in mind various factors such as the quality of beaches in terms of sand and water, various romantic experiences hiding in each island, coral reefs, luxurious properties, culture, food, and other aspects, it can be said that Maldives is a much better place for a honeymoon.
---
Comments
comments