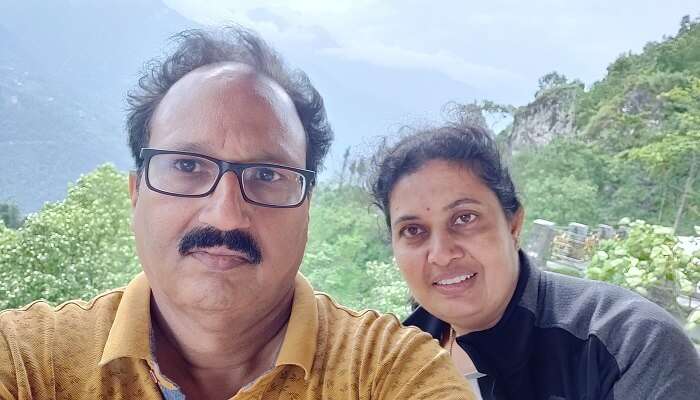 Gangtok and Darjeeling are one of the top tourist destinations in India that is present in almost every traveler's bucket list. One such traveler is Ramanamurty Mylavarapu and his wife who wanted to explore these regions from a long time but were unable to do so. But now they were ready to take the plunge and go for an adventurous trip to the Northeast states of India. After their trip, they have shared their experience and are ready to share it with the keen audience like you. Let us take a look at how their Sikkim Gangtok Darjeeling trip experience was in Ramanamurty Mylavarapu's own words.
I am a nature enthusiast and love to spend some days amidst the natural beauty once in a while. Due to family responsibilities, I have not been able to explore much in my past few years but recently I had been longing for a trip to the mountains. If you ask me if I am a beach or a mountain person, then I will say I am definitely a mountain person. Lush foliage at the base of the snow-capped mountains is a sight that I will get tired of seeing. So, I decided to tick off one more destination from my bucket list and planned an escapade to Gangtok, Sikkim, and Darjeeling with my wife.
Since our destination was final and I had already booked our flight tickets, I was looking for a 6 days package to Gangtok. While surfing on the internet, I stumbled upon TravelTriangle's website and was delighted to see that they offered the option to customize our own package according to our budget. I told them about my requirements and the agent suggested three packages. I and my wife selected the most suitable one and started our packing as we were super excited. We have given the details of our excursion below so that you can get guidance before your vacation.
Details Of Our Sikkim Gangtok Darjeeling Trip
Trip Type: Tour Package
Cost: INR 29,000
Duration: 6 Days & 5 Nights
No. Of People: 2
Inclusions: Transportation, Non-AC vehicle, parking, GST, all permit fees, and hotel taxes.
Exclusions: Breakfast, lunch, dinner, entry fees, insurance, laundry, guide charges, and airfare.
Take A Look At Our Sikkim Gangtok Darjeeling Itinerary
Day 1: Arrival in Gangtok
Day 2: Tour to Tsangu Lake & Nathula Pass
Day 3: Transfer from Gangtok to Lachen
Day 4: Transfer To Lachung & Visiting Zero Point
Day 5: Transfer from Lachung to Gangtok
Day 6: River Rafting & Departure
                     Budget Trips To Sikkim: A Comprehensive Guide To ExploreThe Best Places
Weather In June In Gangtok
June marks the onset of the monsoon season in Gangtok and goes till the month of September. The weather remains pleasant for sightseeing and the temperature ranges from 17 degrees Celsius to 22 degrees Celsius. These months receive most of the rainfall and the weather becomes bit chilly and humid. One might not be able to indulge in activities on rainy days but can visit top tourist spots in Gangtok. Also, the weather in June in Gangtok calls for some warm clothes and full-sleeved shirts.
Top Sightseeing Places That We Covered
We selected limited places for our vacation and were extremely happy with our Sikkim Gangtok Darjeeling trip experience. We have listed some of the top experiences from our tour of 6 days in Sikkim, Gangtok and Darjeeling that you can take a look at.
1. Tshangu Lake & Nathula Pass






The first stop on our Gangtok local sightseeing was Changu or Tshangu Lake which is located a few kilometers away from Gangtok. The lake was not frozen as it is usually in the winter season but the beauty was worth admiring. Then, we left for the Nathula Pass – the Indo-Chinese Border. The roads were affected by landslides but watching the snow at the destination made us forget about all our worries. The view was so amazing that I could not stop myself from capturing it.
Sikkim Travel Tips – Everything You Need To Know For An Amazing Sikkim Tour
2. Gurudongmar Lake



After travelling to Lachen, our first tourist spot was Gururdongmar Lake that is considered as one of the highest lakes in the world. The beauty of the crystal clear blue water amidst snow-laden mountains was beyond any description and of the best Sikkim Gangtok Darjeeling trip experience. We took a stroll there for some time and tried to capture the scenic view for memories. After spending some time there, we went to our next abode in Lachen and rested there for the next day.
3. Teesta River





Last but not least, the most amazing and adventurous part of the trip was the last day of our trip. We went to the Teesta River that runs downhill through Darjeeling hills. We opted for river rafting in the gushing waters of the Teesta River and I must say it was the best Sikkim Gangtok Darjeeling trip experience. The 40-minute rafting in the turbulent waters of the Teesta River was extremely thrilling and adventurous. I would say our trip would have been incomplete if we had missed it. We this activity, we ended our trip on a good note.
Shopping In Sikkim – Top 5 Places To Shop For Handicrafts & Souvenirs In Sikkim
Our Temporary Abodes For 6 Days
As we planned to travel explore Gangtok, Darjeeling, and Sikkim on budget, we had to select homestays that were not heavy on our pockets. For the first day, our stay was Zero-To-One where we spent a night and checked out in the morning for Tsangu Lake. Our second abode was the Samrat Residency which reached our level of expectation and provided good service along with a sumptuous breakfast. As we were on a budget trip, our next abode was a homestay – Wangdi Tsolhamo Homestay. On the next day, we went to Lachung where our stay was Agarwal Guddu Duckling Resort and our last abode was the Green Dot Hotel & Restaurant that had neat and clean rooms. They offered a good service and we even liked their food. Overall, we liked our stays as they were all in our budget and comfortable.
What To Pack For Sikkim Trip
We were aware of the fact that we are planning a vacation in the monsoon season. So, we were ready with our umbrellas, windcheater, and warm clothes. As it keeps drizzling now and then, it is better to carry an umbrella or a raincoat that helps in protecting from the rain. Moreover, the temperature dips down in the evening and at night thus keeping a few warm clothes will be very helpful. Apart from this, we kept our ID proofs and other important documents with us all the time so that we can prove our identity if needed.
 5 Amazing Experiences To Encounter On Sikkim Trip From Hyderabad
Tips For Our Fellow Travelers
If you are planning a budget trip then travel as a group of 4-6 people because you will save a lot.
If you don't want to miss out anything in Gangtok then plan a trip for a week and go for shopping & paragliding.
If you want to see the snow and frozen Tshango Lake then you must travel in the months of winter.
Our Experience With TravelTriangle
Overall, our experience with TravelTriangle was amazing despite a few issues during the trip. The vehicle provided was in good condition and the driver was friendly. We were delighted with the budget for our trip as our agent was able to include most of the things that we wanted to explore. I thank TT from the bottom of my heart for helping me cover my dream destination.
Sikkim In August 2022: Find Out What It Has To Offer During This Time Of The Year
Do the pictures of Ramanamurty Mylavarapu' Sikkim Gangtok Darjeeling trip experience make you want to pack your bags and head to this destination? Well, you can make your dream come true by booking one of the packages from TravelTriangle and personalize your own itinerary according to the budget that you have in mind. So, wait no more and lace up your boots to get a never before Gangtok trip experience. Plan your Sikkim Gangtok Darjeeling trip with your friends and get ready to be mesmerized by the riveting beauty of Sikkim. Do not forget to click pictures and share them with us to get featured on our website.
Frequently Asked Questions About Trip
How can I get Nathula Pass permit?
Nathula Pass permit can be obtained by applying through a registered travel agency to the Tourism and Civil Aviation Department. You will need two passport size photographs along with a photo ID proof. The Pass will cost you INR 200 only per person.
Is Kalimpong worth visiting?
If you are a nature lover then you must include Kalimpong in your Sikkim tour as the stunning views from the Deolo Hill in Kalimpong are to die for.
Why is Kalimpong famous?
Kalimpong attracts many tourists due to the quiet atmosphere, red and white monasteries, scenic views, and handicrafts.