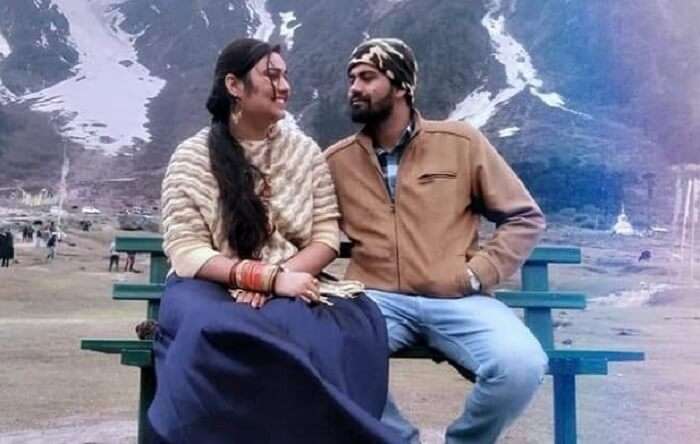 Here is an amorous account of Srinath Pateriya his wife on their Sikkim honeymoon tour that will inspire you to pack your bags and leave for Sikkim with your bae.
"I would like to travel the world with you twice. Once to see the world. Twice, to see the way you see the world. – Anonymous"
My wife and I love mountains and there is something romantic and charming about the mountains and scenery in Sikkim. Another reason we chose Sikkim for our honeymoon was that we wanted to go to a winter wonderland in the summer season. Since it is too hot everywhere else, our best option was Sikkim and it was really worth it.
Highlights Of Our Sikkim Honeymoon Tour
Here are some of the best highlights from our trip which made turned our holiday into a beautiful garland of memories.
Highlight #1: River Rafting



We began our Sikkim honeymoon tour with river rafting and I must say that the experience was quite enthralling. It is one of the must-do things during summer in Sikkim. I could feel the adrenaline pumping through my veins as we crossed one rapid after another.
Monsoon In Sikkim: Explore The Unexplored Beauty Of Sikkim This 2022!
Highlight #2: Gurudongmar Lake


Another highlight of our trip was the iconic lake of Sikkim which looked absolutely resplendent. Gurudongmar Lake in April was still frozen and surrounded by an abundance of snow. We also visited the Kala Patthar, a few kilometers above the Gurudongmar Lake,Sikkim. Oh! The panoramic views of the valley from this point were absolutely breathtaking. Not many people come all the way to this point but we are glad that we did.
Highlight #3: Yumthang Valley



We enjoyed our visit to the valley of flowers – Yumthang Valley, on our Sikkim honeymoon tour and it was absolutely worth it. It was laden with snow in April but our guide told us that the valley bloomed with thousands of flowers in the summer. We also visited the hot spring in the valley which we thought we could have skipped.
Sikkim Is Hosting World's Highest Mountain Bike Race & We're Thrilled
Highlight #4: Sidheshwar Dham




We also sought the blessings of God on our Sikkim honeymoon tour at Sidheswar Dham. It was one of the best places of our honeymoon trip as we enjoyed the peace and solace this place had t offer. Sidheswar Dham looks like a mini replica of Char Dham and is absolutely stunning. There were plenty of temples inside the premises. So, we spent 2-3 hours in this place. There was a statue of Lord Shiva which was 108ft high and surrounded by 12 jyotirlingas.
Highlight #5: Gangtok Sightseeing




One of the highlights of our Sikkim honeymoon tour was the sightseeing in Gangtok. We went to Changu Lake, New Baba Mandir, Nathu La, and Hanuman Tok. Everything in Sikkim is far off and remote. So, our entire day was spent on the road hopping from one attraction to another. Nathu La was the highlight but we also liked our visit to Hanuman Tok which is a Hindu Temple dedicated to Lord Hanuman. Everything was covered in clouds and looked surreal.
48 Places To Visit In Sikkim In 2022: Extraordinary Realms In The North East!
Highlight #6: Waterfalls



We were surprised to witness so many beautiful waterfalls on our way. Sikkim is a magical place. There was one waterfall after another sprouting from the mountains. We enjoyed our little rain dance beneath the waterfall and plenty of other fun activities. These waterfalls are surrounded by flora. The whole scenery around these waterfalls is really invigorating.
Trip Details
Trip Type: Honeymoon
Trip Duration: 9D/8N
Trip Cost: INR 117500
Inclusions: Vehicle, Transportation, Breakfast,
Exclusions: Meal, Vehicle, Entry Fees for the attractions
Sikkim Travel Tips
Here are some tips based on our experience that we would like to pass on to other travellers visiting Sikkim:
Sikkim is located at a height of 18,000 ft. So, you may feel a bit uncomfortable due to the lack of oxygen as you approach height.
If you want to go shopping, Gangtok's MG Road is the best. You will find everything for your need and all the local indigenous items Sikkim is famous for.
Plan everything in advance. It will help you keep everything under budget and will save you from any last-minute hassles.
Please don't litter around. Take care of cleanliness in your surroundings as everything in Sikkim is clean and pristine.
The Himalayas And Raw Natural Beauty: Our Honeymoon Trip To Sikkim Was Perfect
When it comes to the locals and hospitality, how were your destination and experience?
It was an awesome experience. We felt very comfortable going anywhere no feeling of insecurity. People of Sikkim were very sweet and helpful.
How was your experience when it came to food on your holiday?
The quality of the food was very good food and was provided with great hospitality. We really enjoyed the Maggi in the mountains. Dinner and breakfast were included everywhere which was really worth it. The breakfast service in Summit Denzong in Gangtok could have been better. It was too crowded with no place to sit.
What are your thoughts when it comes to the budget for your holiday? Was it sufficient or were there things left out?
The pricing was under our budget and we could not have asked for anything better. Planning everything in advance was a wise thing to do.
How was your experience with TravelTriangle and its agent?
It was a wonderful experience. Kirti (agent) managed everything over WhatsApp and was very helpful all the way. Special thanks to Lakpa Taman (our driver) and Kirti who made this really awesome tour worth it and a memorable one.
Trekking In Sikkim: 9 Trails That Will Prove You've Entered The Paradise In 2022!
Hope Srinath's Sikkim honeymoon tour has given you ample reasons and convinced you to plan a romantic holiday in Sikkim for you and your spouse. The chilly weather and picturesque mountains will give you a perfect excuse to cuddle with your partner and never let go.