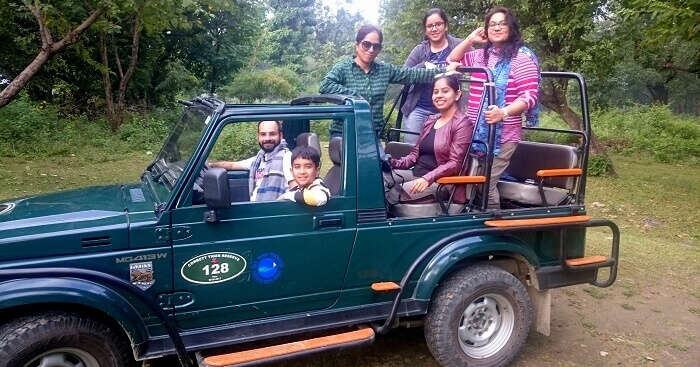 Sneh took a weekend getaway to Jim Corbett with her son and it was the best decision ever. She elaborates on their interesting night jungle safari and all the sightseeing that they did.
Trip type: Mother & Son on an adventure!
Duration: 1 night 2 days
Budget: INR 4,500/- per person
Destination: Jim Corbett
Inclusions: Transfers, Accommodation, meals, sightseeing, and jungle safari (morning)
Both my son and I are really fond of traveling. We greatly cherish getaways and short excursions for they not only enchant our mind with nature but also give us unforgettable memories. So this time again, when we had the opportunity, we decided to make the most of it by going on a trip together.
I came across TravelTriangle on Facebook via their weekend getaway ad to Jim Corbett. Finding the deal to be an interesting one, I filled in the form attached and was soon contacted by the travel representative – Aakash.
Aakash guided me well regarding the trip and what all was included in it. After all my queries were resolved, I made up my mind and decided to go on this weekend getaway with my son. Both of us were super excited!
Soon our packing was done, payment was made, and we were now all set for an adventure of a lifetime.

Day 0: The journey begins
We boarded our tempo traveler from Akshardham Metro Station and after all the verification, the overnight road trip started. The journey was a smooth one and in the night we did stop a few times for refreshments.
Day 1: Hello Jim Corbett
We reached Jim Corbett early in the morning and checked into our resort – Winsome Resort. This was a beautiful newly built property that was a perfect mix of luxury and nature.
Post the check in, we rested for a while and then proceeded on for sightseeing. One good thing about this trip was the group that was traveling with us was very jovial. And even though everyone was from different companies, profession, and places, they were all extremely sociable and fun. Initially I was anxious if my son would fit in but seeing him interacting with everyone soon got me all eased up.
We visited the Girija Temple nearby after we had seeked the blessings we went to the Kosi river that passed through it. The water of river was shallow here and we had a lot of fun sitting, chatting, and picture clicking here. To add to the festive ambience, there was even a pakora/maggie/chai vala just opposite the river and naturally we all flocked his counter for a delicious snack session.



After our temple visit, we returned to our hotel and it was followed by a fun chit chat session with the group. It was nice knowing people from different walks of life here and our trip coordinator from TravelTriangle, Akash, made sure everyone gelled and was comfortable.
Now the night was here and it would have ended on dinner had we not made changes to our plan. We were informed that there was a special night safari available for us to go onto and since this was a unique experience, the whole group unanimously decided to do it. This was our personal initiative but we were helped by Akash when it came to making arrangements. The price came out to be INR 450 per person (INR 2500 per gypsy with 6 people capacity)  and judging by the experience we were going to have, it was totally worth it.
So our night jungle safari began and boy it was a thrilling experience to say the least. There were 2 gypsies and we were taken into a dark jungle full of creatures of the dark. On each gypsey, there was a guard with a flashlight and throughout the ride, we felt a mixture of uncertainty, fear, and thrill. It was one of those rare experiences that gives you an adrenaline rush and certainly this one exceeded expectations. My son was relatively less scared and was enjoying the cool air and gypsey ride to the fullest.
During the night safari, we also stopped by a stream that ran through the forest in the hope to see some wild animal there but could not. This was a place which was full of creepy sounds and movements all around us and being here certainly gave us the chills.
Later we continued our journey and passed through numerous pathways including the core of the jungle.
Once the journey had ended, it felt nice to have experienced such a great ride. We returned to our hotel, had our dinner and then called it a night.


Day 2: And the Safari experience continues
This day began with an early morning safari to the jungle and although it wasn't as exciting as the night before, nonetheless, it was worth it for we spotted quite a few animals. There were deer both spotted and sambar and also elephants on rampage. By the time our driver got us a clearer view of mammoth sized beasts, they were gone but we did witness the impact caused by them. Rest of the ride was fun and when we were done with it, we stopped by a maggie shop located at the exit.
Post a quick snack session, we returned to our hotel where we greeted by a delicious breakfast.



After the meal, we checked out of the hotel and started our road trip back to Delhi. The ride back was a smooth one and we did take occasional stops for food and refreshments.
Overall the Jim Corbett experience for both me and my son was a special one. It was one of those getaways that offered us a refreshing take on nature and wildlife without being too difficult for either of us. Night Jungle Safari here was one ride which we will always remember since it showed us a different, more raw side of the jungle – something which is not shown to everyone.
High Points:
Both the jungle safari's were an awesome experience for us although the night one was more unique and exciting.
The resort and its services were excellent.
Low Points: A bus would have been more comfortable than a tempo traveler
Tips for travelers: Travelers can also be given an option to do adventure activities near the shallow side of Kosi river. This will be a good addition for those who don't want to stay at the resort.
Looking for an exciting weekend getaway? Don't worry we have many more such trips! Click for more.
---
Long Weekend Trips Starting @ Rs 3499/-
Take a trip to spend the upcoming long weekend with your buddies.
✓ Stay at 4 star rating hotels with local sightseeing, meals and transfers.
✓ Travel in AC coach round trip (from Delhi).
✓ All Inclusive Deal– Camping, Jeep Safari & Trekking as per itinerary
✓ Sign up NOW to celebrate the long weekend out of town!
---