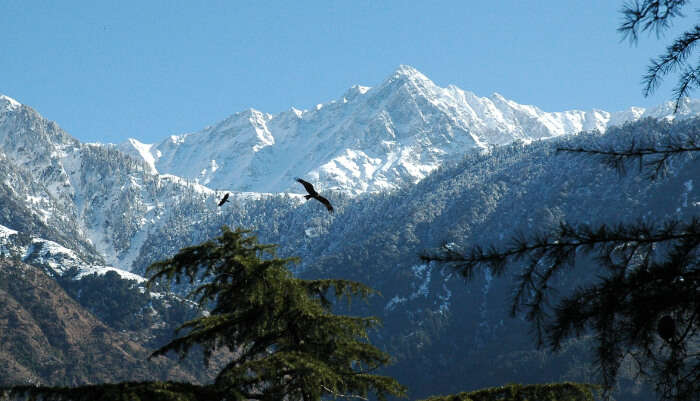 Kufri is a lovely small hill station situated near Himachal Pradesh's capital Shimla. It is located at a height of around twenty five hundred meters above sea levels. Being situated at the southern part of the state of Himachal Pradesh, Kufri is extremely famous for its thick snow covers and ambrosial beauty. Kufri's beauty gets further enhanced in winters with its awe-inspiring snow blanket all over this lovely town. Snowfall in Kufri is something every traveler must witness!

As this place is quite close to Shimla, it has become a popular weekend getaway where lot of tourists who are visiting Shimla also visit Kufri now a days. Especially in winters, this place full of snow – something which might be missing in Shimla. Kufri is an easily reachable, well developed a ravishing small town to enjoy a complete whiteout and numbing snow blanket in peak winters.
Weather In Kufri During Winters

Winters in Kufri starts from October and go till March end. One may experience snowfall from the month of November. Month of December and January receives highest snowfall in Kufri. The town is generally snow cladded till March end or sometimes even in early April. In peak winters it can get below freezing. In FEbruary – March you will see a blanket of snow which can be as thick as 2-3 inches on average. Kufri is one of the best places to enjoy the paradisiacal snowfall in Himachal Pradesh. In peak winters temperature usually goes as low as -5 degree Celsius. And sometimes it can go upto -10 degree Celsius as well. Come fully prepared for such a nipping shivery freezing experience which is so unique to Kufri.
Must Read: 10 Awesome Things To Do In Kufri That'll Enrich Your Himachal Travel Experience!
Top Places To Visit During Snowfall In Kufri
Some of the places become exclusively beautiful in Kufri during snowfall. Listed below are some of the best places you can visit to make the most of your time in this hill station!
1. Kufri Ski Resort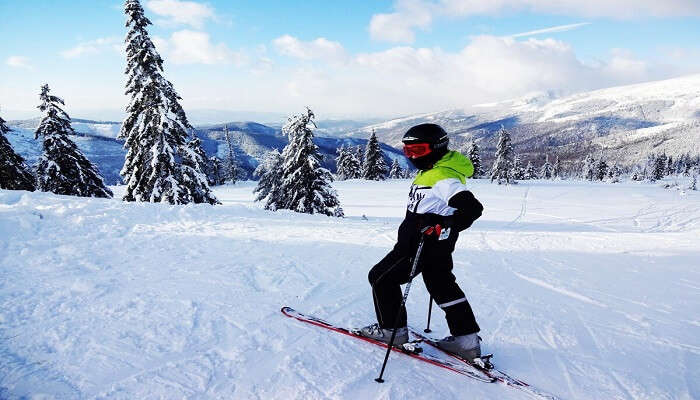 There are many adventures one can participate in Kufri and Skiing is the most popular of all here. Kufri is a paradise for Skiing lovers and in the peak of winters place is full of skiing enthusiasts.
Address : Kufri Ski Resort, Kufri, Himachal Pradesh 171012
Timings: 9 AM to 6 PM
Cost : INR 300/- per person for an hour
Suggested Read: Kufri In December: Your Little Guide To A Winter Holiday!
2. Himalayan Nature Park

There are some rare species of animals and birds that are specific to Himachal Pradesh and some of them will only be found in Kufri.
Location: Kandaghat-Chail-Kufri Road, Kufri, Himachal Pradesh 171012
Timing: 9:00 am to 6:30 pm
Tickets: INR 20/- (adults); INR 10/- (children)
Suggested Read: New Year Party In Himachal: 13 Exciting Events To Welcome New Year In The Mountains
3. Kufri Fun World

Mind blowing adventure place at Kufri for a dazzling fun filled time. This is perhaps India's or in fact world's only fun world at such a height from sea level. Snow go karting is a must here if you are in Kufri. Apart from go karting there are other bewildering adventure sports and rides including Sky Swinger, Frisch Bee ride, Mini Skater, Bungee Trampoline, Haunted house and many more.
Location: NH 22, Kufri, Himachal Pradesh 171209
Timing: 9:30 am to 5:30 pm
Tickets: INR 250/-
Suggested Read: Trekking Near Shimla: All You Ever Wanted To Know About The 7 Surrounding Trails
4. Mahasu Peak

It is the highest peak in Kufri. In winters it may not be feasible to trek up this peak – as the terrain can be very difficult to travel via foot. One will need to rent out and ride a horse or mule to reach the peak. But this will be one helluva ride amidst dazzling snow clad mountains and entrenching white pathway. You will surely enjoy every bit of your ride in the shivering cold.
Location: Mahasu Peak, Kufri, Himachal Pradesh 171019
Timing : Sunrise to Sunset
Cost : INR 10/- one way entry fee (INR 20 for up and down), Approx INR 500 – 650 for horse ride
Suggested Read: 14 Places To Visit Near Delhi To Witness Snowfall
5. Indira Tourist Park

Indira tourist park is an incredible nature's park full of colourful lively flora and fauna. This is serene, nice big nature park with ravishing beauty. Nature park has some very good food outlets serving sumptuous local cuisines. One of the best places to enjoy a cup of hot coffee amid the snowy blanket.
Address: Kufri Chail Road, Near Himalayan Nature Park, Shimla, Himachal Pradesh, 171012
Timings : 8AM – 8 PM
Cost:INR 10 per person for adults and INR 5 per person for children.
Suggested Read: 55 Hill Stations Near Delhi One Must Visit For A Peaceful Getaway!
Best Things To Do During Snowfall In Kufri
Here are some snowy adventures you can participate in while you are in Kufri during the winters:
1. Participate In Winter Sports Festival

There is an annual winter sports festival that is organised every year in the town of Kufri. The fair is extremely popular among snow spots and adventure enthusiasts. The festival is usually held in the month of February.
Suggested Read: 30 Amazing Places In India To Celebrate New Year
2. Tobogganing

Kufri is becoming a go to place for this old popular snow sport – tobogganing. There are thick snows and smooth downward slope – perfect for tobogganing. You can hire the sledge – and for a solo ride downwards or join your partner for a breathtaking ride on the snowbank.
Suggested Read: 61 Inviting Places To Visit Near Chandigarh For A Much-Needed Getaway
3. Yak Ride

This is one of the rides you will enjoy the most. Thankfully there are a good number of Yaks in this Himalayan town and rides on these soft bulky mammals is a wondrous experience.
Suggested Read: 70 Incredible Places To Visit Near Delhi: Within 600 KM From The Capital!
4. Coffee At India Tourist Park

What can be better than a hot coffee in the midst of icy whiteout. Do enjoy the hot cappuccino with your favourite snacks at India Tourist Park. There are some very good food outlets in this adorable natural park land.
Suggested Read: A Guide For Trekking In Solan Valley: A Paradise For Trekkers In Himachal Pradesh!
5. Skiing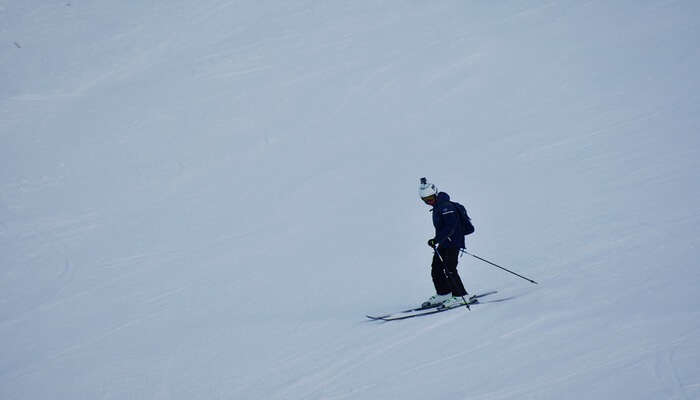 Kufri is becoming a top destination for Skiing in this part of the world. There are a lot of tourists that come from Shimla specifically to participate in this adventure sport. You will also be able to find good kind coaches to instruct you and make you comfortable if this is your first time.
Suggested Read: These 20 Resorts In Shimla Will Help You Plan A Scenic Escape
Best Places To Stay During Snowfall In Kufri
Here is a list of some of the most popular and ravishing places to stay during your vacation at Kufri :
1. Sterling Kufri – Resorts And Hotels

Situated amidst the hill side – this laid back cozy hotel is a perfect place to spend some good time and relax. There are wonderful amenities in the hotel including a fabulous spa and temperature controlled swimming pool for you to chill out in warm waters. Rooms are very spacious and comfortable providing good view of the beautiful hillsides and the blissful valley.
Address: Galu, Jangal Kufri Chharabra, Fagu, 171209
Contact : 078338 99006
2. Royal Tulip Luxury Hotel

Royal Tulip Luxury Hotel is one of the most posh and exotic hotel you will find here in this area. Situated amidst hills – the hotel has very spacious rooms, with magnificent views of the hillsides from the room's attached balcony. The hotel has all the luxurious amenities you can ask for a cozy comfortable stay.
There is also a nice swimming pool with temperature controlled water in winters for you to let your hair down and a beautiful terrace to enjoy your cup of coffee in the morning or evening. Restaurant in the hotel is very popular and it serves an amazing morning buffet with an elaborate menu and offerings.
Address: National Highway 22, Kufri, Himachal Pradesh 171012
Contact : 0177 264 8888
Suggested Read: Kerala Vs Himachal For Honeymoon: Which Is The Ideal Retreat For Newlywed Couples?
3. The Last Village

The Last Village resort is situated in a very beautiful area near the famous Kali Mata temple close to the bypass road. This is the one perfect place to stay if you love staying in cottages with lot of green natural surroundings and oaks. One of the best things about this place is the food they serve here. The dishes are homely, cooked fresh and are highly sumptuous. Overall one will enjoy a very comfortable peaceful stay in this resort.
Address : Kali Mata temple before bypass, road, Kufri, Himachal Pradesh 171012
Contact : 098169 66855
Suggested Read: Our Romantic Budget Trip To Himachal Looks Straight Out Of Our Dreams
4. Galleu Hill Resort

Galleu Hill Resort is situated near the popular Kufri adventure park. One of the most popular locations to stay in Kufri – the rooms at this marvelous resorts will have gorgeous mountain views. There is a nice serene lush green garden in the hotel campus with ample sitting areas and a jhula for you to sit and soak in the bewildering beauty around it. Staff is very courteous and professional. There is also complimentary WiFi for the visitors. The restaurant at the resort serves an extremely sumptuous breakfast buffet. The breakfast buffet is complimentary with the stay.
Address: Kufri Fagu Road National Highway 22 Next to Adventure Park, New Kufri, Shimla, Himachal Pradesh 171001
Contact: 098160 38667
Further Read: 30 Budget Honeymoon Destinations In India To Sweep You Off Your Feet
How To Reach Kufri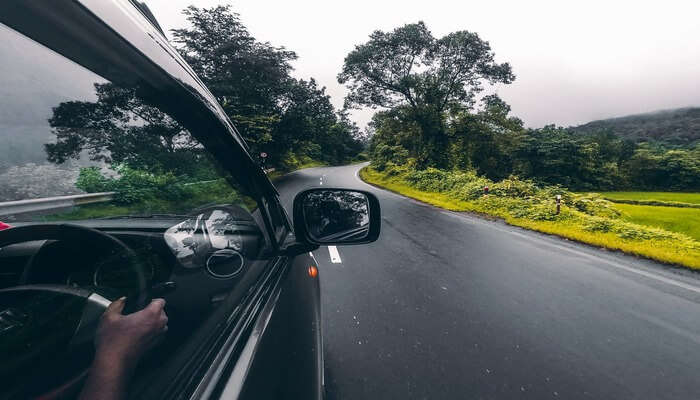 Kufri is only twenty one kilometer away from Shimla by road. The most convenient way to reach Kufri is to drive or hire a taxi from Shima.You won't find any bus or train going to Kufri.
Nearest airport to Kufri is in Jubbarhatti near Shimla. Chandigarh is the other bigger airport with is connected to more cities. Nearest major railway station to Kufri is Kalka which is around 100 km from Kufri.
Kufri is around 125 km from Chandigarh – which will be a 4 hour drive. It is almost 350 km from New Delhi.
One of the famous hill stations in the Indian state of Himachal Pradesh, Kufri will definitely surprise you with its breathtaking views! This beautiful town near Shimla is not only known for its picturesque landscapes but also famous for its culture! If you're a nature lover, witnessing snowfall in Kufri will make for a wonderful Himachal trip!
Frequently Asked Questions About Snowfall In Kufri
Why is Kufri famous?
It is extremely famous for its startling snowy treks and gorgeous hiking trails. Park becomes more lively and beautiful.
How far is Shimla from Kufri?
Kufri is only twenty one km from Shimla. One can easily get a taxi to travel from Shimla to Kufri or vice versa.
How much is the average snow in Kufri in February?
On average one can expect 2 – 3 feet of snow in the month of February can be expected in Kufri. But snow quantity and snowfall is highly unpredictable here and each year you will have different levels of snowfall in the peak winters here.
When is the peak time for tourists in Kufri?
Kufri see maximum tourists traffic in summer months – from April to June. However, post monsoon in Winters too it sees good influx of tourists coming via Shimla to enjoy the snow.
How far is Kufri from Kalka?
Kufri is around 100 km away from Kalka. Kalka railway station is well connected with major cities of the country with rail network. One can ride a bus or train to reach Shimla from Kalka. And from Shimla one will need to hire a taxi to reach Kufri.
---
Looking To Book A Holiday Package?
---