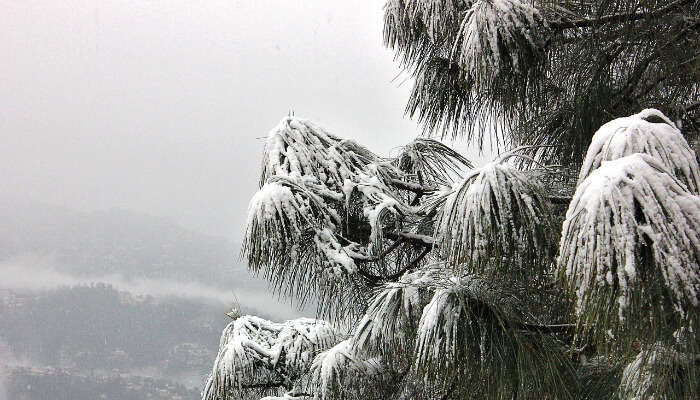 As a country, India spends most of the year searching for an air-conditioned room, a good quality 5- star AC or at least a fan: thanks to the hot and humid tropical environment. Being also one of the most diverse nations, we Indians are lucky to have states, cities, hill stations and tourist spots that experience cold winters, sometimes with the temperature being as low as around freezing point. While studies show, millennial these days travel with a purpose- travelling acts as a status quotient and a gizmo to blow their own trumpet; thankfully not everyone is thinking in the same line.
As we have started by focusing on the weather conditions, let us read why Indians have made places like Mandi so much popular. First, Mandi is a quaint, little Himachal Pradesh town came into spotlight very recently. This is a synonym for many things- lesser crowd, more nature, greenery, cold and snow are only to name a few. Second, believe it or not, as most parts of our country is hot and humid, places that usually experience cold and snowfall, and automatically are in most travellers' bucket list. Third, weather conditions and glimpses of things that you can experience during cold and snowfall in Mandi is an experience of a lifetime which is not available otherwise.
Weather In Mandi

Located by the banks of the river Beas, Mandi experiences typical North Indian weather. The temperature ranges typically from 23 degree Celsius to 3 degree Celsius. The area gets a hot summer, but lesser amount of humidity in the air makes it pleasant. In Mandi, the average annual temperature in Mandi is 21.7 degree Celsius. Being in the Himalayan foothills, Mandi have chilled temperature, occasionally making it to snowfall. Saying that, we should also state that Mandi used to experience very rare snowfall until last decade but with changed climate conditions, it is now experiencing snowfall much more frequently.
Best Time To Witness Snowfall In Mandi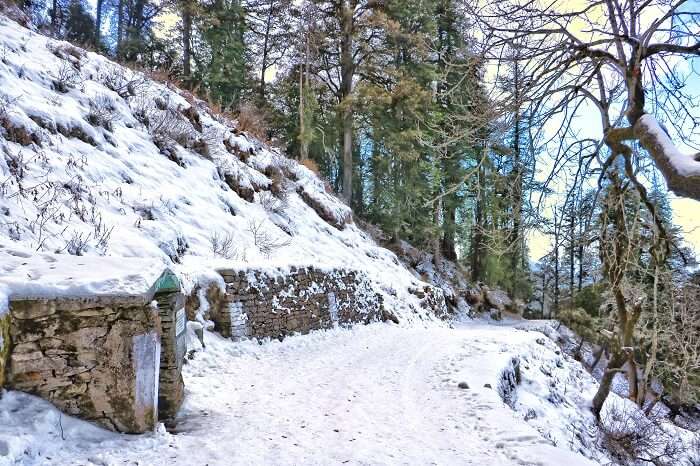 Often referred to as 'Choti Kashi' or 'Varanasi of Hills', Mandi enjoys hot summer season, and chilling cold winters. The weather from April to October is pleasant and good to spend holidays in Mandi. Summers are warm, and good to spend wearing cotton clothes. But if you are you are looking to enjoy the coldish nipping weather then you must visit in peak winters, when the temperature reaches up to almost freezing point. October to Febuary is the winter seaon here. You may experience some snowfall in the peak winters which are from later half of December and in January. Heavy woollen garments and thick jackets are must- haves in the winters here. The average annual temperature in Mandi is 21.7 degree Celsius.
Must Read: 10 Restaurants In Mandi That Serve Traditional And Famous Dishes Of Himachal (2022)
Reasons To Visit Mandi During Snowfall Season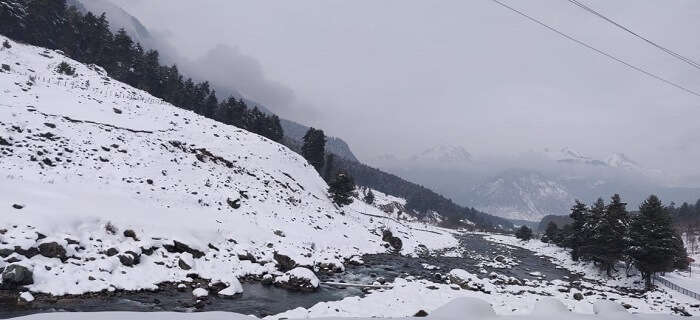 One can participate in adventure sports like trekking, river rafting and camping here.
Apart from these, if you are planning a trip with the family to Mandi, you have a number of reasons to enjoy the place, numero uno being the snowfall. Actually, in January 2022, Mandi saw more snowfall than Shimla. Hence there are chances, your trip to Mandi this winter would end into fun and adventure.
Also, if you are looking for an offbeat vacation spot to go with friends, consider Mandi.
If you are a backpacker, or a solo traveller, Mandi happens to be the coolest destination and provide you with no- filter, Instagram- worthy pictures.
Best Places To Visit During Snowfall In Mandi
With a lush green enclosure, Mandi is situated at the junction of Kullu and Dharamshala. Over 81 temples of different shapes and sizes have enveloped the town, making it a peaceful area to enjoy nature and the beauty of the Himalayas. Let's take a look at what this small town has to offer to the tourists-
1. Parashar Lake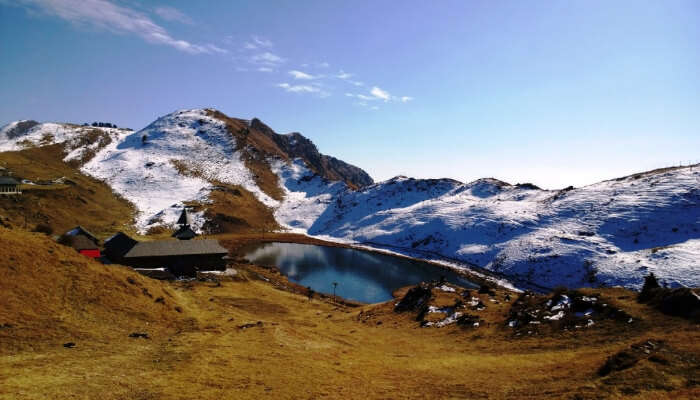 A hilly trekking route takes tourists to Parashar Lake which is simultaneously a perfect site for experiencing pure nature and spiritual bliss. Located at a distance of 40 km from Mandi town, Prashar Lake should always be in the first place of the tourists' checklist. Considered as a pilgrimage, this lake is accompanied with the Parashar Muni Temple. This three- tier Lord Shiva temple was made on circa 1520, and is situated by the banks of the serene lake.
While most tourists prefer daylong trekking to Prashar Lake, during snowfall people visit the place by cars. Completely snow-capped, Parashar is a beautiful place on top of the mountain to enjoy snowfall. Poor marketing has kept this place hidden from the crowd, so it's always the right time to enjoy snow, chilling cold wind with a handful of people.
Suggested Read: 14 Best Things To Do In Mandi For A Thrilling & Rejuvenating Experience In 2022
2. Tattapani

If the temperature is freezing cold outside and approaching a snowfall, and you are at Mandi, consider visiting Tattapani. Literally meaning 'hot water' Tattapani is located on the banks of river Sutlej. This place has its own scenic beauty and natural scenarios to enjoy. Tattapani is famous for hot sulphur springs, which in the winters witness tourists flocking from all parts of the state and even from the country. It is believed that bathing in the hot water spring consist curative minerals that can curb most of skin ailments and many other diseases.
While in summers Tattapani temperature ranges from 12- 20 degree Celsius with clear sky; in the winter the temperature falls below freezing point, -7 to 10 degree Celsius. Tattapani attracts tourists in the winters to witness an adequate and regular amount of snowfall. Tattapani is surrounded with a famous Shiva Cave, mostly visited by pilgrims, and an adventure park. Young people enjoy river rafting in the river Sutlej, trekking and camping in the nearby mountains.
Suggested Read: 13 Best Places To Visit In Mandi For A Family Vacation In 2022!
3. Janjehli valley

Plan your trip a couple of days extra and visit the picturesque Janjehli valley. Located at a height of 2150 meters, Janjehli valley is only 70 kms away from Mandi town. A paradise on earth, Janjehli is a lush, green, huge valley that will surely soothe your soul and comfort the eyes. Looking for an offbeat travel experience? Janjehli is the answer. The deodar and pine trees and the blue sky above is all you need for a quick family trip, or even weekend vacations.
Being on a hilly area, Jhanjeli usually have a very pleasant weather. The best time to enjoy the beauty of the valley is from October to March. If you are lucky, the winter months can also have some snowfall, which is otherwise a very pleasantly cool place.
During their stay at Jhanjeli, tourists can plan interesting one- day treks. Janjehli to Karsog (8 hours), Janjehli to Buddha Kaidar (height 9000 ft), Janjehli to Rampur (40 kms) are some of the popular ones. The tourism department has a plan to develop Jhanjeli as a summer abode, which has paved the way for more tourists, business, better roads, and accommodations.
Suggested Read: 15 Places To Visit In Himachal Pradesh In December 2022
4. Pandoh and Barot Dam

You must be amazed why we put names of two dams in the list of activities that you can do in and around Mandi. Well, both Pandoh and Barot Dam have gained popularity for legit reasons.
Made in late seventies, the Pandoh Dam offers the exciting opportunity of thrilling water sports. If you are not into any of these adventure sports, the greenish- blue water flowing under the dam is always a treat for the eyes. As this dam is open for tourists from 6 am to 6 pm across the year a day out with the family and friends worth every penny.
Barot (67 kms from Mandi) is another popular dam and new- found love among the tourists. Barot Dam is circled by the Dhauladhar ranges. The picturesque construction on River Uhl and a popular site for fishing, Barot was famous for trout fishing in the pre- independence era.
Suggested Read: 7 Best Things To Do In Khajjiar For A Refreshing Holiday In Himachal Pradesh
How To Reach Mandi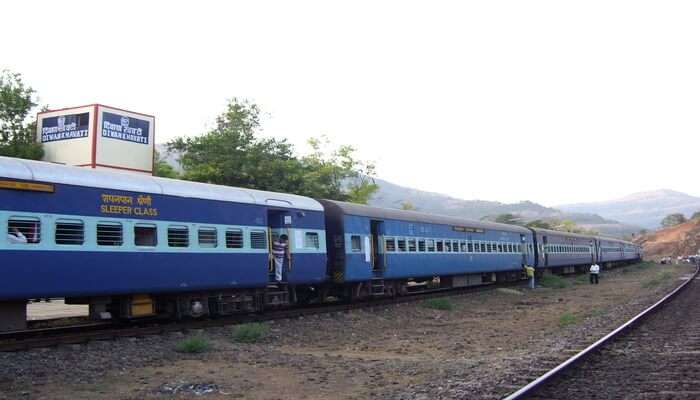 The beautiful town of Mandi is a gateway to the most famous valleys of Himachal. It is Mandi that connects with Kullu, Lahaul and Spiti. Being the headquarters of the district, Mandi is also well connected.
By Road: Mandi is well connected with Delhi, Chandigarh and other neighbouring cities. States like UP, Punjab and Haryana have regular bus services to Mandi. Buses are run by HRCT or Himachal Road Transport Corporation from Delhi and other significant neighbouring cities to this trade capital of Himachal.
By Train : By train Mandi is connected by narrow gauge stations of Joginder Nagar (55 kms) and Shimla. Broad gauge trains from Chandigarh and Kalka also connects Mandi. The nearest broad gauge rail station to Mandi is Pathankot (210 kms). One can reach Mandi by booking a private car or by bus from the rail stations.
By Air : If you are travelling by air, the nearest airbase is Bhuntar. Nearest airport is Chandigarh, 116- kms from mandi. The 60- kms distance of Bhuntar to Mandi can be covered by booking a taxi, or a private car. Municipality- run buses are also available to reach Mandi from the Bhuntar airport.
Further Read: 12 Snowfall Places In Himachal Pradesh: A List For Your 2022 Trip
The scenic landscape, the high mountains, the sky- high pine and deodars, and pollution- free, fresh air- attract travellers from across the country to Mandi all through the year. Mandi is yet to become the most popular tourist destination; however, the serenity should be kept unaltered. So plan a trip to Himachal Pradesh and do not miss the places near Mandi if you happen to be anywhere close. This place holds the option to help you gather experience of a lifetime.
Disclaimer: TravelTriangle claims no credit for images featured on our blog site unless otherwise noted. All visual content is copyrighted to its respectful owners. We try to link back to original sources whenever possible. If you own the rights to any of the images, and do not wish them to appear on TravelTriangle, please contact us and they will be promptly removed. We believe in providing proper attribution to the original author, artist or photographer.
Frequently Asked Questions By The Travellers Planning To Visit Mandi In Winters
Why should I go to Mandi?
If you prefer quaint and laid- back tourist destinations, Mandi is the place. Expect a peaceful vacation if in Mandi. Go walking, long drive, sightseeing or trekking- Mandi has it all.
What is the Ideal trip duration for Mandi?
Anywhere between 2 to 10 days. Mandi has many dams, temples, lakes, and valleys surrounding it. plan your trip as per your convenience. You can stopover Mandi on your way to Kullu and Dharamshala. Or stay in Mandi for the captivating landscapes, and unpolluted air.
How safe is Mandi for women travellers?
Himachal Pradesh is a peaceful state, and so is Mandi as a town. HP is a major tourist attraction where tourism plays a key role in making profits. Travellers, be it women, solo traveller, or family, they are safe in Mandi. However, it is always advised to prepare yourself if you are travelling solo. There are incidents where women traveller said Mandi people as hospitable, polite and helpful.
What are the Things to do in Mandi?
Trekking, commuting with the locals, exploring the mountains and paths between trees, visit the famous lakes, temples, and many more are there to do in Mandi. Mandi consists a plethora of tourist attractions which are worth a visit.
Are there any accommodations at Prashar Lake?
The distance between Mandi and Prashar Lake is only 50 kms. It is more like a day outing. But if you have planned to stay at night, the area around Parashar Lake is well- equipped with hotels, dharamshalas, and guesthouses of good quality.
How much will it cost me to visit Mandi?
The average daily budget for Mandi is around Rs. 1200/- to Rs. 1500/- per person. So if you are a team of two people who have planned to stay at Mandi for two nights, the cost would not be more than Rs. 6000/-. Multiply the expenditure according to the number of members going with you for Mandi trip.
---
Looking To Book A Holiday Package?
---