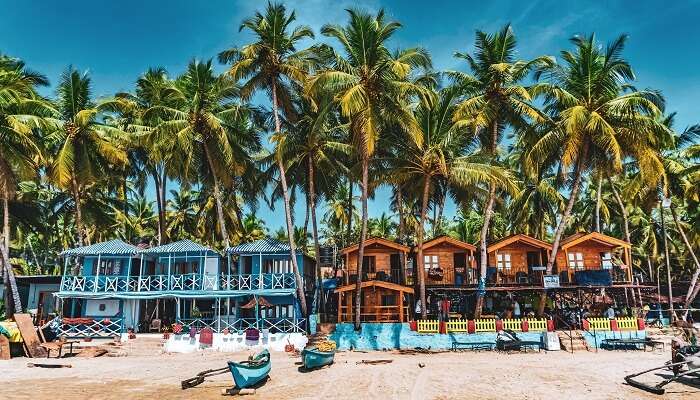 There is no bigger joy than traveling all by yourself and exploring the new dimensions of a destination. Not only are solo trips great for rejuvenation, but they also allow you to tailor your plans to your interests. While India has a plethora of such destinations, what better way to start your solo journey than with Goa? Relaxing by the glistening white beaches, enjoying the sizzling nightlife, exploring the local markets, and indulging in water sports activities, Goa offers everything that you look for in a perfect tropical getaway. Whether you are planning for an adventure getaway, or looking for a peaceful trip, Goa has it all. If you are a first-time traveler or need better guidance on how to plan your trip, Here is our comprehensive guide to help you plan your next solo trip to Goa.
About Goa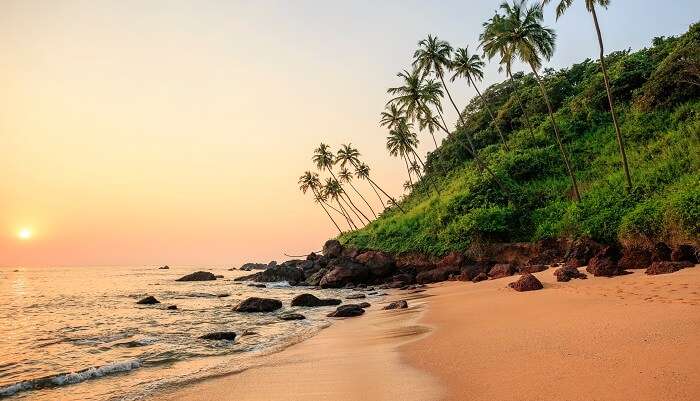 We all know Goa as the perfect destination for a beachy getaway, but the destination is so much more than that. Goa is divided into two parts i.e. North Goa and South Goa. And now the question of which part is better to visit arises. While North Goa is famous for its happening part places, stunning beaches, street food, and water sports activities, South Goa is more peaceful and soothing will a lesser number of tourists. If the goal of your solo trip to Goa, is to relax and unwind in peaceful surroundings, South Goa would be your best bet. And not only the beaches, but you can also find many shopping places, heritage spots, and forts in both parts of Goa. Now, that we are past the question of which part of Goa is better, let's dive in and look at other things you need to know for planning your solo adventure in Goa.
22 Hill Stations Near Goa That Offer Some Of The Most Impeccable Views Of The Landscapes
How To Reach Goa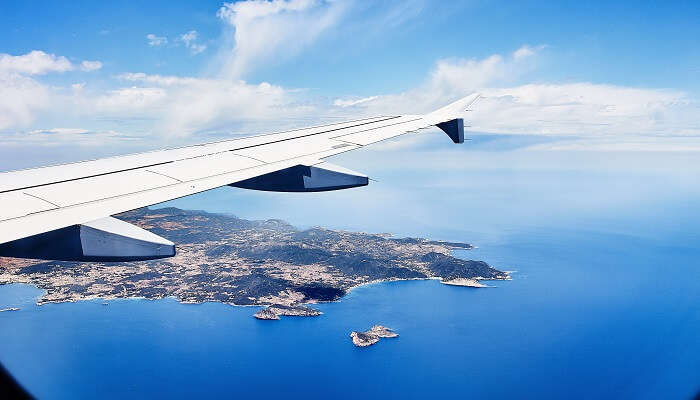 By Air
Definitely, the fastest way and most convenient way to reach Goa would be by air. The nearest airport to Goa is Dabolim, which is at a distance of 29 km from Panaji. Apart from all the major domestic cities like Delhi, Mumbai, Bangalore, Indore, Kolkata, etc, this international airport is also well-connected to international cities of the UK and Germany.
By Rail
The rail connectivity in Goa is good and the stations are well-connected to all the major domestic cities. The two main stations in Goa are Madgaon and Vasco-da-Gama which are well-connected with trains from Mumbai and other cities. Traveling by train is a much more economical option as compared to flight.
By Road
Traveling by road is also another good option to reach Goa. The main bus stand is the Kadamba bus stand and the road connectivity from all the major cities is quite good. Goa has its own bus service, or you can also opt for private buses for a more convenient journey.
Best Time To Visit In Goa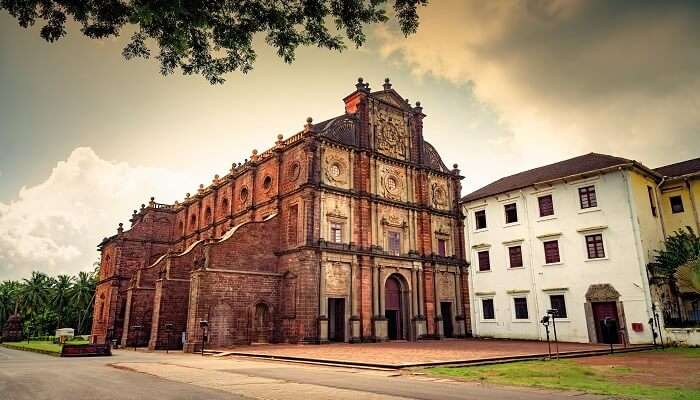 While planning a solo trip to Goa, you might want to know about the best time to visit the destination. Goa is accessible all around the year but there are a few months that are considered the best for planning a trip.
November to February
November to February is the best time to visit Goa, as the weather around this time is pleasant and ideal to explore sightseeing points. There are a lot of parties around this time as well, and it is the perfect time to relax and unwind on the beaches.
March to May
While March to May is not considered the ideal time to visit Goa, the hotel prices around this time are reasonable due to the fewer number of tourists visiting the destination. The temperature usually ranges between 25-35 °C and the weather remains hot and humid which also does not allow to indulge in many activities.
June to August
The months from June to August are slightly cooler due to the onset of monsoon season in Goa. The temperature usually ranges between 24°C and 30°C. Perfect time to visit for all nature lovers, the rains add to the experience with frequent drizzles and lush green surroundings.
15 Best Beaches In North Goa That Offer An Absolute Beach Vacation
6 Must-visit Beaches On Your Solo Trip To Goa
Unwinding amid the glistening white sand, palm trees, and clear water, beaches are the first thing that comes to your mind when you think of Goa. And while Goa is a haven for many such beaches, there are a few that you definitely cannot miss out on. Here are our top 6 picks of must-visit beaches on your solo trip to Goa.
1. Calangute Beach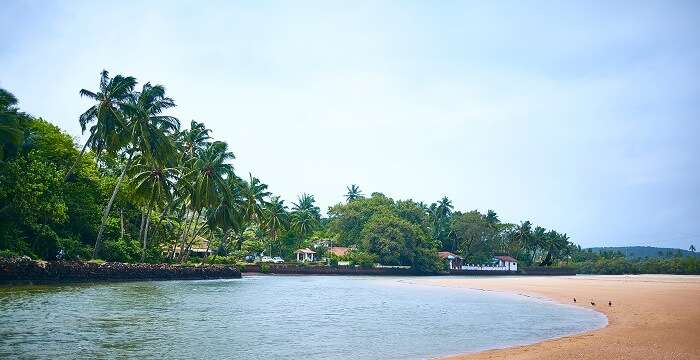 One of the most famous beaches of Goa, Calangute is not only famous for its glistening white sand and palm trees but also for its markets and water sports. You can find art exhibitions, open-air markets, and various water activities to indulge in here. The beach is in close proximity to Panaji and is dotted with great pubs and restaurants to explore on your visit here.
2. Anjuna Beach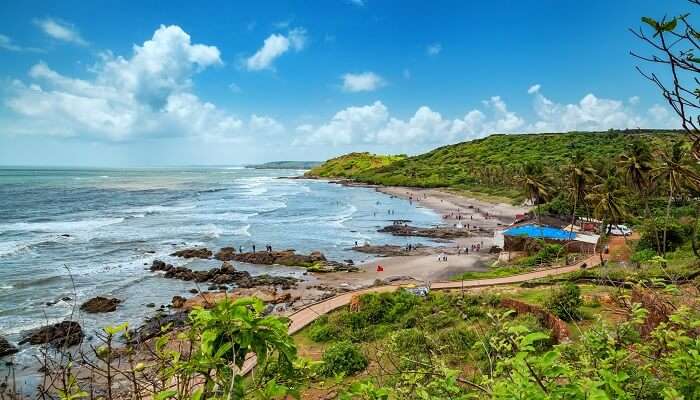 One of the most famous beaches to visit on your solo trip to Goa, Anjuna Beach has a reputation among travelers for fun-filled activities. Psychedelic music, flea markets, fun crowd, everything can be found here. If you want to catch a glimpse of magical sunsets or want to enjoy the nightlife of Goa this is the perfect place to be.
10 Best Romantic Restaurants In Goa To Woo Your Significant Other With Food
3. Vagator Beach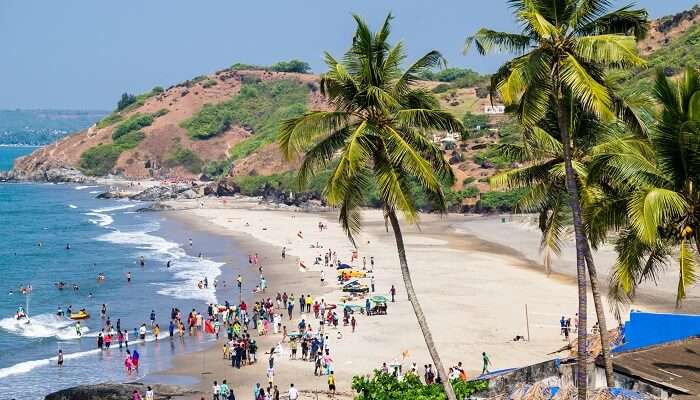 Located in the northernmost region of Bardez Taluka, Vagator beach is famous for its stunning freshwater springs that flow amid the red cliffs. You can also find local food stalls and shops selling souvenirs and clothes. This beach is quite famous among tourists and is the perfect place to relax after a long day of exploring Goa.
4. Palolem Beach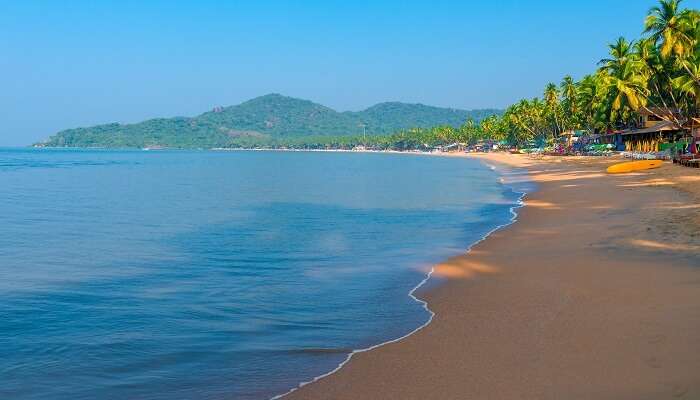 Located in Canacona in southern Goa, this beach is commonly visited by fishermen and foreigners. Among the quiet places to visit on your solo trip to Goa, this beach gives you the chance to soak in the serenity of the place. You can also enjoy yoga classes and ayurvedic therapies here.
29 Most Romantic Places In Goa For Couples To Have A Lovely Time
5. Agonda Beach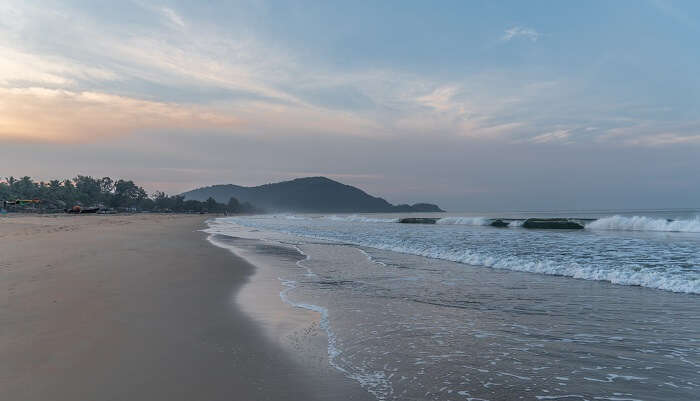 Among the less crowded places to visit in Goa, Agonda Beach is generally not packaged with tourists. With a tranquil and soothing atmosphere, this beach is ideal for relaxing and enjoying the sun. The waves here are quieter so it is also ideal for swimming. On your visit to this beach, you can also visit the Agona Church which is located right in the middle of the beach.
6. Cola Beach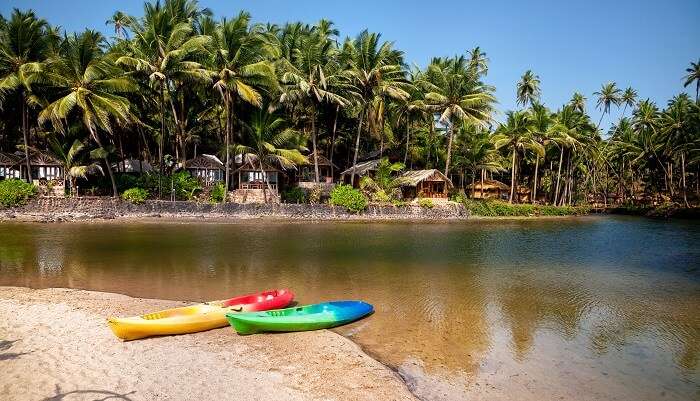 Away from all the hustle and bustle, this beach is the perfect spot to relax and enjoy the peaceful surroundings. Among the most gorgeous beaches in Goa, the surrounding blue water and contrasting greenery will leave you awestruck. Ideal to visit with friends or family you can indulge in activities like sunbathing, swimming, and much more.
Explore Goa In March By Visiting These 15 Breathtaking Places
What To Do On A Solo Trip To Goa
Goa is packed with a plethora of sightseeing points, from beaches to heritage sites to markets, there are many options to explore here. And now that you know about the beaches that you cannot miss out on your trip, here is our guide to some of the best things to do on your solo trip to Goa.
1. Indulge in Water sports activities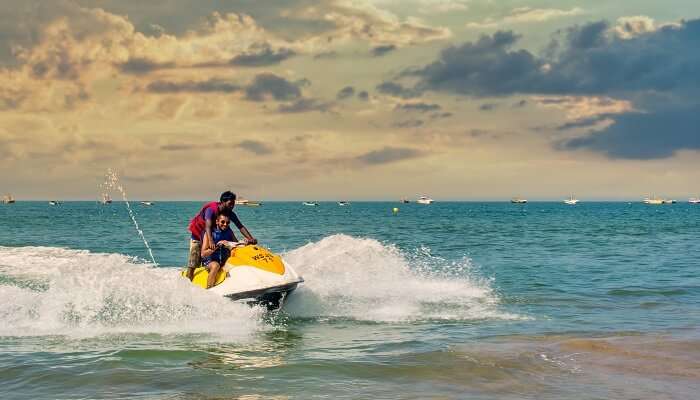 Goa is not only about nightlife, good food, and beaches. It is a haven for water sports activities, with most of the beaches offering options for activities like snorkeling, kayaking, jet skiing, paddle boarding, or surfing. Whether you are someone who loves indulging in water sports activities or not, you should definitely try your hands at one of these to experience the best of Goa. Some of the best beaches for water sports activities are Dona Paula, Baga, Calangute, Anjuna, Candolim, Grand Island, Bogmalo, Vagator, Colva, and Palolem beach
2. Shop from flea markets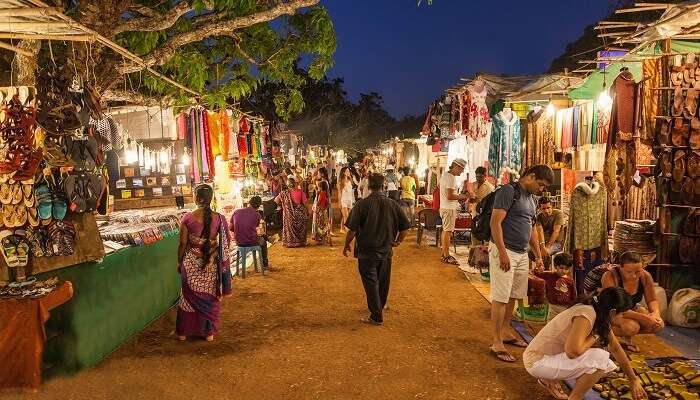 Goa is known for its flea markets, and your solo trip to Goa won't be complete without shopping. From handicrafts to dresses to accessories, to trinkets, to shoes, and much more, you can find anything and everything to shop from here. One of the most famous markets here is the Saturday night market at Arpora.
15 Budget Hotels In Goa Perfect For All Kinds Of Travelers
3. Savour the delectable seafood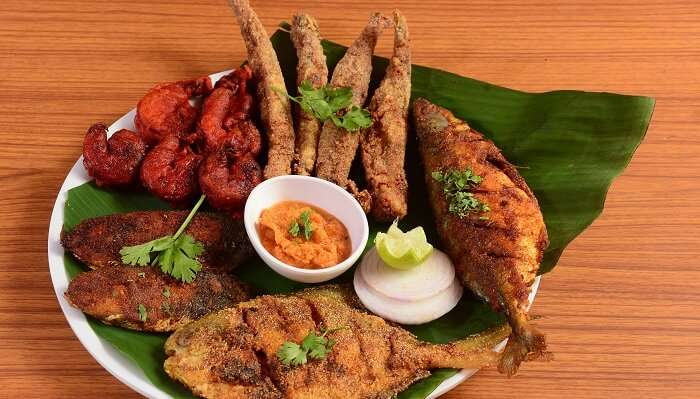 Is your solo trip to Goa even complete without tasting the seafood? Goa is famous for its variety of sea foods. Prepared locally with the use of local spices and recipes, this is definitely something that you cannot miss. Grilled kingfish, pomfret recheado, Batter-Fried Calamari, Tonnak, tisryo, Rawa fried mussels, or crab masala are few of the must-try dishes here.
Now that you know about all the great things to do and places to visit on your solo trip to Goa, what are you waiting for? Plan a trip to Goa, and bask in the glory of this coastal state on your solo adventure.
Cover Image Credit: Sumit Sourav for Unsplash
For our editorial codes of conduct and copyright disclaimer, please click here.
Frequently Asked Questions About Solo Trip to Goa
Is Goa good for a solo trip?
Yes, Goa is a perfect destination for a solo trip. The destination has got everything from beaches to historic places to churches to local markets, also it is a safe place to travel to.
Which part of Goa is good for a solo trip?
Goa is divided into two parts i.e. North Goa and South Goa, both parts are great to explore. North Goa is usually packed with tourists because of the parties and the number of beaches it has. South Goa on the other hand is more peaceful and soothing with less crowded beaches and tourist attractions.
How do I plan a solo trip to Goa?
To plan a solo trip to Goa first define the purpose of your travel and choose the sightseeing points accordingly. You can spend 4-5 days in Goa exploring the beaches, historical monuments, churches, local markets, and much more. Make sure to book your accommodation in advance to avoid any last-minute hassle.
Which month is best to visit Goa?
The months from November to February are considered the best to explore Goa, as the weather conditions around these months are pleasant and ideal to visit the destination.
People Also Read:
Solo trip to Japan Solo trip to SriLanka Solo trip to Singapore