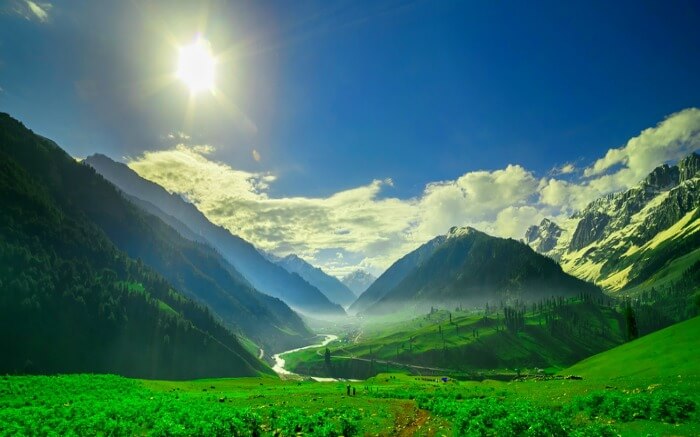 Kashmir – the mighty king in the north encompasses the best of lush pastures, tall mountains, dancing rivers, and oozing energy in the air. The land prides itself in being home to almost 12 million people. There are heavenly places to visit in Kashmir, idyllic and concealed in the quietude of the valley, longing to hear your footsteps soon after the winter snow subsides and nature flourishes under the shining sun yet again.
From majestic mosques and blooming gardens from the Mughal era to lakes oozing romance and national parks showcasing the best of Himalayan biodiversity, the best places to visit in Kashmir – well known and lesser known, know how to calm down your wanderlust!
Must see lakes and valley in Kashmir
Valleys and lakes are the ultimate truth in Kashmir, rest act as supporting charm!
1. Nigeen Lake – Romance is shikhara ride!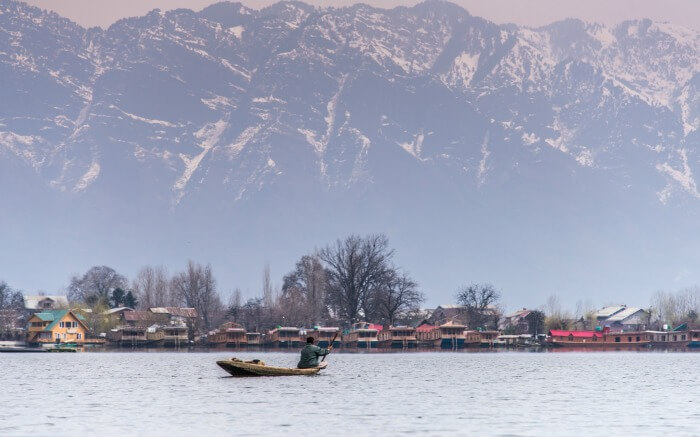 Carrying the oldest legacy of Kashmir, of being a popular location to enjoy a Shikhara ride or a houseboat stay, Nigeen is certainly a hot favorite place. The beautiful lake destination in Kashmir features some of the topmost houseboats in Srinagar and offers a range of romantic activities, especially for honeymooners. Historical structures and natural escapades around the lake put it atop the list of most important things to do in Kashmir.
Nigeen Lake is known for: Shikhara ride and houseboat stay
Popular attractions around Nigeen Lake: Hazratbal Mosque, Indira Gandhi Tulip Garden, Jama Masjid, and Pari Mahal
Must Read: 15 Best Houseboats In Kashmir: A Treat For Nature Buffs
---
Kashmir Tour Packages On TravelTriangle
Visit Kashmir and experience skiing in Gulmarg, trekking through the breathtaking mountains lakes, trout fishing in Sonmarg and a romantic stay in houseboats in Jhelum River. Book packages inclusive of airport transfers, cab, resort, sightseeing, and meals.
---
2. Wular Lake – Fresh, all day, all night long…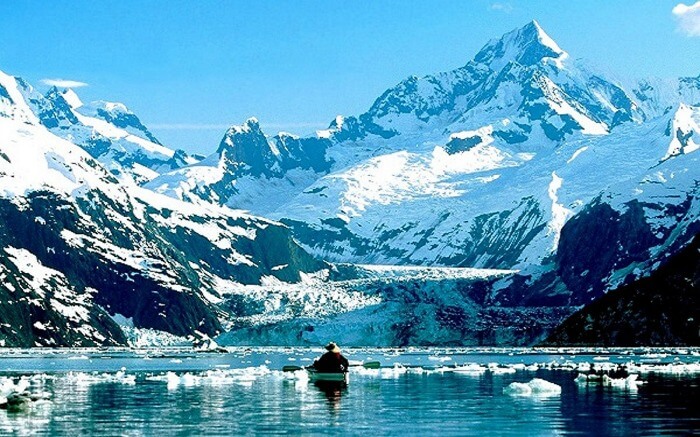 Fed by river Sutlej, Wular lake is a popular tourist attraction at a distance of 65 km from Srinagar. Located in the Bandipora district, the lake is one of the largest freshwater lakes in Asia that leaves the travelers spellbound as they sail across the lake on a shikara or a boat. And the beauty is breathtaking; it couldn't get better for a nature photography enthusiast!
One of the 26 wetlands of India, the lake has the best of nature views around, which makes it one of the best places to visit in Kashmir. Serene as it looks, the lake water is considered inappropriate for swimming. Behold and appreciate!
Wular Lake is known for: Boating and relaxing retreat
Popular attractions around Wular Lake: Jamia Masjid, Manasbal, and Kheer Bhawani Temple
3. Chatpal – Presenting mini Pahalgam for you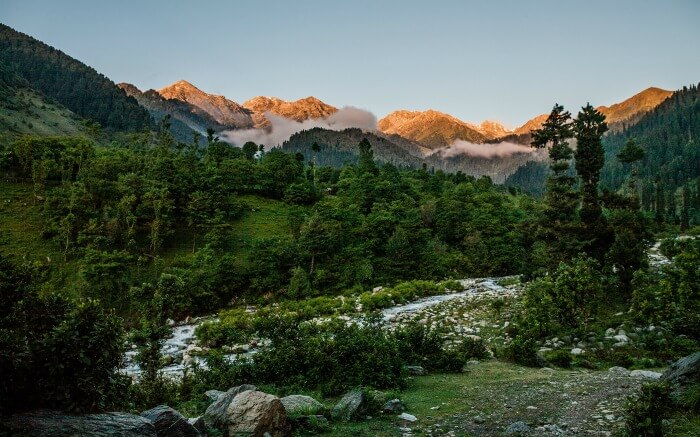 Till date, Kashmir has managed to retain its rustic charm. And there's so much to explore in the valley that even the most avid travelers haven't seen all of it. In the list of hidden Srinagar tourist places is Chatpal in the Shangas district of South Kashmir.
Located 88 km from Srinagar, this spellbinding place is the popular turf for nature enthusiasts. With verdant peaks, and gushing river streams cutting through the impregnable woods, there's nothing more enchanting you'd find in the city.
Chatpal is known for: Apple and walnut trees
Popular attractions around Chatpal: Thimran Village, Mamleshwar Temple, Pahalgam Golf Course
Suggested Read: 8 Lesser Known Secrets Of Kashmir That It Has Kept To Itself
4. Betaab Valley – The carpeted enchantress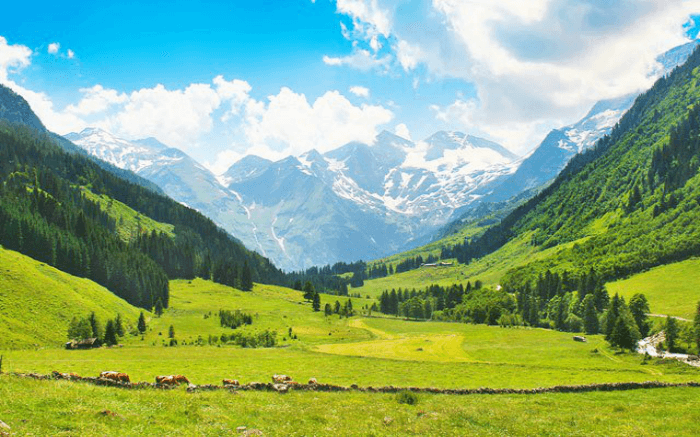 Sunny Deol starrer Bollywood flick Betaab was the inspiration behind the name of this picturesque valley located 15 km from Pahalgam in the Anantnag district. Romantic climate, breathtaking location, and dancing streams cutting through the valley make it one of the best places to visit in Srinagar. Picnic spots, shooting trees, and absolute greenery makes Betaab Valley truly an exceptional destination in Srinagar.
Betaab Valley is known for: Magnificent views and carpeted greenery
Popular attractions around Betaab Valley: A stay in the wonderful hotels and cottages around the valley is highly recommended. Island Resort, Hotel Himalaya House, and Forest Hill Resort are a few of them.
5. Aru Valley – Of pines and alpines!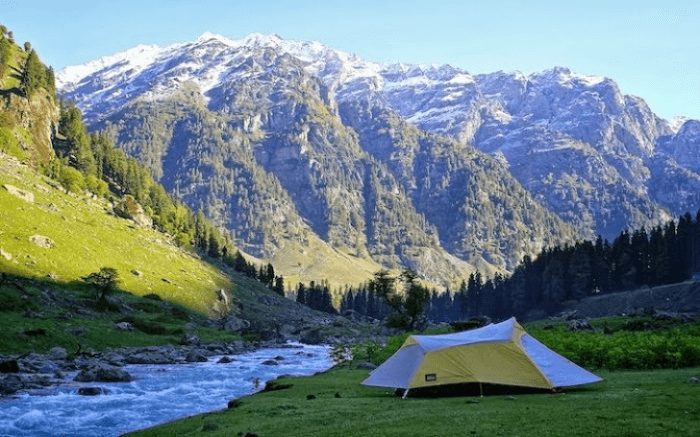 The actual colors of Kashmir ooze from its vast valleys. Aru Valley in the Anantnag district, around 100 km from the capital city, is one of the best Kashmir tourist spots. The Valley is the perfect place for adventure lovers and also acts as the starting point to Kolahoi Glacier and Sonamarg Trek.
Pahalgam is the nearest town at a distance of 12 km from Aru Valley. The beauty of snow-capped peaks, and towering pines make it one of the best places to visit in Srinagar.
Aru Valley is known for: Hiking, skiing (in winters), horse riding, camping, and trekking
Popular attractions around Aru Valley: Chandanwari, Baisaran, and Betaab Valley
Must visit gardens and national parks in Kashmir
The best of Kashmiri biodiversity and the finest example of Mughals fondness for flowers and gardens!
6. Mughal Gardens – For the love of blooming flowers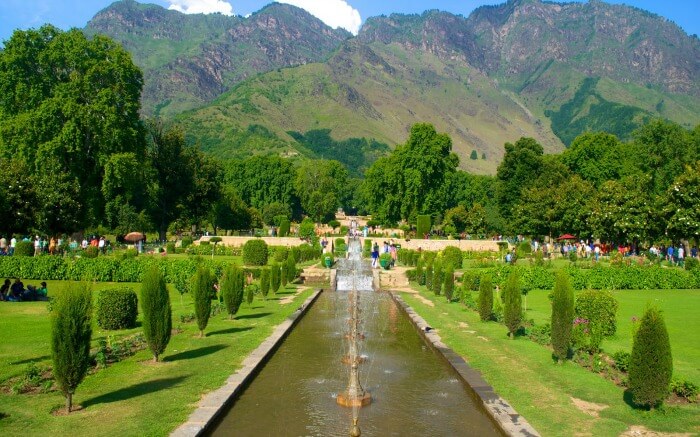 What used to be the favorite leisure activity of Mughals, (gardening) today thrives as a wonderful crown of the Kashmir Valley. Following the Persian style of architecture, the Mughal garden is a lovely tourist attraction in Kashmir. Holding Dal Lake in the background, this one of the popular Srinagar tourist places encloses beautiful moments and monuments.
A UNESCO World Heritage Site, the garden keeps flourishing with greenery and indigenous flower species and is a prime attraction close to Dal Lake.
Mughal Gardens is known for: Shalimar & Nishat Bagh, deodar forest hills, and Tulip flowers
Suggested Read: A Prison You Would Happily Escape Into : Trip To Kashmir
7. Dachigam National Park – The power of 10!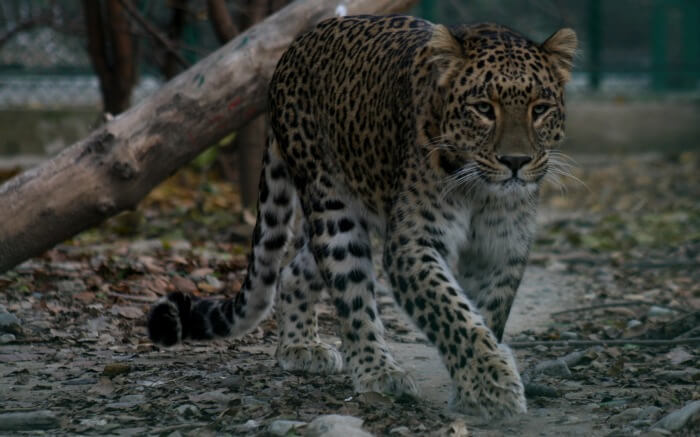 The name Dachigam translates to 10 hamlets that fall under its wide area of 141 sq. km. Some 22 km from the Srinagar main town lies Dachigam National Park – a perfect sojourn to explore the best of conserved wildlife in the Kashmir valley.
One of the most important Srinagar sightseeing places, Dachigam is known as popular dwelling spot of Kashmiri Stag and Himalayan black bear among other species of flora and fauna.
Dachigam National Park is known for: Wildlife safari
Popular attractions around Dachigam National Park: Parambikulam Wildlife Sanctuary, Nokrek National Park, and Karnala Bird Sanctuary
Historical and religious places in Kashmir
Bask in the glory of these places from centuries back and marvel at some of the finest specimens of art and architecture!
8. Shankaracharya Temple – Shiva's oldest seat in the valley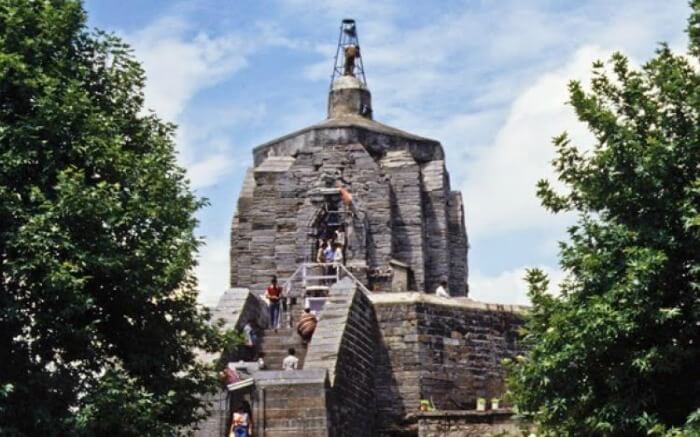 Believed to be the oldest shrine in the Kashmir valley, Shankaracharya Temple is one of the renowned Srinagar sightseeing places to catch the majestic nature at its best. It is an architectural marvel, stationed on a hill peak, 1100 feet above sea level. The view from the top is truly enchanting, especially from May to September.
Shankaracharya Temple is known for: Persian scriptures inside the temple dating back to Shah Jahan's ruling days
9. Hazratbal Mosque – Domed delight, all white!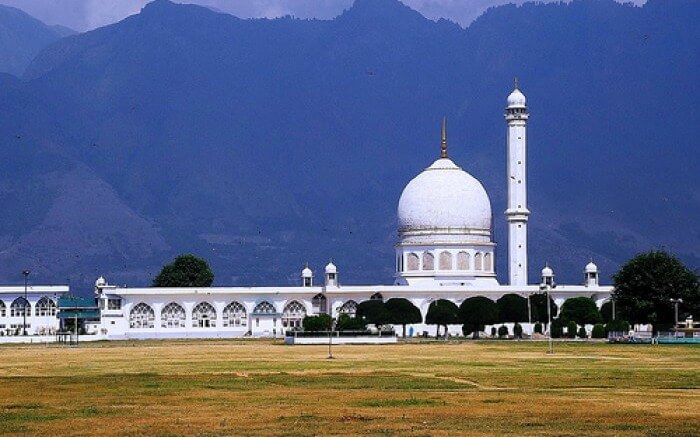 Standing on the left bank of Dal Lake, Hazratbal is a popular tourist attraction in the vicinity of Srinagar town! One of the popular places to see in Srinagar, the mosque has been a bang on tourist attraction in the valley that has retained its rustic charm for almost 3 decades.
The beauty, sculpted out of white marbles is definitely a captivating watch around the Srinagar city. There's a lot of preservings in the mosque like the immaculate design and huge dome. Yes, Hazratbal is the only domed attraction, without visiting which no tour to Srinagar is complete.
Popular attractions around Hazratbal Mosque: Dal Lake, Mughal Gardens
10. Awantipora – Revisiting days of the glorious past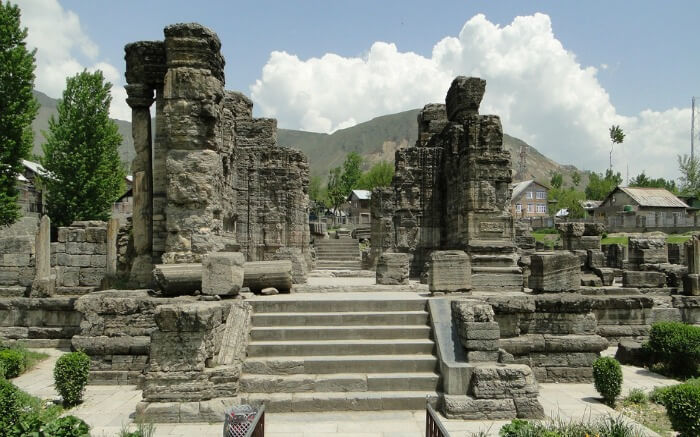 30 km from Srinagar, Awantipora is one of the popular tourist places in Srinagar that must not be missed! The place is famed as the erstwhile capital city of Avantipora during ancient days. The ruins also showcase the fine architecture and art during good old days!
Lalitaditya was the ruler who got the temple constructed that now stands in ruins. It is a popular historical site in Awantipora and one of the best places to visit in Srinagar.
Awantipora is known for: Rustic ruins from the ancient times
Popular attractions around Awantipora: Anantnag, Padgampora, and Martand Sun Temple
Best time to visit Srinagar
April to September is the best time to visit Srinagar. During these months, the temperature remains between 14 – 30 degrees Celsius. Heavy snowfall blocks the mountain passes and makes the valley inaccessible during winters.
How to reach Srinagar
By flight: Srinagar Airport is the nearest airstrip which is well connected with major Indian and a few international cities as well.
By train: Udhampur Railway Station is the nearest railhead to Srinagar. Buses and private vehicles ply from the railway station to the city on a regular basis.
By road: Regular buses operate from Jammu to Srinagar in tandem. Also, there are ample of options to travel to Srinagar by a private vehicle.
Places like Kashmir make you realize how divine power works in some of the most strange ways and turns everything around into a blessing. Plan a trip to Kashmir now.
Further Read: 10 Unbelievably Beautiful Places To Visit In Kashmir
---
Looking To Book A Holiday Package?
Book memorable holidays on TravelTriangle with 650+ verified travel agents for 65+ domestic and international destinations.
---
Comments
comments