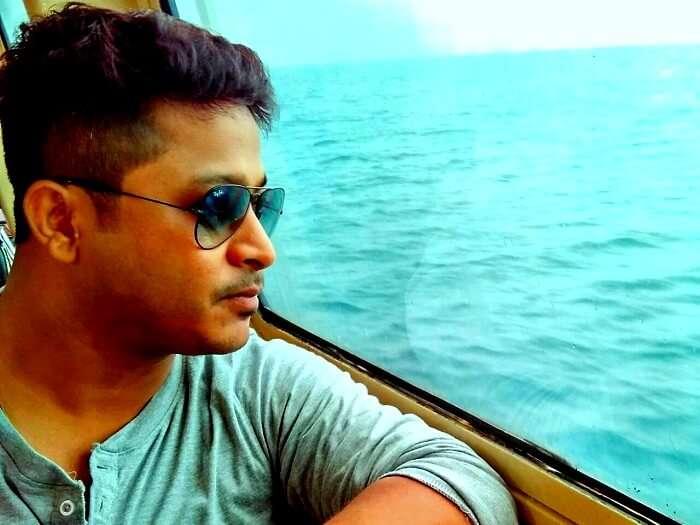 Sometimes words don't suffice the beauty witnessed. Read the account of Soumyadeep in ink and in color of the beautiful pearl islands of India. His honeymoon trip to Andaman Islands with his wife oozes with serenity and luxury at a cost of INR 39000 which included their transfers, accommodation, sightseeing and meals. 
My wife and I wanted to go to either Andaman or Kerala for our honeymoon. Seeing as the time was wasn't ideal to go to Kerala due to the monsoon, we chose the former.
I found out about TravelTriangle on the internet and really liked the option in which the customer is allowed to modify his package according to his needs.
I submitted a query on their website, and shortly, i was contacted by a representative from TravelTriangle. He understood my requirements and redirected my travel needs to various agents. I soon got various quotes from multiple agents regarding my travel itinerary. I selected the one with the most competitive price and suitable itinerary.
Day 1: Traveling to Port Blair.
We took an early morning flight from Kolkata to Port Blair. On our arrival, a guy from the agency was present to receive us and transfer us to the hotel. After checking into the hotel, we proceeded for lunch. Post lunch, we visited the Cellular Jail.
I hired a personal guide for our tour. I felt this way it was more fascinating and interesting to know about the history and story of the jail.  Afterwards, we went to Carbin Beach to relax for a little in the sun. The beach was small but gorgeous.
As it grew dark, we proceeded back to Cellular Jail for the sound and light show. We found the narration of the story to be inspiring and patriotic. Later on, we proceed for some dinner back at the hotel.
Day 2: Havelock Island
Suggested Read: 14 Interesting Secrets Of Andaman Islands: All About The Scenic Destination!
After an early breakfast, we checked out of Port Blair. We departed for Havelock Island via a private ferry. Two-and-a-half hours later, we reached the beautiful island. We checked into the resort at Havelock and proceeded for lunch.
After lunch, we proceeded to the Radhanagar Beach.  A jewel in the crown of Indian beaches. We were ecstatic and breath-taken by its unparalleled beauty and texture. We went for a dip in the water and later on, proceeded back to the hotel for the night.
Day 3: Snorkeling in Havelock
This day, we were scheduled to visit Elephanta Beach and take a snorkeling lesson. Unfortunately due to the weather conditions, the trip to Elephanta Beach had to be cancelled.
Moving on, we covered some other rural areas in the island near Mangrove beach. At 10am, I got a chance to do some snorkeling. I personally liked it so much, that I ended up paying for extra minutes in the water.
In the evening, I planned for a romantic candlelight dinner. The dinner was fantastic and I had a memorable night my wife.
Day 4: Travel to Neil Island
Suggested Read: His 20 Heavenly Images From Andaman Will Completely Sweep You Off Your Feet
I checked out of the resort in Havelock Island. Since the boat to Neil Island wasn't to depart until 2.30pm in the afternoon, we went to another beach of the island-: Kala Patthar beach. After experiencing and enjoying at Havelock, we moved to the Jetty Area and waited for the ferry which left in an hour for Neil Island.
We reached Neil Island at 4pm. We were lucky with the fact that our hotel is placed near Laxmanpur Beach which saved us a lot of time in traveling. The sunset that evening was one I will never forget in my life.
Day 5: Laxmanpur Beach and Travel back to Port Blair
In the morning, we checked out of the hotel at 9 am. Post breakfast, we visited the Natural Bridge formation and the Sitapur beach which only may be visited in the morning due to the high tide coming in.
Our final stop at Neil Island took us to Laxmanpur Beach. Due to it being a bright and sunny day, it became a very good time to do snorkeling. So with that, I snorkeled yet another time in Andamans on my honeymoon trip. We reached the jetty at 4 pm for our ferry back to Port Blair.
We reached Port Blair in the evening at 6pm, after which we checked into the hotel and retired for the night.
Day 6: Depature
On our final day in the Andaman Islands, we were scheduled for a shopping tour in Port Blair at 9am. We checked out of the hotel in Port Blair and then visited the handloom and the khadi gram udyog center for some shopping.
We arrived at the airport at 3pm for our flight back to Kolkata.
As we were waiting for our flight back to Kolkata, my wife and I discussed on how this honeymoon trip to Andaman had completely changed our perspective towards travel as a person. We felt inspire and motivated to go to many more beautiful and serene places together after Andaman Islands.
High Points: 
Cellular Jail Sound and Light Show was really awesome.
The romantic candle light dinner was an unforgettable night.
The sunset at Laxmanpur beach was the best sunset I had seen in my life.
Low Points:
The co-ordination at Havelock Island between the agent and the travel company.
Tips to Travellers : 
Don't pay for meals in your package to Andaman. Try the seafood cuisine at local restaurants in Andaman. It is delicious.
Experience the Island delight in Andaman! Plan your honeymoon for the best beaches in India! Book your package now!