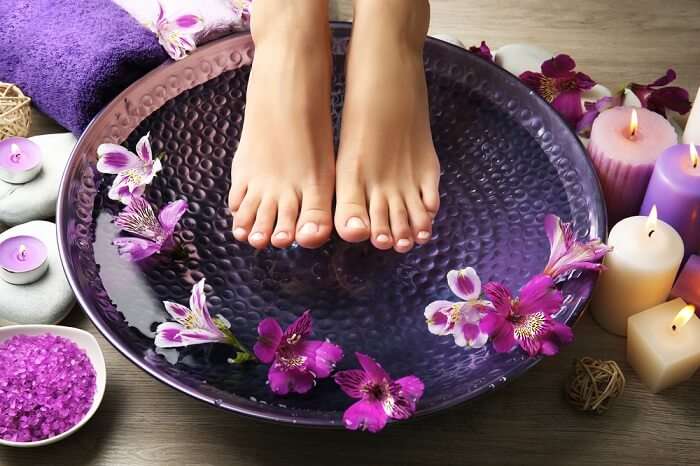 Kerala is not only known for its education but also for its healthy and medicinal lifestyle as well. Many people across the world visit the state not only to feel the fresh and beautiful surroundings but also to know about the traditional methods of meditation as well. Getaway with all your worries and stress in the world of chaos! Free your mind and lose all your cares in the world of Kerala spas. Enjoy the scenic nature of the God's own country in a calm and peaceful ambiance of top spas in Kerala.
Top 10 Spas In Kerala
Discover all the enthralling spas of the state this summer and enjoy the scenic nature of Kerala. Scroll down to view the list of best ayurvedic health resorts and spas in Kerala.
Carnoustie Ayurveda And Wellness Resort
Nirayama
Kairali Ayurvedic Treatment Centre
Vibrance Spa And Wellness
Kumarakom Resort
Somatheeram Ayurveda Village
The Raviz Resort And Spa
Coconut Lagoon
Vasundhara Sarovar Premiere
Fragrant Nature Backwater Resort And Ayurveda Spa
1. Carnoustie Ayurveda And Wellness Resort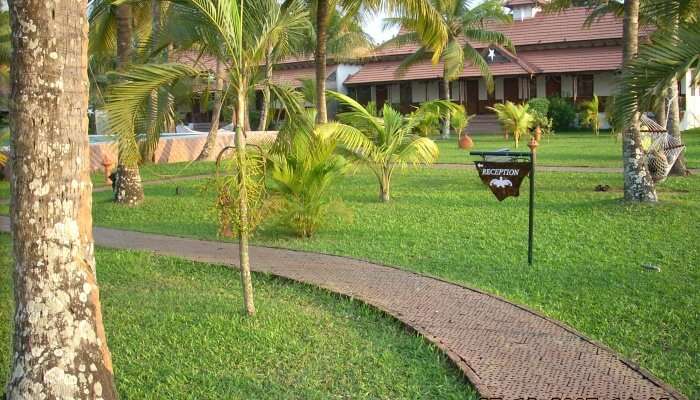 Carnoustie Ayurveda and Wellness Resort has a peaceful atmosphere and is spacious with an elegantly designed building. Being an award-winning resort, it is one of the best spas in Kerala, India and offers various ayurvedic therapies. Not only this, but the resort also provides houseboat services as well.
Treatments offered:
Naturopathy
Marma
The pranic healing rejuvenation program
Detox
Anti-aging
Weight losing program
Healing
Location: Mararikulam North
Must Read: Top 10 Places To Visit In Kerala During Monsoon For A Mesmerising Trip In 2019
2. Nirayama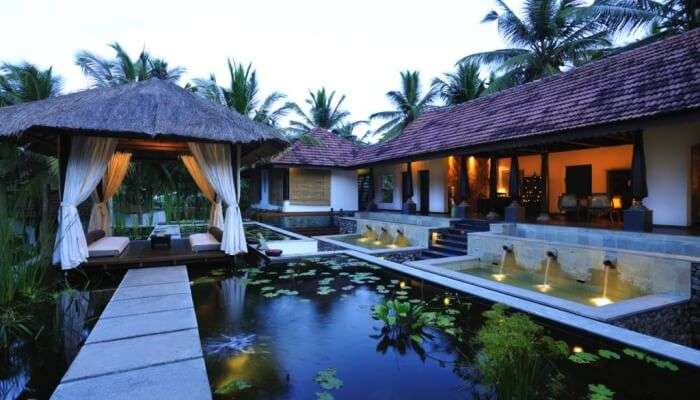 With a beautiful panoramic view of the sea, Nirayama offers you the best services of Ayurveda spa with all the modern amenities. The resort offers special ayurvedic treatments and some delish feasts for the customers. Admire the taste of Kerala's special culinary arts and learn healthy ways of diet here.
Treatments offered:
Stress management
Weight loss
Skin ailment
Detox
Location: Kovalam Beach
Suggested Read: 4 Days In Kerala: Best Places To Visit And Amazing Things To Do
3. Kairali Ayurvedic Treatment Centre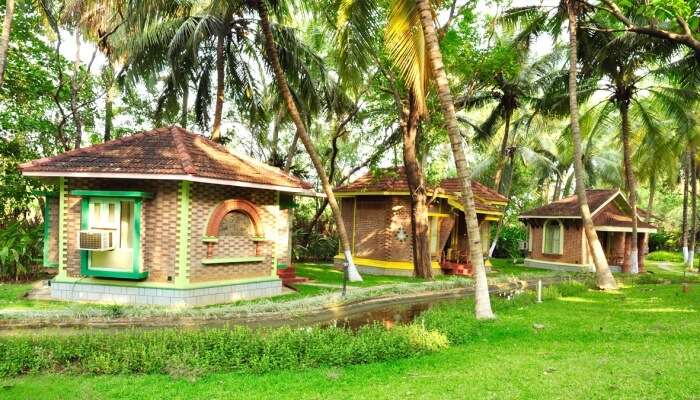 This is a trusted name in the health spa in Kerala, India. 30 years of their dedication and hard work lead them to be one of the most successful treatment centers in the history of Ayurveda. Centering on ancient and proven Ayurveda, Kairali Ayurvedic group provides the best ayurvedic treatment in Kerala and has been advancing and establishing hotels, spas, treatment centers, and hospitals. It is not only known in India but overseas as well.
Treatments offered:
Weight management
Panchkarma
Pain management
Detox
Location: Various location in Kerala
Suggested Read: Here's Why Off Season In Kerala Is The Best Time To Travel, Explore, And Chill!
4. Vibrance Spa And Wellness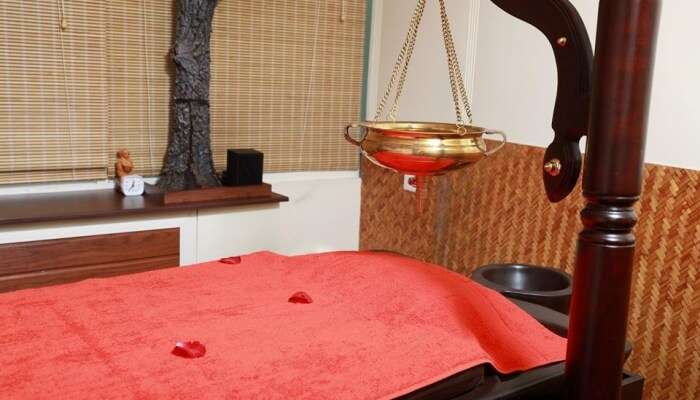 Vibrance Spa And Wellness is among the top spas in Kerala, India. Fall in love with the place and delicate massages! It offers ayurvedic services with its soothing services, it creates a healing and relaxing ambiance for the clients. If you are visiting Kerala, then you must book a spa session at this place and enliven yourself.
Location: 1st Floor Chithra Multi Speciality Dental Clinic Aakkulam Road Near Elamkulam Mahadeva Temple, Sreekariyam, Kerala 695017
Suggested Read: Trekking In Kerala: A Short Guide For Beginners!
5. Kumarakom Resort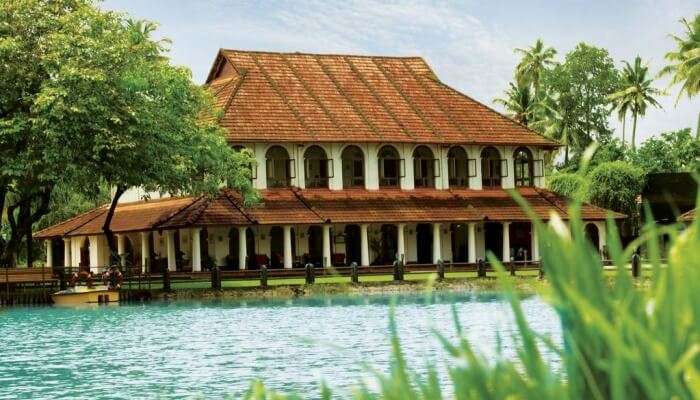 It is one of the largest resorts of Kerala, famous for its soothing spas. Relaxing ambiance, spacious and voluptuary infrastructure makes the place more attractive to tourists. The resort includes other hi-tech services like video gaming, gym, children activity room, billiards which are an integral part of tourist spots.
Location: Kumarakom, Kottayam District, Kerala
Suggested Read: 23 Best Places To Visit In Kerala For An Enchanting Holiday In The Year 2019
6. Somatheeram Ayurveda Village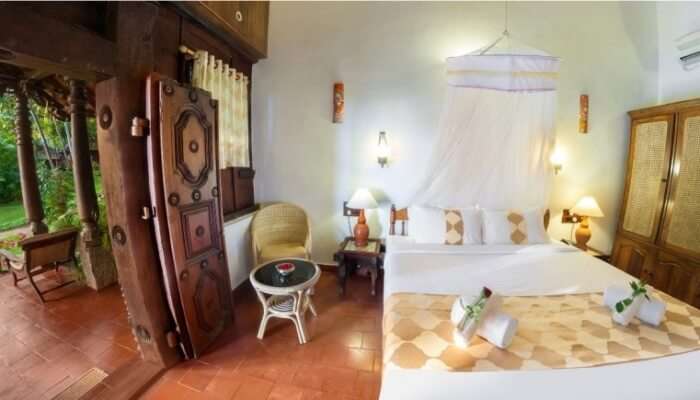 Somatheeram is one of the best ayurvedic centers in the world. Treatments are simple yet traditional and cottages are well-maintained and clean. The resort is located near Kovalam beach and can be reached with a 15-min walk which makes the place more romantic.
Location: Chowara, PO, Kovalam, Kerala 695501
Suggested Read: Monsoon In Kerala: Explore The Coastal Gem Like Never Before!
7. The Raviz Resort And Spa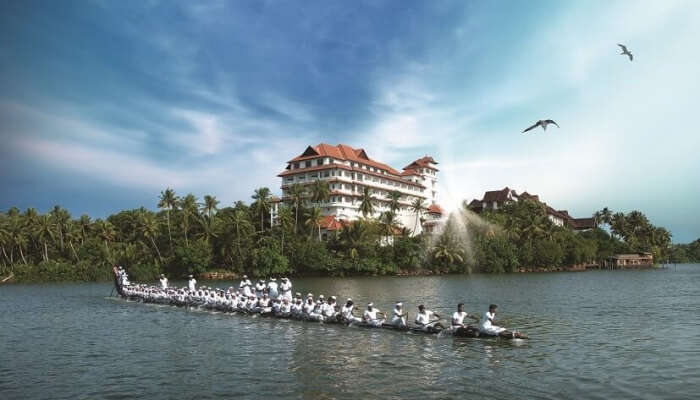 The 9-acre resort situated on the banks of Chaliyar River with a polar style of architecture is famous for its soothing spa in the city. It attracts tourists in first go just for its outlook. Many tourists visit and enjoy the services rendered by them.
Location: Thevally Bridge, Kollam – Elamballoor Rd, Palace Nagar, Thevally, Mathilil, Kerala 691601
8. Coconut Lagoon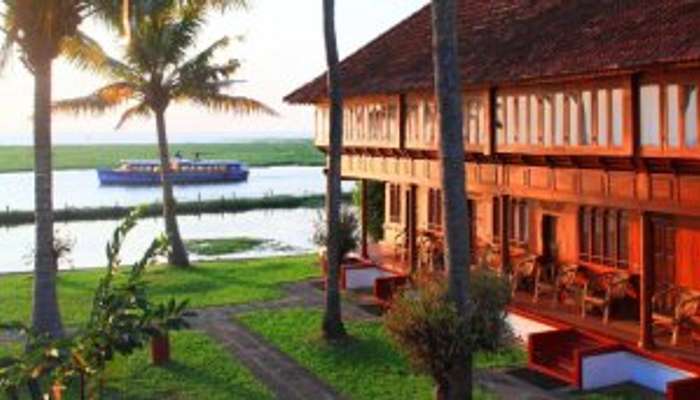 Coconut Lagoon is sitauted in a cove in Kumarakam, with the the magnificant Vemband Lake in the front. The resort has traditional Keralan wooden homes surrounded by lush coconut groves. Experience earth living at this amazing resort in Kerala and along with professional ayurvedic therapy including oil-massage. The backwater create a perfect environment for your body, mind and soul to relax and reflect the best results of the therapy.
Location: Kottayam – Kumarakom Rd, Kavanattinkara, Kumarakom, Kerala 686563
9. Vasundhara Sarovar Premiere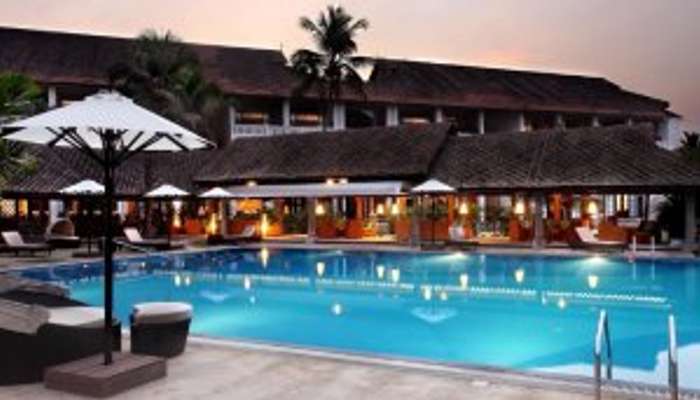 Vasundhara Sarovar Premiere is an upcoming backwater resort located on the lesser-known backwaters of Vayalar. Apart from a wide range of rooms and houseboat accommodation, this is a peaceful abode for those seeking rejuvination. Enjoy the tranquility of the place that compliments the Ayurvedic treatment offered here. There are 8 luxurious Spa treatment rooms with facilities including spine care, skin care, and slimming. You can also consult the in-house Ayurvedic Doctor for more guidance. Also, there is a plethora of fun activities that you can indulge in during your stay at this resort to truely refresh your mind and body.
Location: VP II/123F, Vayalar, Cherthala, Kerala 688536
10. Fragrant Nature Backwater Resort And Ayurveda Spa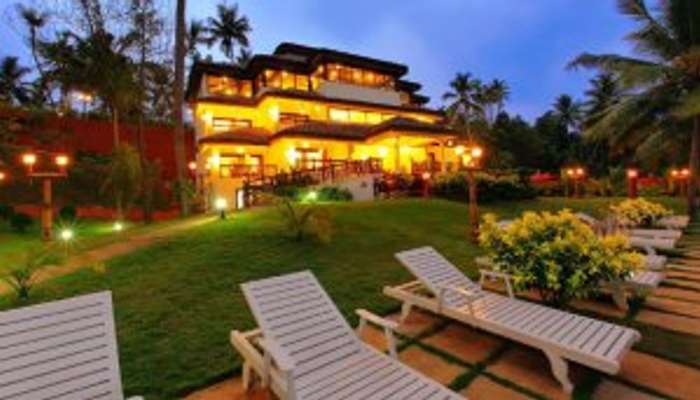 Fragrant Nature Backwater Resort And Ayurveda Spa is among the luxury spas in Kerala. This is a 4-star luxury resort located on a lakeside. The resort has an environment of a real rural village but offers wonderful and comfortable luxury facilities and services. This is a great place to unwind, away from the fast-paced lifestyle, pollution, crowd and noise of the city. Enjoy pampering your senses with traditional Ayurvedic Spa treatment.
Location: CP11/709 Nedungolam P.O, Paravoor, Kerala 691334
Further Read: 10 Gorgeous & Famous Churches In Kerala
Throw your chaotic schedules, move out of the city life and spend some time for peaceful meditation and relaxation to your body & soul in these spas in Kerala with a panoramic view of the sea. Wait no more and plan your journey to Kerala with TravelTriangle to make it a fruitful one.
People Also Read
Spas In Maldives Spas In Bali Spas In Chandigarh
Comments
comments