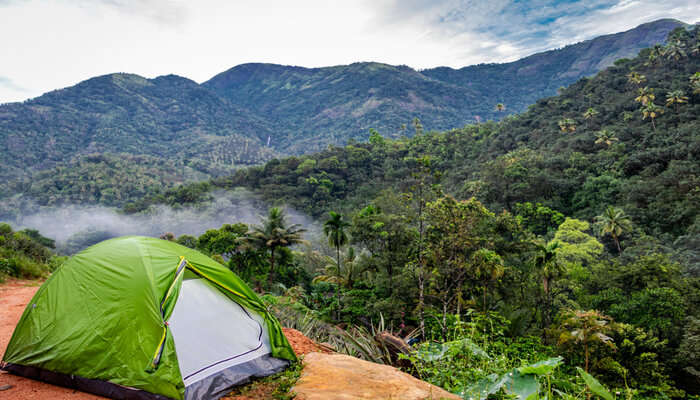 Kerala, God's own country is one of the most renowned places that is known for its natural beauty and serenity. The place is popular for its surreal backwaters, beaches and South Indian cuisine. There are several interesting tourist destinations in Kerala that are completely worth visiting. Apart from the scenic beauty, the place is visited by tons of adventure enthusiasts. This lovely destination draws attention of tourists from various parts of India and abroad. There is so much to do here that travelers will never have a dull moment on their vacation.
Top 11 Adventure Sports In Kerala
Kerala offers diverse kinds of adventure sports that are a must try for an adventure enthusiast. Let us look at the popular adventure sports practiced in Kerala:
1. Parasailing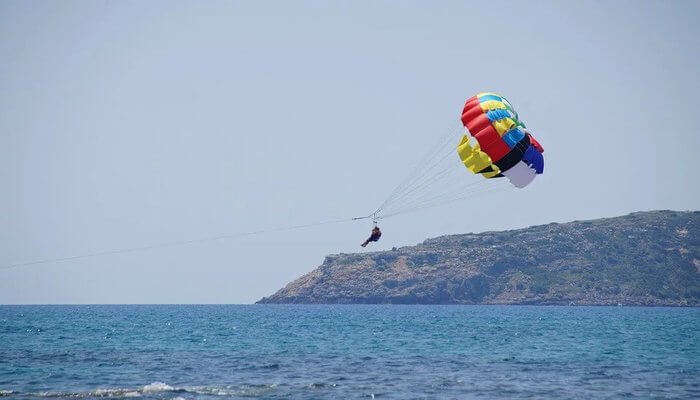 Image Source
Kerala is known for its diverse water sports, and parasailing is one of them. The famous adventure sports in Kerala involve water sport that is indulged in sea side and beach resorts. This is where the sailor gets strapped to a particular parachute that is attached to a motor boat. The speed boat is responsible for controlling the momentum along with the height while the person who is flying controls the sideways. The sport gives you the best of both worlds as you can view not only the clear skies above but also the pristine water below. You can visit Kerala around October to March to witness clear skies and enjoy the view better.
Ideal for: Youth, friends, adults
Best Time: October to March
Cost: 3500 INR
Location: Kovalam and Alappuzha Beac
Must Read: Kerala New Year Celebration: 8 Exotic Places To Bring In 2020!
---
Kerala Holiday Packages On TravelTriangle
---
2. Cycling and Biking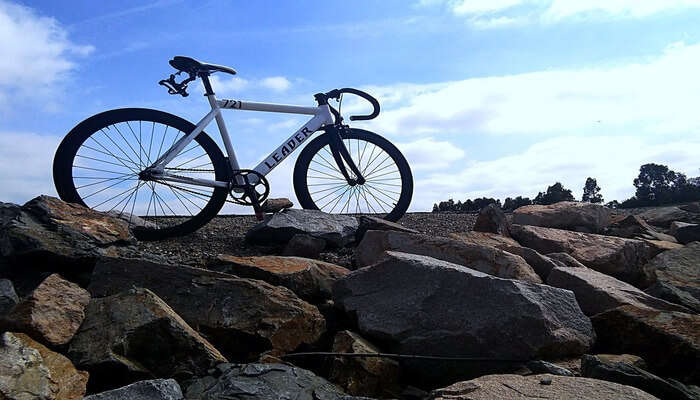 Image Source
Cycling and biking are the ideal ways to experience the spectacular beauty of the surroundings. Munnar is widely known for the coffee plantations and Nilgiris that is popular for spice plantations. While cycling, you can also experience the aroma the two different places. Enjoy this sport in the beautiful month of winter when the weather is at its best. Soak into the ambiance of the surrounding nature and enjoy the serene beauty the place has to offer. In addition to these places, you can also go biking through the magnificent paddy fields, tea plantation, forests, and dairy farms. The experience is indeed a memorable one that makes everyone feel close to nature.
Ideal for: Youth, friends, adults
Best Time: November to March
Cost: 500 INR onwards
Location: Kottayam to Vagamon, Chalakudy to Valparai, Devikulam to Munnar, Alappuzha to Changanassery
Suggested Read: 35 Amazing Things To Do In Kerala For An Incredible Holiday In 2020!
3. Paragliding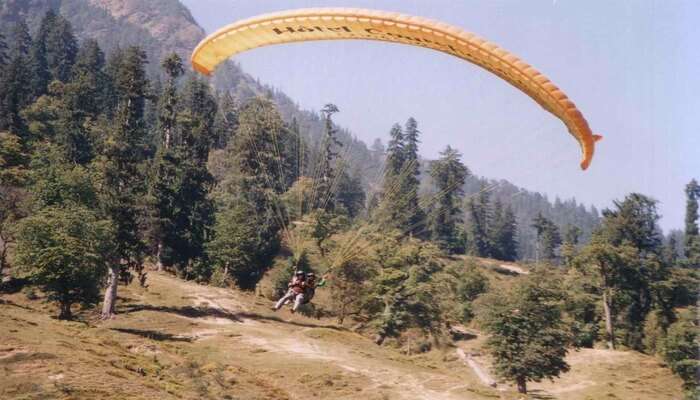 Image Source
Paragliding, a popular sport in India, is also very well practised in Kerala as well. In fact, this sport has popularized adventure tourism in the land of God. There are several paragliding spots in Kerala that are worth trying. The sport is ideal to be practised post south-west monsoon as the quality and wind speed are completely predictable and also safe. Gear up to cherish the bird's eye view of the lush greenery that the sport offers. Before trying several sports, make sure you equip yourself with the necessary safety measures and equipment.
Ideal for: Friends, youth and adults
Best Time: September to January
Cost: 3,500 INR
Location: Vagamon & Varkala
Suggested Read: Winter In Kerala: 6 Best Places To Visit For A Blissful Vacation In 2020!
4. Trekking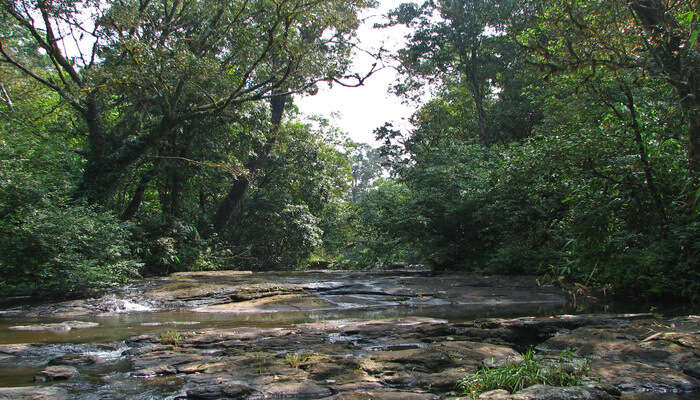 Image Source
Trekking is another popular adventurous sport in Kerala that is best enjoyed in Thekkady while walking along the tiger trail. Trekkers can find expert professional guides that help them spot animals on their walking trail along with dense forests. You will be wearing comfortable camouflaged clothes that are extremely inspiring. Not only can you enjoy the atmosphere but also cook in the jungle, spend a night in the tent and spot a tiger, if you are lucky. Trekking rightly gives you a taste of the forests in Kerala.
Ideal for: Kids, adults, and youth
Best Time: September to March
Cost: Starts from 500 INR
Location: Chembara Peak in Wayanad, Kolukkumalai and Meesapulimala in Munnar, mountain ranges near Thenmal
Suggested Read: Kerala In November 2020: Places And Events Not To Be Missed Out
---
Planning your holiday in Kerala but confused about what to do? These Kerala travel stories help you find your best trip ever!
---
5. Tree House Stay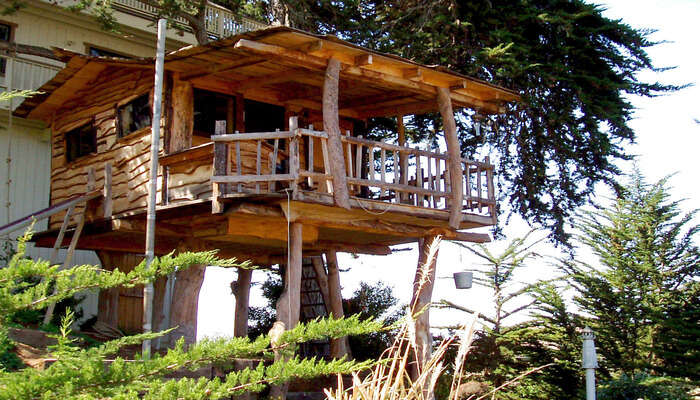 Image Source
Tree house is one among several best adventure sports in Kerala that is quite unique in. It is an exquisite way of settling right in the middle of the nature. You can cherish nature from up close by stay a night or two in the tree house where you can get a view of the enticing forest which has a taste of its own. This is a must try on your next visit to Kerala as it will offer you a once in a lifetime experience. You can also witness wild animals, including tigers, elephants, pigs, leopards, bears, wild boars that might surround your tree house.
Ideal for: Kids, couples and families
Best Time: September to March
Cost: 4000 INR to 18000 INR per night
Location: Wayanad, Munnar and Thekkady
Suggested Read: Kovalam In December 2020: Explore This Touristy Seaside Town In Kerala
6. Kayaking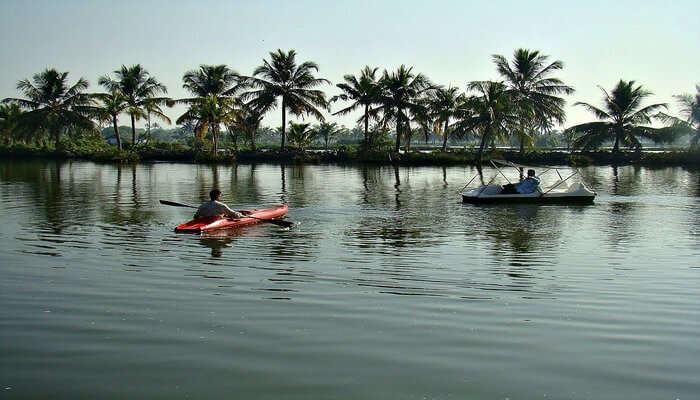 Image Source
To know the culture a bit closely, you need to practise kayaking. There are varied kinds of kayaking opportunities available for the visitors to avail from. The backwaters offer an incomparable beauty that is beauty in its truest form. You can witness dense foliage, which can be thoroughly enjoyed through a kayak tour. Individuals are offered kayak and gear equipment and can witness the paddy cultivation, fishing, temples, duck rearing, and other village activities. Kayaking is a highly popular water adventure sports in Kerala for couples that promises a thrilling experience. Enjoy a calming yet exciting feeling while you try out this sport on your next trip to Kerala.
Ideal for: Kids, friends and families
Best Time: September to March
Cost: 1500 INR for a first timer and 1000 INR for an experienced individual
Location: Alaphuzza Beach
Suggested Read: Munnar In December: A Pocket Guide For A Tour Down This Charming Kerala Town
7. Snorkelling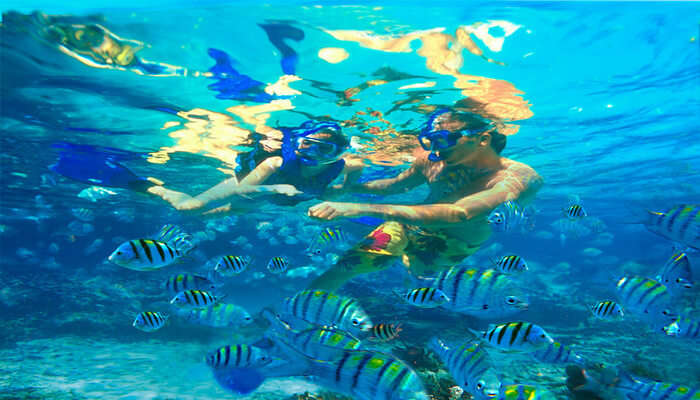 Image Source
Explore the water kingdom at Thiruvankulam, a suburb of port city Kochi while indulging in snorkeling. It is indeed a treat for the water enthusiasts who can find several canals and lagoons in the proximity along with an abandoned quarry that is filled with accumulated water. Individuals are briefed about safety tips after been trained in snorkelling. Enjoy witnessing a wide ranging underwater visibility where you can explore several colourful marine lives like corals, sea urchins, and fishes. You will also be provided a supporting staff who will take videos and photographs of your underwater experience.
Ideal for: Kids, friends and family
Best Time: September to March
Cost: Starts from 1000INR for 30 minutes
Suggested Read: 5 Amazing Zoos In Kerala To Witness The Captivating Wildlife In God's Own Country!
8. Wildlife Safari: Exploring The Wild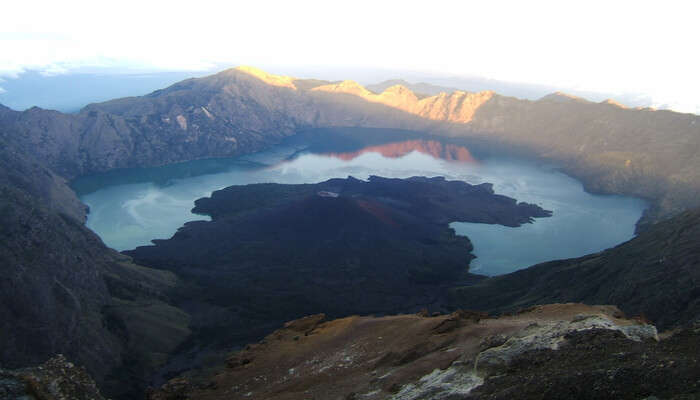 Image Source
Kerala is a land that offers something for everybody and similarly if you are an animal lover who wants a bit of an adventure, wildlife safari is ideal for you. Along with its spices, Kerala is also rich in its flora and fauna. By offering a deep sense of peace, it will help you be aware of protecting the natural beauty. There are several adventure places offering day and nocturnal safaris to its tourists. This adventure is truly unique in its own way, offering the best form of enjoyment and excitement to tourists of all ages. Invest in your time in this wonderful and exciting adventurous sport to have a numerous memories.
Ideal for: Kids, friends, and families
Best Time: June to October
Cost: 10 INR per person and 100 INR for foreigners
Suggested Read: Kerala Cuisine: What Makes The State The King Of Culinary Art
9. Bamboo Rafting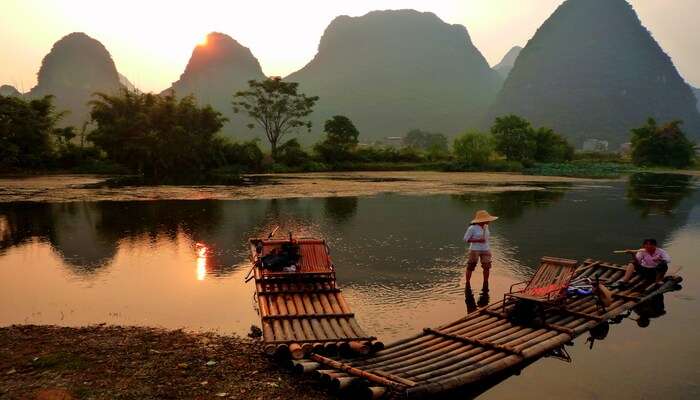 Image Source
Bamboo rafting is one among several top adventurous sports in Kerala that you simply cannot afford to miss in Kerala. Among all locations, Thekkady is the most desired one, which offers an extravagant eco-tourism program. Nature lovers must try bamboo rafting. They can easily lie in the bamboo and watch animals such as gaur, elephant, and sambar. This is an exciting and eco friendly program that can be enjoyed by tourists of all ages.
Ideal for: Kids, friends and families
Best Time: October to March
Cost: 2500 INR per person
Location: Periyar Wildlife Sanctuary, Thekkady
Suggested Read: Kerala In January: A Guide For A Memorable Vacation In This Southern State
10. Scuba Diving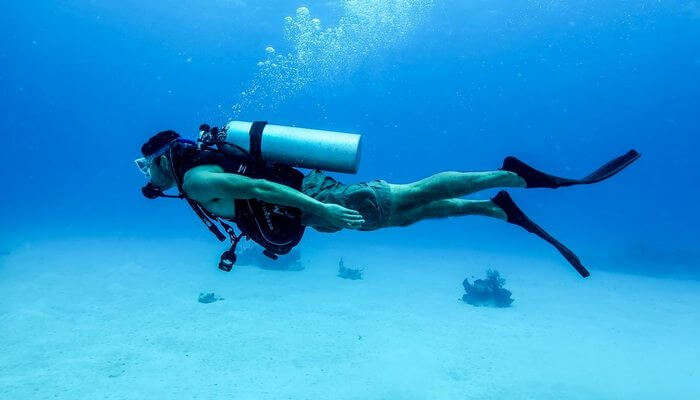 Image Source
Everyone is quite intrigued to know what lies beneath the surface of the pristine waters. Water enthusiasts can enjoy this sport where they can witness the best of coral reefs along with spectacular marine life and vibrant sea creatures. If you are planning to visit Kerala, it is a must to enjoy the exquisite charm of scuba diving that is indeed a once in a lifetime experience. As God's own country has a diverse variety of vegetation along with a soothing tropical climate, this makes Kerala a perfectly preferred destination for adventure sports.
Ideal for: Friends, youth, and adults
Best Time: September to February
Cost: 5000 INR-6000 INR
Location: Kovalam & Kochi
Stay Options: Trident Hotel Cochin, Secret Garden
Suggested Read: 6 Unusual Yet Exciting Things To Do In Ernakulam On Your Next Kerala Trip!
11. Mountain Climbing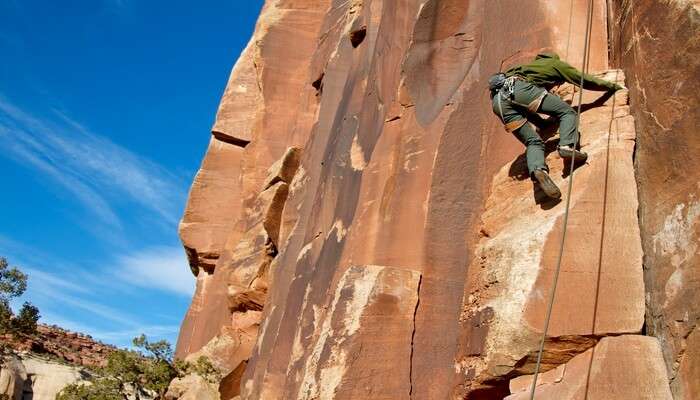 Image Source
Although Kerala is situated in the southern part of the country, however it has an amalgamation of everything. Apart from pristine beaches and backwaters, it is also surrounded by mountains that are enjoyed by mountain climbers. Tourists who fancy mountain climbing love visiting Kerala to try their hands on the sport. This is one of the most preferred choices of activities done in Kerala. A whole day is required for you to climb to the peak and hence you need to equip yourself with all the necessities.
Ideal for: Youth and adults
Best Time: November to April
Cost: 500INR per adult
Location: Rajamalai, Eravikulam National Park, Analudi Peak, Munnar
Further Read: 10 Brilliant Mosques In Kerala Where You Must Go For A Spiritual Pilgrimage In 2019
The God's own country, Kerala is indeed a treat to enjoy for tourists all over the world. Its mesmerizing beauty and diverse adventure sports are the best way to indulge you in the South Indian treats the country offers. Hence, if you are ad adventure lover, you are going to love the extensive diversity Kerala offers in terms of adventure sports to its tourists.
Frequent Asked Question Of Adventure Sports In Kerala
Q. What is the ideal time to visit Kerala?
A. The ideal time to visit Kerala is from October to March. This is when you can experience the beauty of Kerala to the fullest.
Q. What is the best time for adventure sports in Kerala?
A. The best time to perform adventure sports in Kerala from September to February. Tourists can try their hands on a wide array of adventurous sports in Kerala.
Q. Is Kayaking done in Kerala?
A. Yes, it is. Kayaking is one of the most popular adventure activities in Kerala. It is usually performed in the backwaters of Alleppey and Kovalam.
Q. Are treehouses available in Kerala?
A. Yes, tree houses are available in Kerala. There are a number of treehouses located in various parts of Kerala, such as Kovalam, Kochi, Coonoor, Alappuzha, and others.
Q. What are the best places for adventure sports in Kerala?
A. Distinct adventure sports are performed in different areas in Kerala; however, some of the prominent locations are Kochi, Kovalam, Alaphuzza, Thekkady, and Wildlife Sanctuary, and so on.
Q. Are adventure sports safe for kids?
A. No, not every adventure sports are recommended for the kids such as paragliding or scuba diving. However, the ones that are recommended for the kids such as wildlife safari, tree house stay are completely safe.
Q. What is the cost of adventure sports in Kerala?
A. The cost of sports tends to vary with the wide range of adventure sports available in Kerala. The minimum cost of a sport starts from 500INR per person and goes up till 5000 per person. The cost tends to vary as per the location and agency performing the adventure sports.
Q. Are safety gears provided for the adventure sports in Kerala?
A. Yes, safety gear are provided by the safety professionals across all adventurous sports in Kerala.
---
Looking To Book A Holiday Package?
---
People Also Read
Sports In McLeodganj Sports In Gangtok Sports In Manali
Comments
comments