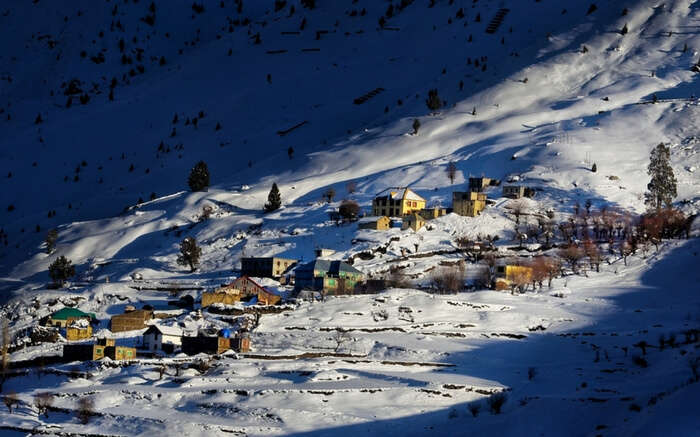 In the north, there's a land beaming in fairy white,
Draped in snow, making a cozy sight,
It's a place that narrates the story of might,
And remembers the soul that withstood the fight!
Spiti in winter is the entirely transformed version of Spiti that you saw in summer. The vast mountains, deep terrains, the stretch of barren landforms, and patches of green are entirely shrouded in a seamless sheet of snow. It's a sea of white as far as your eyes can behold. Such is the mesmerizing spectacle that you would run out of battery and space in your camera's memory card but you won't run out of the will to click pictures.
It's fun when you really don't have much to do during the winter in Spiti and you can actually mingle with the locals, experience delectable Spitian cuisine, and learn to lead life the tougher way.
Spiti In Winter – A Beautiful Canvas Of White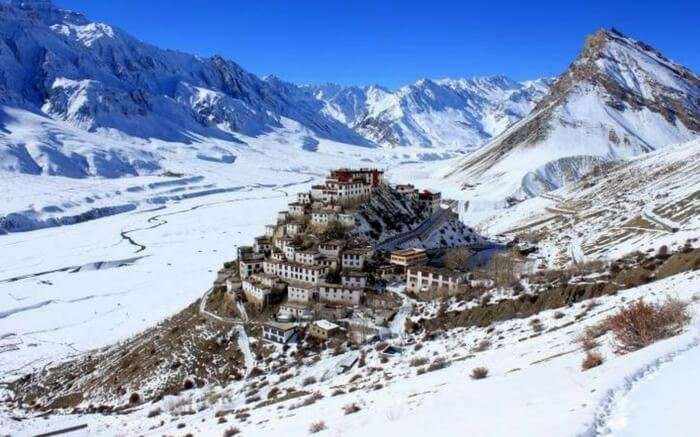 Let's start with the aesthetics! The frozen world looks a perfect charm. Rivers, rivulets, and waterfall become still and even more beautiful. While the bones become chilled and numb, the soul gets a tender warm hug from the dreamy vistas around. Ki and Dhankar monastery look straight out of some picture postcard and the beautiful valley in Himachal bordered by Ladakh and China makes an engrossing prospect.
With heavy snowfall and marginal temperature dip, the condition is not ideal to lead a comfortable life in the valley. The roads become sloppy and driving without the help of a local is not at all easy.
Climate Of Spiti In Winter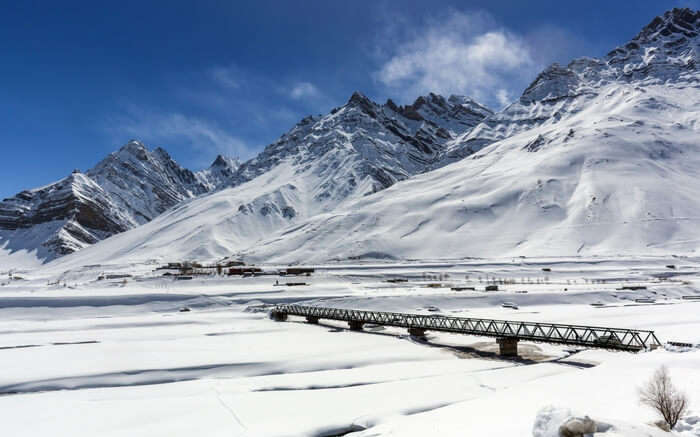 October to March beginning is the perfect time to experience winter in Spiti. While temperature hovers around an average of 8 degrees celsius during the daytime, at night the mercury touches -10 degrees when snowfall flourishes at its best. October to December experiences least sunshine but mostly the conditions are cloudy, foggy, and there's plenty of snowfall around. Occasionally, during December – January, the temperature at night falls even below -30-degrees celsius.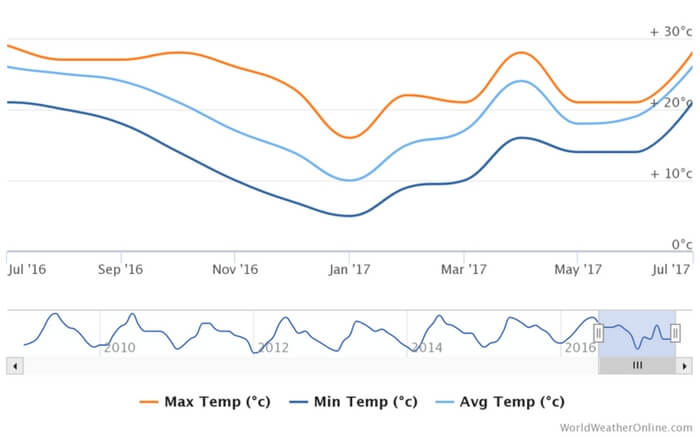 A graph showing the high, low, and average temperature in Spiti in the past year.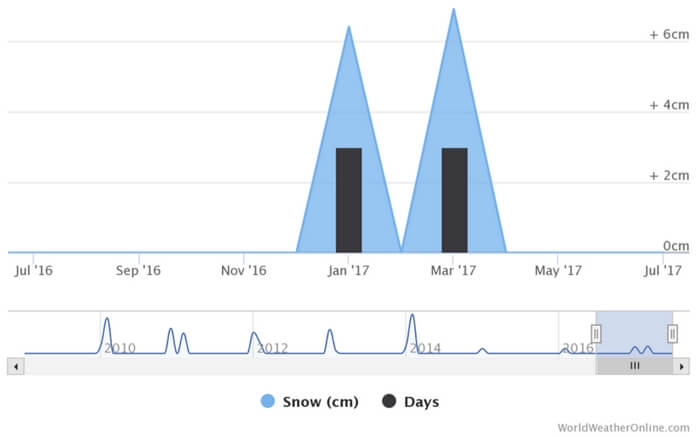 A graph depicting the average snowfall recorded in Spiti during the winter months.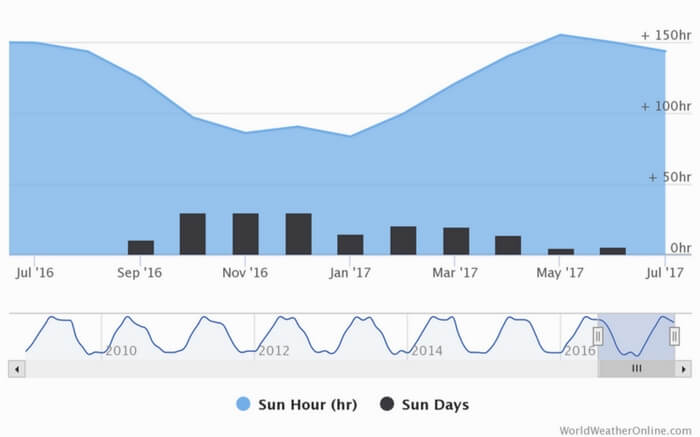 And this is how the sun shone up during the past year in Spiti.
Suggested Read: Test Your Grit, Take The Spiti Valley Trek In 2022!
Things To Do In Spiti In winter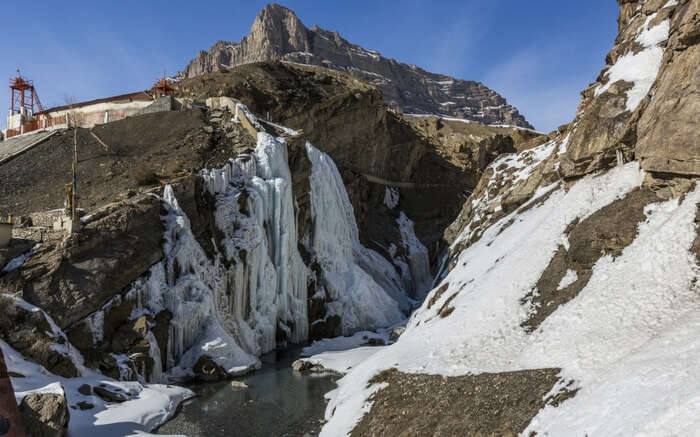 Honestly, there's little to do. Reaching Spiti in winter is an adventure in itself. If you can brave sub-zero temperatures, this is an experience for a lifetime. While there are not a lot of options to explore you can always plan an adventure trip and trek. Camping in the extreme conditions would only teach you a thing or two about the survival in the lesser trodden terrains. Here are a few things that you can look up to while planning a trip to Spiti in winter.
Trekking
Camping
Frozen waterfall climbing
Spotting a snow leopard
Suggested Read: 26 Spellbinding Places To Visit In Spiti Valley For A Surreal Holiday In 2022
Common Problems In Spiti In Winter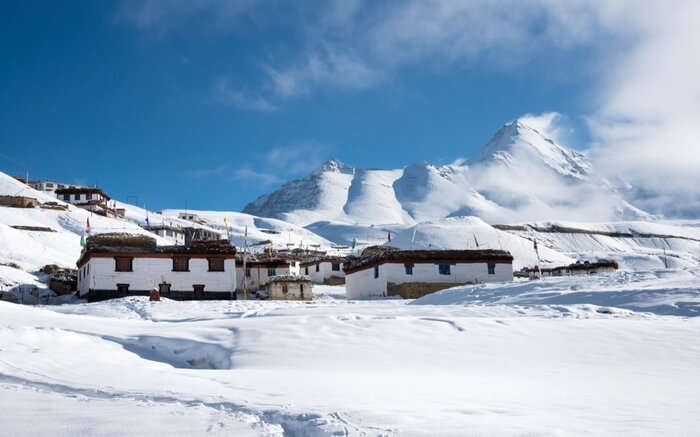 Spiti in winter is all about survival instincts and how smartly you can tackle when nature tests you on different levels. Electricity, sub-zero temperature, issues related to basic facilities, and other daily needs would leave you wanting as you take to this Trans-Himalayan mountain region.
While you deal with these basic issues in everyday life in the valley, you can get more time to mingle with the locals, try some local cuisines, and know more about their traditions. All the dreamy landscapes, fudgy white surroundings, and biting cold hair is good, but see if you can actually deal with this real-time issues!
No electricity
Even when there is electricity, phones, laptops, camera batteries won't charge
No mobile signal either
Few stay options with basic facilities
No water in toilets
Lack of food options due to transportation issues
No fellow tourists and few locals in sight to help you
Medical help may not be available easily
How To Reach Spiti In Winter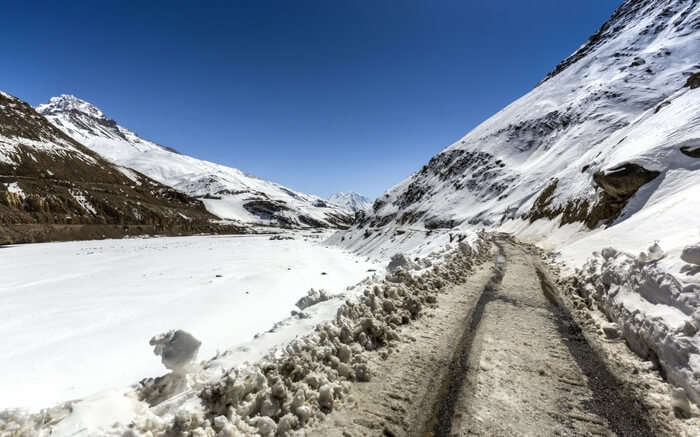 Reaching Spiti in winter is the real challenge. And one has to be extremely cautious while heading for Spiti. The road from Manali is actually tough and dangerous. And traveling in those extreme conditions requires a lot of experience, expertise, and knowledge. Take the road from Manali to Spiti via Rohtang Pass if you are still wondering how to visit Spiti in winter.
By air: Bhuntar Airport is the closest you can get to Spiti. From there on you have to travel by road to get to Spiti. Mostly, private vehicles are available from Bhuntar to Spiti via Manali.
By road: There is no railway service in the valley and the only way to reach Spiti in Winter is by road. Traveling to Spiti in winter in your own vehicle is not recommended because of the fact that most of the roads are closed. There is a thick layer of snow-clogged all over the road adding to the difficulty while driving. Expect irregularities in public transport, you too many private vehicles either.
You can also find your vehicles not turning on or behaving abruptly. Fluids and fuels in the vehicle can also freeze only adding to your woes.
Suggested Read: Venturing Into The Mountains Hand In Hand: A Couple Adventure In The Magical Spiti Valley
Driving Issues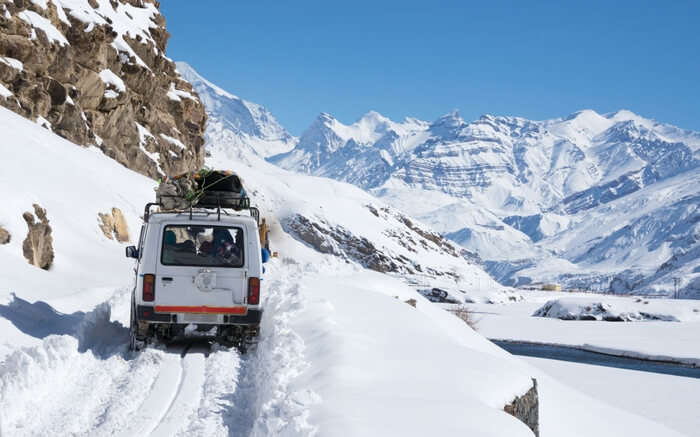 The entry into the valley is not going to be easy with all the snow, slush and water. Commuting is a matter of concern there and one must hire a local taxi driver rather than planning to drive themselves. The entry to the valley is closed in winter because of excessive snowfall and one has to work their way into the valley.
Suggested Read: Spiti Valley In August 2022: A Guide For Visiting The Heaven In The North
If you choose to take a break lasting for a few hours while you are taking the beautiful nature shots, it may turn out to be challenging as the engine might freeze. Yes, engine seizure is quite common in Spiti and while taking the shortest of breaks it is advised to keep the engine running. Consider these tips as they might come handy if you are traveling to Spiti in winter.
Put snow chains in the tires of vehicle you are driving. They are of great help.
Add some antifreeze to diesel in your vehicle. In snow, it will keep the fuel from freezing.
Applying brake in the vehicle can prove to be fatal. Stay patient, let the vehicle roll and keep the steering in control.
Keep the boot space of your vehicle loaded, probably with a luggage or heavy stone. It won't let the vehicle skid away so easily
Don't wait for the approaching vehicle to come closer. Apply the brakes well in advance.
Light vehicles like Alto & Wagon R is mostly used by the locals there. These vehicles are considered the safest in these terrains.
Packing List For Visiting Spiti In Winter
Sunglasses and a sunscreen
Warm clothing
A torch
A pair of extra shoes and socks
Woolen cap and mufflers
Essential medicines and small first-aid kit
Candies and digestives for road journey
Water bottle
Important Precautions To Take
While traveling to Spiti in winter by public transport or by your own car, make sure to halt at certain places for a few hours or maybe an overnight stay to acclimatize yourself.
Consume food and water in regular quantities to keep your body warm.
Ensure that you have covered up your body properly with multiple layers.
Carry enough cash for you since the ATMs in Kaza may not work.
Meet your doctor once for a basic check-up before you proceed for your journey to Spiti.
Keep a close check on the weather and plan your day trips accordingly.
Further Read: An 8 Days Spiti Valley Trip In 2022 Is The Mother Of All Mountain Escapes In India
Beauty could be deceptive as they say! And Spiti is truly a deceptive beauty that would lure you into a visit and then test your grit, patience, and adaptability. Are you prepared to explore this fairyland? Plan a Himachal trip with TravelTriangle this winter and live the fun!
Frequently Asked Questions About Spiti In Winter
Is it a good idea to travel solo to Spiti in winter?
Bad idea traveling solo or with family. Only if you are used to traveling to such high altitudes?
Are roads to Spiti open in winter?
Not by choice; roads is Spiti in winter are blocked by snow. Clearing snow might take weeks.
What is the minimum temperature Spiti sees in winter?
The minimum temperature in Spiti can get to as low as -30 degrees celsius. This can be experienced towards the December end and January
Are homestays easily available in Spiti in winter?
Not really. And a few that are available may not even have basic facilities to offer.
Is there any thing exciting to do in Spiti in winter?
Except snow camping and trekking (both come with a large number of problems), there's not much to do in Spiti in winter.
People also read: