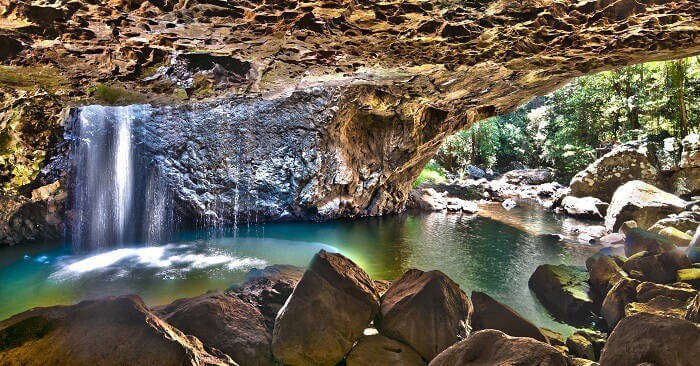 The Springbrook National Park is definitely one of God's best creations. This national park is located in South East Queensland. The highest point of this National park is known as Springbrook Mountain. Springbrook National Park is blessed with beautiful landscapes, cliffs, waterfalls and forest walks. This park has several waterfalls: Purling Brook falls being the most famous of them all. The view of these waterfalls after heavy rainfall is absolutely breathtaking, and this place will serve as the perfect spot for taking photos for your Instagram.
Places To Stay In Springbrook National Park: The facility of camping is available in the settlement camping area located on the plateaus of Springbrook National Park. There are no sites for dumping area so you must carry all your garbage. The booking for camping areas should be made in advance to avoid any disappointments at the last minute. The officials of Springbrook National Park have recently made the booking of camp areas easier by taking the whole procedure online.
Several guesthouses and homesteads are available in the vicinity of Springbrook National Park. People who want to avoid living in the open camp areas should opt for such guesthouses. The price might be a little high due to the place being a tourist spot. It is famous for its entertainment amenities. This place has it all, a beachside shopping facility, rocking nightlife and the largest indoor family entertainment unit. You name it and they have it!
About Springbrook National Park

The plateau of Springbrook National Park is engulfed by subtropical rainforests and is dotted by several small creeks. The plateaus of this area are believed to be the remains of a volcano named Tweed. The Springbrook Mountain is 990 meters high, and tourists often hike on these mountain ranges. There are many natural caves and bridges in the vicinity of Springbrook National Park. If you follow the track of the sealed circuit which leads you through the forest, you will come across a cave creek where you can witness the waterfall plunging from above the cave. Visit Springbrook and witness what it is like to be in a dark cave which glows from the illumination of tiny glow worms.
You can find the most primitive conifers found on earth here. Pines are practically known as the 'Living dinosaurs'. The pine trees that can be seen emerging from the thick greenery of the rainforest are believed to be the living proofs of the Jurassic Age. Interestingly, this time period is also called the Age of Conifers. Imagine what it would be like to touch something so ancestral! Apart from this, the Lamington Spiny Crayfishes found in this National Park is of a vibrant blue hue. They usually differ in color according to their location.
Things To Do In Springbrook National Park
Springbrook is a heaven for people who believe in making the most of their time. Here are a few activities you can pursue:
1. Gold Coast: Walk 'Til You Drop

Springbrook National Park provides a series of options for people who are into walking tours. Walking opportunities ranging from 300 meters to 54 kilometers can be availed in this beautiful arena and walking through the site of high ranging cliffs is definitely a thrilling experience.
Must Read: 10 Best Queensland Beaches Where You Can Soak In Ultimate Bliss & Soothing Sunshine
2. Gold Coast: Picnic

The first thing that comes to our mind when we see a stretch of green land is our childhood memories of coming on a picnic with our family. It's time to pass on the tradition! Bring your kids and partners to this drop-dead gorgeous national park for a memorable picnic experience. With safe, child-friendly play areas as well as barbeque areas, Springbrook National Park is a paradise for picnic enthusiasts.
3. Gold Coast: Horse Riding

Horse-back riding is now permitted in several forest trails in the Numinbah and Austinville areas of the Springbrook National Park. The rides are guided by the horse riding strategic framework and proper horse riding safety guidelines are to be followed to ensure a pleasant and safe experience.
Suggested Read: Summer In Queensland: See What Makes It The Best Season To Visit
4. Gold Coast: Explore Flora & Fauna

The subtropical rainforests beautify this gorgeous landscape. The flora and fauna of this arena are unique as well dense. With over 100 species of bird inhabiting the park, this is a great place for the bird watchers. Reptiles like lace monitors, glossy black skinks, and carpet pythons can also be spotted in Springbrook National Park.
Suggested Read: 10 Best Queensland Theme Parks For A Funtastic Day Out With Your Loved Ones!
How To Reach Springbrook National Park
People who love wildlife should definitely visit Springbrook National Park to get away from the hustle and bustle of the city. There are several ways for you to reach Springbrook National Park:
1. From Gold Coast

If you are an inhabitant of this beautiful coastal area, you are very close to Springbrook, and you should not think twice before making a plan to visit here! Although there is no direct route of bus or train from gold coast station to Springbrook, you can board a line 747 bus to Robina Town center from Gold Coast bus station. It will take you half an hour to reach Robina Town center, and from there you can get yourself a taxi that will drop you at Springbrook National Park.
2. From Sydney

If you live in the heart of Australia, then you must visit Springbrook to refresh yourself and detoxify your mind. You can hop on a flight of Gold Coast from Sydney. The flight is three and a half hours long. From Gold coast, you can board a line 747 bus to Robina Town center. You will reach Robina Town center in less than 30 minutes. Getting a taxi from there would be your best and cheapest option.
Suggested Read: 10 Best Queensland Villas That Are Perfect For Your Next Holiday
3. From Darlington

The cheapest but a little longer route for people living in Darlington would be the railways. You can board a T3 Bankstown Line train from the Redfern Station and via Central Station, you will reach Varsity Lake station. Get down at this station and book a cab to Springbrook National Park. The train ride will take almost 15 hours, and the taxi will take you to your final destination in almost 45 minutes.
Suggested Read: 10 Best Queensland Museums Every History Buff Must Visit To Witness The Art And Culture!
4. From Mudgeeraba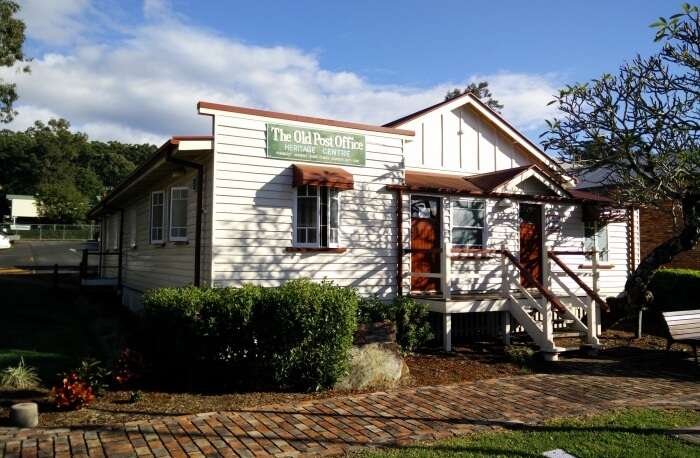 If you are living in Mudgeeraba, Springbrook is probably the closest National Park from your place. You can either book a cab or drive yourself to Springbrook National Park. It will take you less than an hour. It is recommended that you drive a private vehicle yourself.
5. From Beechmont

This place is close to Springbrook, and you can easily visit this place on your weekends if you're looking for some quiet time. The Springbrook National Park is almost one and a half hour away from Beechmont. You can either hire a taxi service to take you here, or you can drive your private vehicle.
Further Read: 10 Romantic Places In Queensland One Must Visit To Rekindle The Love In Australia!
The beauty and grandeur of Springbrook National Park attracts thousands of visitors every year. People come here for adventure, thrill and an overall fun time. Don't wait for a sign to tell you that you need to be here. Pack your bags and take a trip to Australia, a new adventure is waiting for you!
---
Looking To Book An International Honeymoon?
Book memorable honeymoon on TravelTriangle with 650+ verified travel agents for 65+ domestic and international destinations.
---