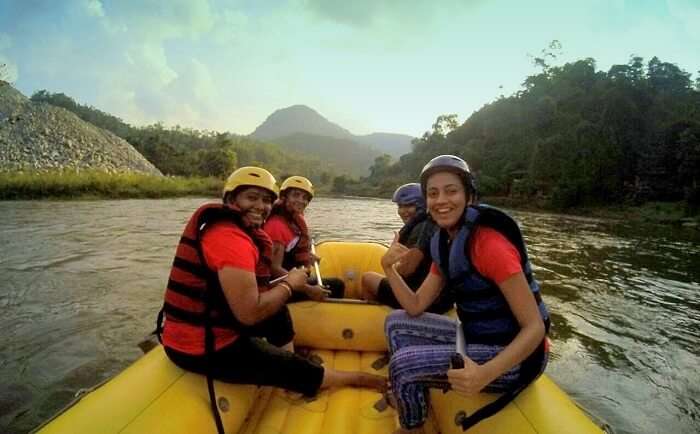 Both my friends and I are crazy, fun-loving, and adventurous people who love to travel places. Having explored a couple of cities already in the country, and being a mix of entrepreneurs and homemakers, we were wishing to take an international trip this time that would give us a refreshing break from our routine. And our holiday in Sri Lanka offered just that, whilst proving to be a delight.
We finalized the destination, keeping its close proximity to India and our budget in mind, and everything worked perfectly in our favor. After closing the location, we wanted someone to plan and organize everything for us, and since my travel agent was out of station, I was looking for someone else.
It was while browsing Facebook that I finally came across TravelTriangle, and the customized packages' feature really appealed to me. I downloaded the app right away on my phone, and filled up our trip query. Within minutes I got a reply with different quotes, after which we customized our itinerary as we needed some adventure. Soon after, I received a final quote, and Ms. Dimple our travel consultant very supportingly took care of everything, while motivating us for the all girls trip.
Trip Type: 5 Days 4 Nights friends trip
Cost: INR 3,78,660
Inclusions: All the accommodation, breakfast and dinner, transfers from and to the airport, local sightseeing and experiences, an English speaking driver with a private cab, and GST
Exclusions:Lunch, Airfare and Visa, Entry fee charges, Personal expenses, and anything not mentioned in the inclusions
Things To Do On A Friends Trip To Sri Lanka That We Did Too!
Day 1: Climbing the Sigiriya rock & visiting Dambulla Cave Temple
 8 Best Places To Visit In Kandy – Sri Lanka's Spiritual Capital
Our trip kick-started on an adventurous note soon after reaching the Sri Lankan land, as our trip representative Mr. Dilshan took us to Dambulla and Sigiriya. Witnessing these heritage sites, especially the century old cave temple, the paintings, and climbing the citadel of the famous Sigiriya rock are definitely the best things to do on a friends trip to Sri Lanka, and we were proud that we did it.
Climbing through the rocks, frescoes, and sitting at the top made us feel so much at peace, that any amount of words would be less to describe that feeling. Later, we headed back to our hotel in Dambulla and called it a day.
Day 2: Visiting Kandy
 Enjoy Nightlife In Sri Lanka At These 17 Clubs & Casinos In 2022
This day, we were all energized and excited as our Sri Lanka trip itinerary had sightseeing and shopping in store for us. After a hearty breakfast, we began with a tour to Kandy where we visited the Kandy Murugan Temple, the Tooth Relic Temple, and did some shopping. All of us wished to wear a saree like Sinhalese ladies, and Mr. Dilshan did his best by taking us to a great store from where we bought really beautiful sarees.
Later in the evening, we reached Nuwara Eliya where we had our stay planned for the night.
Day 3: Exploring Nuwara Eliya & rafting in Kitulgala
We wanted our holiday to have the top adventurous things to do on a friends trip to Sri Lanka, for which, we chose to visit Kitulgala for white water rafting. But before tasting the thrill, we began our day with a visit to the Hanuman and Seeta Devi Temples and other historic places mentioned in the Ramayana. It truly made our experience enriching and gave us a glimpse of a beautiful side of the Sri Lankan land.
 Best Things To Do On A 4D/3N Family Trip To Sri Lanka!
Later in the evening, we finally reached Kitulgala where the world famous adventure awaited us. White water rafting in River Kelani turned out to be an unforgettably exciting experience, and all of us loved every bit of it. With proper safety gears and the live camera around, we felt both safe and motivated to indulge in the adventure sport. For anyone who is heading to Sri Lanka, has to do this activity at least once in their life.
Day 4: Sightseeing in Colombo
 Our Enchanting Trip To Sri Lanka Was The Perfect First Time International Vacation
The second last day of our friends trip to Sri Lanka was all about exploring the wonders of Colombo. Soon after having our breakfast, we left for the capital city and reached there by noon. Our sightseeing tour included The President's House located at the Fort, the Galle area, the Pettah area, and a few temples. Colombo surely seemed like one of the best places to visit in Sri Lanka and exploring it gave us immense joy.
Day 5: Shopping in Colombo
30 Best Beaches In Sri Lanka To Visit In 2022 That Will Make You Go 'Wow'!
Since this was the last day of our trip in Sri Lanka, we wanted to make the most of it. So, we did what we loved the most, i.e. shopping, and a lot of shopping. Most of us bought gifts and souvenirs for our families and friends before finally bidding adieu to this city. Later, Mr. Dilshan dropped us at the airport for our flight back home, and we flew with sweet memories in our hearts and smiles on our faces.
This was no doubt one of the best and safest trips that we have had, and we cannot thank TravelTriangle and our agent Direct Link enough for that. Everything from our hotels to our experience was top-notch!
High Points Of Our Trip To Sri Lanka
Climbing the Sigiriya rock
White water rafting in Kitulgala
Shopping
Low Point Of Our Trip To Sri Lanka
While there weren't any low point in our trip, the one thing that made us really upset was the food in Kitulgala. It wasn't good and some of us even ended up with a stomach ache. At that time, we really wished that we had known a better place to eat in the city.
Tips For Future Travelers
When you visit the Sigiriya rock, make sure you climb to the top since the view from there is absolutely worth it.
Sri Lanka has some of the finest sarees, so if you're a Shopaholic, don't forget to visit the best store in the city and buy a couple of them for yourself.
Even if you're not an adventure lover, do indulge in rafting in Kitulgala as it's an adventure of a lifetime and it will make your trip more memorable.
Do research a bit about the best places to eat before your trip begins.
Our overall experience was so incredible that if I had to rate it, I would give a 5/5 and definitely recommend my friends & family to plan a Sri Lanka trip with TravelTriangle. It was a perfect pocket-friendly trip in comparison to the other online agents, and our trip coordinators were very cooperative and friendly, which made everything super convenient. In short, we loved it!