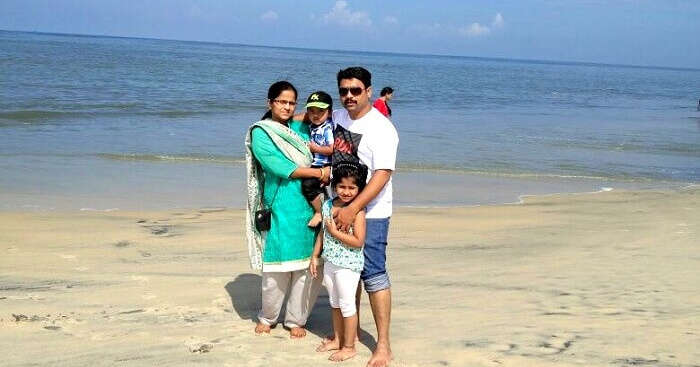 Often the definition paradise for travelers gets mangled between the details. However, Kerala has maintained an evergreen place in the hearts of all travelers. Read the enticing story of Subhakar as he recollects his family trip to Kerala which proved to be a perfect antidote to the ailing human soul. Their trip cost him a total of INR 69,500 and included their transfers, accommodation, sightseeing, and meals.
A popular tradition amongst my friends is for everyone to go on a vacation every year. This year, we decided to visit a place which gets us greenery, adventure, and peace of mind. Anonymously, the consensus came down to Kerala and the search for a suitable package began.
While browsing on the internet, I came across the TravelTriangle Mobile App. They provided the customers an option to customize the tour package as per their needs. Hence, looking at the competitive offers, I submitted a query with TravelTriangle.
I promptly got a call from their travel representative who understood my needs for a family trip to Kerala and connected me to various agents for the same. Soon enough, I started getting multiple offers from various agents from which I could chose the best package from. I found the best deal given to me by 'Deva Travel House' agency.
Arranging a trip for 6 adults and 5 children would have been a hassle, but with TravelTriangle everything went down smoothly and just like that we were excited and ready to fly into God's own country.
Tip: I knew traveling with 11 people in total would be a hassle and that is why I was very clear about our requirements with the agent. Thankfully, they gave me full support and eased a lot of my worries regaring cabs, food, transfers, hotel check in's and sightseeing timings.
Day 1: Flying into Cochin and visiting waterfalls
We boarded our flight from Hyderabad and landed in Cochin at 11 am. The driver assigned to us was present to receive and take us to Munnar.
On our way to Munnar, we stopped at the beautiful Cheeyaparra Waterfalls. The kids had a great time at the Waterfall as most of them hadn't ever been to one. After enjoying there for an hour, we resumed our drive to Munnar. We checked into the resort in Munnar at 7 pm. All of us, had dinner immediately after checking in and then rested for the night.
---
Kerala Holiday Packages On TravelTriangle
A holiday in Kerala will fill you with memories. Witness pristine backwaters with comfortable houseboats, lush green hill stations, waterfalls, and plantations of tea and spice. Indulge in an ayurvedic massage or taste exotic cuisines. Book a Kerela holiday on TravelTriangle. Best prices guaranteed.
---
Day 2: Refreshing Tea Estates in Munnar
Suggested Read: 10 Charming Places To Visit In Kerala [Infographic]
We woke up next morning, had breakfast and got the entire gang ready for sightseeing. Our cab first took us to Eravikulam National Park, which according to me, felt like a hidden wonder.
Not too many people and lush green scenery. The park gave us an opportunity to have a mini picnic with each other. Moving on, we visited the Mattupetty Dam and Eco Point.
Post lunch, we moved on to the star attraction of the day- Tea Gardens in Munnar. One of the top things to do in Kerala, the Tea Gardens certainly lived up to its expectations. The freshness of the tea was in the air. We were surrounded by hills covered with tea leaves as far as the eye could see. It was one of my unforgettable moments of the trip.
To wind up, we made short stops at the Rose Garden and the Photo Point. The tour ended at around 5pm, after which the kids looked visibly exhausted. So, we returned to the hotel for dinner and called it a night.
Day 3: Venturing out into the wilderness
This day, we checked out of Munnar and headed for Thekkady. The cab driver took us on a very scenic route to Thekkady, which made the drive all the more enjoyable.
We reached Thekkady around noon and immediately checked into the hotel. The general vibe of the place that I got here was that this town was very much connected to nature in its personality since I could see many wildlife enthusiasts.
Afterwards, we started exploring the town by visiting the Periyar Wildlife Sanctuary. It was the best chance for us to meet elephants in their natural environment in a safe way. Later on in the evening, we went to a local shop to buy some delicious home made chocolates. Post dinner, we proceeded back to the hotel and rested for the night.
Day 4: A unique houseboat experience
Suggested Read: 15 Wondrous Backwater Resorts In Kerala For A Pampered Holiday
The next day, we checked out of Thekkady and moved towards Alleppey. One of the most interesting things to do in Kerala is to explore the backwaters by boat. And if you can live in one, that's just the icing on the cake.
Upon our arrival in Alleppey by 2pm, we were straightaway taken to the houseboat where we checked in. The staff at the houseboat gave us a very warm welcome and a delicious lunch. After going around inspecting the boat like a captain, my curiosity of how 11 people will live in one small boat got its answer.
The backwaters in Kerala are serene and unforgettable. The places we visited felt untouched by the rapid urbanization the world faces these days. We felt lucky to have been to such a beautiful place in India that was only accessible by boat. Our boat was docked at a remote village at night. Once we were docked, we had dinner and rested for the night.
Tip: Always get your houseboat stay booked in advance since they are always in demand and one can't afford any last minute hassles, especially when they are with their family.
Day 5: Heading back to Cochin
The next morning, after having breakfast, we were dropped off by the boat at the starting point at 9 am. The cab was present to take us back to Cochin. We reached Cochin at noon, which gave us enough time for a half-day city tour.
We began the city tour with a visit to the imperious Dutch Palace. The magnificent European architecture preserved after hundreds of years was still making a strong statement. Next up for us was the The Santa Cruz Cathedral. Kerala having the highest ratio of Christian population per state in India meant that there were a lot of Christian monuments out there waiting to be explored.
The final stop for us was the Chinese Fishing Nets. A technique which used to be alien to Indians, is now a important way how people in Kerala catch fish. I was very fascinated as to how this seemingly old method of catching fish is still so prevalent and effective in modern times. After the tour got over, we got dropped at the hotel where we checked in. After having dinner at the hotel, we slept early as we were scheduled for a 3 am flight next morning.
Day 6: Flying back to Hyderabad
We had to wake up at the unusual hour of 1 am and head to the airport as our flight back to Hyderabad was scheduled at 3 am. The driver dropped us at the Cochin airport as we said goodbye to God's own country.
Kerala certainly kept the entire lot happy. Having a trip gone by without any major hiccups for 11 people was an achievement in itself. But, thanks to the coordinated efforts of the TravelTriangle and Deva Travel House, we enjoyed our 6-day stay in Kerala.
High Points:
The most striking feature about Kerala is its greenery
Low Points:
Cleanliness in the houseboat could have been better
Tips For Travelers
If you're traveling to Kerala with a large group, it is always better to book a package and let an expert handle your trip
If some attractions that you know are going to be crowded, it is better to prebook their tickets if possible
Always get your houseboat booked in advance via the agent since backwaters are usually the favourite attraction for tourists
Travel to Kerala for an epic family holiday experience. Experience all its glory with a Kerala family tour package!.
---
Looking To Book A Holiday Package?
Book memorable holidays on TravelTriangle with 650+ verified travel agents for 65+ domestic and international destinations.
---