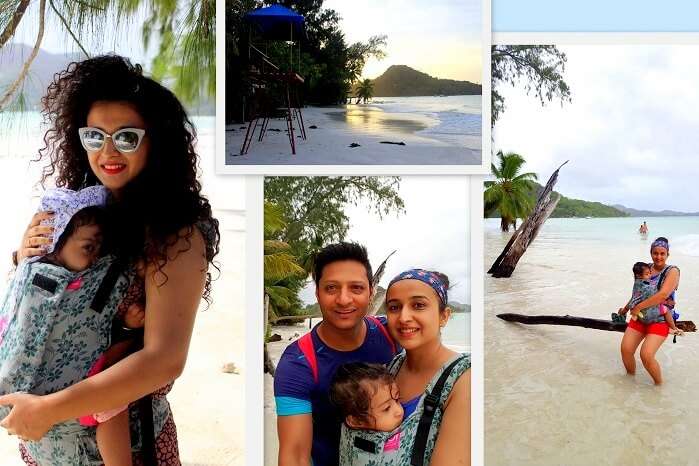 Our family trip to Seychelles was an out of the world experience. Breathtaking beaches, serene ambience, and the sweet company of my wife and kid – I couldn't have asked for more! 21 days spent here passed like 21 hours and before we knew, our trip was about to end. Nonetheless, the sweet memories that we made here shall forever be cherished and the tropical love that we experienced, now has permanent residence in our hearts.
Finalizing on our Seychelles family holiday and why it was an excellent decision
Ever since we started planning, my wife and I were sure about one thing, that this was going to be a long relaxing holiday. And so when began looking for places, we mutually agreed to go to a beach destination and a family trip to Seychelles was on top of our list.
Luckily for us, our sister recommended TravelTriangle for booking our Seychelles family holiday package and it turned out to be a fruitful decision. The online travel agency not only gave us the best quotes but also customized our trip as per our requirements. The customization part was essential since we had our 1.5 years old daughter with us too. Her comfort was our top priority!
To give you an idea about what all was included in our Seychelles family package, here are a few details:
Trip Type: Family
Duration: 21 Days
Cost: INR 248000
Inclusions: Transfers, Meals, Ferry, Sightseeing, and Hotels
Exclusions: Rented Car and all expenses not mentioned in the itinerary

 Top Places To Visit On Honeymoon In Seychelles: A Sweet Memoir Of Our Soul-satisfying Experience
A brief of our Seychelles tour Itinerary:
Mahe – Stayed here for 4 nights at Berjaya Beach Hotel near the famous Beau Vallon beach
Praslin island – Stayed here for 7 nights at Berjaya Beach resort near Cote d'Or beach
La Digue island – Stayed here for 3 nights
Mahe – Stayed here for 5 nights in Bel Ombre
And now, before I elaborate on our holiday, there is one more thing you need to know before you read further and that is the weather in Seychelles – which in simple words, was fantastic. The incredible climate of this country was also one of the primary reasons for selecting it as our holiday destination.
Day 1: Landing in Seychelles – love at first sight!

We took our flight from Delhi in the night and arrived early morning in Seychelles. It was an eight-hour flight and was comfortable. Upon our arrival, we completed our immigration and other formalities in a hassle free manner and soon met our local agent and driver who had come to pick us up for our transfer to the hotel.

The bright and sunny vibe of Mahe rejuvenated our senses and we were soon in a good mood. The rest of the day was spent relaxing at the resort.
Day 2 to 6: Sightseeing in Mahe and exploring the city on our own





To make the most of initially few days in Mahe, we rented a car and went for a half day Mahe city tour. During these days, we visited one of the world's smallest capital cities – Victoria and it was truly amazing. Most of days were spent at the famous Beau Vallon beach, chilling at our resort, taking small walks along the white powdered beaches and having local creole seafood.
It was magical!
Day 6: Transfer to Praslin Island and a visit to the Anse Lazio Beach


 6 Ways To Enjoy The Best Of Nightlife In Seychelles
We checked out of our hotel in the morning today and were transferred to the Praslin Island by a ferry. The island looked simply amazing at first glance and after we had checked into our hotel, we decided to rest for a while before going out to explore Anse Lazio Beach. One of the most beautiful beaches in Seychelles, the Anse Lazio Beach was unlike any other we had ever seen and was truly a refreshing experience.
Day 7: A visit to one of the world's beautiful beach – the Anse Georgette Beach




Our hotel staff assisted us in getting a reservation to visit the Anse Georgette Beach, which is one of the most beautiful beaches in the world. Since we had rented a car today also, we spent our rest of the time exploring the island and hopping on and off on the beaches. We even took a drive along the coastal road uphill to the world heritage site of Valle de Mai.
Day 8: Spent this day doing water activities in Seychelles


 15 Best Hotels In Seychelles For A Perfect 2022 Tropical Holiday On The Beach
This was one of the most adventurous days in Seychelles and we spent it doing water activities at Cote d'or Beach and snorkeling at St. Pierre Island. It was a big change from our exploring mode and my wife and I had a great time.
Day 9 to 12: Enjoying the island on our own













We enjoyed and explored the island on our own during these three days. It was incredibly relaxing for we could do whatever we wanted and were masters of our own holiday.
Day 13: Exploring La Digue Island on a bicycle

 Top Things To Do On A 4 Day Honeymoon Trip To Seychelles
We were transferred to the La Digue Island today and after checking into our hotel, we relaxed for a while. Later, we rented bicycles to explore the stunning pink sands and boulders of Anse Source d'Argent beach of La Digue Island. The beauty of this place was something that one can only see when they feel it.
Day 14: A walking trail to the Anse Petite and Anse Coco


Another one of our most relaxing days, my wife, kid, and I went on a walking trail to Anse Petite and Anse Coco. Family bonding and fun over the beaches is something that will always remain in my heart and this place really has special memories with regards to this.
Day 15: Island exploring on our own



Just like the previous days, we explored the rest of the island on our own. Everything around here was so soothing that we almost felt like permanently shifting here. But, alas, we could not, but what we could do, was live each moment, and we made sure we did that.
Day 16 to 20: Back to Mahe



We were transferred back to Mahe for our remaining days and we made sure we kept ourselves busy. During our last days in Mahe, we visited the Takamaka Rum Factory and did sightseeing and rum tasting here. The man-made Eden Island was also on our list and it was a spectacular experience. Sightseeing and shopping here were great fun. Next up on our list was the Botanical Garden and it was followed by a drive to the hilly roads along the coast of Mahe. And yes, we did not skip on any beaches and explored as much as we could. Everything experience was an awesome one and we enjoyed every bit of it.
Our best memories of Seychelles
The walk to the Anse Georgette through the beautiful Golf course of Lemuria resort
Bicycle rides in La Digue exploring the island and the trek to Anse Coco
Taxi boat to St.Pierre Island for snorkeling


 Honeymoon In Seychelles: An Affair To Remember In 2022!
Tips for travelers going to Seychelles
A ferry ride during the monsoon season is very rough. If you feel seasick then avoid travel by ferry and should plan by air
During monsoons (July – Aug) the water and the beach along the south and west coasts in Mahe & Praslin are full of seaweed and dirty for swimming
Some beaches are not safe for swimming, follow safety instructions posted on the beaches. Book your water activities from local agents for a hassle-free excursion.
Try Copper Pot, an Indian restaurant near Bel Ombre / Beau Vallon Beach area run by a local Indian family. They serve home-style food at reasonable price.
Our overall experience
Our family trip to Seychelles was a surreal affair! By the time it ended, we were overwhelmed and in love with the tropical charm of the country and given a chance, would have wanted to stay there forever. But as all good things come to an end, so did our trip! In the end, I would like to thank Mr. Ashutosh from Holiday Box for prompt services and a wonderful trip.
I would also suggest all those going on a holiday to Seychelles to give TravelTriangle a try for they will not only organize an amazing trip for you but will also do it in a hassle-free manner. Simply select a Seychelles Tour Package from their website and let them do the planning for you!