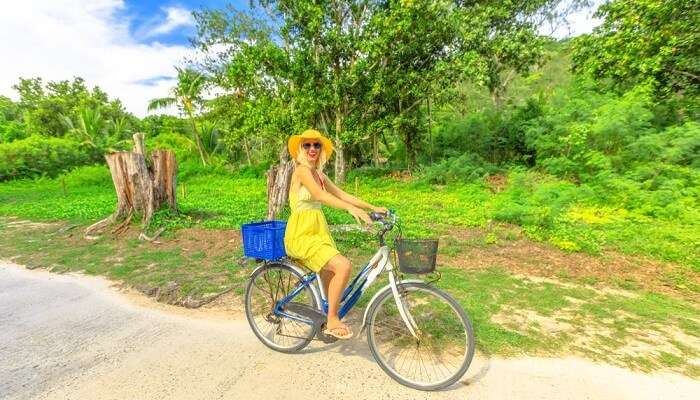 When it comes to Seychelles, God showed all the generosity he could! Turquoise beaches embraced by stunning hills and lush green palm trees, Seychelles is God's favorite country! Perfect for a honeymoon as well as a family vacation, this heavenly country is a cluster of 115 islands and so if you are a fan of everything related to beaches, then Seychelles is the country which totally deserves a spot on your bucket list! Imagine your summer holidays spent on the pristine beaches of Seychelles while relishing scrumptious cocktails, sounds like a plan? Summer in Seychelles will be all about beaches, fun water sports, delicious meals, refreshing drinks and a lot more. To make your vacay hassle-free, we have specially created a Summer in Seychelles guide that you must go through before you leave!
Weather In Summer In Seychelles

The month of June marks the onset of the summer season in Seychelles and it ends in the month of August. So, if you are wondering when to plan your summer vacation in Seychelles, you can do it anytime between the months of June to August. The temperature is normally observed to be 25 °C to 28 °C in the month of June and in July and August, the temperature goes higher. So the best month to head to Seychelles will be June.
4 Things To Do In Summer In Seychelles
Here is the checklist of the most enthralling things that you can do on your trip in Summer in Seychelles with your family or friends. Keep scrolling down and read along to know more!
1. Island Hopping

Seychelles is the land of 115 islands, which you give you various islands which you can explore on your summer holidays. One of the best things to do in Seychelles is to go for island hopping. All the islands are located near to each other and you can reach them easily. The best part about these islands is that there are a lot of adventurous activities organized there which you can indulge in. If you are a foodie you can easily find a plethora of restaurants which serves delectable seafood and other local delicacies. Mahé, Praslin, La Digue, and Curieuse are some of the islands which must be on your list of islands that you can't miss out on your trip.
Must Read: A Guide To Seychelles Island Hopping: Top Places To Visit & More
2. Helicopter Ride

Get ready to have the top view of the sparkling beaches & shores, luxuriant vegetation, biodiversity, and mountain ranges by taking a helicopter ride. Seychelles looks gorgeous if you are exploring it in a helicopter. You will see the whole land dotted with beaches and palm trees. All set to have the aerial view of the exotic islands in Seychelles, all you need to do is book your helicopter ride beforehand.
Suggested Read: Seychelles With Kids: To Pamper Your Little Ones In This Enchanting African Land!
3. Kaz Zanana

One of the most interesting things to do in summer in Seychelles for all art lovers is to visit Kaz Zanana. This wooden structure spot was built in 1915 and was restored in the 1980s. This place exhibits the work of a famous painter names George Camille. If you are passionate about art then you should definitely visit this place and purchase a few of his artworks.
Suggested Read: Destination Of The Month: Why A Trip To Seychelles In December Is A Fab Idea To End The Year
4. Shopping

And the best part of this list of things to do in summer in Seychelles will surely be shopping for all those who travel to places just to shop and collect adorable souvenirs. Seychelles is a paradise for all shopaholics. From art pieces to the popular Takamaka Rum, you will have a lot of gifts to take back for your friends and family. Other things which you can buy are Black pearls, Yves Souvenir Cachée, and Yi-King essential oils. Do carry an empty suitcase, just for your shopping spree!
Suggested Read: Know Everything About The Aride Island Nature Reserve In Seychelles
What To Pack?

Here is the of things that you must pack for your vacation in Seychelles. Take a look!
Do pack a strong sunscreen as it is your best friend in summer season and when you are heading to the beach you will surely need it.
Do pack your swimwear as you are going to the land of beaches.
Pack comfortable capris and shorts in which you can explore Seychelles in the summer season.
Carry your trekking shoes as there are a lot of options available for trekkers.
Pack other essential things like cameras, power bank and identity documents.
Further Read: Tempio Hindu: A Complete Guide To This Beautiful Hindu Temple In Seychelles
All ready for a fun packed vacation? What's stopping you? Summers are already here and its time for you to apply leaves and leave for a beach vacation. So, think no more, pack all that you can, carry this summer in Seychelles guide, plan your vacation in Seychelles with TravelTriangle and leave right away as a refreshing beach vacay is all that you need!
Frequently Asked Questions About Summer In Seychelles
What are the top things to do in Seychelles in the summer?
Summer is the best time to explore the spectacular beauty of Seychelles. You could take part in activities like island hopping, riding a helicopter, shopping and many more to experience Seychelles more accurately.
What are the must-things to pack for exploring Seychelles in summer?
Seychelles is a predominantly hot country, and if you visit it during the summer, you will want to be comfortable. Hence, it is better to pack cotton shorts, capris, t-shirts, tops, sunscreen lotions, caps, hats, and other items to protect yourself from the sun.
How many islands are there in Seychelles?
There are a total of 115 islands in Seychelles. Some of them are Curieuse, La Digue, Mahe and many more. Most people explore the country by visiting one island after another.
Is it okay to visit Seychelles during the summer?
Seychelles is quite hot, and during the summer the temperature soars and the weather become quite humid. If you are okay with heat and humidity, you can visit Seychelles during summer without any difficulty.
How many days does one need to explore the entirety of Seychelles?
Seychelles is not a vast country, and hence you will be able to explore most of the part of it within four days.
How much does a meal cost in Seychelles?
Seychelles is quite expensive. Hence, a single meal can cost an average of 35 euros out there.
What is the area of the Mahe island in Seychelles?
Mahe Island is around 157 square km big.
People Also Read: