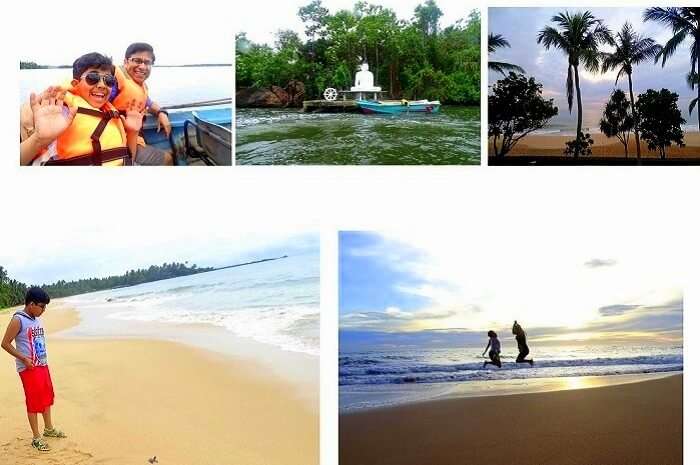 Travel to me is all about having a good time with my family. It is about exploring places together and making memories that would last a lifetime and out family holiday in Sri Lanka is a testimony to this.
Sri Lanka was one of those countries that we always wanted to visit. Having seen it's beautiful pictures in magazines and also on the internet – it was kind of our dream destination. So when we all got the time and opportunity, it was a mutual decision to travel to this surreal island nation.
TravelTriangle was introduced to us by a friend of mine and upon visiting their website, I liked their concept of providing customized packages. So I raised a request and was soon contacted by their representative who understood my needs and further connected me to their travel agents on board.
After going through multiple quotes, I selected the best one and was now pretty much sorted when it came to a Sri Lanka family package.
Details of our Sri Lanka family package
Cost: INR 82525
Duration: 6 Nights 7 Days
Inclusions: Hotels, Transfers, Breakfast, and Sightseeing
Exclusions: Flights and Personal Expenses
We were now eagerly waiting for our holiday to begin and that day came soon.
Day 1: Negombo – Hello Sri Lanka
Upon our arrival in Negombo today, we were greeted by a representative from our travel agent's side who transferred us to our hotel.
After doing some sightseeing in the city today, we quickly returned to our hotel for we were too tired from our journey and post dinner called it a night.
Day 2 & 3: Nuwara Eliya – A tryst with nature

Sri Lanka In December: 8 Remarkable Experiences You Cannot Miss
Post a delicious breakfast at the hotel, we proceeded towards Nuwara Eliya today and yes even though the road trip was a long one, it was totally worth it for the sceneries that we saw were breathtaking.

An Offbeat Vacation In Sri Lanka That Uncovered Some Unbelievable Places!
The lush tea gardens looked straight out of heaven and our visit to the famous Seetha Aman Temple was surreal. However we could not compete out sightseeing due to a sudden change in weather from sunny to rainy.
Nonetheless, we very much enjoyed our stay at the hotel.
Day 4 & 5: Bentota – Into the wild

 Sri Lanka Travel Tips: 21 Dos And Don'ts For A Memorable Vacation In 2022 .. SHARES
We stayed in Bentota in a beach resort and it was one of the best experiences of family holiday in Sri Lanka. Waking up to the ocean everyday is a feeling that can't be described in words. travelogue
During two days, we also indulged in a river safari (again an out of the world experience) and visited a turtle hatchery, which was really cute and fascinating for all of us.
Day 6: Colombo – The city life
On the day 6 of our family holiday in Sri Lanka, we stayed in Colombo and visited its many markets and did a lot of local shopping. Since we were not experts in gems, we avoided shopping for them even though Colombo is famous for it.
Day 7: Adios Sri Lanka
This was our last day in Sri Lanka and after having our breakfast, we were transferred to the airport directly. Our wonderful family holiday in Sri Lanka has come to an end.
Looking back on our trip now, I feel it was a rejuvenating experience for all. My wife and I got to spend quality one with each other and also our kid in a serene and lush background and there was nothing else that we could have asked for.
High Points: Out of all the places that we visited, it was Nuwara Eliya and Bentota that mesmerized us to the max.
Tips for travelers: Always account for the weather before you plan your vacation for sudden changes could lead to you missing out on some sightseeing.
This family had an incredible time in Sri Lanka and you can have it too! Simply book a Sri Lanka Family Package and leave the rest of the planning to TravelTriangle.