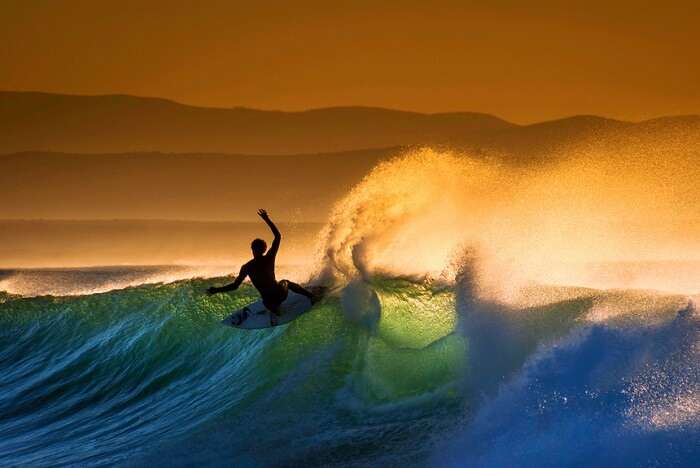 Ghana is a beautiful place in West Africa and is well-known for its sandy white beaches and beautiful blue skies. People come from all over the world to experience Ghana's natural wonders. Since it is located close to the equator, the weather is usually warm and pleasant throughout the year. This is the main reason for all the natural spots located here. Apart from the beaches located here, there are also many natural reserves, parks and wildlife sanctuaries. Ghana is also famous for the different water activities that can be performed on beaches such as skiing, swimming, diving, and sailing. Ghana is also famous for its many surfing spots. There are many spots where the waves roll out just right and the weather is just right. If you are going surfing in Ghana and want to know the best spots, then look no further.
7 Best Spots For Surfing In Ghana
If you are looking for the top 10 beaches in Ghana to surf then take a look at this list we have composed to make your stay easier and your experience memorable. Top 7 surfing spots in Ghana:
Busua
Kokrobite
Muuston
Tills
Cape Three Points
Dixcove Point
Achenim
1. Busua

Image Source
This is the most well-known beach in Ghana. The clear blue waters are surrounded by a fishing village where you can find the locals. There are plenty of gentle waves that move both left and right and the shallow almost transparent waters are great for beginners to surf on. If you are a beginner and youre afraid of harsh waves, then worry not, this place is great for you. If you are an advanced surfer and you want something a little more difficult, then you can explore the waters where the tide is called Black mamba. It is located 20 minutes away from the beach if you go paddling. There are many great restaurants, guesthouses and even surfing schools located on the beach. You can get the opportunity to experience Busua Beach surfing.
Average cost: INR 1127 for 1 hour 30 minutes
Ahanta Waves website
Must Read: 12 Amazing Places To Visit In Ghana For Exploring The Country Like Never Before!
2. Kokrobite

Image Source
This is a very popular beach if you plan to go surfing in Ghana Accra. There are plenty of courses that can be taken from the surf shops nearby as well as local instructors who will be willing to help you out. The International Surf Day Contest is held on this beach where people come from all over the world just to experience it. The best time to head out on the waves is around sunrise when the waves are gentle and clear. Mr. Bright is an experienced surfer who has set up his own shop on the beach, he gives lessons throughout the day and visit him would be a great idea because he will be able to tell you what time you should head out according to your level, as well as, the different things you will need to do when you are one with the waves.
Average cost: INR 1875 for 1 hour and 35 mins
Mr. Brights Surf School website
3. Muuston

Image Source
Most surf breaks are named after people who have surfed those particular waves for a very long period and have earned their name there as legends. The currents and the breaks here are for experienced surfers. There are only a few lessons held here and if you head out on the water on your own, it would mean that it is an accomplishment for you. If you really want to show off your skills when you go surfing in Ghana then this is the best place to do it. The beach is not a crowded one and it doesnt attract many tourists because of the location. But it is definitely worth it!
Suggested Read: Ghana Nightlife: 10 Best Things To Do On Your Trip For Memorable & Magical Evenings
4. Tills

Image Source
This is literally a surfers paradise because of how quiet it is. The waves are usually bigger and the beach is clean and has less population. The only issue with the place is that there are absolutely no surf schools or lessons that can be taken from here. So unless you are experienced and prepared for the waves, its best to head to other spots. You will need to rent a board from surf shops around other beaches if you dont already have one. There are no guesthouses or hotels around the spot except for the Tills Resort. Some surfers head to the beach and pay a small price for a Ghana surfing camp. You can join them and camp out on the spot or head to the resort.
5. Cape Three Points

Image Source
This is a great spot to go surfing in Ghana even though it is quite a trek to the beach. It takes about 6 hours to get here from Accra, but it is definitely worth it. You can find plenty of surfers here and surf schools around the area. The white sandy beach sits right in front of the best surf break. You will have to head out and paddle to the break but you can find breaks of 1.5 m here and it can go up to about 3m when it rains. The waves are huge and about 100m. If you want a good surf break to surf on, then you will have to make the trip.
Average cost: 1127 for 1 hour and 30 minutes
Ahanta Waves website
Suggested Read: 10 Best Things To Do In Ghana To Witness The Beauty Of The African Culture
6. Dixcove Point

Image Source
This is a small fishing village that is located not far from Busua. You will need to take a day trip from Busua to get to the village or you can take a tro tro (a shared van). The place is very easy to find and offers waves for everyone. The waves are quite frequent and the point break heads in the right direction. Usually, the waves go up to about 150m but during the rainy season, it goes up to 300m in length. You will need to paddle for about 5 minutes to get to the break but be careful of the rocky bottom when you head there!
Average cost: INR 1127 for 1 hour and 30 minutes
Ahanta West website
7. Achenim

Image Source
You will need to drive to this spot which requires about 2-3 hours. Once you reach you will have to pass through a forest and once you pass the first cove, the second will have a beach break. The waves here are consistent but softer and are ideal for beginners. There are absolutely no shops located around here so you will have to carry your board with you. But the quiet atmosphere and the clean break is close to that of a surfers paradise, for newcomers that is. Obviously, the waves here arent as deadly as the Black Mamba but thats what makes it ideal for beginners. You dont have to head out very far for the break as well.
Suggested Read: 9 Best Guest Houses In Ghana For An Ultimate Holiday Experience In This Enchanting Land!
Best Time To Do Surfing In Ghana

Image Source
You can go surfing in Ghana at any time throughout the year since it is located close to the equator. Even in winters, the water temperature never drops below 24-25 degrees Celsius. This also means that there is no need for a wetsuit! If you want the best waves then it is best to go during the peak season which is from the months of April to August. The waves usually shoulder high at this point in time and may get bigger when there are certain point breaks.
How To Reach The Surf Spots From Accra

Image Source
Since most of the other surf spots aren't far from Kokrobite, it is best to take a taxi to the Kokrobite beach first. It will take about 45 minutes and will cost you INR 1475. Most spots aren't located very far from here and are usually a 10-15 minute walk or paddle. If you want to visit Basua, however, you can take a taxi from Accra which will take you about 5 hours to reach. If you want to save money when you are going surfing in Ghana, you can get on a 'tro-tro' which is a minivan that travels to different towns and cities. You will have to change 2-3 before you get to your destination if they don't travel there directly.
Further Read: Best Zoos In Ghana: Spot The Glorious African Fauna For Your Next Adventure
This guide provided you a list of the top 10 beaches in Ghana to surf. If this got you interested to hop on a surfboard and ride the waves, then why wait? Book a trip to Africa and get the chance to be one with the waves by hopping on your surfboards and going for a thrilling session of surfing in Ghana! And when you're back, don't forget to write to us about your fabulous experience.
---
Looking To Book A Holiday Package?
Book memorable holidays on TravelTriangle with 650+ verified travel agents for 65+ domestic and international destinations.
---